One Price Used Cars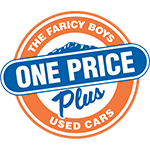 What the plus means to you:
Ready to Find the Perfect Used Car?
Check out our One Price Plus inventory
One Price Used Cars
Negotiation free pricing on all used cars
Used car buying doesn't have to be a hassle, thanks to The Faricy Boys' One Price Plus Used Cars program. With negotiation-free pricing on all of our used models, you'll be able to get in and out with your used car in no time.
Along with saving time, you also won't have to deal with any haggling, which can really put a damper on the used car buying process. As you've probably experienced before, haggling over pricing not only draws out the entire process, but makes the experience needlessly stressful.
Worried about the price of a negotiation-free used car? Don't be. We scour the market every day to ensure our used cars are priced competitively, and we are confident you'll think so too!

Transparency
Know what we know about any used car with our exclusive Real Deal History Folder.
How do you know the vehicle is fairly priced and a quality buy? Because with our exclusive Real Deal History Folder, you know everything that we know about the vehicle.
Inside of this folder, you'll get an inside look at everything we know – any reconditioning we've done, accidents or recalls we are aware of, warranty information, mechanical problems (if any) and a lot more.
Buying a used car can come with unpleasant surprises if the seller isn't upfront about the condition of the vehicle. Maybe there's an issue with the engine or the previous owner had an accident that the dealer failed to disclose.
Not at The Faricy Boys. Thanks to our transparency, you know what we know about every used car we offer, so you can drive away with confidence knowing you are getting what you paid for.

Peace of Mind
Bring any used car back within 3 days & 300 miles for a full refund.
Maybe you buy your car on a cloudy day, and find that you can't stand the color in the sun. Perhaps after a little more driving, you discover there's too much road noise for your taste. Maybe the cup holder placement is just driving you nuts!
Sometime you purchase something that seems just right, only to find after living with it for a day or two that it's just not what you want.
Whatever the reason that you're dissatisfied with your purchase, you'll have peace of mind knowing that you're able to bring back any used car within 3 days and 300 miles for a full refund.

Ease of Purchase
Reserve a vehicle online for up to 24 hours without a deposit.
There's nothing worse than finding that perfect used car on a dealership's website only to show up for a test drive and find that it has sold. Sure, most dealers will let you put a hold on a car, but they will usually ask you for a $500 – $1000 deposit that you may have to fight to get refunded.
At The Faricy Boys, we understand you're busy and may not be able to drop everything for a test drive. With our Reserve Now option, you're able to hold a vehicle you find online for up to 24 hours. Want to know the kicker? There's no deposit required.
If you don't want to buy the car after you see it in person, or change your mind beforehand, then you can just walk away without worrying about getting your deposit back.

Friend for Life
$100 off your next used vehicle for every one you have bought from us.
When you shop at The Faricy Boys, you'll have a friend for life.
How can we prove this? By offering you $100 off your next used vehicle for every one you've bought from us in the past, up to $500 off. This adds up far faster than you might think, and can take a sizable chunk off a future used car purchase.

Your Deal, Your Way
Complete a portion or all of your next purchase entirely online, with at home delivery available anywhere in Colorado.
Picked out the perfect car and ready to buy? Great!
Have some questions that you need a quick, straightforward answer to before moving forward? No problem.
Our knowledgeable team will guide you through the entire experience, saving you time and money.
Buying your next car has never been easier!