Customer Testimonials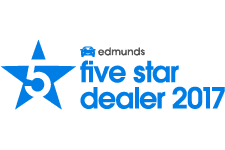 Brandon helped me through the process of buying my jeep. Very professional and he kept checking on us throughout the whole process which was appreciated.
Worked with Destin on getting a new ride. He was an easy-going knowledgeable guy who didn't pressure us on buying. We had several demands and he had to go talk to the "sales manager" several times. We ended up getting what we wanted and he ensured us he would reach out to us in the future to make sure were still running smoothly with our new Jeep.
Great service, Destin made my car buying experience smooth and enjoyable. Not my first Jeep but the first one from Faricy, won't be my last.
Great service with the best prices! Brandon is very good at his job. Very dedicated and he will find the best option for you.
Just bought our 6th vehicle from The Faricy Boys, and more specifically, Jack Real. Always a 5-star experience, Jack works with you and I haven't been disappointed once! Jack's the man!
Just bought my 6th car from Jack Reak at The Faricy Boys, and as usual, a completely pleasant experience, a fair price and great service! 5-stars and they service my Jeep vehicles as well. The Faricy Boys, you'll see why!
After struggling with a dealer down the street we came to the Faricy Boys. I walked in and no one attacked me! Which was great. I ended up speaking with Corrine who was super polite and helpful. I explained what we wanted and she gave me options. It was evident that she cared for us to find something we actually loved. We found our car and worked with Kelly in finance who also was absolutely amazing. I would hands down recommend the team at Faricy Boys for your vehicle purchases!
Calm, efficient business. Quick in and out.
Bought my Jeep here and continue to come back for maintenance. Everyone is very friendly, professional and helpful. Will definitely buy my next car from Faricy Brothers!
We recently purchased a quality used Jeep Cherokee from The Faricy Boys and couldn't be happier. Destin was very professional while remaining personable and no one was pushy or overbearing, which made the whole experience pleasant. People moved with a purpose and we were informed every step of the way with no surprises. Their OnePrice policy was off-putting before we started the process. However, we came to realize we were getting a good deal without the need to negotiate based on the KBB, similar Cherokee's sold in the area, and condition of the vehicle. It was also brought to our attention that we would likely get a better rate through a lender the dealership works with (ENT, in our case) and they beat our previous rate by ~1.5%. We were thankful for their attention to detail that ended up saving us some $.We will likely return in the future for our next vehicle purchase, although likely not to replace our Jeep anytime soon. We got a good deal on a great vehicle.