Jeep Dealership
If you're in the market for a new SUV, it's only a matter of time before you visit a Jeep dealership. There certainly isn't anything wrong with this particular route, as the brand's vehicles are some of the most capable and reliable vehicles in the entire segment.
Of course, it can be relatively difficult choosing between the brand's range of vehicle offerings. It can also be difficult choosing where you should be making that purchase. Fortunately, clarity is right around the corner. We've detailed the major attributes of the brand's most affordable offerings, and we've explained why those living in the Colorado Springs, Colorado area should be turning to The Faricy Boys when they're ready to make a purchase.
The car-buying process can be rather stressful, but it doesn't need to be. By receiving some much-needed clarity, you'll feel a lot more confident when you head into a Jeep dealership…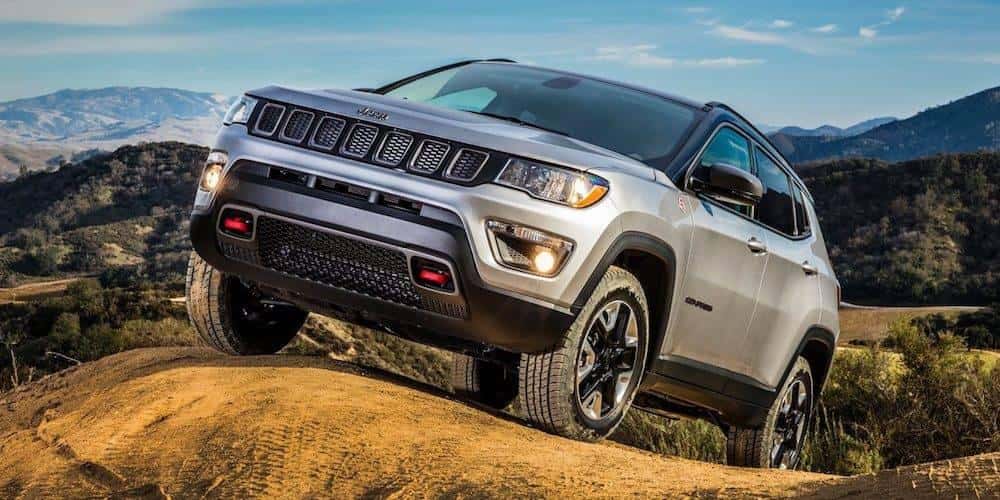 Which Jeep?
Sure, you might be pursuing a new Jeep, but this is easier said than done. After all, the brand provides their customers with a number of capable offerings. Therefore, it can be rather difficult zeroing in on a specific nameplate.
If you're going to be eyeing some of the brand's more affordable options, then you may have your eye on the 2017 Jeep Renegade, 2017 Jeep Patriot, and 2017 Jeep Compass. Each of these SUVs are perfectly good choices for a variety of different reasons, including their drivability, technology, and safety capabilities.
Ultimately, regardless of which model you choose, you'll surely be happy with your selection.
2017 Jeep Renegade
This SUV may be the smallest of the brand's offerings, but the nameplate shouldn't be disregarded by potential car buyers. The vehicle is still capable of delivering all of the amenities and capabilities you've come to expect from Jeep.
It starts with the vehicle's pair of available engine options. The 2.4-liter Tigershark MultiAir 2 Engine is the perfect choice for those seeking power, as the system is capable of delivering an impressive 180 horsepower and 175 pounds-feet of torque. When accompanied by the versatile nine-speed automatic transmission, drivers can also anticipate a 30-mile-per-gallon highway fuel efficiency. Meanwhile, the alternative 1.4-liter MultiAir Turbo Engine "only" manages to crank out 160 horsepower and 184 pounds-feet of torque, but drivers will surely appreciate the phenomenal 31-mile-per-gallon highway fuel efficiency.
The vehicle is also equipped with a number of mechanical features that will result in one of the best driving experiences in the segment. The Selec-Terrain mode allows drivers to adapt their Renegade to the road conditions, thus maximizing attributes like traction and handling. The various 4×4 systems can switch between two- and four-wheel drive capabilities based on your specific requirements, while the Hill Descent Control will be especially useful when you're traveling down a hill.
2017 Jeep Patriot
Similar to the Jeep Renegade, the Jeep Patriot is plenty capable despite the accompanying price tag. The engines provide a unique combination of power and efficiency, meaning drivers can zoom past their fellow drivers without having to worry about an impending stop at the gas station. The 2.0-liter DOHC 16V I4 engine certainly emphasizes this point, as the unit delivers 158 horsepower, 141 pounds-feet of torque, and a 30-mile-per-gallon highway fuel efficiency (when accompanied by the five-speed manual transmission). Meanwhile, the 2.4-liter DOHC 16V I4 World Engine manages to crank out 172 horsepower and 165 pounds-feet of torque, but efficiency certainly isn't compromised, as drivers can still expect a 28-mile-per-gallon highway fuel efficiency.
With all of this power lingering under the hood, drivers will certainly be relying on the Patriots safety features as they're looking to maintain their security. Inclusions like the Antilock Brake System will allow drivers to capitalize on optimal stoppage power, while the Electronic Stability Control means that drivers can maintain their preferred path. The ParkView Rear Back Up Camera is another appreciated aspect, as drivers can monitor everything that's happening behind their vehicle.
2017 Jeep Compass
Unlike the other features on this list, the 2017 Jeep Compass is only equipped with a single engine option, but that certainly doesn't mean that customers should anticipate lackluster specs. Quite the contrary. Drivers can expect 180 horsepower and 175 pounds-feet of torque from the 2.4-liter TigerShark MultiAir 2 engine.
Since you're going to be dishing out extra money for this Jeep model, you should expect all sorts of technical offerings. Fortunately, the 2017 Jeep Compass delivers. The vehicle is equipped with the brand's Uconnect System, allowing drivers to access a number of useful amenities (like Bluetooth streaming and Voice Command capabilities) via the seven-inch touch-screen. The system also includes Apple CarPlay and Android Auto compatibility, allowing drivers to seamlessly connect their smartphone to the vehicle.
Why Choose The Faricy Boys?
Those living in the Colorado Springs, Colorado area won't have to look particularly far as they pursue their new Jeep. Rather, these customers can simply rely on The Faricy Boys to handle every step of the car-buying process. Their vast inventory increases the chance that you'll find your ideal vehicle, while the accompanying finance and service department only incentivizes this particular route. If you're seeking the optimal car-buying experience, then you won't want to look anywhere else but The Faricy Boys.
Inventory
Customers will find an assortment of new and used vehicles as they're shopping at The Faricy Boys. While the dealership tends to focus on selling Jeeps and Chryslers, prospective buyers will also have the opportunity to pursue a number of additional brands' offerings.
Fortunately, customers won't have to spend multiple days perusing the dealership's inventory. Instead, they can rely on the business's website as they're seeking their ideal vehicle. These customers can sort by a number of different attributes, including price, make, model, body type, model year features, fuel efficiency, mileage, and cylinders.
Financial
There are a number of financial reasons why customers should pursue a Jeep from The Faricy Boys, and we're not even talking about the dealership's affordable and competitive prices. The finance department provides an opportunity for customers to secure a necessary loan directly from the dealership, meaning they won't have to rely on a bank or credit union for the necessary line of money.
The dealership also accommodates those who are looking to trade-in their current vehicle for an upgrade. In fact, the website includes a Kelley Blue Book-inspired trade-in value calculator. Thanks to this offering, drivers can anticipate a potential offer before they even head into the dealership.
Service
Jeep's tend to experience their fair share of issues, but you won't want to be bringing your purchase to a sketchy, untrustworthy mechanic. Fortunately, that shouldn't be a concern, as drivers can rely on The Faricy Boy's service department to handle any necessary repairs. Customers can also turn to the dealership's parts department if they're seeking any specific, hard-to-find components for their vehicle.
Convenience
From Monday through Saturday, potential buyers can visit The Faricy Boys to peruse the dealership's offerings. Opening at 9am each day, drivers will surely be able to find a time where they can initiate the car-buying process. The same goes for the dealership's service department, which is open from 6:30am until 6:30pm, Monday through Saturday.