Why "Used" Isn't Used Enough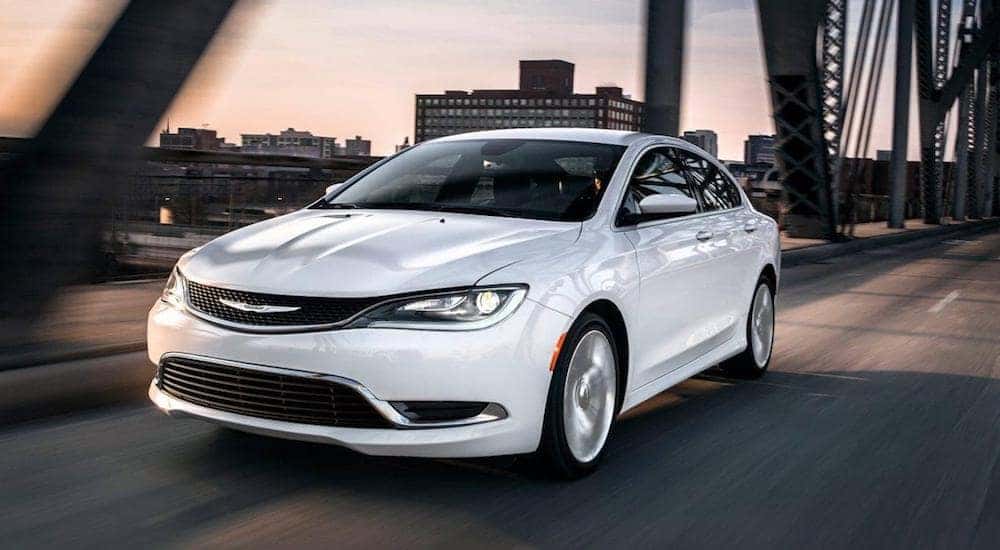 When it comes to purchasing a vehicle, most individuals immediately begin scrolling through the new inventory on the website of their local dealership, trying desperately to pretend that they can't see the price listed next to it. When the daydreaming ends, what do they have left? For one, they still have the unreliable vehicle that they continue driving and endangering people with. And secondly, they have what we refer to as "car envy." Every vehicle that passes them by on the street gets some "side eye" based on sheer jealousy. Can you relate to this scenario? If so, you can say goodbye to "side eye" because we have a solution for you. The used cars in Colorado Springs will be the answer to your prayers.
Used Options at Faricy
If you're local to the Colorado Springs area, chances are that Faricy is your local dealership. As you probably already know, we have a wide variety of both new and used options to choose from. If the price tag on the new vehicles don't fit within your budget, our used cars in Colorado Springs definitely will. We have everything that you're looking for at the most competitive prices in Colorado Springs. Furthermore, purchasing used vehicles has become increasingly popular over the past decade or so, and with good reason. We love used vehicles for a variety of reasons, however, the price is definitely our number one. The affordable price points on our used inventory create more opportunities for our customers to drive away in a safe and reliable vehicle. At the end of the day, that's one of the things that we care about most. Read on to find out what else we love about used vehicles.
The Price
Obviously, we love used vehicles due to the fact that they are cost effective. They won't break the bank and will be sure to be a family staple for years to come. This is due to the fact that they're put through copious amounts of tests prior to ever hitting our showroom floor. At Faricy, we even have some options that are in the $10,000 or less category, which is an absolute steal. Just because these vehicles are immensely marked down does not mean that they have high mileage or that they aren't recent model years. At Faricy, we make it simple to save money. If you view our selection online, you'll be able to view a number of very important pieces of information.
Firstly, you'll want to view the specs to ensure that this vehicle has the capabilities and features that you're looking for. Next, you should make it a priority to check the CarFax report. This will provide you with information regarding the cars history including: previous owners, service dates and description, and much more. If you're looking for a comprehensive look at your next investment, the CarFax report will help. Furthermore, you'll be able to reserve the vehicle of your dreams by clicking on the "reserve now" button. This will guarantee that the vehicle will be available for you when you arrive at the dealership. This is imperative due to the fact that our used inventory goes quickly! At the end of the day, you'll be happy that you saved money by purchasing a used vehicle.
The Reliability
If you're driving a faltering vehicle, it's time to see what that trade-in is worth and purchase yourself a used vehicle that is reliable and safe. There is absolutely no need to endanger yourself, your loved ones, and those around you by driving a vehicle that is hardly hanging on. Especially when the prices on used cars in Colorado Springs are low and affordable. If you're not sure if you can afford a used vehicle, stop by Faricy today to see what we can do for you. We have an extensive inventory of used vehicles and you're more than likely to find a few that you would love to drive. In fact, used vehicles are arriving at our dealership frequently and with prices like those, they don't last for long. If you're interested in used cars in Colorado Springs, we definitely urge you to stop by today to claim yours.
When you find the vehicle that you've been looking for, be sure to review the CarFax report to see it's history. You can do this online or at the dealership, usually for free. It'll be the peace of mind that you didn't realize you needed. This report will give you a detailed look into the cars history to ensure that this will be a good investment for you. Also, our used inventory is backed by our dealership and is put through comprehensive tests prior to sitting out on our showroom floor. If you're looking for a new-to-you vehicle, shopping Faricy is the smart thing to do!
The Longevity
Gone are the days when purchasing a used vehicle meant that you were just getting a vehicle that would last for 2-3 years before it died. Purchasing a used vehicle in 2018 is much more than that. Used vehicles do not have to be old model years or have extremely high mileage. On the contrary, there are plenty of options in our inventory here at Faricy that are recent model years and have relatively low mileage. Purchasing a used vehicle is an excellent way to retire the old "beater" car and step into something reliable that will be with the family for years to come. All of the vehicles in our used inventory have undergone extensive diagnostic tests to ensure that they are ready to hit the road for years to come. If you're looking for a used vehicle that won't need to be retired in a few years, it's time to see what Faricy can do for you.

Used Cars in Colorado Springs and the One Price Plus at Faricy
At Faricy, our team offers an initiative called: One Price Plus. This program includes several important factors that will positively impact your car buying experience. Firstly, the "one price" comes from the fact that there is negotiation-free pricing applied to all vehicles. This means that you get the absolute lowest price, without any gimmicks or tricks. Next, this also means that we offer transparency. You will always know what to expect with your used vehicle with the Real Deal History Folder and the CarFax report. Also, another piece of this initiative that we value is the peace of mind we offer to our customers. You can always bring back your vehicle within 3 days or 300 miles for a full refund. This takes some of the stress out of the car buying process because you always know that if you get your vehicle home and it's not what you hoped for, you can always bring it back.
We also love the fact that we make purchasing a vehicle easy at Faricy. Through our website, you can reserve your vehicle for up to twenty-four hours without even leaving a deposit. This is crucial for the busy, working professionals who may not have time to get to the dealership right away. At the end of the day, Faricy makes a concerted effort to make the entire process easy and simple for our customers. We work with you to ensure that you understand your options and that you're content with your purchase. That's just the Faricy way!