Understanding the Value of a New Jeep Vehicle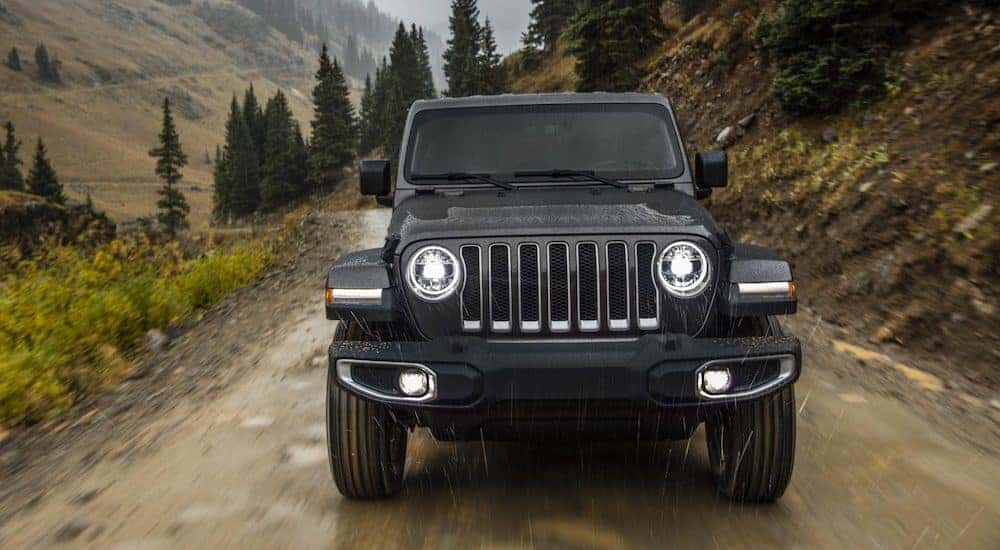 It is not a secret that a new Jeep isn't necessarily the most inexpensive vehicle you will ever purchase. If it was, you wouldn't get the legendary quality and capability all Jeep vehicles are known for. There is something unique about the Jeep craftsmanship that keeps countless customers coming back time and time again when it's necessary to upgrade their main mode of transportation. Whether you need a daily commuter or an off-roading monster, the Jeep brand has a value that is simply unrivaled by the competition.
What's so special about a new Jeep? They take a different approach to automotive design that benefits you in the long run. More power, more capability, more value for the price, these are the things that they offer when we show you a Jeep car or SUV. Most importantly, Jeep is all about customer service. More value and a great price are just the start of this service. Anytime you need any guidance or help; Jeep service staff will be on hand to get you going and out the door in time.
Take the time to learn more about Jeep's unique service and experience that can benefit you in any number of ways the next time you want to purchase a new vehicle. When it comes to the total package experience, Jeep knows how to deliver. Here we'll check out why it's worth looking into Jeeps for sale in Colorado Springs.
What Makes Jeeps So Special
They aren't the biggest automotive manufacturer, but Jeep has managed to carve a very special niche for itself over the past few decades. While you can find any number of Jeeps and SUVs in its model lineup, Jeep really excels at offering more power and capability to customers than other companies. In fact, you would be forgiven for mistaking the Jeep vehicle as something much more luxurious and expensive than it really is. That is because you get more with the Jeep for the same price as other options.
Take a vehicle like the Grand Cherokee, for example. On the outside, it may seem like a typical family-oriented SUV that countless automotive manufacturers make. Once you look at what is under the hood, on the other hand, your attitude may change. With horsepower ratings up to 707 hp, the Grand Cherokee makes for a great cargo hauler and off-roader as well. If you don't need the power, choose something more fuel-efficient to save some money each month.
This is but one example of how Jeep can give you the options you need to find the perfect vehicle of your dreams. Since everyone's tastes and needs are different, a manufacturer that provides customization and upgrade packages knows how to cater to a greater variety of individuals.
What does this mean for you? Simply put, if you need something specific in an SUV, Jeep is the company that has probably already thought of a way to accommodate you. There are few things Jeep forgets to put as a standard or optional feature in their vehicles. Regardless of the model you look at in the lineup, there is usually something that will be a good foundation to customize to your specific needs.
Strong Reliability
What other company is so popular with off-road vehicles like Jeep? Well known for the Jeep Wrangler, the poster child of off-roading vehicles, this company has spent decades researching and discovering what works for durability. The truth is, all vehicle owners will need some amount of durability in their car, truck, or SUV. Whether it's for urban, rural, or off-road use, a car that doesn't last as long as it should is a waste of money.
The reliability Jeep has to offer starts under the hood. When you need something that is more capable than the average daily commuter, Jeep is the best choice for the job. Its SUVs take the cake time and time again for top performers regarding torque and horsepower. With a Jeep, the biggest thing you get is hauling and off-roading capability. They aren't the fastest vehicles around, but a Jeep vehicle will tackle terrain other Jeeps and SUVs would have a chance surviving.
Beyond the mechanics of the vehicle, made with parts designed to last years, you can see the fruits of Jeep's labor everywhere in one of their vehicles. Interiors are made to last countless spills and messes. Drivetrain parts are easily interchangeable and replaced. On some models, you can even pop off the doors and windshields if you don't want the extra weight. Regardless of what you get with a Jeep, the point is simple: you get more options than the competitors can provide.
The Best Customer Service
When you combine Jeep's high-quality products with a dealership that knows how to expertly treat their customers right, you have it made. That is exactly what you get when you come to the Faricy lot. From our large inventory of various Jeep models to our knowledgeable sales staff, we won't will hesitate to help you with any and all of your needs. We make it easy to find the right Jeep for you in no time at all.
First of all, we are with you every step of the way. Once you step through our doors, you will have people by your side anytime you want to guide you through our inventory and vehicle options, explore financing opportunities, see what promotions and deals we are running, and much more. There's very little we can't handle when it comes to your overall satisfaction.
Second, we can handle issues that other competitors and dealerships simply don't know how to tackle. If you own a Jeep already, Faricy has years of fixing and servicing these vehicles without issue. Whether it is a small issue or a complete rebuild, our mechanics know their way around Jeeps and other vehicle types. Best of all, we offer a one-stop-shop experience where you can come to our lot and get the work done all at once. We will even make every effort to get you out the door as fast as possible.
Come discover the true value of a 2018 Jeep today by giving us a call or coming to our dealership in person. There is a Jeep waiting for you.