Battle Of Ruggedness: Jeep Wrangler vs Ford Bronco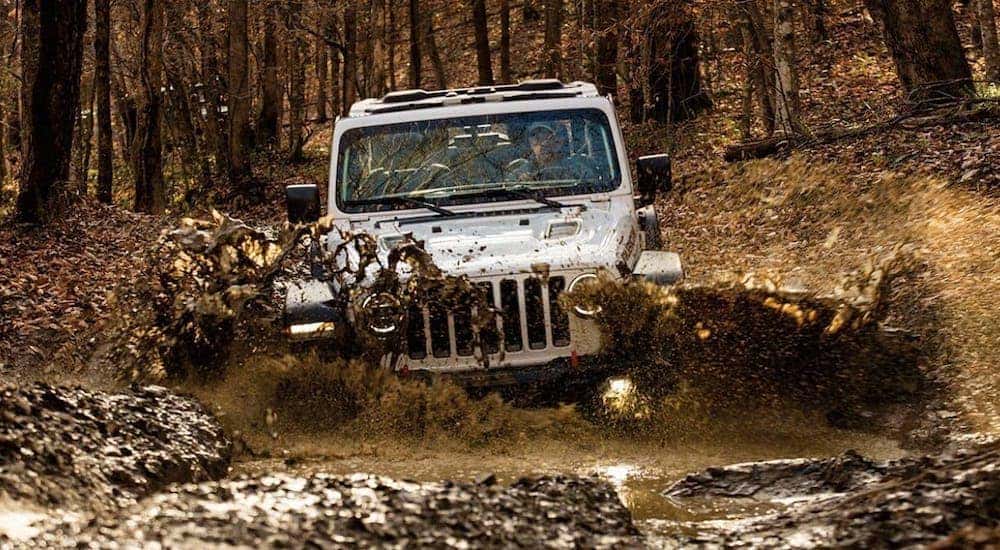 Ruggedness isn't at the forefront of priorities for many car manufacturers these days. Infotainment features usually win out over how tough a vehicle is, and convenience is usually put ahead of how viable its suspension is designed for off-road activities. Of course, there are still some brands that put the rough-and-tumble ready features before everything else, and two of them include Jeep and Ford. But before you go hurrying off to a Ford or Jeep dealership near you to grab whatever you can, it might be best to check out how two of their classic 4x4s compare. In this Jeep Wrangler vs Ford Bronco showdown, we'll discuss some of the new changes to both vehicles as well as which one will give you the sort of rugged edge you're looking for in an off-road vehicle.
Eco-Friendly Ruggedness
The Jeep Wrangler has been a longstanding cornerstone of the Jeep brand for decades. The Wrangler has always been a reliable card in the deck that consistently pleases its drivers. Over the years, the Wrangler has struck quite the balance between being rugged and refined, offering plenty of safety and tech features while remaining the best option for going off the beaten path.
For the 2021 outing of the Jeep Wrangler, there have been some significant changes from top to bottom for the intrepid 4×4. The biggest change is the Wrangler's new powertrain, which now has both gas and electric output via a hybrid 4xe design. The 4xe powertrain for the four-door Rubicon trim offers an incredible estimated fuel economy rating of 50 MPGe. This is enhanced by the E-Selec driving modes that allow for optimized low-emission output by juggling between the electric mode and gas mode depending on whether you're navigating through the dense streets of the concrete jungle or the rocky hills of the wilderness.
The new E-Selec feature for the Wrangler 4xe is implemented with the intent of making it easy for drivers to switch between the different driving modes by simply pressing a button on the dashboard. This includes eSave Mode that preserves battery power, Electric Mode that relies on the battery pack tucked underneath the rear seats, and Hybrid Mode that combines classic combustion with the eco-friendly electric powertrain.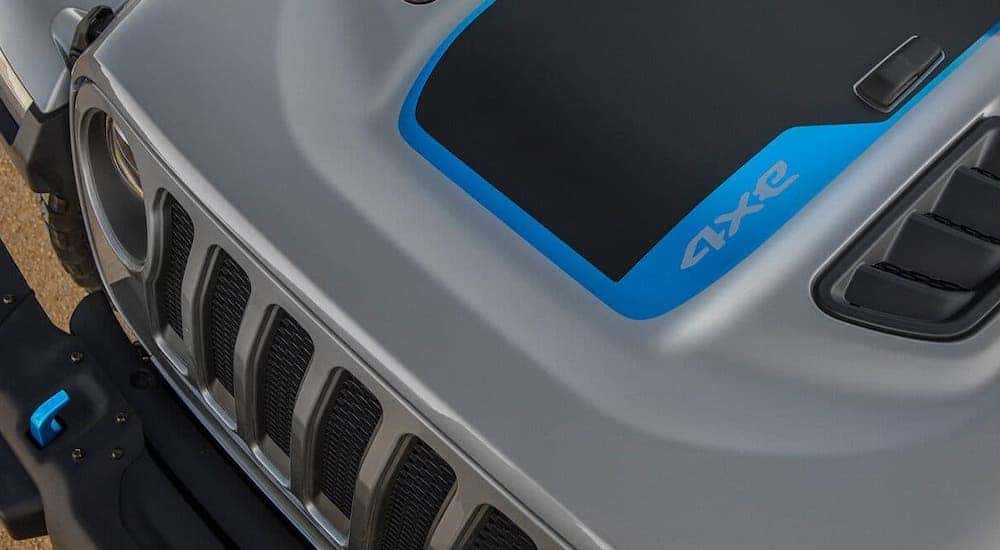 The New Bronco
Ford decided to keep things more traditional for the 2021 Ford Bronco. After a 25-year hiatus of the brand, Ford opted to bring back the classic 4×4 with a completely revamped take on the archetypical off-road truck. Its size and presence has now been reoriented as a midsize SUV as opposed to the full-size design of the last Bronco. Some of the more favored features and qualities of the original 1960s Bronco are also back with the sixth generation outing, including the removable hardtop and doors for an open-air experience, making it closer to the likes of its Jeep Wrangler rival.
Where Jeep decided to make the Wrangler more emissions-compliant in urban environments, Ford decided to maintain a slightly more traditional approach to the sixth generation Bronco, sticking with the company's EcoBoost turbocharged engines. Much of Ford's promotion of the revitalized Bronco is returning it to its roots as an adventurous, off-road rebel, but Jeep decided to go in a slightly different direction. For 2021, it seems to be more about revolutionizing the off-road experience. As far as eco-friendly designs go, it's impossible for the 2021 Ford Bronco to compare to the 4xe technology powering the 2021 Jeep Wrangler.
Off-Road Performance
Fuel economy and emission-free driving look good on paper, but the real test for any 4×4 is how well it can handle rocky terrain and uneven landscapes. Jeep may have opted to overhaul the 2021 Wrangler with the addition of the new 4xe technology to make it more eco-friendly, but it's still a Jeep, after all. The heart of the standard Wrangler trim remains a 3.6-liter V6 that produces 285 hp and 260 lb-ft of torque.
Optional engine upgrades will boost performance, offer better fuel economy, or produce more torque depending on what you're going for. There's really no end to what the Wrangler has in store for its fans. First, there's a 3.0-liter V6 diesel option that yields 260 hp and 442 lb-ft of torque, as well as a turbocharged 2.0-liter engine with 270 hp and 295 lb-ft of torque. The next option is the 2.0L turbocharged 4-cylinder plug-in hybrid that tops out at 375 hp and 470 lb-ft of torque, making it a powerful option for rock climbing or desert racing. However, if you thought Jeep would stop there, you'd be quite mistaken. Jeep decided to give fans even more power by including the option for a 6.4L 392 V8 engine that produces 470 hp and 470 lb-ft of torque. The Wrangler can be paired with a 6-speed manual or an 8-speed automatic drivetrain, catering to whatever driving style you prefer.
The Ford Bronco is a tough contender, though, with the entry trim featuring a 2.3-liter turbocharged EcoBoost I4 that produces 270 hp and 310 lb-ft of torque with either a 7-speed manual transmission or 10-speed automatic. An optional 2.7-liter EcoBoost V6 is available that produces 310 hp and 400 lb-ft of torque with a 10-speed automatic transmission. When it comes down to engine choices and raw power, the Wrangler has the Bronco beat. However, the Bronco packs quite the punch with two great engine choices that are sure to please its fans.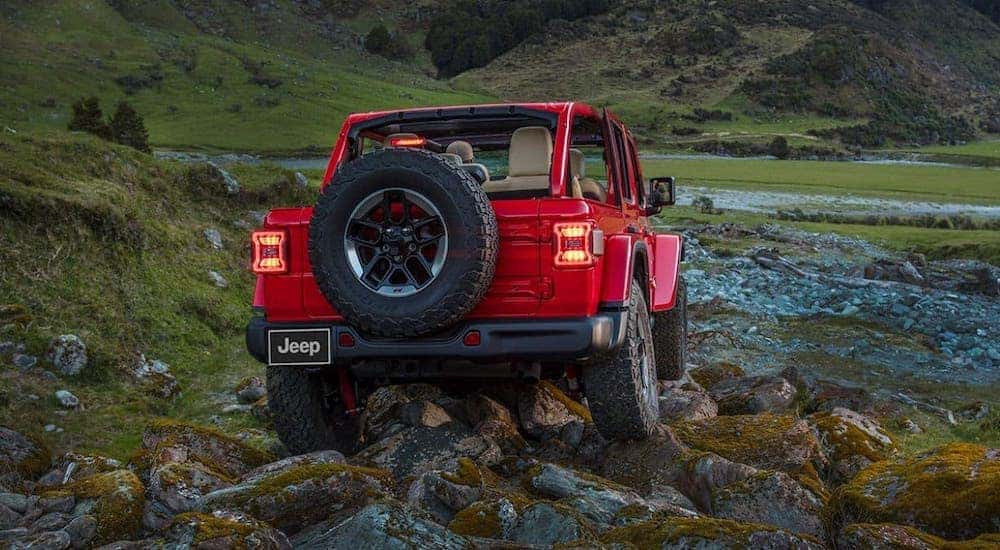 Modern-Day Amenities
Both the 2021 Ford Bronco and 2021 Jeep Wrangler come with the latest in both convenience and infotainment technology.
Jeep decided the already incredible Wrangler needed even more off-road-ready features for 2021 by not only fitting the 4×4 with a reinforced suspension, skid plates, rock rails, and both open-air and hardtop designs, but they also decided to include lots of modern-day amenities. More feature-rich trims come with an 8.4-inch touchscreen display and an exterior TrailCam so you can see what's going on around you from inside the cabin. The 2021 model features Android Auto and Apple CarPlay right out of the gate for wireless connectivity to iPhone or Android devices. GPS navigation, SiriusXM satellite radio, multiple USB ports, and automatic temperature control also make the cut.
The Ford Bronco has been out of commission for several generations, so instead of coming back and focusing on the standard fare infotainment carousel, Ford chose to highlight and market the Bronco's more off-road-ready qualities, such as its excellent ground clearance and available 35-inch wheels, some of the largest ever for a production vehicle. Ford's super-duty HOSS suspension system also makes a return, combined with a Terrain Management System and six G.O.A.T.(Goes Over Any Type of Terrain) modes to ensure that the Bronco isn't just making a comeback in name only.
Much like the Wrangler, the upper-end of the six Bronco trims offers convenience and luxury. These come in the form of multiple USB ports, an available 12-inch LCD touchscreen with voice-activated navigation, and Apple CarPlay and Android Auto compatibility. Other impressive features include a remote start system with optional push-button start and Trail Maps software that allows for off-road navigation of trails via the LCD touchscreen.
Open-Air Classics
The battle between the Jeep Wrangler and Ford Bronco is just heating up. In previous years the two hardly seemed like worthy competitors given their disparate designs and functionality, but Ford brought the Bronco back with a vengeance, outfitting it with a lot of features directly aimed at competing with the Wrangler, especially as far as open-air concepts are concerned. However, no matter how hard the Bronco tries, the Wrangler is probably the first vehicle you think of when you think open-air, and that still holds true with the 2021 model.
Across the many trims, you'll find that there is a variety of open-air designs, much like previous model years. Even with the hardtop models, you can use a toolkit to pop off the top and soak in the sun. The Wrangler also retains the option to remove the doors and lay the windshield down for the ultimate off-road experience.
Ford isn't far behind, though. Instead of simply being able to remove the hardtop like on the classic Broncos, now you can enjoy a number of configurations across the six trims that attempt to match the Wrangler's open-air off-road concept by allowing drivers to remove the roof and doors. Of course, you still have an entire lineage of Jeep Wranglers with open-air focused mobility, while the Bronco is attempting to play 25-years worth of catch-up with its 2021 release.
Ready to Go Off-Road?
Now that you have some information under your belt regarding the Jeep Wrangler and the Ford Bronco, you're probably itching to get your hands on the wheel of a 4×4 and take it for a spin across a trail or through a winding off-road bend. If you want a model of your own, then the Faricy Boys are here for you. At our Colorado Springs dealership, you will find the answer to all your 4×4 needs, including new Chrysler and Jeep models. If you are looking for a used option, we carry models from brands like Ram, Dodge, and much more. Feel free to drop by at any time––we are always happy to help get drivers a vehicle they can count on.