We Have Hundreds of New Vehicles
If you are looking for a brand new Jeep, then The Faricy Boys is the Jeep dealership near you that you should choose. Whether you live in Denver, Colorado Springs, or anywhere else nearby, our huge selection of new vehicles with lots of different trim levels is perfect for you. If you already know what you want, then we will be happy to show you what we have and work with you to make sure it is just right for your needs.
On the other hand, if you are still figuring out which Jeep will be right for you, then our friendly, knowledgeable salespeople are here to answer all of your questions. We do not rely on high-pressure tactics or other tricks to try to get you into something you do not want. Instead, we focus on giving you all the information you need on every model so you can figure out what will be perfect for you. At The Faricy Boys, your car-buying experience is all about finding what you need to make sure you drive away completely happy.

See Our Terrific Selection of Used Vehicles
Even though we have hundreds of different brand new vehicles available every day, we also know that a new vehicle is not the right choice for everyone. That is why we also have a large inventory of pre-owned Jeeps and Chrysler's available for you to choose from. We have customers from all sorts of backgrounds and in lots of different financial situations come in looking for a used vehicle, and we work with them to help them find the perfect Jeep or Chrysler for their needs.
We even have a select number of certified pre-owned vehicles available for customers that are looking for a greater degree of peace of mind. Certified pre-owned vehicles must meet their manufacturer's exact standards and pass a rigorous inspection in order to qualify, which means only the best-used vehicles pass certification. Due to these high standards, our selection of certified pre-owned Jeeps is limited, but you know they are of the very highest quality. Before you choose any used Jeep dealership near you, make sure they have certified pre-owned vehicles, so you have more options when choosing a used car.
The One Price Plus Program Makes Shopping Easy
Not only do we have a terrific inventory of used Jeeps and Chryslers, but we go a step beyond other Jeep dealerships near you with our One Price Plus program, offered on every used car we have. The One Price Plus program makes shopping for a used car easier for you by providing you with a simple price, transparency about every vehicle, and peace of mind in your purchase. And with our Friend for Life program, we put your needs first by saving you more money every time you come back to us for another used vehicle.
The One Price Plus program consists of five simple elements designed to make it easier for you to shop for a used Jeep. They are:
One Price – Buying a used vehicle should start simple, and this is how we do it: with a clear, negotiation-free price on every used vehicle we sell. This price is researched and compared to our competitors all the time and updated as needed to ensure it is the possible deal possible. You do not have to worry about negotiating or haggling to get a fair price – we offer it from the very beginning.
Transparency – One of the simplest ways we can prove ourselves to be the Jeep dealership near you that puts your needs first is through honesty and transparency. Every used vehicle we sell comes with a Real Deal History Folder that typically includes a free CARFAX vehicle history report. This way you know everything that we know about a vehicle, and we are on even footing.
Peace of Mind – No matter how much research you do or how many questions you ask there is always the possibility that you will regret your purchase. That is why every used car we sell comes with a 3-day and 300-mile return policy. Within three days and 300 miles, you can bring the vehicle back for a full refund for any reason.
Ease of Purchase – There is nothing worse than seeing a car you want on a dealer's online inventory, showing up the next day, and finding it gone. You can reserve any used vehicle in our inventory for up to 24 hours without any deposit or commitment. Shop in the comfort of your own home, and if you find something you like, reserve it for free so you know it will be here for you tomorrow.
Friend for Life – Every time you buy a used vehicle from us, the next time you come and buy a used vehicle, you get $100 off the fair, posted price. This is for each vehicle, so the more times you come back to The Faricy Boys, the more money you save! This is our way of saying "thank you" for building your relationship with us at The Faricy Boys.
Put Our Service Center to Work for You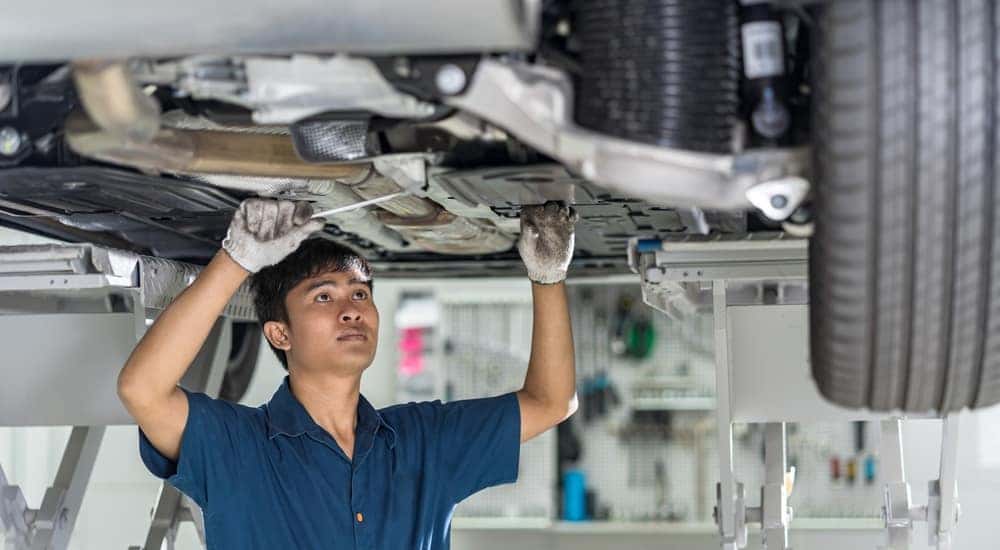 At The Faricy Boys, our Mopar service center is open six days a week – closed only on Sundays – from 6:30 am to 6:30 pm. You can stop by any time when you have a chance and visit our Express Lane for service, or make an appointment to make sure you can get in quickly. Whether you need routine maintenance or have concerns about a potentially serious issue, our industry-leading service professionals are here to help. And our Rock Solid Jeep accessory shop has a selection of accessories available, which we can install for you to ensure the best performance possible.
Jeep and the Outdoor Lifestyle
Although there are plenty of great vehicles out there for driving around town or taking a long road trip from one city to another, when it comes to heading outdoors and exploring everything nature has to offer, there is nothing quite like a Jeep. For decades, the Jeep brand has been synonymous with hard-working, rugged vehicles that can take you anywhere you want to go. From established trails to off-road races, and even beyond the beaten path of the most obscure trail, a Jeep is the perfect machine to celebrate an outdoor lifestyle.
The very design of a lot of Jeep vehicles has the outdoor lifestyle and going off-road as the core of its philosophy. Looking at something like the Jeep Wrangler, for example, it is immediately clear that the great outdoors, exploring and enjoying them, is the foundation upon which everything is built. The removable doors and lowering windshield are the perfect way to connect with nature even while you are behind the wheel of your vehicle.
Whether you live for going camping, hiking, or simply spending the day driving off-road so you can fall into your warm bed at night, a Jeep is the perfect way to accomplish your goals. And with incredible new additions to the modern Jeep lineup, like the Gladiator, you can find more options than ever before for exploring and enjoying your outdoor lifestyle. That is a huge part of what makes Jeep so popular for so many drivers, and one of the things we love about Jeep vehicles. By offering so many options, with numerous models and many different trims, you can find exactly what you need and get the vehicle that perfectly matches your lifestyle.
Overlanding and You

One of the most extreme explorations of the outdoor lifestyle that you can try with your Jeep is called "overlanding." This is a step beyond simply going off-road – or at least it can be; the journey is really the most important thing here, so it can be whatever you want it to be. However you approach it, the idea behind overlanding is that you go where the moment takes you, exploring new paths and choosing the way to get there that fully allows you to explore the world around you.
Although the term "overlanding" has its roots in Australia – particularly the practice of exploration overland for long durations with little more than one's wits and a reliable mode of transport – it has become increasingly popular throughout the world. The basic idea is pretty simple: you get in your vehicle, choose a destination or at least a direction, and start going. It can include roads and off-road trails, but typically goes beyond even so lightly-beaten a path as that. Overlanding frequently leaves established trails behind and lets you really explore the world, embracing the wilderness around you.
One of the most important aspects of overlanding, however, is having the right vehicle. Jeeps have been some of the most popular choices for overlanding for years now, which makes sense when you consider everything they have to offer. While overlanding, you are typically going to sleep outdoors or inside your vehicle, and Jeeps offer the perfect choice for both options. This becomes even more apparent when you start to look at the kinds of impressive accessories available for Jeep vehicles.
Pull-out shelters, awnings, and overhangs make the perfect accessory for when you plan on overlanding. You can even get tents that you can quickly and easily set up right on top of your Jeep vehicle. This can be an ideal option if you find yourself in rough terrain that would make setting up a standard tent or sleeping bag less than ideal, or unsafe. With a Jeep, you have all the shelter you need with you at all times – and the awesome accessories available simply take that a step further.
Jeep Luxury
Of course, Jeep is not all about roughing it and letting the great outdoors embrace you. For some people, that may be the ultimate goal, but for others, a Jeep represents an opportunity to leave it all behind and get in touch with nature, while still taking a piece of luxury with you. Numerous models, trims, and options available on a wide range of Jeeps provide sophistication and comfort that you might not expect to find when going off-road, but that is the beauty of Jeep luxury.
The Jeep Grand Cherokee, for example, has some of the most gorgeous and sumptuous luxury options imaginable. You can get stunning Capri leather interior details, with Nappa leather trim and ventilated front seats, ensuring you stay comfortable wherever you go. There is an available 19-speaker Harman Kardon sound system, featuring a 10-inch subwoofer, and even Amazon Alexa integration available.
Looking at something like the Jeep Gladiator, which is a powerful and truly impressive pickup truck, you can see similar luxury options on offer. The Gladiator Rubicon, for example, features available leather seating with Rubicon Red stitching and platinum chrome touches throughout the interior. Available heated front seats, dual-zone automatic temperature control, and so much more take luxury as far off-road as you want to go.
Some of Our Favorite Local Parks
Being a Jeep dealership in Colorado Springs has its perks, not the least of which is the fact that we are surrounded by some of the most beautiful terrain and natural scenery anywhere in the world. While there is a lot of beauty in this world to be seen, the wilderness and outdoor areas that can be found around us here are truly breathtaking. We took some time to ask around here at our dealership to find out what some of our employees' favorite spots are to go for hiking, camping, and anything else outdoors. Although we heard numerous answers, a few quickly became obvious favorites.
Did we leave your favorite off the list? Come visit us at The Faricy Boys and tell us about your favorite parks – maybe you can recommend one we do not know about.