3 Things To Know Before Shopping For A Used Ram 1500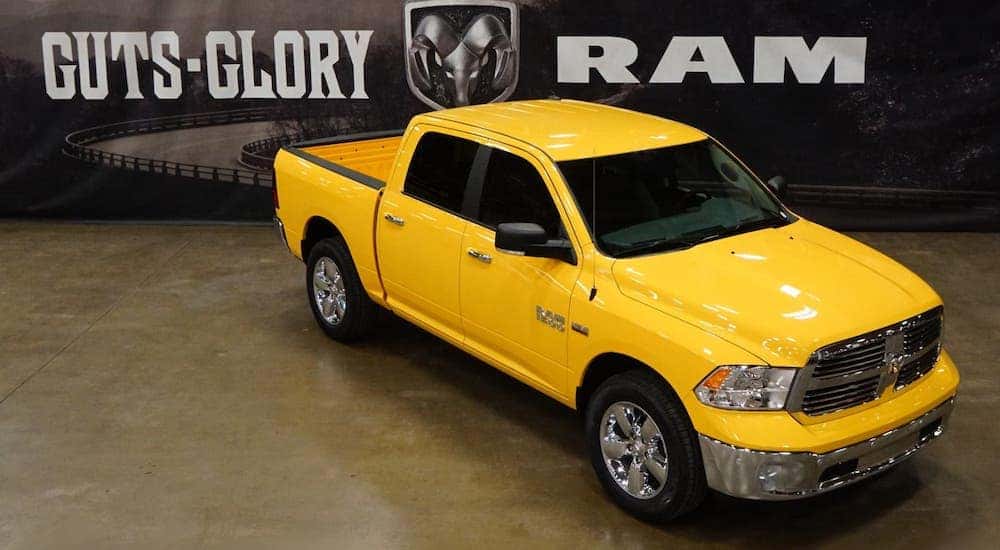 New trucks sure can come with a hefty price tag attached. Have you priced a Platinum Ford F-150 brand new as of late? That truck could set you back more than some top-tier luxury vehicles. Of course, with all the tech packed inside the cabin, there's a good reason why a new pickup costs so much. One truck, the Ram 1500, doesn't reach that Platinum price point, but that doesn't mean it's not capable of delivering some impressive specs and luxury features. In fact, the all-new 2020 Ram 1500 Limited won Cars.com's top luxury car of the year, beating out the Mercedes-Benz S-Class and BMW X7, both of which are significantly more expensive. Now, all of these luxury features and performance specs are fine and good, but it doesn't do you much good if you can't afford the up-front price. That's why it is great to shop for some of the used cars Colorado Springs has to offer, including a used Ram 1500. You might not get the Luxury Car of the Year edition, but you'll still get some solid numbers for far less. If you are interested in shopping used, here are three things you need to know before shopping for a used Ram 1500.
What Does Ram HFE Stand For?
When looking up "HFE" on vehicles, you will find several answers. Truth be told, different manufacturers use different abbreviations on their vehicles, so what one company uses HFE for another will mean something totally different. With regards to the Ram 1500, you will find some models that use "HFE." On these Rams, it stands for "high fuel efficiency."
Now, not all Ram 1500s use the HFE branding. In fact, if you've been pining for a 5.7L HEMI V8, you're not going to be buying an HFE truck. That is because only V6 models, including the V6 EcoDiesel engine, are considered a high fuel efficiency truck. Realistically that probably shouldn't surprise you. The HEMI V8 is several things. Fuel efficiency really isn't one of those things. Sure, it has gotten better over the years, but a V8 engine will never truly be fuel-efficient.
Thankfully, if you want a pickup that can also tow some serious loads, you can opt for the V6 EcoDiesel. This truck will give you a better fuel economy than just about any other make or model pickup on the road, and with the diesel fuel, you'll drastically bump up your torque potential. Yes, the horsepower will drop off (because of the burn temperature on diesel over traditional gasoline, it takes a bit longer to fire up, which means the horsepower numbers are not as high, but what it lacks in horsepower it more than makes up in towing torque).
Now, not all V6s will fall into the HFE category. There are a handful of other variables that need to be in place on the Ram 1500 for it to be an HFE. This particular model, if it uses the gasoline engine, will be an eTorque variation. The eTorque takes away the traditional alternator and adds an electric version. A standard alternator pulls energy off of the engine. The eTorque version instead pulls energy off of the truck's brakes and stores this energy in a localized battery. It can then use the stored energy for torque boosts.
HFE models are also only available in two-wheel drive (rear-wheel). So, you will need to keep all of this in mind when shopping around for a used Ram 1500.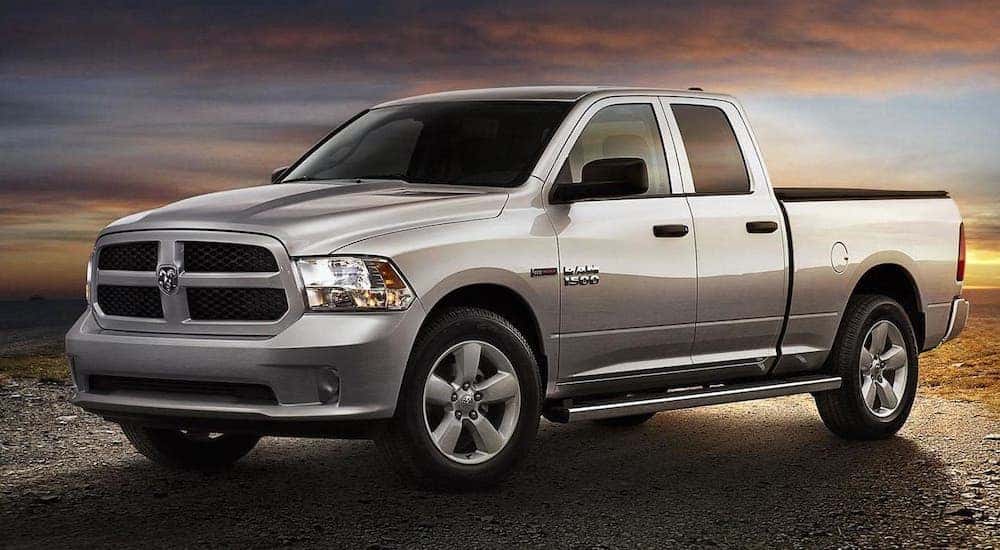 What is the Difference Between 1500 Crew Cab and Quad Cab
When shopping around for a pickup, you're going to find a number of cab sizes listed. We'll admit this can become a bit confusing because there isn't one uniformed name for all truck cabin sizes. What one company uses another company will have something slightly different. Take Crew Cab. The term is used not only by Ram but also by several other truck manufacturers, and the meaning is different for each. However, we'll focus specifically on the difference between the Crew and the Quad cab for the Ram 1500. Just remember, though, that the Ram Crew Cab will not be the same as the Crew Cab on a Chevy.
The main difference between the Crew Cab and the Quad Cab on the Ram 1500 is the Crew Cab has more rear cabin space on the interior of the truck while the Quad Cab has more cargo space on the exterior of the truck. Both trucks are four-door, so the best way to remember this is you'll have more room for your crew with a Crew Cab.
Just how much bigger is the Crew Cab over a Quad Cab? Well, it will differ slightly between each model year. There's always a tweak here or there, so the 2020 Ram 1500 will be slightly different from the 2017 Ram 1500 (although trucks in the same generation will remain relatively the same).
In terms of overall difference, the rear legroom in a 2019 Crew Cab is 39.4 inches, while in a Quad Cab, this drops to 34.7 inches. If you regularly drive your pickup around with tall adults, you will probably want to spring for this extra five inches (it really makes a difference).
Where the Crew Cab gains interior space, the Quad Cab has more exterior space. The Quad Cab max bed length is 76.3 inches while the Crew Cab max bed length is 67.4 inches. The max exterior cargo volume on a Quad Cab is 57.5 cubic feet, while the Crew Cab has a max of 50.3 cubic feet.
Basically, you'll want to decide if you want more bed room or cabin room. It's only a matter of inches, but it does give you the option of selecting the right truck makeup that fits your interior and exterior needs.
What are the Ram 1500 Trim Levels
There are several trim options available for the Ram 1500. Now, if you decide to spring for the Dodge Ram Walker Texas Ranger drove, the trims are going to be a bit different (but after all, if it's good enough for Chuck Norris, it's good enough for all of us). Chances are, though, you want something newer but still used, so let's look at the current trim options available on the latest Ram 1500s.
First, there is the Tradesman. This is the entry-level trim on the Ram 1500. The next is the HFE trim (which we went over earlier). Moving up from there is the Big Horn trim, the Lone Star, the Laramie, Rebel, Longhorn, and Limited.
As you can see, there are several trim options, and most come with different drivetrains, cabin sizes and bed sizes (not to mention varying engine options and other spec upgrades). The 2019 Ram 1500 was the second most sold vehicle in the United States last year, so if you keep your eye open, you'll probably find a nice used pickup that meets your needs.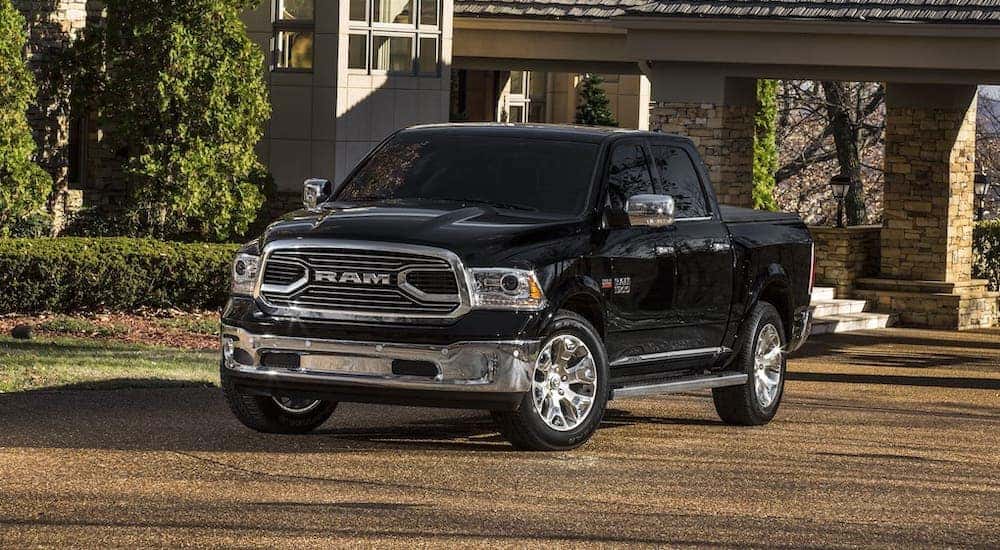 Make Your Next Truck A Used Truck
Going used with your pickup purchase is a great idea. It saves you money by letting the person before you take the hit from the depreciation. But beyond saving cash on your next truck, what else attracts you to a Ram 1500? Do you like all the awards it has won? The fuel-saving models? Or have you always wanted a HEMI pickup? Let us know!