Start the School Year Off Right in A Used Car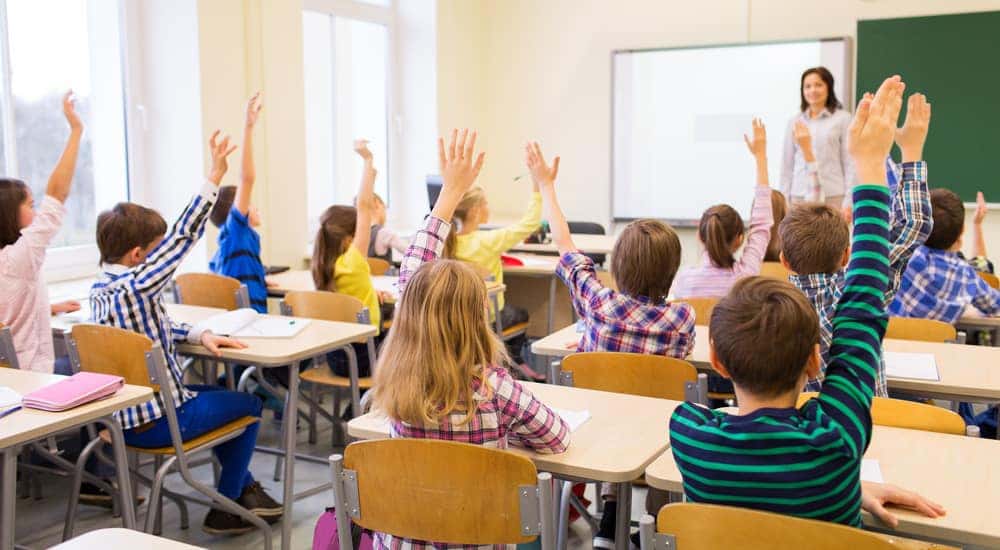 It seems impossible to believe, but somehow we have coasted through summer and barreled right up into the dog days of August… which means that the first day of school is just around the corner for the kids in Colorado. Sure, it can be sad to see the summer come to an end – after all, who doesn't like hot days and pool parties – but at the same time, you have to admit that even as an adult the first day of school evokes that feeling of starting over. It's an exciting time of year for kids and adults alike – a time to delve into the second half of the year with renewed vigor, brought to you courtesy of freshly sharpened number 2 pencils and notebooks that have yet to be doodled on.
Of course, it's not all fun and games when it comes to getting back in the school routine. In fact, usually after the first week of school, the novelty wears off and trying to get your kid in the car becomes a battle that will wage until summer once again blissfully rolls around. However, this year we're pretty sure that aside from new school outfits and supplies there's another "new" item that might help you corral your kids into actually getting in the car on time. What's the secret weapon, you wonder? It's simple – get yourself a new-to-you (read: used) car.  Just search used cars in Denver and you'll be shocked to see how affordable it can be to get yourself a used car that will take away the pain of early morning wake-ups. You might be wondering: is it more hassle than it's worth to buy a used car? At the Faircy Boys, we certainly don't think so and here are three reasons why buying used makes more sense than buying used.
Reason #1: It's More Affordable to Buy Used than to Buy New
This first reason is pretty self-explanatory, but it's always worth pointing out. Not only will you save a bundle just on the sticker price of your car if you buy it used, but you'll also save serious cash when it comes to depreciation – in fact, it's generally accepted that buying and driving a brand new car off the lot will cost you 11% of the car's value. That's a lot of money that just vanished into thin air – of course, it's because as crazy as it may seem, your brand new car is now considered used.
Depreciation aside, there's another reason to realize that buying used makes more financial sense than buying new: you can usually afford more car when you buy it used rather than new. What does this mean exactly? It means that if you try to buy a fully loaded car in the current model year, you're going to spend a small fortune, whereas if you buy the same car just a few years older, you'll be able to get that car with more bells and whistles than you could otherwise afford. So if you're really after the leather seats, sunroof and fancy audio equipment but can't afford a brand new car and don't want to be saddled with a lease agreement, then simply look for a car that was considered new in just a few years ago. As an added bonus, most car manufacturers do not make sweeping (or sometimes any) changes to their cars year after year, so while your car might be a few years older than the most recent model, it also may be virtually the exact same car.
Reason #2: Used Cars Can be More Reliable than New
Now of course some of this depends on the previous owner and how diligently you've done your research, but buying used gives you a big leg up on buying new when it comes to knowing how reliable the model is in terms of mechanical issues or recalls. If you know there is a make or model you are particularly interested in, spend some time researching to see if there have been any recalls or issues publicized about the model. By buying used, you'll have given yourself the benefit of time – essentially letting other drivers find out (and hopefully address) any problems before you have to.
Keep in mind that when it comes to buying a specific used car, you're going to want to do additional research that goes beyond Googling recalls. You'll want to look at and carefully review the CARFAX report and flag any issues that seem unresolved or questionable. Additionally, you may want to take the car to a trusted mechanic to give it a good once over before you put down any money. They can check for engine issues that may not be immediately apparent and let you know if the car seems to be in good condition. Unless you go to reputable used car dealer – like the Faricy Boys – it can be buyer beware when it comes to buying used if you don't do your due diligence.
Of course, you should also know that at the Faircy Boys, we want you to be 110% confident in your used car purchase, which is why we offer our One Price Plus Program. The One Price Plus Program not only means you'll get hassle and haggle-free pricing on your new car, but you'll also get peace of mind knowing that you can bring your used car back within either three days or 300 miles and get a full refund if you aren't happy with your used car purchase.
Reason #3: Buying Used Gives You Options
When you buy a new car, that's what you're getting: a new car. But if you decide to buy used, you can either narrow or broaden your search by looking for cars that are either used or certified pre-owned. Many dealerships – the Faricy Boys included, even have a selection of cars marked under $10,000. By buying used, you open the door to a larger variety of cars at a much more varied price point. If you buy used, you'll be able to explore many more makes and models than you would if you were intent on buying new. Additionally, you may find that simply by buying used you've given yourself more financing options and most likely will find better rates on car insurance than if you were to drive a brand new car.
So don't wait for reports cards to come out and the ink in your kid's new pens to dry up. Head down to the Faricy Boys and treat yourself to a new-to-you car to start the school year off right. We promise that sitting in the carpool lane will be much more enjoyable in a car that feels as good as brand new.