Why We're Excited About the 2020 Jeep Gladiator – Colorado Springs, CO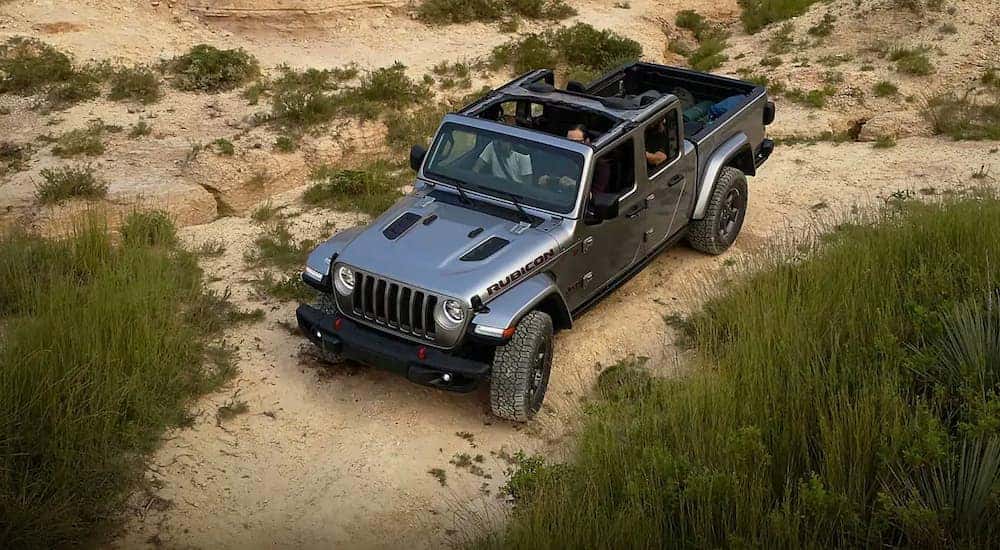 Since its introduction in 2018 at the Los Angeles Auto Show, the 2020 Jeep Gladiator has made a splash across the automotive industry. The Gladiator represents Jeeps first foray into pickup trucks since the discontinuation of the Comanche model in 1992. Over the last 26 years, Jeep has had a lot of time to reconsider their pickup design and craft something wholly original and fit for the 21st Century. Let's take a look at some of the most exciting features of the new Gladiator and why even the most casual pickup owner should have this one on their list.
It's the Product of a Rich History
Most car enthusiasts will have at least some idea of Jeep's long and storied past. Dating all the way back to all-terrain vehicle production in World War II, Jeep has had over a half-century of experience creating heavy-duty vehicles fit to take on the most extreme scenarios. Since entering the civilian market after the end of the war, Jeep has focused their energy on rugged vehicles that can take on the toughest jobs and still provide unparalleled comfort.
In addition to the short-lived Jeep Comanche that we mentioned earlier, Jeep also had a more successful pickup known as The Gladiator. Running from 1962-1988, The Gladiator marked the first post-war U.S. Army truck that was initially designed for civilians and then adapted into military use—if that doesn't make a truck tough, we're not sure what does. While the Gladiator moniker was dropped after 1971, Jeep continued to make different iterations of the same pick up until 1988.
So now when you go out looking for your new 2020 Jeep Gladiator, you can shop knowing that you are not only getting a cutting-edge new pickup but the next step in the long line of Jeep history. However, we should also state that the Gladiator has been announced to extreme interest and demand from the automotive market. Presales are already booming and it's looking like this will be one of the hottest trucks of the 2019-2020 season.
A Look Unlike Any Other
All it takes is one quick glance to notice that the 2020 Jeep Gladiator stands alone when it comes to aesthetic. By marrying the rugged military design of the Jeep with the hallmarks of the classic pickup, the Gladiator comes out looking quite unlike anything else.
Billed as the only open-air pickup truck in the industry, Jeep offers both a unique visual component and a convertible-like experience that you simply don't see in a pickup truck. Choose from a variety of hard and soft top options in order to best fit your preferred style. Whether you're looking for no doors and the top down, or fully-enclosed with the AC turned all the way up, the Gladiator has you covered.
When you're ready to pick out the look of your new Gladiator, Jeep simply spoils you for choice. Between the nine eye-popping colors, two-wheel types and 4 different roof options, the amount of permutations for your Gladiator are pretty substantial. There are four trim options: the Sport, Sport S, Overland, and Rubicon. Regardless of your personal taste or what you want to do with your new truck, Jeep has you covered.
Best-in-Class Performance
In addition to being one of the most unique and striking pickup trucks on the market, the Gladiator also delivers in every performance category. At its launch, the Gladiator will be powered by the formidable 3.6L V6 engine, which comes standard with variable valve timing and electronic stop-start system. The engine will produce 280 horsepower. If you fancy yourself more of a diesel driver, you're in luck but will have to wait. By 2020, Jeep plans to have Gladiator models outfitted with a 3.0L turbocharged V6 diesel engine. Both engines will be available with the choice of either the six-speed manual transmission or an eight-speed automatic transmission. Lastly, you can rest assured that all Jeep Gladiator models will be four-wheel drive.
Using all of this hardware to its advantage, the Jeep Gladiator puts up some unrivaled numbers when it comes to raw power and performance. First off is its best-in-class towing of up to an impressive 7,650 pounds. Whether you're pulling a boat, camper, or U-Hauling your apartment across the country, the Gladiator is up to the challenge. And now let's not forget, this Jeep is also a pickup truck! Sorry, we're still getting used to saying that. The Gladiator's flatbed can haul (sorry if this is getting repetitive) best-in-class payload of up to 1,600 pounds.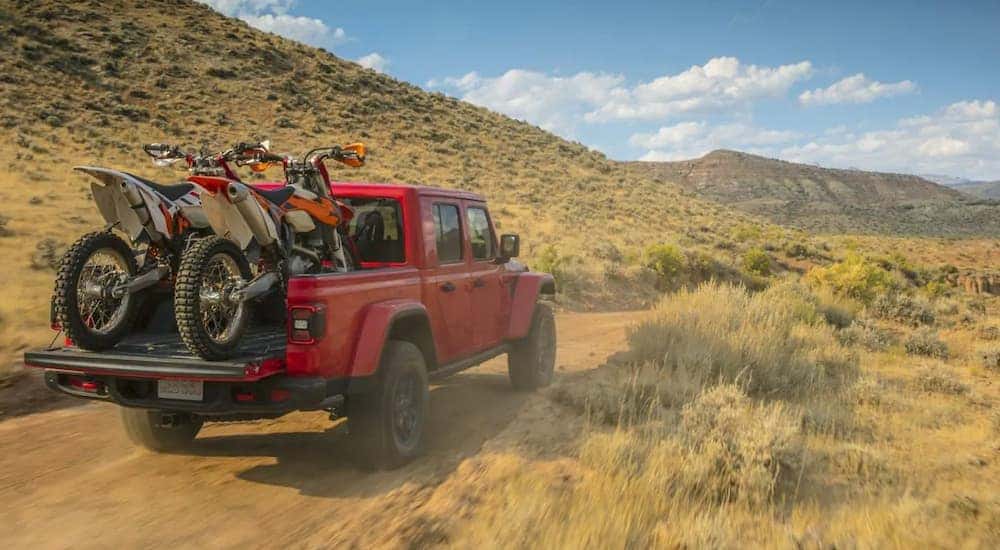 A Comfortable Interior and Plenty of Amenities
So, while the Gladiator's exterior is all about power and hauling heavy loads, things calm down on the interior and focus heavily on providing a comfortable and convenient experience. Described as an "oasis from the elements' by the Jeep team, the Gladiator offers a plush and roomy interior to ensure that you and your passengers feel at home no matter where the journey takes you. The Gladiator features an available largest-in-class (there it is again!) 8.4-inch touchscreen complete Apple CarPlay and Android Auto integration. It also offers an available removable Bluetooth wireless speaker, a unique industry exclusive. And while not all the details for the 2020 Gladiator have been released to the general public, we can also expect innovating storage solutions to add another layer of convenience to every trip.
An Awesome Launch Edition
To celebrate the launch of the 2020 Gladiator, Jeep recently announced a limited run of 4,190 special launch editions. And while this news comes with the disappointing caveat that they're all already sold out, it's still worth taking a look at this very cool special edition truck.
Clocking in at a hefty $62,310, the Launch Edition Gladiator was only for the most hardened of Jeep fans. Offered in five distinct colors, the Launch edition features a body-color hard top, exclusive aluminum tailgate badge, 17-inch mid-gloss black wheels, and massive 33-inch all-terrain tires. On the inside, the Launch edition features the 8.4-inch touchscreen, a nine-speaker Alpine premium sound system, a front-facing camera, and much more.
While these beautiful fleeting Jeeps may be sold out, you can visit their information page here to learn a little more. Who knows, if you're lucky maybe one will pop up on the second-hand market.
It is the Best of Both Worlds
So, there you have it. The 2020 Jeep Gladiator is a rebirth of a classic Jeep model that utilizes decades of experience and a tried-and-true design to create something that is familiar and exciting at the same time. With its truly unique open-air design, impressive performance specs, and classic Jeep traits, this is a pickup truck that has something for everyone.
Whether you're getting it to brave the toughest trails, take the kids to soccer practice, or haul your best friend's couch, the Jeep Gladiator is prepared to face the job with aplomb. Keep your eyes peeled as this exciting new model trickles onto the market and you just may be lucky enough to get one of your very own.
Here at Faricy in Colorado Springs, we are so excited about this brand new model. When you are ready, come down to our dealership and meet with an expert member of our sales team; we'd love to talk with you about getting you behind the wheel of this new truck. The best part about purchasing The Jeep Gladiator from us? We have an awesome one-of-a-kind off-road test track for you to try out the new truck on and once you purchase your new truck, you get unlimited car washes for 60 days after your purchase. What could be better for a truck capable of any off-road adventure you throw at it?