What You Should Be Looking for When Shopping for a Used Wrangler
So you've decided to pursue a used Jeep Wrangler. That's an excellent decision, as the rugged off-roading vehicle has proved to be a reliable option. Of course, you'll want to make sure the targeted used vehicle is operating properly, and that means you should be checking every nook and cranny of that targeted Jeep. After all, you wouldn't want to discover any issues after having already purchased the vehicle.
To see the parts you should be particularly focused on (as well as any accompanying warning signs), continue reading after the break…
Mechanics
Ali Mansour of FourWheeler.com starts with the engine, noting that both the 2.5-liter and DOHC 2.4-liter units are generally reliable. However, he also notes that they don't offer the same kind of power as the 4.0-liter inline-six engine, a unit the writer suggests pursuing in a used model. Either way, you'll still be getting a dependable engine, and that's one of the most important factors when shopping for a used vehicle. Horsepower is nice, but a functioning engine is even better.
Mansour notes that adding large tires or any additional weight will further limit your Wrangler's power and acceleration, and he doesn't suggest remedying the situation by installing your own engine to compensate. Stick with whatever motor accompanies your Jeep, and be thankful that it shouldn't cause you many issues. The writer suggests that the Wrangler's engines (especially the 4.0-liter version) can deliver more than 250,000 miles, so expect to ride out the Wrangler's accompanying unit.
One part that generally sees considerable wear (especially in modified Wranglers) is the track bar. The bar typically gets worn down (especially the joint at the end of the piece of metal) when large tires are installed. The track bar may eventually be responsible for any shaking, which could be an indication that the bolt holes are a bit deformed.
The exhaust manifold also sees considerable damage over the years, with cracking being the biggest issue. This is due to the harsh inline engines, which slowly break down the piece of metal. While these tiny cracks may be difficult to identify, you can still hear the air escaping from the manifold (something you'll only be able to recognize with a test drive).
Christian Hazel over at FourWheeler.com also suggests checking out the vehicle's catalytic converter, the plastic-tank radiators, the valvetrain, and the oil pan. If any of these parts is ruined or worn down beyond repair, that's certainly a red flag.
Leaks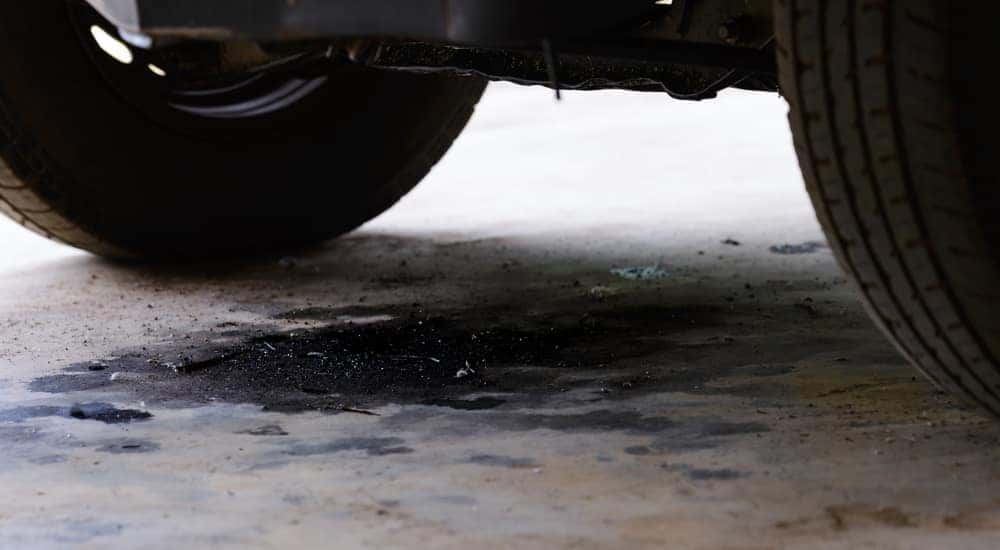 Any kind of dripping fluid is a clear indication of an issue. Some leaks are more sinister than others, but they should all be accounted for and subsequently fixed. Unfortunately, it's relatively easy for a seller to wipe up some leaks. To get around this issue, Mansour suggests having the seller meet you at a neutral location, perhaps a 15-minute drive from the seller's preferred meeting place. This means you'll be able to view the vehicle fresh off a drive.
The writer recommends initially checking the rear main seal (which is actually two pieces on the 4.0-liter). While repairing the leaking seal doesn't require a whole lot of maintenance (there's no reason to remove the transmission), it will still set you back a bit financially. Furthermore, Mansour writes that the 4.0-liter inline-six engine is known for leaking, which shouldn't be alarming. However, you'll want to determine whether the leak is coming from the main seal lake or the crank-case vents (via the inline-six engine).
Functioning/Drivability
Like you'd do with any used vehicle, you'll want to give the vehicle a test drive. Unless there's an issue with the engine, the first warning sign of a problem could be via the shifter. A five-speed manual transmission was initially available on the Wrangler, and a six-speed manual was also eventually included. If the gear shift knob seems to be hesitating or not operating properly, this is certainly an indication of an issue. Of course, there was also a three- and four-speed automatic version, so you'll want to also assure that the accompanying shifter is working as it should.
While we're discussing shifting, you'll want to investigate the Wrangler's transmission, assuring that the system is working properly. The fluid levels should be at an adequate level on an automatic transmission, and the clutch fluid reservoir level should be filled in a manual. Also, check to see that the skidplate and bellhousing haven't been cracked, as that could further impact your Wrangler's transmission.
Finally, keep an eye on the targeted Wrangler's fuel economy. Jeeps aren't known for their fuel efficiency, and these specs could be compromised or reduced even more in a used model. Assure that the Jeep is still delivering solid economy specs as you're giving the vehicle a test drive.
Exterior/Rust
Hardtop Jeeps are certainly more desirable than their soft top counterparts. However, these hard roofs are also more susceptible to scratching or damaging the top of your Jeep. Mansour points out damage at the top of one of his own used Wranglers, which he surmises is due to improper installation. He even notes that similar damage could be attributed to improper storage.
Rust is also important to check for. Besides the fact that it compromises your vehicle's style and looks, it can also slowly compromise some of your most essential parts. Still, it's important to remember that rust is fairly common towards the rear of the frame, so don't be discouraged if you find a bit of decay. You should only be worried if that rust appears to be spreading.
Axles/Steering
Wrangler TJs include the reliable NV231J T-case, a part that shouldn't see much wear, regardless of the Wrangler's age. Even if the part is damaged, you shouldn't have an issue replacing it (considering the piece is relatively easy to come across). A leak from the output seal is a clear indication of a problem, as is the part's inability to smoothly and seamlessly shift.
The axels included the low-pinion Dana 30s, which are also a reliable and sustainable part. As you've learned, leaking is a clear warning sign, as is a smashed front differential cover or peeled back rear differential cover. Furthermore, while the axel may not necessarily be leaking, there may be a good amount of sludge and grime that's compiled around the part. This could be relatively easy to clean… assuming the moisture hasn't already ruined the axel.
Finally, when it comes to the steering linkages, you'll want to make sure that none are bent or broken. These parts play an important role in keeping your vehicle on track, and you don't want to compromise you or your passenger's safety by not assuring that the part is operating properly.
This is certainly a lot to remember, and it's unlikely that you'll be able to check each individual aspect of your targeted used Wrangler. However, it's important to keep these recommendations in mind. If we were to emphasize one tip in particular, we'd suggest giving the used vehicle a test drive. By actually getting behind the wheel of the vehicle, you can determine whether everything is truly working properly. If you hear any odd noises, this could be an indication that the vehicle should be avoided… or it could be an indication that you may be able to purchase the Wrangler for less than the asking price.