Used Jeeps 101: Your Guide to The Best Models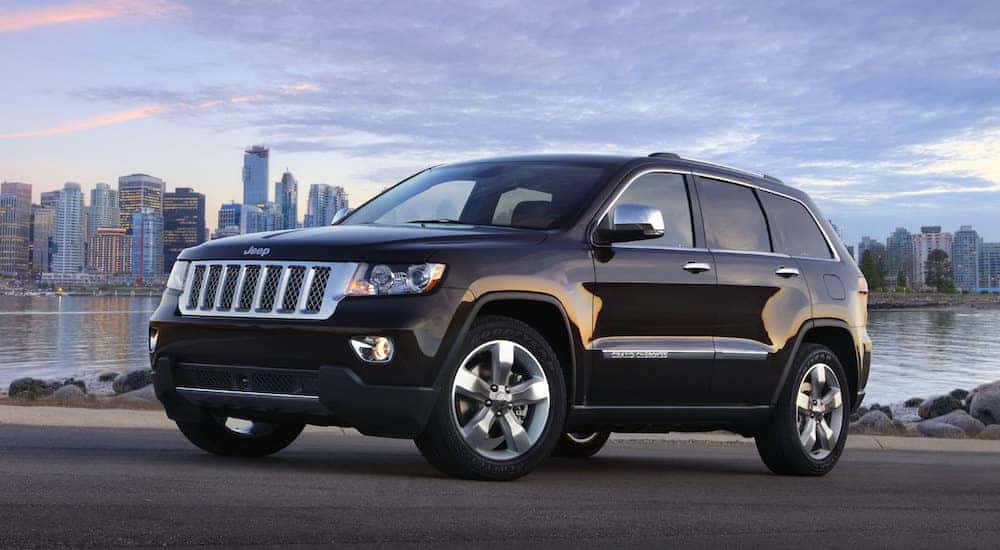 Jeep vehicles are a popular option for drivers searching for used cars in Colorado, but with so many models available it can be hard to decide which SUV best fits your needs. From the Jeep Grand Cherokee to the Jeep Renegade, here is our guide to the best used Jeep models available at The Faricy Boys dealership.
Jeep Grand Cherokee: 2011, 2012, & 2015
2011
Redesigned for the 2011 model year, this Jeep Grand Cherokee was received well by drivers and critics, and even became an IIHS Top Safety Pick. Praised for its spacious seating, comfort and convenience features, and on and off-road performance, the 2011 Jeep Grand Cherokee remains a popular model among drivers today.
2012
The 2012 Jeep Grand Cherokee comes standard with a 3.6L 4-cylinder engine, but drivers looking for additional power can also find models with the upgraded 5.7L V8 engine. While rear-wheel drive is standard for this model, three all-wheel drive options were originally available and can be found during your search for used cars in Colorado. Drivers looking to tow and haul recreational gear for those weekend adventures will be pleased with the 2012 Jeep Grand Cherokee's towing capacity of 7,400 lbs.
2015
As a more recent model year of the Jeep Grand Cherokee, this SUV comes packed with advanced entertainment, performance, and safety technology. For entertainment, drivers looking for used cars in Colorado will be able to find the 2015 Jeep Grand Cherokee with a 5.4-inch touchscreen display or the upgraded 8.4-inch touchscreen display, a navigation system, and a Harmon Kardon stereo system. Safety features include side curtain and side-impact airbags standard with the vehicle, while some models may also include forward collision warning, lane departure warning, and a backup camera.
Jeep Wrangler: 2008 & 2011
2008
In 2008, the interior of the Jeep Wrangler featured increased comfort and convenience features, while maintaining its iconic exterior styling. These features include more comfortable and easily adjustable seating, front and rear cupholders, and a spacious cargo area. As with previous models, the interior of the 2008 Jeep Wrangler features materials that are incredibly easy to clean for those messy off-road adventures.
2011
Both the 2008 and the 2011 Jeep Wranglers come standard with a 3.8L V6 engine that produces up to 202 hp, and share nearly identical fuel efficiencies at a combined 17 mpg. The 2011 Jeep Wrangler features the popular removable soft top, and can also be found with a removable hard top that shares the exterior color of the vehicle. Drivers searching for used cars in Colorado may also find this Wrangler with the heavy-duty off-road suspension option that was available for that year.
2015 Jeep Compass
2015
The 2015 Jeep Compass is the perfect choice for drivers looking for a sporty vehicle with excellent off-road capabilities. This vehicle comes standard with a 2.0L 4-cylinder engine, producing up to 158 hp and allowing for 2,000 lbs of towing capacity. Drivers looking for even more power will also be able to find one with the available 2.4L 4-cylinder engine which will up the horsepower to 172 hp. Although the 2015 Jeep Compass comes standard with front-wheel drive, there were also all-wheel drive options available.
Perhaps among the best features of this model year Jeep Compass is its off-roading capabilities, convenience features, and fuel efficiency at 23 mpg city/30 mpg highway.
2012 Jeep Liberty
2012
The 2012 Jeep Liberty was, and still remains, a popular vehicle among Jeep enthusiasts for its powerful standard engine, a 3.7L V6 engine that produces 210 hp, and its exceptional off-road capabilities. While fuel efficiency is not as impressive as other vehicles on the list, it is still comparable to others in its class at 16 mpg city/22 mpg highway. Enthusiasts also appreciate the rugged, boxy style of this midsize SUV, which is able to seat up to 5 passengers.
Convenience features include remote keyless entry, navigation, cruise control, front and rear cupholders, and a tilt steering wheel.
2015 Jeep Patriot
2015
In 2015, the Jeep Patriot received a few exciting upgrades including the addition of the High Altitude package which added a power sunroof and driver's seat, leather interior, and 17-inch wheels. On the base level, the Jeep Patriot also comes with plenty of standard features including a 2.0L 4-cylinder engine, 60/40 folding seating, a CD stereo, and a full airbag system including side-impact and side curtain airbags.
2015 Jeep Renegade
2015
The Jeep Renegade features a unique exterior design, while still maintaining the iconic Jeep styling with its round headlights and boxy shape. Shorter and wider than most Jeep vehicles on the list, this subcompact SUV seats five passengers comfortably and still offers serious off-road capabilities. While critics note that the 1.4L 4-cylinder engine that comes standard with the Jeep Renegade may disappoint drivers looking for more power, this SUV can be found with the upgraded 2.4L 4-cylinder engine. However, no matter which engine you choose, the Renegade offers precise and responsive handling.
With a 4 star NHTSA safety rating and fuel efficiency of 24 mpg city/31 mpg highway, this SUV is sure to please many drivers.
Choosing the Right Used Jeep Model for You
Now that you've been taken on a brief online tour of the best used Jeeps available at our dealership, it's time to check out our inventory in person at The Faricy Boys dealership. Our helpful and knowledgeable sales staff will be happy to answer any questions that you may have, and take it one step further by helping you determine which used Jeep vehicle on our lot best suits your needs. Not interested in a Jeep vehicle? Thinking about buying new or certified pre-owned instead? No problem! Our inventory features a variety of new, used, and certified pre-owned makes and models.
When it comes to used cars in Colorado, our dealership offers high-quality vehicles with transparent pricing. So in your search for your next vehicle, be sure to visit us at The Faricy Boys dealership today!