Used Ford F-150: Class F-Series Models and Engines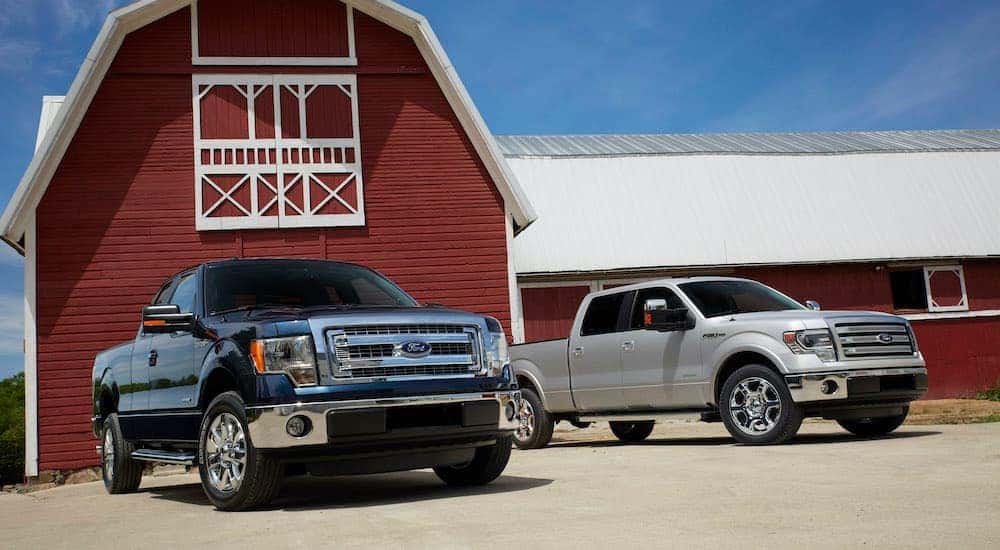 When looking for a used car, most people usually try to buy as close to the most recent model as they can. This makes sense since you want to ensure you are getting a car with the best tech and potentially lowest mileage. However, there is something to be said for getting an older car from the used market. For example, a used Ford F-150 is still going to give you a great driving experience, whether it's from the first generation or the most recent.
Throughout the years, Ford's F line saw significant changes as its trucks began to find their place in the market. The first-generation Ford F-1 was the starting point for a legacy that would carry Ford through the years and into the public's hearts. From the simple flathead engines through a variety of CID (cubic inch displacement) engines to the modern V6, V8, and turbocharged engines of today, Ford was at the top of their game every year in power and innovation. A trend that they continue with to this day.
Significant Changes Over the Years
Making its debut in 1967, the 5th-generation of Ford F-150 pickup trucks were produced until 1972. If you have been searching for a used Ford F-150, then a classic model from this era will certainly have heads turning everywhere you go. They can be difficult to find, but we promise they are out there. Available in three trim levels, you could luck out and find a Custom, Sport Custom, or Ranger.
Several model years during the 5th generation are marked by changes. When the generation kicked off in 1967, the cabin was 3-inches wider than the previous models. The truck was also heavier, and it had a redesigned grille, trim, interior, and new engine offerings. However, the very next year, new government regulations required that automakers incorporate reflectors or lights to make vehicles more visible. As a result, the F-150 underwent a hood emblem redesign to add reflectors. Reflectors were also added to the rear of the vehicle, and air-conditioning was installed at the factory instead of the dealership.
In 1969, the 302 Windsor V8 motor was added to the lineup, and a new grille was attached to the front of the truck. The final changes made to this generation were done in 1970. These included another new grille, wrap-around front turn signals, and new exterior accents. This was also the year that the Ranger trim level name was changed to the Ranger XLT.
5th-Gen Engine Guide
Used Ford F-150 trucks can still tow a decent amount of weight. You don't have to buy a brand new truck to get some serious performance specs. For the 5th-generation of models, the output depends heavily on which engine is equipped. Luckily, we've broken the motor lineup down for you to conveniently check what kind of performance to expect.
240 CID I6: Generating 150 hp, this engine was equipped on F Series models from 1967 to 1972.
300 CID I6: Producing 170 hp, this motor also served on the F Series trucks throughout the entirety of the 5th generation.
352 CID FE V8: This particular engine was only used for 1967 models, and it makes 208 hp.
360 CID FE V8: Available from 1968–1972, this powertrain pushes out 215 hp.
390 CID FE V8: Also used from 1968–1972, this engine generates 255 hp.
302 CID Windsor V8: Producing 205 hp, this motor can be found on models from 1969 to 1972.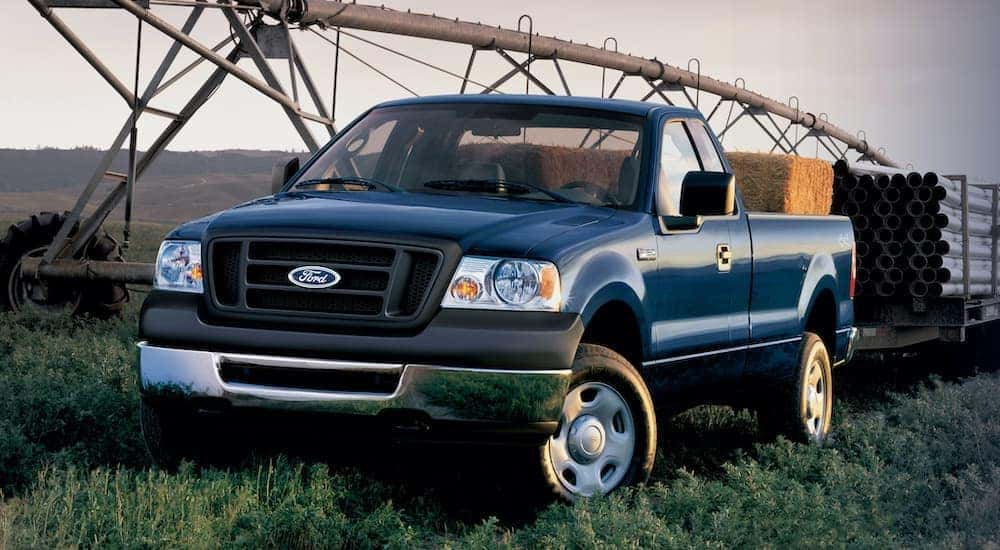 4th-Gen Engine Guide
The predecessor to the 5th-generation was, of course, the 4th-generation of F-Series trucks. Nowadays, these can be considered classic used Ford F-150 models. From 1961 to 1966, these beauties boasted a separated body/bed style. A few unibody trucks were also produced, but those are harder to find today.
The most notable performance feature on these models was the Twin I-Beam front suspension. Allowing each individual wheel to react to the road conditions independently, this system was used on F-150 models until 1996. It was also equipped on the F-250 and 350 heavy-duty trucks until 2016. Since it was first invented in 1903, that's a pretty good run! Now, let's take a look at some of the engines you will find underneath the hoods of classic F-Series trucks from the 4th-generation.
223 CID Mileage Maker I-6: Available from 1961 to 1964, this engine pushes out 114 hp.
262 CID Mileage Maker I-6: Generating 132 hp, this motor was also equipped on models from 1961 until 1964.
292 CID Y-block V8: Pumping out 170 hp, you will find this robust engine on trucks from 1961-1964.
240 CID Straight-6: Used from 1965 to 1966, this motor makes 150 hp.
300 CID Straight-6: Also available from 1965 to 1966, this engine produces 170 hp.
352 CID FE V8: Found on F-Series trucks from 1964 to 1966, this motor generates 208 hp.
3rd-Gen Engine Guide
Traveling back in time to 1957 will bring us to the 3rd-generation of Ford F-Series trucks. These classic models were redesigned with integrated front fenders and a restyled bed for a smoother look. Even though this generation was only in production from 1957 until 1960, the engineers at Ford started making the first-ever 4WD trucks. You may recognize these classic models today by their large noses, small windows, and circular headlights.
As for the engine lineup, this generation of vehicles was equipped with only three different motors. You may recognize one or two from the aforementioned 4th-generation. Let's take a look now!
223 CID Mileage Maker I-6: Producing 114 hp, this engine was equipped on 3rd-gen models from 1958 until 1960.
272 CIF Y-block V8: Pumping out around 140 hp, this motor was used throughout the entire generation.
292 CID Y-block V8: Available from 1959 to 1960, this engine pushes out 170 hp.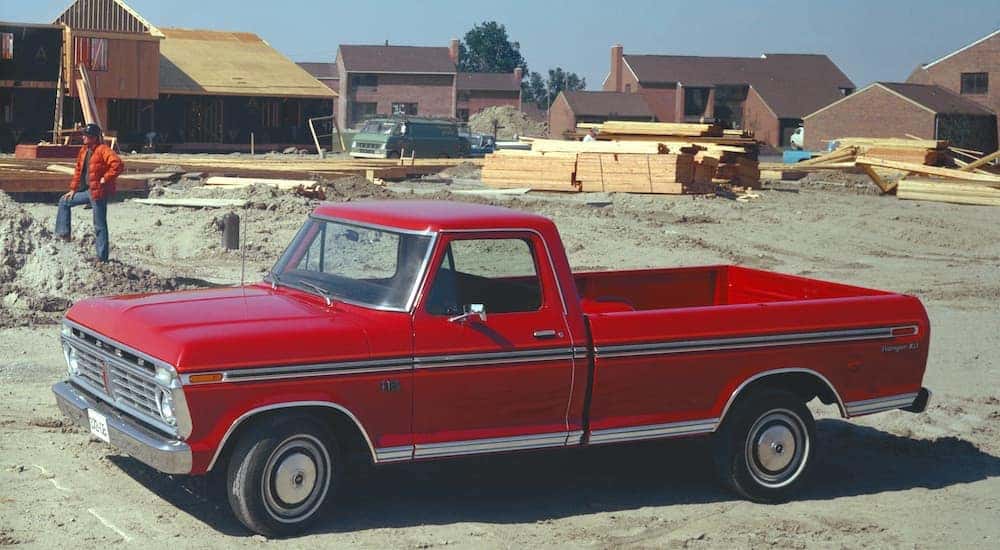 2nd-Gen Engine Guide
Another early, short-lived production run was the 2nd-generation of F-Series trucks from 1953 to 1956. The F-100, which is the ancestor of the F-150, boasted increased dimensions, better engine offerings, and a reworked chassis. A longer seat that accommodates three people was added along with the Ford-O-Matic automatic transmission. The first seat belts were also installed in 1956 for added safety.
During this production run, the engine lineup was all over the place. The last year for the popular flathead engine was 1954, and the new Power King motor was introduced. Let's take a look at the specific engine units for the 2nd-generation of classic F-Series trucks.
215 Straight-6: Used in 1953, this engine produces 101 hp.
239 Flathead V8: Also only used in 1953, this motor pushes out 100 hp.
223 Mileage Maker I-6: First introduced in 1954, this motor produces 115 hp.
239 Y-block V8: This engine generates 130 hp and can be found on models from 1954 to 1955.
223 Mileage Maker I-6: Replacing the Straight-6 engine in 1956, this motor puts out 137 hp.
256 Y-block V8: Serving as the replacement for the Flathead motor, this engine was introduced in 1955 and pushes out 140 hp.
1st-Gen Engine Guide
The very first generation of F-Series pickup trucks spanned from 1948 to 1952. While this generation can be found in a wide range of body styles, including pickups and even school buses, the point of origin for all used Ford F-150 trucks goes back to the F-1 pickup. This light-duty 1/2-ton model weighed only 4,700 pounds, and it featured running boards underneath the cab and over the truck's frame. Every F-1 truck was equipped with a 3-speed manual transmission and one of two engines.
223 Flathead 6: Equipped on classic F-1 trucks from 1948 until 1951, this engine makes 95 hp.
239 Flathead V8: Used on trucks from 1948 until 1952, this robust motor generates 100 hp.
Find a Used Ford F-150 Today
While the class F-Series trucks can be hard to come by, you can easily find a modern used Ford F-150 model at The Faricy Boys. Our experts are here to help you pick the best match to suit your driving needs with the power that Ford is known for and the modern conveniences we are all becoming used to. If you are in the Colorado Springs area, get in touch with us today to schedule a test drive!