The Little Off-Roader That Could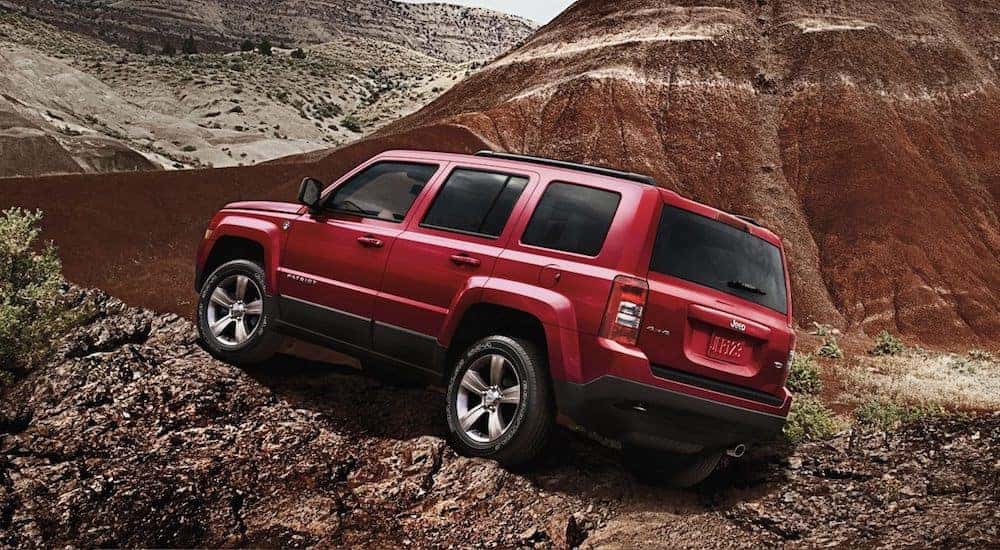 If you're looking for a Jeep that can take you anywhere life takes you, on or off the road, but want an inexpensive way to enter into the Jeep brand and lifestyle, then the Jeep Patriot is the perfect off-roader for you. The Jeep Patriot is the least expensive of all of Jeep's Trail Rated vehicles, allowing you to take advantage of everything the Great Outdoors has to offer while getting the most bang for your buck.
Likewise, whether you're looking to purchase a new or used Jeep, the Jeep Patriot stands a cut above the rest. It is the best of what Jeep has to offer for a great price. Once you sink your teeth into a Jeep Patriot, you won't ever want to buy anything but a Jeep ever again. We'll show you why the Trail Rated Jeep Patriot is the value for your money and take you through everything this small but mighty Jeep has to offer.
What Does Trail Rated Mean?
What does Trail Rated even mean, and why is it so important in the first place? Being Trail Rated means that Jeep has tested the vehicle extensively in five different categories to make sure that it is up to the task of conquering any terrain with ease. The categories a Jeep 4×4 must go through in order to earn the Trail Rated badge are traction, water fording, maneuverability, articulation, and ground clearance.
To get Trail Rated for traction, a Jeep must have the traction to handle the harshest driving conditions. Whether you're driving down a steep, rocky mountain for the fun of it or trying to make your way home during a snowstorm, Trail Rated Jeeps have you covered.
With Trail Rated water fording, you can make it through standing water that other vehicles would flounder in. Trail Rated Jeeps have sealed electrical connections and body openings, and the air intake is located much higher than a traditional vehicle in order to fend off water. These features will allow you to make it through any deceivingly deep puddle or creek without worrying about damaging your vehicle.
To easily dodge objects obstructing the path, make it through narrow gaps on the trail, or avoid an oncoming accident, you need to have Trail Rated maneuverability. Precision steering and optimized wheelbases allow you to easily maneuver any Jeep 4×4.
Having good articulation is necessary when traversing a rough trail or areas with a lot of construction or road damage. Trail Rated articulation means you have flexible suspension along with stable, engaged wheels.
Finally, you need to have Trail Rated ground clearance when navigating the trails. Trail Rated ground clearance provides ample room between the ground and the underbelly of the vehicle, ensuring that you can drive over rocks or other trail debris without damaging the underside of the Jeep.
The Jeep Patriot
For years, the Jeep Patriot has remained largely unchanged, allowing any outdoorsman to off-road on a budget. On the outside, the Patriot dons the classic, boxy Jeep look that many of the company's off-roading vehicles share. The roofline doesn't curl like some other Jeep models do, so it feels roomier on the interior. Plus, if you get the High Altitude Package, you'll get some nice luxury features like a sunroof, power driver's seat, leather seating, a touchscreen display, remote start, standard tire pressure monitoring system, and 17-inch gray wheels.
Despite its classification as a compact SUV, the Jeep Patriot has an impressive 23 cubic feet of storage space if the rear row of seats is in use. Fold the rear seat down to get 53.5 cubic feet of carrying capacity, enough room to pack up for your next camping trip.
There are four different trim levels for the current generation of Jeep Patriot. The base engine for all four trims with all-wheel drive is a 2.4-liter four-cylinder that gets 172 horsepower and 165 lb.-ft. of torque. This engine can be paired with either a five-speed manual or a six-speed automatic transmission. Getting 21 MPG in the city and 27 MPG on the highway, this baby has surprisingly good fuel economy for an off-roading SUV. The fuel tank is 13.5 gallons, meaning you'll get approximately 350 miles of range on one tank of gas.
For Jeep Patriots with two-wheel drive, there is a 2.0-liter engine, but if you want to take this baby to the trails, you're much better off with the all-wheel drive and 2.4-liter engine. The standard all-wheel-drive system for the Patriot is called Freedom Driver I, and it's essentially an electronic system that gives you needed traction and senses slippage by transferring power from the front to the back wheels, all without any driver assistance. However, this package isn't Trail Rated.
To get the Trail Rated Jeep Patriot, you'll need the Freedom Driver II package. This package will replace the standard transmission with a continuously variable transmission and adds a 19:1 crawl ratio for the steepest of inclines. This package also adds in Hill Descent Control, aggressive off-roading tires, an engine oil cooler, tow hooks, and brake lock differential. Also included with this package are a 140-amp alternator and skid plates around the fuel tank, transmission, and oil pan. You'll also have an additional inch of ground clearance, going up to 9.1 inches from 8.1 inches.
As if all of that wasn't enough, this package also includes the towing package that will enable you to easily haul all of your gear to the campsite. With this added feature, the Jeep Patriot can tow up to 2,000 pounds of cargo.
If you're in the market for a tough but inexpensive Jeep, look no further than the Trail Rated Jeep Patriot. With this Jeep, you'll easily be able to go where there is no path and carve out your own trail, and you won't have to break the bank to do it. Visit your local Jeep dealership today to explore the inventory of new and used Jeep Patriots today.