The Jeep Gladiator Is Not Your Average Truck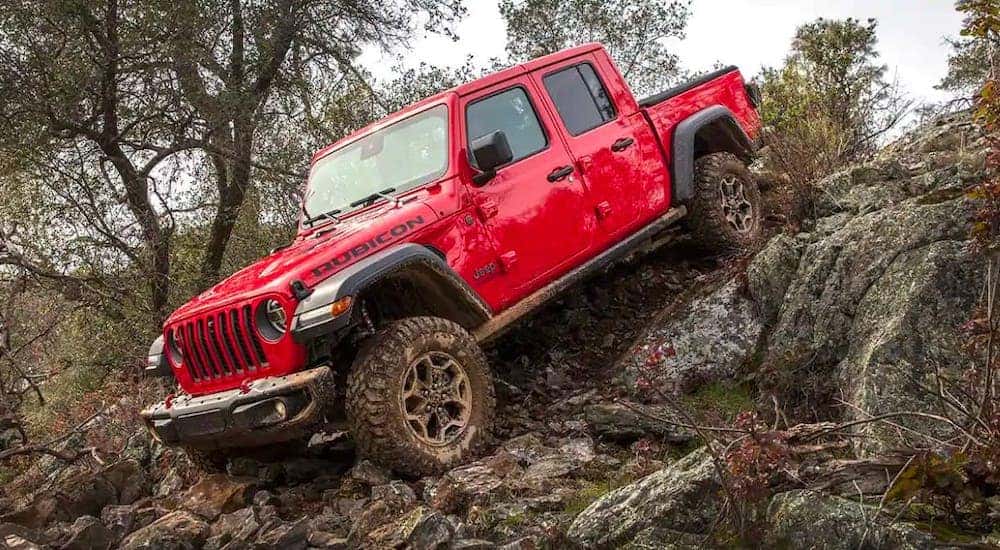 The Jeep Gladiator is technically a pickup truck. It competes in the pickup truck category and is routinely compared with its rivals, like the Ford Ranger, in the automotive press. Here at The Faricy Boys, we find this a little odd because when you visually compare the 2021 Jeep Gladiator vs 2021 Ford Ranger, the Gladiator looks a whole lot different. In fact, it doesn't look much like a traditional pickup at all. It only takes one glance to see what we mean, but the Gladiator's styling is just your first hint that this Jeep not only overshadows others in its class but quite possibly creates a new class all its own. We know that good looks are just one part of the equation. What about capability?
We like vehicle comparisons because we get to deep-dive into each car's attributes, good and bad. During the process, we almost always uncover small differences that combine to easily sway buyers in one direction. Nowhere is this truer than when we pit the Gladiator against the Ranger. After our in-depth analysis, we believe these two vehicles represent more of an apples-to-oranges reality because, while they share many common pickup truck traits, the Gladiator manages to expand its appeal to a broader base of buyers.
The beauty of Jeep vehicles is that they simultaneously occupy a spot in a specific segment – like pickup trucks – while maintaining a completely unique identity. They're the niche player in any subset, and that's just how the company wants it. Jeep owners are much the same way. The brand's rebel stance is what feels right to them and what entices buyers to embrace the quirky sense of adventure hiding beneath the utility they need. You might say Jeep vehicles share a common soul. So how different is the Gladiator? We'll take a look at each truck's capabilities and features to figure it out.
What's Similar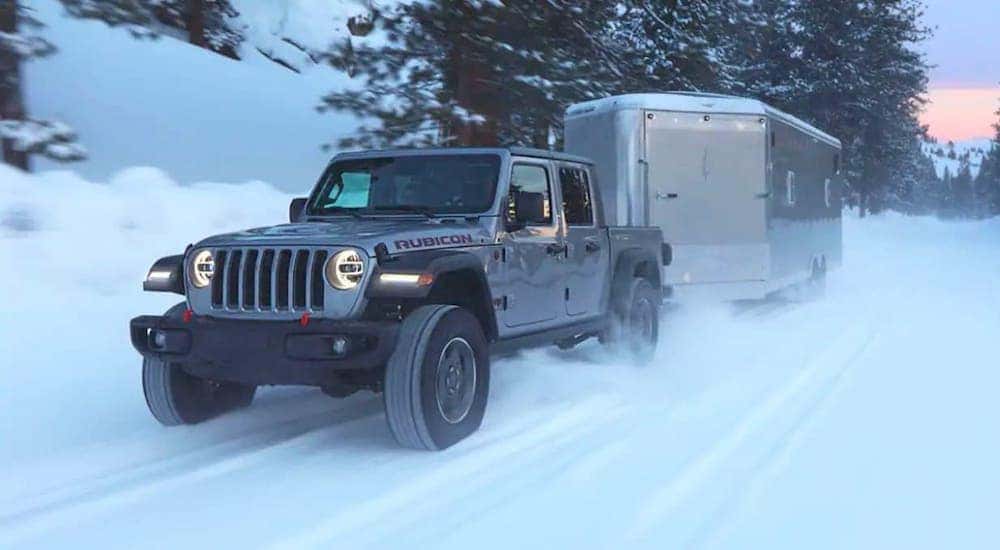 Both the Gladiator and the Ranger have substantial towing capabilities. Keep in mind that towing capacity numbers are important. Before you decide on a new truck, carefully check the weight of what you're towing to ensure it's within the range of the truck's capabilities. Towing heavier equipment can create a highway hazard for yourself and other drivers as well as cause extra wear-and-tear on the vehicle. The Gladiator delivers a max towing capacity of 7,650 lbs, which is plenty of capability for towing a boat or small camper. The Ranger's is slightly less, at 7,500 lbs. Remember, even small increases matter when it comes to towing.
Both trucks feature truck bed body styles, but the Gladiator manages to retain its Jeep-like front end and a comfortable seating configuration for up to five. This means rear-seat passengers aren't shoehorned in. In fact, the Gladiator has 42.8-inches of rear headroom and 38.3-inches of rear legroom. If you want comfortable seating in the Ford Ranger, you'll need to upgrade to the SuperCrew body style. The base SuperCab has seating for four, and the rear seat passengers will feel the crunch of just 35.9-inches of headroom and 30.4-inches of legroom. If you opt for the SuperCrew, it's a little better, with seating for five and 38.3-inches of headroom and 34.5-inches of legroom in the rear. Unfortunately, that still falls far short of the Gladiator.
What about fuel efficiency? It's easy to assume that the Gladiator is thirstier given its exceptional towing capacity and roomy cabin. In fact, thanks to its optional diesel engine, the Gladiator wins here as well with a max fuel economy rating of 22 MPG city and 28 MPG highway. The Ranger dips below those numbers, rating 21 MPG city and 26 MPG highway. Over time, that means the Gladiator will cost you a little less to drive, and you'll get to pass by a few more gas stations without having to refuel.
What's Different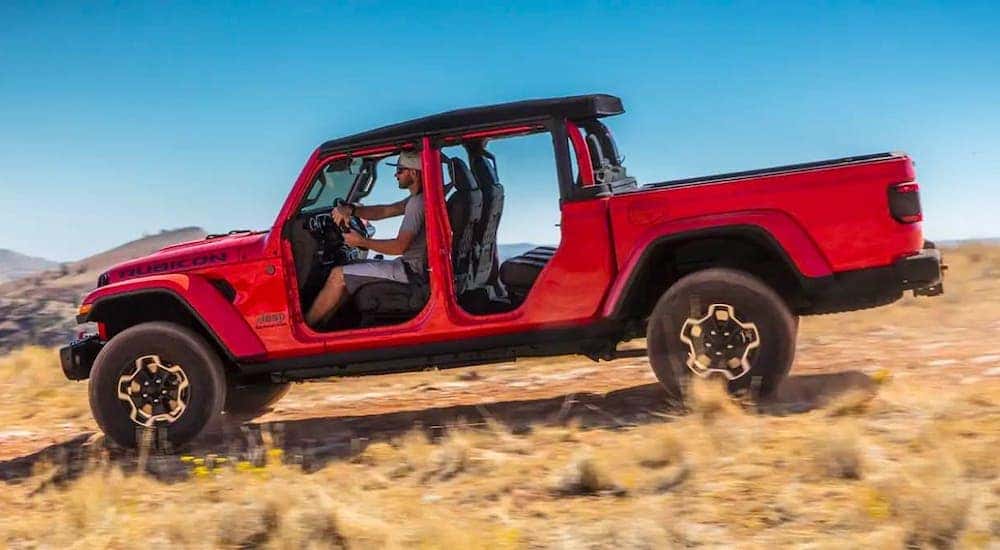 The Gladiator is available with a traditional gas-powered engine or Jeep's 3.0-liter EcoDiesel V6 motor, the latter of which delivers a best-in-class torque rating of 442 lb-ft. That much torque makes acceleration smoother and faster and helps even out performance when towing by keeping the vehicle more stable. The Ford Ranger comes standard with a 2.3-liter four-cylinder engine that delivers 310 lb-ft of torque, no diesel option, and no other engine options whatsoever. Buyers may not like that one-size-fits-all specification.
The Ford Ranger comes standard with two-wheel drive, and four-wheel drive will bring a considerable price increase. The Gladiator only comes in four-wheel drive. Why? Because it's a Jeep! Not only that, a direct comparison of the 4×4 Ranger and the Gladiator reveals several off-roading performance and capability differences. First, all Gladiators bear the Jeep 'Trail Rated' badge, which means they've passed arduous testing in five critical areas: traction, water fording, articulation, ground clearance, and maneuverability. In a nutshell, the Gladiator is equipped to conquer almost any terrain handily. The Jeep Gladiator Mojave earned Jeep's first 'Desert Rated' badge for its ability to perform in blistering heat and loose sand. The Ranger offers off-roading capabilities, but only if you upgrade to the FX4 or Tremor packages for an additional fee.
We'd be remiss if we failed to remind you that these trucks couldn't look any different. On paper, they're both pickup trucks, but up close, you see such unique styling cues on the Gladiator's exterior that style points must be awarded to Jeep. The Ranger is a great-looking traditional pickup truck, but it doesn't stand out. Buyers looking to color outside the lines are going to want the Gladiator. They'll still get the truck bed style, but they'll also get a true Jeep off-roader.
What's Really Different
Jeep builds in a ton of signature features on the Gladiator, including a completely removable hard or soft top and a fold-down windshield. Jeep owners love the outdoors, and the company builds in adaptability so every Jeep Gladiator can transform whenever its owners are ready for an open-air adventure. Sadly, when it comes to the Ranger, a moonroof and sliding rear window will have to suffice to let in the outdoors – and of course, you will have to pay extra for those features.
Let's talk tailgates. If Jeep is designing a pickup truck, we know they're going to find a clever way to do it better. Remember our comment about small differences? The Gladiator comes with a 3-position tailgate that adapts to whatever cargo you're hauling. It opens in a traditional fully flat position and closes upright like other tailgates, but can also sit at a mid-position level that is perfect when you're transporting lumber or other long cargo. The Ranger's tailgate is a traditional style, with upright and flat configurations only. This is a tiny design difference that equals a lot of utility when it counts.
Jeep SUVs and pickup trucks are capable in the ways that drivers demand, but they incorporate standard off-roading features and quirky design elements that differentiate them from the pack. That's the sweet spot for buyers. Take the Gladiator: a pickup truck in every sense of the word, but Jeep makes sure that its signature seven-slot grille is prominent on the Gladiator's front end, and features like the fold-down windshield and removable roof reveal the true Jeep soul underneath. The Gladiator takes everything we know about pickup truck styling and turns it on its ear. Who wouldn't want to break from tradition and stand out?
The unequivocal winner for both capability and style is the 2021 Jeep Gladiator. We concede that the team here at The Faricy Boys might be a bit biased towards Jeep, but it simply wasn't a fair fight. We respect the Ford Ranger and, as far as traditional pickup trucks go, it's a fine choice, but we believe pickup truck buyers don't have to compromise style and good looks for utility. Apparently, Jeep agrees.