The Best Used Cars in Colorado Springs for Off-Roading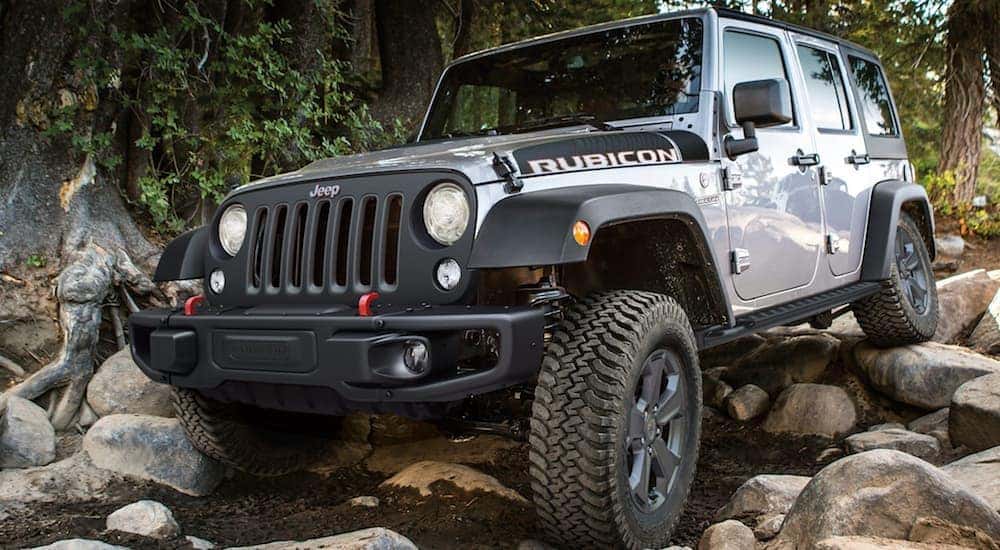 If you are searching for the best used cars in Colorado Springs for off-roading adventures, then you came to the right place. Here at Faricy, our auto experts know a thing or two about vehicles. Want to know how much a Jeep Wrangler can tow? Ask a Faricy expert. Want to learn about the engine performance stats of various pre-owned Jeep models? Our team can help you with that too.
We specialize in America's favorite adventure vehicle – the Jeep. Ideal to handle the rough terrains and cold weather of Colorado, you won't find another SUV that can compare. Let's take a look at some of the best Jeep models for hitting the great outdoors this coming spring!
Used Jeep YJ Wrangler Capabilities
One thing you need to remember when it comes to the Jeep Wrangler is that this is the most customizable SUV on the market. Available in a variety of body styles, trims, and powertrains, we could write a book about the Wrangler and all of its glory. For the sake of this article, we will condense the information by generations.
First produced in 1987, the Wrangler has had over thirty years of adventures. Used in safaris, desert treks, mountain climbing, river crossings, and even action films, people know this model is one tough cookie. Currently in its fourth generation, this is one of the rare vehicles that hasn't changed its appearance much over the years. After all, there is no need to fix what isn't broken.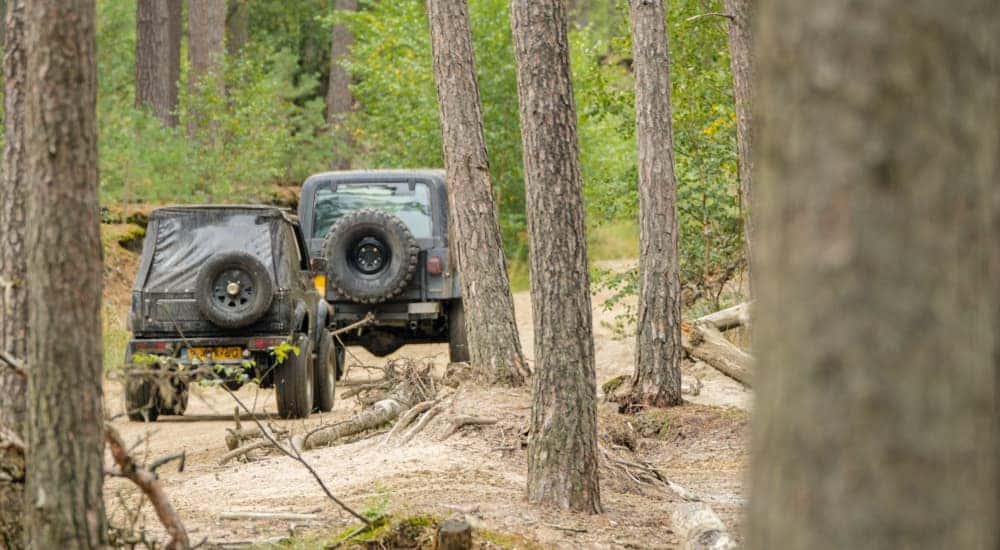 In production until 1995, the first generation was called YJ. Although we don't typically mention used vehicles this old, it's important to take note of the YJ Wrangler because you can still find them around. The standard powertrain on this iconic model is a 2.5L 4-cylinder engine coupled with a 5-speed manual transmission. It can tow about 2,000 pounds, which is not bad considering the time in which it was built and the fact that its a compact SUV. If you happen to come across a YJ Wrangler Renegade, you'll find a 4.0L I-6 engine under the hood paired with either a 5-speed manual or 3-speed automatic transmission. With this powertrain on board, you can tow up to 3,500 pounds.
Used Jeep TJ Wrangler Capabilities
From 1997 until 2006, the second generation was known as the TJ Wrangler. This is where things got really interesting. With a slew of special editions and trims, it's hard to keep track of all the various styles. Steady amongst the pack are the three engine options. First is the 2.4L I-4 engine that dropped the Wrangler's towing capacity down to only 1,000 pounds. The second option is a 2.5L I-4 engine that keeps the same 2,000-pound capacity. Finally, the 4.0L I-6 powertrain system also remains the same.
Another note to take from this generation is the reintroduction of the long wheelbase, which had been discontinued 18 years prior. Introducing the TJ Wrangler Unlimited in 2004 was an exciting ordeal. With 15 extra inches in overall length and 2-inches more of back seat legroom, this model is ideal for families who like to hit the wild outdoors. It can also be great for individuals who travel with four-legged friends or a lot of equipment.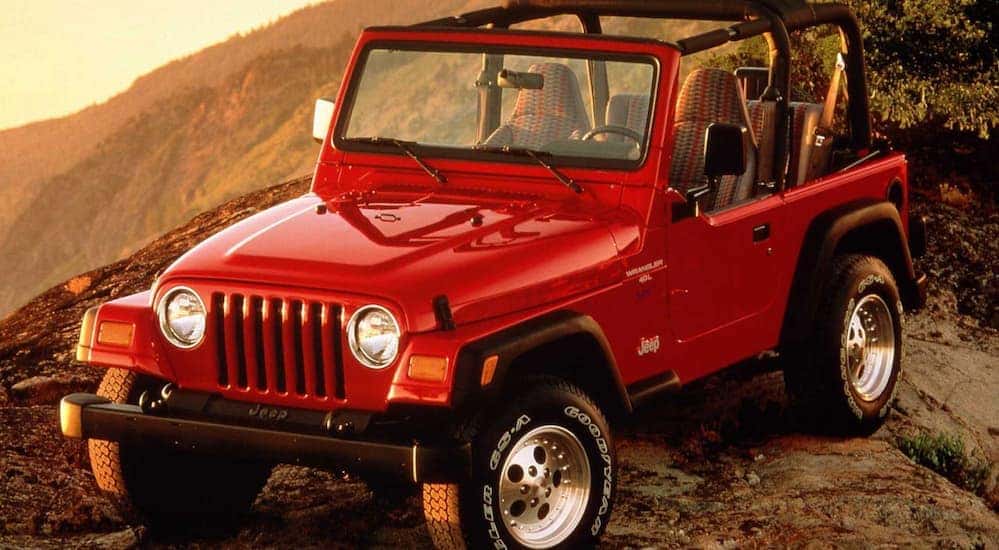 Used Jeep JK Wrangler Capabilities
Arriving on dealership lots in 2007, the third generation was called the JK Wrangler. With a completely redesigned body, frame, and suspension, this model took notes from the previous generations to make the vehicle that many of us see on the roads today. Standard features on this version include power locks/windows, an electronically detachable stability bar, and even navigation. After all, it's best to head off into the wild with the help of a high-tech map!
That's not all that's new for this generation either. Three all-new engines were equipped on these models for better capability and performance. These powertrains include the diesel 2.8L I-4, 3.6L V6, and the 3.8L V6. Even with these upgrades, the towing capacity still stays between 2,000 and 3,500 pounds.
Used Jeep JL Wrangler Capabilities
The fourth generation, known as the JL Wrangler, started in 2018 and is currently still in production. Even though these models are newer, you can easily find them in the used cars section. The best part of this is that you will be getting the most advanced features for a fraction of the original price.
Available with four various engine choices, it may surprise you to learn that the towing capacity still remains at 2,000 to 3,500 pounds. The engine is not the only determining factor in maximum towing. Only the Unlimited models can manage the heavier weight. This is because of the longer wheelbase. Engine options of the JL Wrangler include a turbocharged 2.0L I-4, a diesel 2.2L I-4, a diesel 3.0L V6, and a 3.6L V6.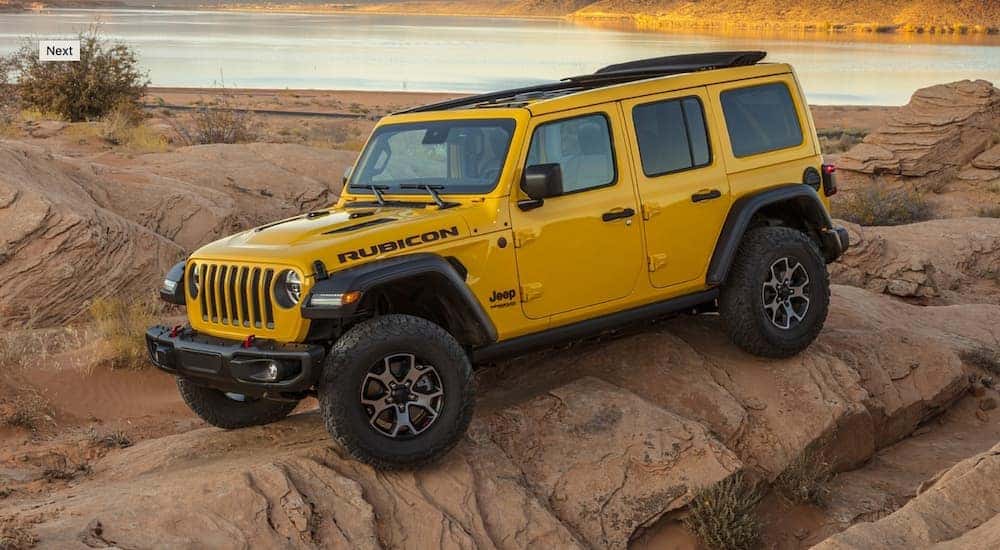 Used Jeep Rubicon
If you don't want to be bothered looking for specific generations, there's an easy way to find the best used off-roading Jeep Wrangler model. Simply look for a pre-owned Rubicon.
As we mentioned before, the Wrangler has been offered in numerous trims and special editions. It's harder to find a special edition because they tend to be rare, but it's quite easy to locate a Rubicon. What's so special about the Rubicon? It was designed specifically with off-roading in mind, and that is a fact that spans across all four generations.
Let's look at the last two generations of Rubicon models since they are the ones you're most likely to run into during your search. The JK Wrangler Rubicon is an "off-road ready" SUV featuring front and back Dana 44 axles, an electronically-released sway bar, rock rails, and 4WD. It also comes with a 7-speaker Infinity stereo system because adventures are not complete with your favorite tunes.
As for the newer JL Wrangler Rubicon, it is even better equipped to handle rough terrain. With a ground clearance of 10.8-inches, you can easily climb over rocks without damaging the underside. Also handy in this case are the features such as the electronic locking differential, the Rock-Trac system, hydraulic rebound stop, and the front sway-bar disconnect system. It looks incredible too, with its polished aluminum-alloy wheels with black pockets, steel front/rear bumpers, and an LED exterior lighting system. As the top-tier trim level, it even comes with leather seating for the ultimate experience in off-roading style. Needless to say, if you want a true SUV that can handle the difficult terrains of Colorado, find a Rubicon!
Purchasing Used Cars in Colorado Springs
No matter what kind of pre-owned vehicle you are looking for, you should always get a vehicle history report. This will let you know if the car has been in any accidents or had major repairs. If you want to check out our selection of used or Certified Pre-Owned vehicles in Colorado Springs, give us a call. Our knowledgeable team can answer any questions you may have and schedule you for a test drive in one of our available models. Get in touch with Faricy today!