The Best Used Car for Outdoor Adventurists in Colorado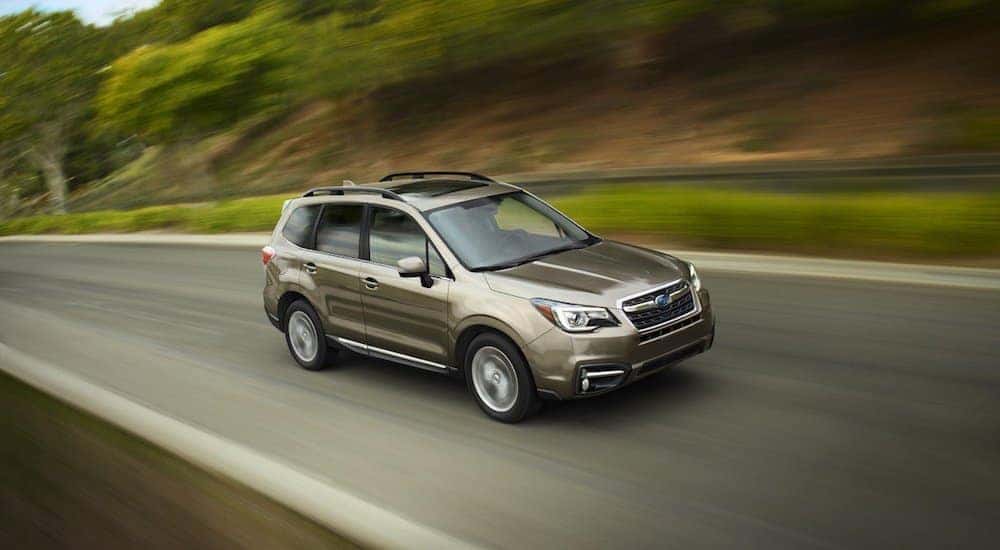 If you live in Colorado it's a pretty safe bet that you're probably a nature buff. With all the stunning landscapes and outdoor activities Colorado has to offer, from skiing in Aspen, to rock climbing the Flatirons, to hiking in the wild Rocky Mountain Wilderness, Colorado is an ideal state for nature enthusiasts.
When it comes to the best used cars, Colorado adventurists can find: vehicles that have 4WD, sport handling, and accessories like trailer hitches and side rails, some of the best vehicles to keep on your radar. A vehicle that's going to make it up those mountain roads, that can handle any and all terrain you may throw at it, and has the cargo space for any and all of your gear, is the ideal way to go when it comes to used cars. And at Faricy, we know we have the inventory for you and your needs. One – you'll save money you can put towards your next outdoor adventure with our used car prices, and two – at Faricy, we have the best adventure-enthusiast vehicle selection around.
Subaru Forester
When it comes to the outdoors, Subaru is an all-around great outdoor vehicle brand. From customer satisfaction to its all-terrain AWD capabilities, and it's mechanical reliability, the Subaru brand is geared towards outdoor enthusiasts.
The Subaru Forester attests to this fact with a number of accolades and performance capabilities. In 2015 the Subaru Forester was named as "The Top Safety Pick" by IIHS, named as the "10 Best SUVs Under $25k" by Kelly Blue Book, and was quoted as "an increasingly rare breed that is equally adept on-road and off-road" by KBB. The professionals have spoken – this is an all around great vehicle for Colorado buyers looking for a used vehicle that can handle tough terrain and has the safety and storage space to keep you confident.
The Subaru Forester seats five people and has the cargo space of 74.7 cubic feet. Worried about all the camping, biking, or climbing gear you have with you? You won't have to worry anymore with the Subaru Forester where you can simply fold down the back seats, and presto! Plenty of space for even your biggest gear. With great fuel economy – getting 32 mpg on the highway and 34 mpg in the city – as well as AWD sport utility, this is a used car in Colorado that you can rely on.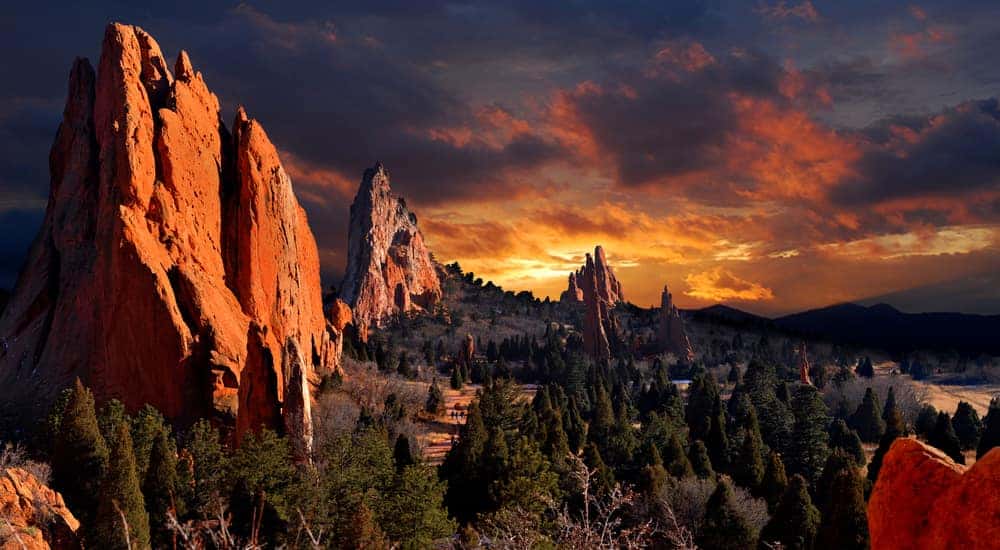 Where to Go
Take your adventurous Subaru Forester out for a fulfilling afternoon of rock climbing. The Colorado Climbing Company offers outdoor climbing lessons all year round. Their experienced climbing guides offer programs for both beginners and advanced climbers alike. Looking for a real challenge? Opt-in for one of their exciting ice climbing excursions! Climbing trips span across various locations throughout Denver, Boulder, and Grand Junction. Hire a private guide or sign up for classes, which are based out of their office at 6435 Garlock Way in Colorado Springs.
To sharpen your climbing skills indoors, try the CityRock Climbing Center on 21 North Nevada Avenue in Colorado Springs. They're open late, which enables more flexibility for climbing after dark. If you go alone, take advantage of their auto belay system, which lets you hook yourself in and climb at your own pace. For a closer to the ground challenge, bouldering walls let you climb steep curves without a harness. If you have a climbing partner, there's plenty of traditional rope climbing to be done at CityRock, as well. With a 5/5 rating on TripAdvisor, it's clear that CityRock Climbing Center is well-liked by all those who dare to give it a try.
Looking for an awe-inspiring day trip? Load up your Forester and head to the Garden of the Gods. This famous National Natural Landmark is a must-see for rock climbing, hiking and interesting rock formations that you certainly won't find elsewhere. The striking scenery is completely free for visitors to admire. Check out the museum and nature center as you take a break from enjoying the desert sunshine. If you want to try your hand at climbing while you're there, the Front Range Climbing Company can lead you on a four-hour outing of this gorgeous landscape. Equipment rental is included and intended for beginners to intermediate climbers.
Jeep Grand Cherokee
Built originally for the military, you can trust that all Jeep models have the tactical capability and power and performance to endure anything. We have a number of Jeep Grand Cherokees currently in our inventory and have continually been impressed by the Jeep brands towing capacity, rugged exterior, and capability on any and all terrain.
For example, the 2015 Jeep Grand Cherokee, a used vehicle we currently have in our inventory, can haul up to 7,200 lbs, gets up to 28 mpg on the highway, and has a number of safety features to keep you, your friends, and your family safe. The Jeep Grand Cherokee utilizes the latest in safety technology with features like the rear view camera, anti-lock brakes, parallel and perpendicular park assist, and forward collision warning with crash mitigation, among others. With the latest technology on your side, and it's 4WD sport utility capability, this is a hard used car to beat in the used adventure vehicle department in Colorado.
At the Faricy Boys Dealership, we have an extensive inventory of used Jeeps in stock, and are eager to discuss the benefits of any of these high-quality vehicles with you.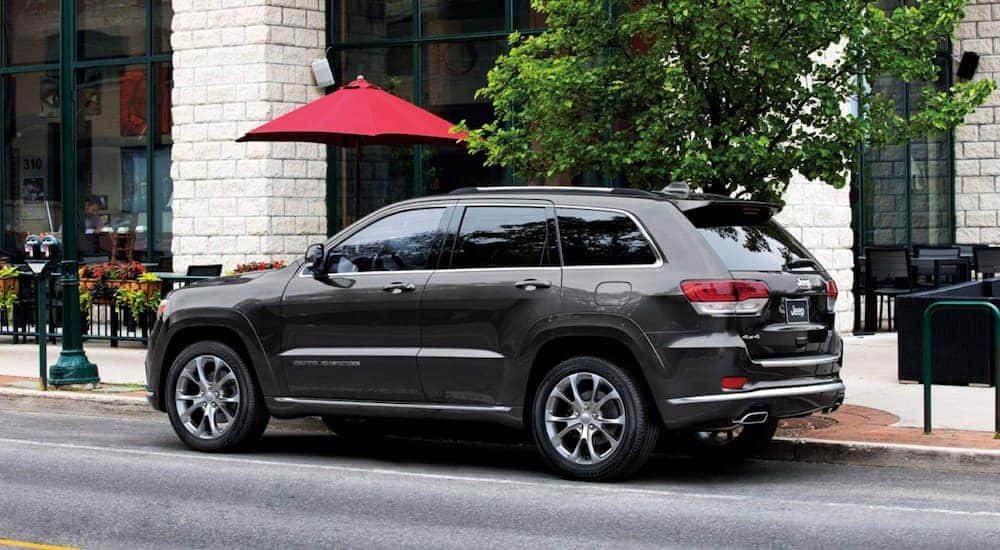 Where to Go
Ride your Grand Cherokee into town for a fine dining experience near Colorado Springs. The Melting Pot on East Pikes Peak Avenue offers an upscale and romantic atmosphere. More fun and interactive than your typical restaurant meal, The Melting Pot lets you choose from four courses of savory and sweet fondue selections. Cook your own food at the table with delicious hot fondue concoctions that go beyond just cheese. Chocolate fondue takes dessert to a new level at The Melting Pot.
The Lake Terrace Dining Room is another fabulous dining option located on Lake Avenue. The fancy decor is the perfect setting for special occasions. Although they serve lunch and dinner, the Lake Terrace is famous for their breakfast and elaborate Sunday brunch. Brunch is served buffet style from 9 am-3 pm and includes an impressive array of seafood (including oysters and crab), vegetarian and vegan options, and live cooking stations, adding up to over 150 choices in total.
Also on Lake Avenue is the Penrose Room, which can be found on the Penthouse Level of the South Tower. French contemporary meals with live music make it an ideal choice for anniversaries or a night out on the town. Dress to the nines and dance the night away to the classic tunes sung by a professional singer on stage. Views of the mountain and city provide a magnificent backdrop for this lavish venue. Enjoy several course meals of venison, lobster, wagyu beef or scallops all made with the finest ingredients. Sip on nightcap of port wine while you end the night with a rich French dessert.
Ford F-150
If you're looking for a used car in Colorado with a little more power, then a Ford Truck may be a great vehicle for you. Ford is a quintessential All-American trusted brand who has continually manufactured trucks that have impressed car buyers and are top-of-the-line in the vehicle market.
The F-150 is a great model if you're looking for a vehicle that'll haul heavy cargo to your campsite, or if you're looking for something with a little more horsepower and torque. Certain used models of the F-150 have a trailering capacity of up to 11,300 lbs, up to 411 hp, and has an optional turbocharged V6 engine, all while still getting 26 mpg on the highway.
The Ford F-150 also has new standard features like hill start assist, backup camera, and a touchscreen display. With both power and luxury, this is a great used vehicle for those looking for a little more capability, as well as plenty of high tech options for all of their navigation and connectivity needs.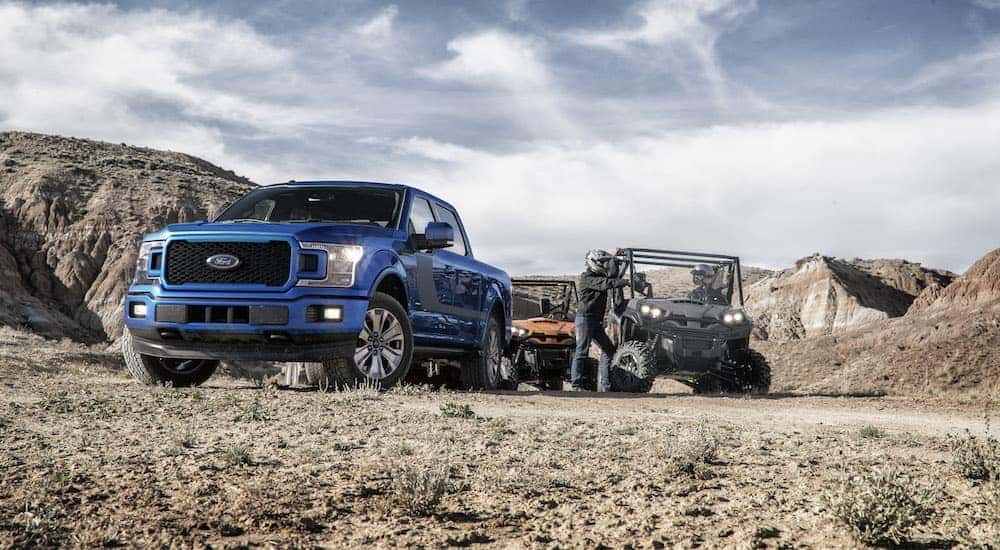 Where to Go
Head to Crystal Creek Reservoir for a private outdoor getaway. With 3.5 miles of shoreline, you can enjoy hiking, paddleboarding, and fishing. Pack the F-150 with everything you'll need for a daytime adventure. Load a small boat in the cargo bed or attach it to your trailer. As long as it's non-motorized, you can use it at Crystal Creek. Bait and tackle can be purchased at the small gift shop at the beginning of the trail. The types of fish you can expect to find here include cutthroat, rainbow, and brook trout. Brown trout may also be caught if you venture further out on the lake.
For memorable overnight stays, check out the Mountaindale Cabin & RV Resorts. Stunning 200-year old Ponderosa Pine Trees line this luxury campsite. The plumbing and electricity at Mountaindale have been undergoing steady upgrades since 2002 to ensure visitor comfort in all weather conditions. The campsites are larger than most and offer WiFi in case you aren't able to completely unplug during your stay. Each cabin is equipped with cookware and linens, so simply pack your outdoor gear, along with luggage in the truck, and you'll be good to go.
Toyota 4Runner
If you're not convinced just by the name of this vehicle, we'll let you in on the specs and facts about why this used vehicle is great for outdoor enthusiasts.
The 4Runner is one of the last SUVs with a body-on-frame truck style, which gives you the power and capability of a truck, with the interior space of an SUV. The Toyota 4Runner can comfortably seat up to seven people, and has an aggressive exterior that'll leave no mistake as to what you're up to – you're next killer, outdoor adventure.
Depending on the year, the Toyota 4Runner gets up to 270 hp and has a towing capacity of up to 4,700 lbs. The Toyota 4Runner is a sport utility vehicle with 4WD and is designed to handle the craziest terrain – from going over logs and streams to boulders and icy conditions. In Colorado, with its all season climate and rugged landscapes, this is a vehicle that'll handle just about anything you can throw at it.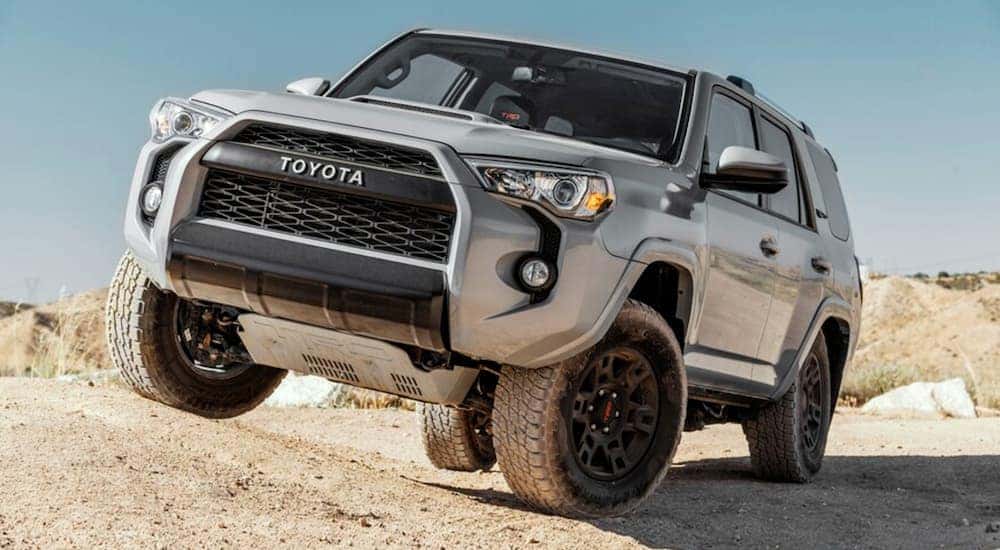 Where to Go
There's no better place to be the proud owner of a Toyota 4Runner than right here in Colorado. With so many exciting off-roading opportunities, you can take full advantage of your vehicle's remarkable capabilities. Two top places to go off-roading are the Rampart Range and Old Stage Road (also known as Gold Camp Road).
Rampart Range goes from Ute Pass to Sedalia with over 60 miles of main dirt road. The main road is named Rampart Range Road or Forest Service Road 300. It leads to several smaller service roads that branch off from the main drag. Some of these service roads include Hotel Gulch (FS Road 346), Mount Herman Road (FS Road 320) and Schubarth Trail (FS Road 307). The graded dirt is perfect for hours of fun in the Toyota 4Runner.
On the southwest side of Colorado Springs, you'll find the Old Stage Road/Gold Camp Road area, located behind the Broadmoor Hotel and Resort. Travel up the dirt road along the north side of Cheyenne mountain (headed west). Mount Rosa (FS Road 381) and Mount Baldy (FS Road 379) are great options to take your 4Runner for a spin. The latter half of Mount Baldy can get a little hairy. Avoid the rough patches by looping straight past FS 379A, continuing on FS Road 379 (described as the western half of the Eagle Rock trail) to the intersection with FS Road 376.
The Pike's Peak Ranger District is reachable by phone if you have any questions or concerns about the weather conditions and trails. While off-roading is an exciting adventure, it's important to always err on the side of caution while engaging in this risky activity. Be sure to go with a group, never alone. If you're in doubt about the weather, best to park the 4Runner for now and choose another day to take it out for a wild ride.
Find Your Adventure Ready Ride at Faricy
If you're looking for your next used adventure vehicle in Colorado, then look no further. At the Faricy Boys Dealership in Colorado Springs, we know that our local Coloradans are interested in the outdoors and vehicles that can handle their lifestyle. We have an extensive inventory that'll do just that, and won't break the bank doing it. So, come down to Faricy today and take a look at our spread, we'll be happy to help you on your next excursion.