The Best Used Car for Outdoor Adventurists in Colorado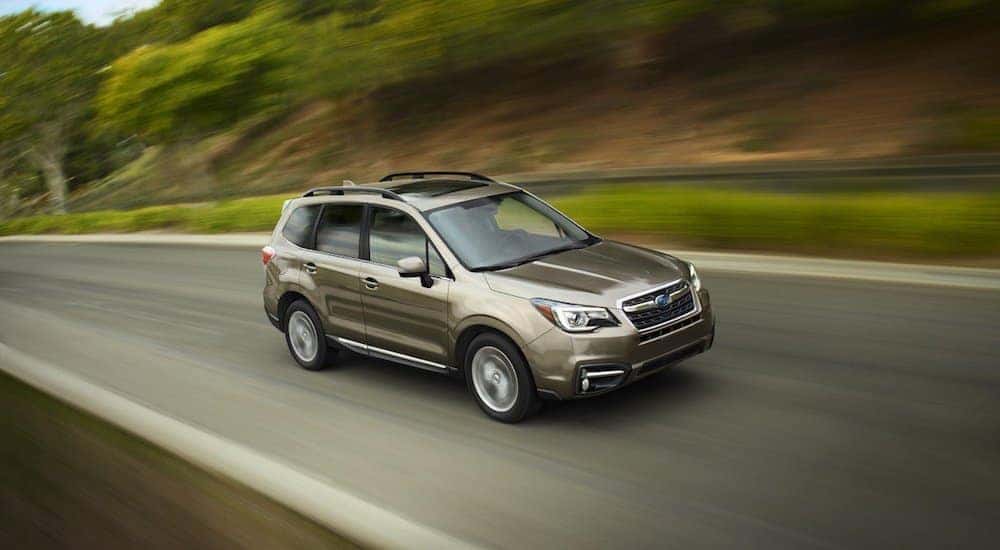 If you live in Colorado it's a pretty safe bet that you're probably a nature buff. With all the stunning landscapes and outdoor activities Colorado has to offer, from skiing in Aspen, to rock climbing the Flatirons, to hiking in the wild Rocky Mountain Wilderness, Colorado is an ideal state for nature enthusiasts.
When it comes to the best used cars, Colorado adventurists can find: vehicles that have 4WD, sport handling, and accessories like trailer hitches and side rails, some of the best vehicles to keep on your radar. A vehicle that's going to make it up those mountain roads, that can handle any and all terrain you may throw at it, and has the cargo space for any and all of your gear, is the ideal way to go when it comes to used cars. And at Faricy, we know we have the inventory for you and your needs. One – you'll save money you can put towards your next outdoor adventure with our used car prices, and two – at Faricy, we have the best adventure-enthusiast vehicle selection around.
The Selection
Subaru Forester
When it comes to the outdoors, Subaru is an all-around great outdoor vehicle brand. From customer satisfaction to its all-terrain AWD capabilities, and it's mechanical reliability, the Subaru brand is geared towards outdoor enthusiasts.
The Subaru Forester attests to this fact with a number of accolades and performance capabilities. In 2015 the Subaru Forester was named as "The Top Safety Pick" by IIHS, named as the "10 Best SUVs Under $25k" by Kelly Blue Book, and was quoted as "an increasingly rare breed that is equally adept on-road and off-road" by KBB. The professionals have spoken – this is an all around great vehicle for Colorado buyers looking for a used vehicle that can handle tough terrain and has the safety and storage space to keep you confident.
The Subaru Forester seats five people and has the cargo space of 74.7 cubic feet. Worried about all the camping, biking, or climbing gear you have with you? You won't have to worry anymore with the Subaru Forester where you can simply fold down the back seats, and presto! Plenty of space for even your biggest gear. With great fuel economy – getting 32 mpg on the highway and 34 mpg in the city – as well as AWD sport utility, this is a used car in Colorado that you can rely on.
Jeep Grand Cherokee
Built originally for the military, you can trust that all Jeep models have the tactical capability and power and performance to endure anything. We have a number of Jeep Grand Cherokees currently in our inventory and have continually been impressed by the Jeep brands towing capacity, rugged exterior, and capability on any and all terrain.
For example, the 2015 Jeep Grand Cherokee, a used vehicle we currently have in our inventory, can haul up to 7,200 lbs, gets up to 28 mpg on the highway, and has a number of safety features to keep you, your friends, and your family safe. The Jeep Grand Cherokee utilizes the latest in safety technology with features like the rear view camera, anti-lock brakes, parallel and perpendicular park assist, and forward collision warning with crash mitigation, among others. With the latest technology on your side, and it's 4WD sport utility capability, this is a hard used car to beat in the used adventure vehicle department in Colorado.
At the Faricy Boys Dealership, we have an extensive inventory of used Jeeps in stock, and are eager to discuss the benefits of any of these high-quality vehicles with you.
Ford F-150
If you're looking for a used car in Colorado with a little more power, then a Ford Truck may be a great vehicle for you. Ford is a quintessential All-American trusted brand who has continually manufactured trucks that have impressed car buyers and are top-of-the-line in the vehicle market.
The F-150 is a great model if you're looking for a vehicle that'll haul heavy cargo to your campsite, or if you're looking for something with a little more horsepower and torque. The F-150 has a trailering capacity of up to 11,300 lbs, up to 411 hp, and has an optional turbocharged V6 engine, all while still getting 26 mpg on the highway.
The Ford F-150 also has new standard features like hill start assist, backup camera, and a touchscreen display. With both power and luxury, this is a great used vehicle for those looking for a little more capability, as well as plenty of high tech options for all of their navigation and connectivity needs.
Toyota 4Runner
If you're not convinced just by the name of this vehicle, we'll let you in on the specs and facts about why this used vehicle is great for outdoor enthusiasts.
The 4Runner is one of the last SUVs with a body-on-frame truck style, which gives you the power and capability of a truck, with the interior space of an SUV. The Toyota 4Runner can comfortably seat up to seven people, and has an aggressive exterior that'll leave no mistake as to what you're up to – you're next killer, outdoor adventure.
The Toyota 4Runner gets up to 270 hp and has a towing capacity of up to 4,700 lbs. The Toyota 4Runner is a sport utility vehicle with 4WD and is designed to handle the craziest terrain – from going over logs and streams to boulders and icy conditions. In Colorado, with it's all season climate and rugged landscapes, this is a vehicle that'll handle just about anything you can throw at it.
If you're looking for your next used adventure vehicle in Colorado, then look no further. At the Faricy Boys Dealership in Colorado Springs, we know that our local Coloradans are interested in the outdoors and vehicles that can handle their lifestyle. We have an extensive inventory that'll do just that, and won't break the bank doing it. So, come down to Faricy today and take a look at our spread, we'll be happy to help you on your next excursion.