Rule Track and Trail With Jeep Models In 2017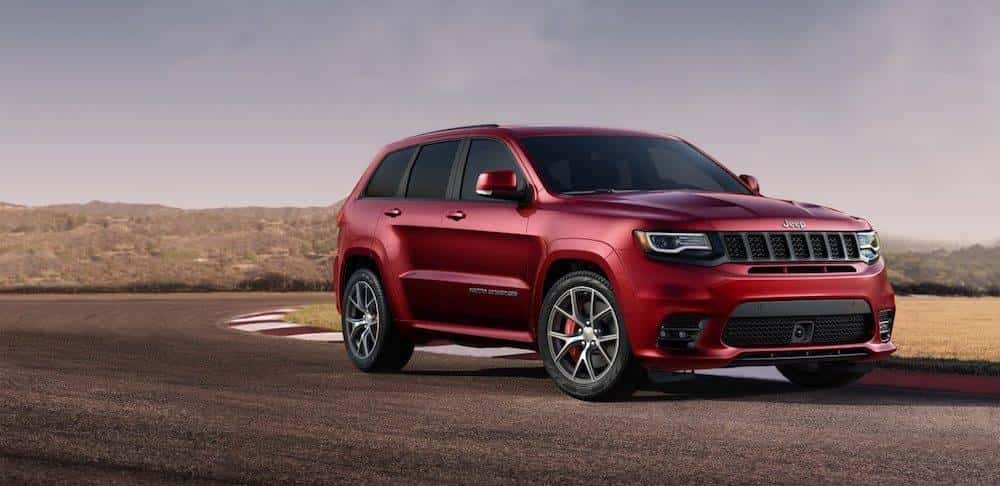 Whether you're looking for peak off-road SUV performance or peak on-road SUV performance, your local Jeep dealership near Denver has what you want. In 2017, Jeeps are built for more than just crawling over rocks. The 2017 Jeep Grand Cherokee SRT is a perfect example of this. For those who are looking for a Jeep to crawl over rocks, you won't be disappointed with the 2017 Jeep Wrangler Rubicon model. The Wrangler name has long been associated with off-road dominance, and it's no different in 2017. With the 2017 Wrangler Rubicon easily being the most capable stock off-road ready Jeep that the company has ever produced, you've got a turn-key adventure vehicle that can go from the dealership lot to the mountain trails in a blink.
The freedom to choose between on-road performance or off-road performance also brings about a new side of Jeep that the company has been striving for, for years: an automaker that specializes in more than just off-road vehicles. While that's still the core of the company, vehicles like the Grand Cherokee SRT, Cherokee, and Renegade make that clear. With the latter two models having more of a focus on on-road travel and efficiency.
2017 Jeep Grand Cherokee SRT
Apart from Jeeps being modded into drag racing vehicles, who would have ever thought that you'd find mind-bending performance on the track from a Jeep model? That's what the Jeep Grand Cherokee SRT brings to the table, combined with ultimate luxury. Who doesn't want to be comfortable when traveling at top speeds?
Engine Specs
The engine residing under the hood of the Grand Cherokee SRT is truly something inspiring. It's a 6.4-liter HEMI V8 engine that delivers a heart-pounding 475 horsepower and 470 lb.-ft. of torque, which is sent through an eight-speed automatic transmission. The transmission has a fully automatic shift mode that you can utilize, or you can use the steering-wheel paddle controls to climb up and down the gears. While fuel-efficiency is clearly less of a concern when buying a performance-oriented vehicle like the GC SRT, it's still nice to know that Eco Mode and Fuel Saver Technology are both present to help polish the fuel economy slightly. An aerodynamic design aids in both performance and fuel-efficiency as well.
Performance
On the Grand Cherokee SRT, there's plenty of performance-enhancing technology to really tap into the full potential of a streamlined SUV with 475 horses under the hood. Starting with the Selec-Track system, which allows the driver to maximize performance by precisely adjusting the suspension, torque distribution, shift schedule, stability control, and engine mapping. Simply engage whatever setting (Track, Snow, Tow, etc.) you desire by turning the dial, and enjoy fully optimized performance for the environment in question. This can turn the 2017 Grand Cherokee SRT from an easy-street daily driver into a track-ready monster.
Another performance enhancing feature of the Grand Cherokee SRT is the Launch button. This Launch system is designed to provide the driver with a mind-boggling acceleration speed from a stand still. Simply make sure the SRT is on level ground, fully depress the brake pedal (while in Drive), and then press the Launch button. After that, stuff the accelerator pedal to the floor (still holding the brake pedal) and the engine will rev to a predetermined RPM. All you have to do is lift your foot of the brake after that, and the SRT will, quite literally, launch from a stand still, drastically cutting down on its 0-60 mph run time.
Without using Launch, the Grand Cherokee SRT has a 0-60 mph time of 4.8 seconds. When Launch is used, that time is cut down to just 4.2 seconds. A standard quarter-mile run for the Grand Cherokee SRT comes in at 13 seconds. That's quick for a 5,000-pound SUV, and very quick compared to other Jeep models in the lineup.
2017 Jeep Wrangler Rubicon
If the track isn't your cup of tea, then the off-road trails are most likely where you'll find solace. If that's the case, then you'll want to grab yourself a 2017 Jeep Wrangler Rubicon. It's fully loaded with all the off-road equipment you could ever need, and has Trail Rated badging to show its worth.
Trail Rated
Thanks to its prestigious off-road performance, the Wrangler Rubicon has been named "4×4 of the Decade" by Four Wheeler magazine. More importantly, the Trail Rated badging that the Wrangler Rubicon has earned speaks volumes about its off-road capability.
What does being Trail Rated mean? It means that the Wrangler Rubicon is able to brag about completing one of the most difficult trails in the nation: the Rubicon Trail. This trail has every type of off-road environment and hazard imaginable, and the Wrangler Rubicon needs to be proficient in five off-road categories to pass: traction, water fording, maneuverability, articulation, and ground clearance. All of which are key components to a successful off-road adventure.
In other words, a stock Rubicon model is able to deftly handle anything the off-road trails might throw at it.
Engine Specs
At the core of every good off-road vehicle is an engine. Without an engine that produces the proper amount of horsepower and torque, it wouldn't be successful off-road.
That's why the heart of the Wrangler Rubicon is the 3.6-liter Pentastar V6 engine. It produces an optimal 285 horsepower and 260 lb.-ft. of torque. For optimal off-road performance, that torque is sent through a manual transmission with a 73.1:1 crawl ratio, to a Rock-Trac transfer case with a 4:1 low-range ratio.
Off-Road Equipment
For off-road equipment, you'll find the famous Dana 44 Heavy-Duty Axles, which adds ground clearance and helps to reduce the driveshaft's joint angles for smooth operation.
Tru-Lok locking differentials are also equipped to the front and rear axles, which are able to lock all the wheels together to provide ultimate traction in a tough spot.
The electronic sway bar disconnect system on the Rubicon will let you automatically disconnect the front sway bar when driving under 18 mph in 4LO mode. This allows the front wheels to drop and compress up to 29% further, which creates better grip when rock-crawling.
Rule Both Track and Trail
It's clear that in 2017, Jeep models are able to rule both track and trail. Even if you're looking for something that's just fun to drive on the road, you can opt for a Renegade or a Cherokee – both of which get exceptionally good fuel-efficiency. The Renegade, in particular, also offers a lot of fun technology.
Whatever the case, Jeep's 2017 model lineup won't disappoint you, regardless of what it is you're looking to get out of your SUV.