Our Five Favorite Wrangler Modifications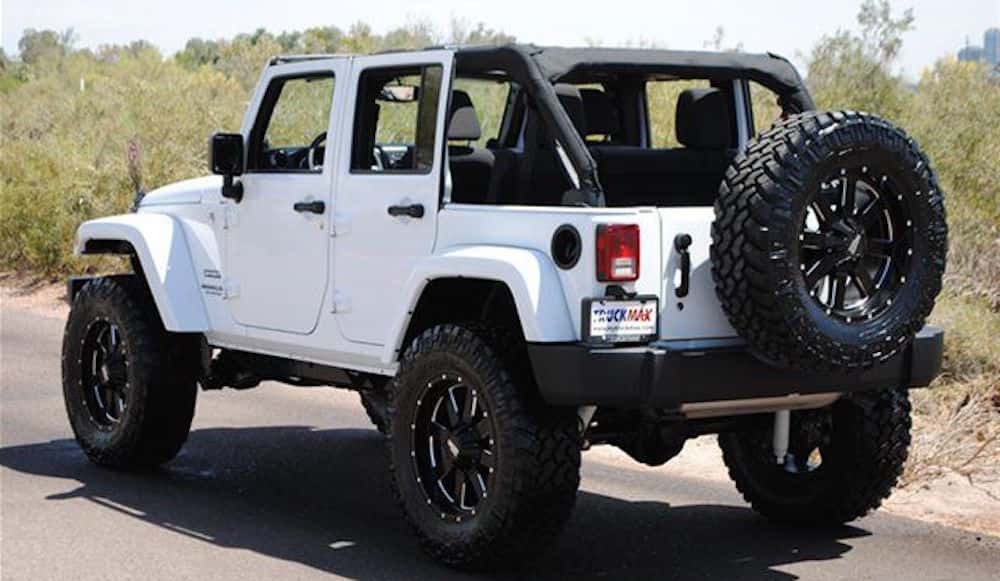 If you're looking for a used Jeep Wrangler for sale, you might not necessarily get your pick of features and amenities. You'll presumably going to jump on the best possible deal, regardless of all the included goodies.
If you find yourself with a pretty bare Wrangler, you may be looking to spruce it up a bit. This is where modifications come in hand, as these add-ons can transform your Jeep. Were you hoping for some rugged off-road tires that could handle any type of terrain? Or how about a lift kit that could give your Wrangler not only a new perspective of the road, but a huge advantage as you're traveling over rocks and other obstacles.
There are many possibilities with modifications, and considering the popularity of the Wrangler, there are plenty of ways you can add to your "new" Jeep. We picked our five favorite mods that will convert your already-capable Wrangler into an absolute monster…
Lift Kit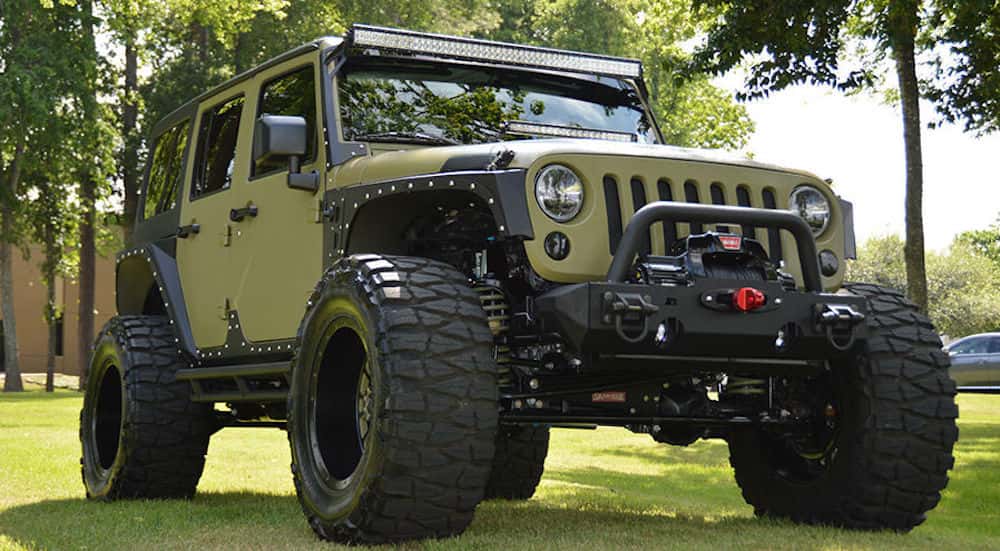 Lifting your Jeep isn't all about intimidation, although a lift kit will certainly make heads turn. You can easily make your Wrangler the highest vehicle on the road, proving to others that you shouldn't be messed with. Plus, you get a higher (if not the highest) perspective on the road, providing you with an exclusive driving experience.
However, the lift kit is especially useful when off-roading, as the added ground clearance will allow you to get over any obstacle. Plus, many long arm kits retain the same low center of gravity as a standard Jeep Wrangler, an important factor in keeping your vehicle upright and the occupants safe. If you're planning on using your Jeep for more than off-roading, you should make sure that the lift kit doesn't compromise the vehicle's stability while driving normally.
If you decide to lift your Wrangler, your Jeep is going to be left a bit more vulnerable to the elements. You don't want your Jeep to get all scratched up by branches or rocks. That's why you'll want to accompany your off-roader with rock sliders. Attached to the side of your Wrangler, these metal bars will take the brunt of the damage when your Jeep accidently knocks into an object. This way, you can preserve your Jeep in its full glory.
Off-Road Tires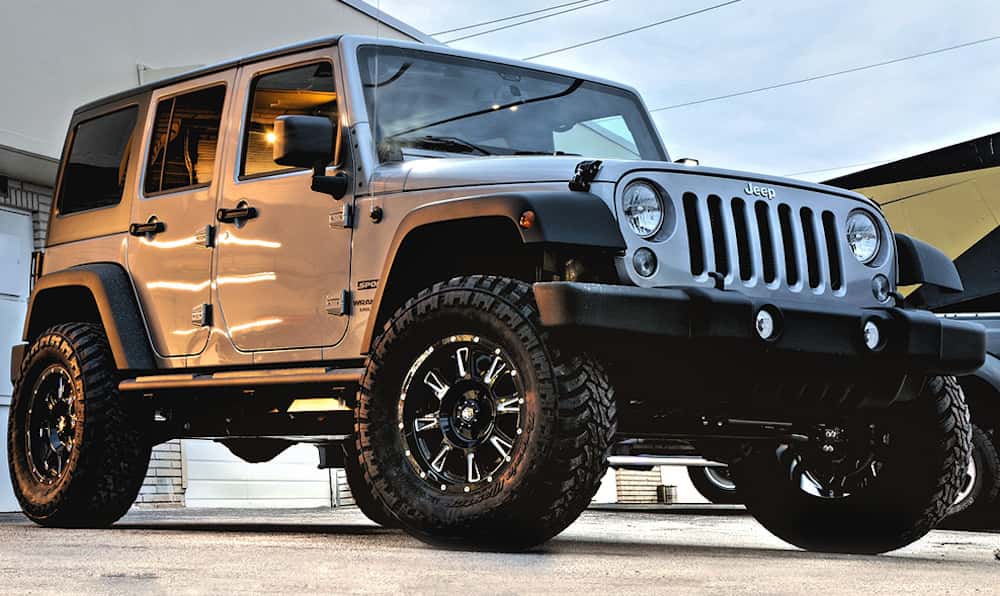 Tires play an important role in your Jeep Wrangler's off-roading abilities. Without the added traction and support, your vehicle wouldn't be able to climb that rugged terrain. With off-road tires, those capabilities will be maximized. You'll be able to easily drive over an obstacle without worrying about damage, and they'll be able to overcome any poor weather conditions.
However, you won't want to solely rely on odd-road tires. Notice their name features the term "off-road." There's nothing about "on-roading." These tires don't perform as well on city streets, and they're certainly not capable enough for the highway. You may be able to find some off-road tires that are designed to travel on these regular roads, but if you're opting for solely off-roaders, make sure you hold on to your regular tires.
Another helpful modifications for tires is a beadlock. You may be inclined to deflate your tires a bit while off-roading, thus increasing traction. However, this could also put your tires at risk, as the rubber could become too deflated and loose…and then just fall off the rim. To prevent damaged tires (and a potential subsequent accident), you should consider pursuing a beadlock.
While the majority of beadlocks aren't reliable or safe for road use, there are still several that are actually legal and Department of Transportation approved. With the feature, your tire will be tied securely to both the inner and outer rims, and the rubber won't be compromised due to under-inflation.
Finally, if you truly want to make those tires intimidating, install some fender flares. The addition won't only add some real intimidation to your Wrangler, but it will also prevent mud from accumulating in the rubber.
Engine Cooling System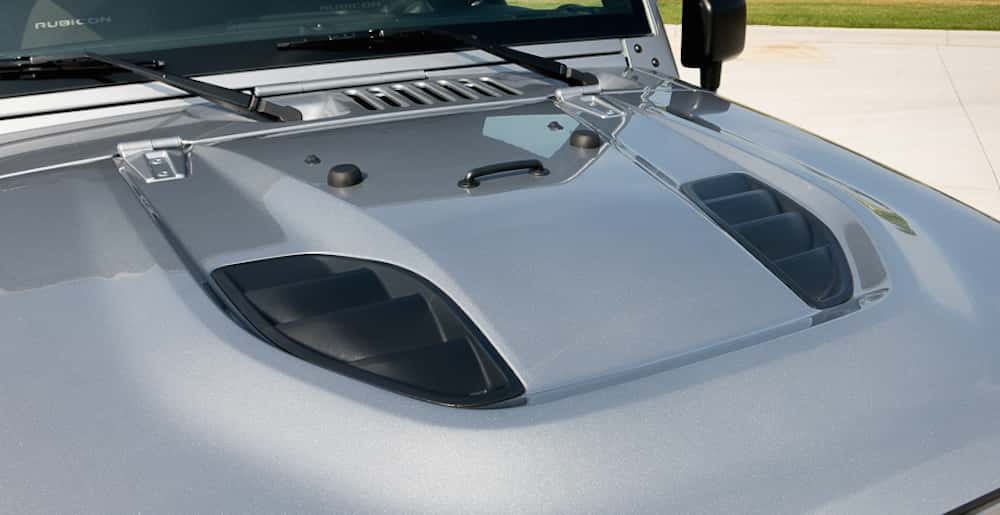 Ever notice that your engine (and vicariously, the rest of your Jeep) gets a bit warm after a nice off-roading trip? This isn't because of the Jeep's design. It's due to the fact that you were over-taxing every aspect of your vehicle. We don't blame you, as this is a necessary evil of off-roading. However, that heat could ultimately kill your engine and compromise other parts of your Wrangler, so it's important to find a modification that can cool down your Jeep's mechanics. That's why a heat-extracting hood could be a logical option for your ride.
These systems serve two functions. They help fresh air get under the hood, thus cooling the entire operation. This helps all of your Wrangler's mechanics operate to their full ability. These systems can also provide reinforcement to your engine, assuring that the system stays secure and protected. Of course, this technology requires the Wrangler owner to install an eye-catching new hood, so you'll also be earning some style points.
You can further cool your engine by installing a high-flow exhaust system or a high-flow air intake system. These features will serve much the same purpose, removing excess hot air from your engine and replacing it will cooler, natural air.
Winch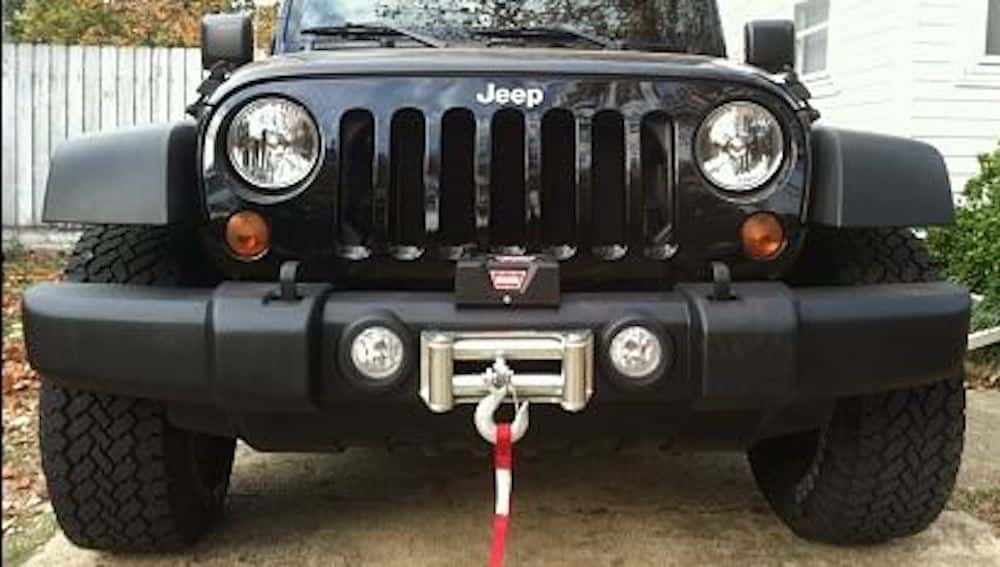 This is absolutely essential, especially if you're planning on off-roading in any expert terrain. No matter how good you may be at operating your Wrangler, you're eventually going to get stuck. Furthermore, no matter how strong you think you may be, you're going to be unable to get that Jeep out of that rut.
That's when a winch comes in hand. The line will attach to another object (preferably another vehicle), helping to slowly pull your vehicle out of the hole. It's safe and easy, and you can realistically use it even if you're by yourself!
Lights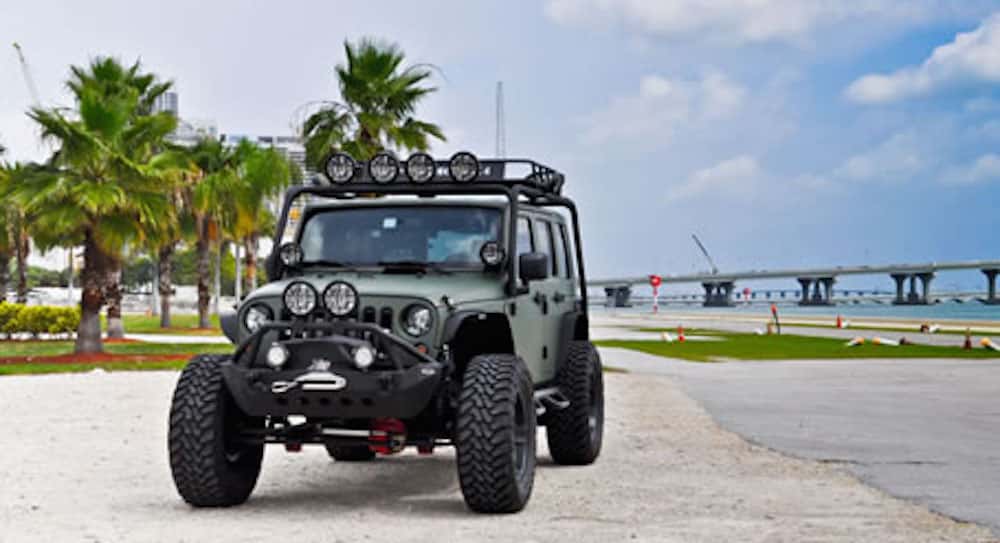 Jeep Wrangler headlights are certainly capable, but we wouldn't blame you if you wished for something brighter. There are a number of exterior light options for your Jeep Wrangler, including halogen or LED bulbs. This doesn't only improve the driving experience (as well as the style), but it can also be a helpful safety feature. Brighter lights will allow you to better anticipate any other cars or obstacles, and fellow drivers will also be able to detect your presence from a further distance.
No matter which modification (or combination of modifications) you opt for, we're sure you'll be satisfied with your choice. After all, you're taking your Jeep Wrangler and turning it into an absolute off-roading beast. Plus, you're boosting the price of the used Jeep, and if you take good care of it, you might be able to earn some cash down the road.
If you're seeking a used Wrangler, we assume you're on a bit of a budget. Therefore, you won't want to spend a whole lot for accessories or features. Luckily, none of the previously-mentioned modifications are outrageously priced. You can find most of those mods online or at dealerships for affordable prices, so you won't have to break the bank to turn your Wrangler into the off-roading behemoth.