Our Five Favorite Things about the 2021 Jeep Gladiator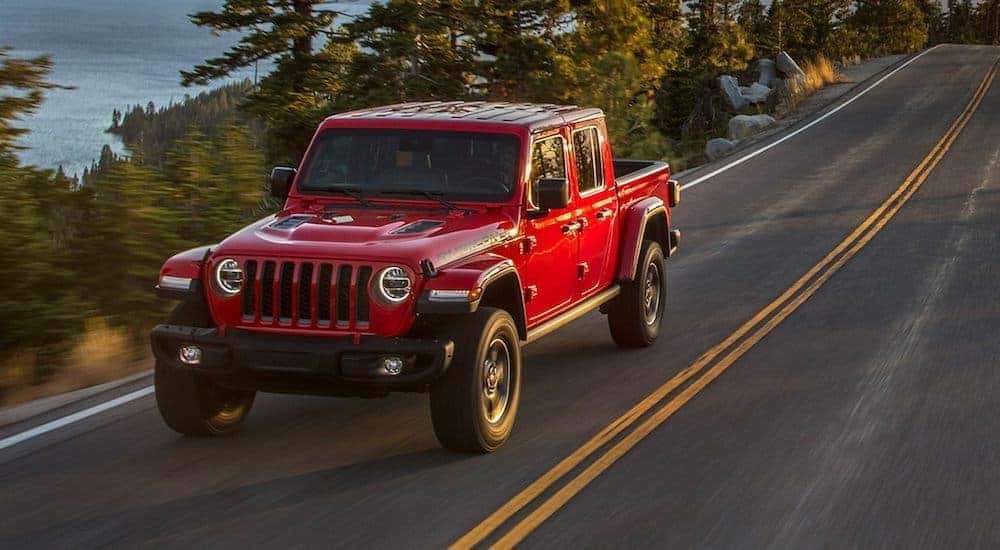 Jeep introduced its newest model, the Gladiator, in time for the 2020 model year. This cross between a Wrangler and a pickup truck quickly captured the public's imagination by combining the best features of both vehicle types with the standard ability of a Jeep to handle whatever nature can dish out. The Gladiator joined the battle for the midsize truck market armed with advantages that other options just don't offer. It also took on the off-road truck market with the features that you will only find in Jeep models. When you look at our five favorite things about the 2021 Jeep Gladiator, you see plenty of reasons why this should be your choice if you are looking for a truck with the roomy, well-appointed cab of an SUV and the ability to tackle any terrain.
The Gladiator joins an impressive lineup of Jeep models, including the Cherokee and Grand Cherokee midsize SUVs, the classic Wrangler, the sporty Compass, and the agile Renegade. Jeep gives you the choice of vehicle style and size so that you can live the Jeep lifestyle no matter your personal needs and desires. At The Faricy Boys, we have a large inventory of new, used, and Certified Pre-Owned Jeep and Chrysler vehicles. We have been proudly serving the fine folks of Colorado Springs for over 75 years and look forward to putting you behind the wheel of your next Jeep.
# 1 – Go Anywhere, Do Anything
The name Jeep is synonymous with hitting the trail, and the 2021 Gladiator is no exception. Every model is 4×4 standard, so you don't have to pay extra to get the 4-wheel drive capability you desire, like with so many other trucks and SUVs. For even greater traction, you can opt for a Trac-Lok anti-spin rear differential or go all the way with Tru-Lok electronic locking front and rear differentials. The rock-crawling Rubicon trim also adds a 4:1 Rock-Trac transfer case and an electronic disconnecting sway bar for optimum off-road performance.
Alternatively, the Mojave trim with its first-ever Desert Rated badge is all set for high-speed desert running Baja-style. With a reinforced frame and a higher and stiffer suspension that includes FOX shocks, the Mojave is ready to take on the dunes in style. But no matter which version of the Jeep Gladiator best fits your needs, you will be getting a pickup truck that is more at home in the wild than any other option on the market.
# 2 – Two Engines to Help You Battle the Elements
Jeep gives you two great engines to choose from with your 2021 Gladiator – but they aren't the same as last year. The standard is still a 3.6-liter Pentastar V-6 gas engine, which is paired with your choice of a 6-speed manual transmission or an 8-speed automatic transmission. This engine produces 285 hp and 260 lb-ft of torque. It also features Engine Stop-Start technology. This reduces emissions and improves fuel efficiency by automatically turning off the engine when you come to a full stop at a light or in a traffic jam. The engine will then restart as soon as you lift your foot off the brake. As a result, you will see improved fuel economy.
The other engine is a 3.0-liter EcoDiesel V-6 engine. This engine is paired with an 8-speed automatic transmission to provide you with exceptional control. The EcoDiesel produces up to 260 hp and 442 lb-ft of torque, the most of any truck in the Gladiator's vehicle class. This is truly a capable engine that is unlike any other diesel for a midsize truck on the market. The EcoDiesel features Variable Geometry Turbo technology. This increases the amount of air provided to the cylinders so that the diesel fuel burns more efficiently and the Gladiator has improved acceleration.
By giving you the choice of two very different engines, Jeep truly puts you in the driver's seat when designing your Gladiator. The greater horsepower of the 3.6-liter V-6 will give you the acceleration you desire when you're out cruising in your Gladiator. The increased torque in the EcoDiesel will provide the extra power your wheels need when taking your Gladiator off-road. Whichever you choose, you are getting a superior engine that will provide you with incomparable Jeep performance.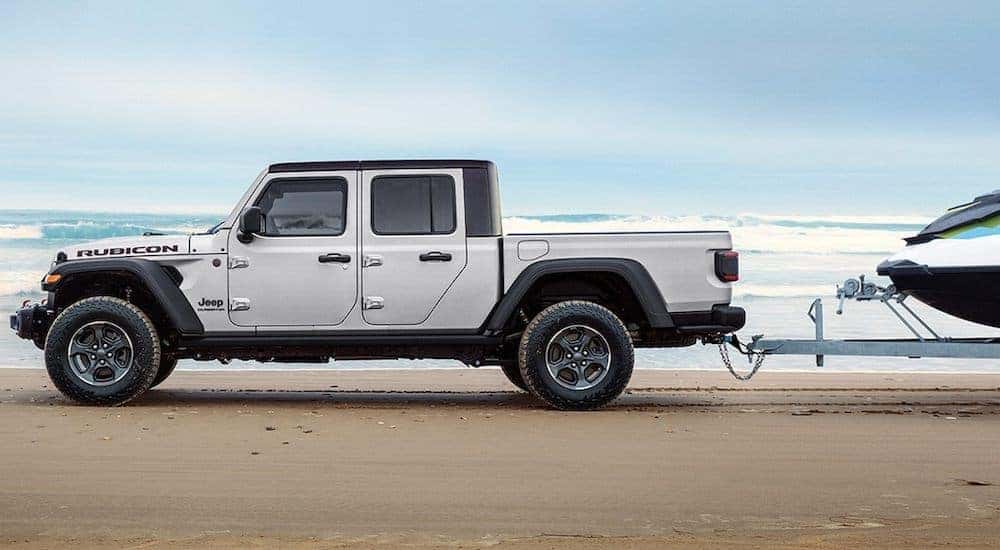 # 3 – The Power to Tow
When it comes to towing, life is usually a big compromise. If you want an all-wheel-drive luxury SUV, you will probably have to sacrifice the ability to tow heavy trailers. Similarly, if you choose a pickup truck built for off-roading, you can kiss towing goodbye as well. Conversely, if you opt for a truck or SUV that gives you great towing capacity, then you will probably end up with a very utilitarian vehicle that is rear-wheel drive and missing many of the bells and whistles you want. Fortunately, this is not the case with the 2021 Jeep Gladiator.
When equipped with the 3.6-liter V-6 gas engine, the Jeep Gladiator can tow up to 7,650 lbs – only 50 lbs less than the best in class Chevy Colorado, which has to accept either a cramped two-door cab or lose its 4×4 capabilities to achieve its top rating. If you choose the 3.0-liter EcoDiesel, the towing capacity of the Gladiator will drop slightly to 6,500 lbs. Still, you are getting a Jeep with all the off-road capabilities, a 4X4 drivetrain providing superior traction, particularly in inclement weather, and an engine with the acceleration you need to get you on and off the road. There are no compromises with the 2021 Jeep Gladiator when it comes to towing. You get to have your truck and tow your trailer too.
# 4 – Superior Payload
One thing that the 2021 Jeep Gladiator offers is plenty of payload capacity. You can carry up to 1,700 lbs of cargo measuring up to 35.5 cubic feet in the Gladiator's bed. The Ford Ranger technically surpasses that payload figure – but only if the Ford gives up its 4×4 capabilities. There is simply no other midsize truck on the market that can match the Gladiator's utility while maintaining even close to its level of off-road performance. If you need to haul items cross-country or over wilderness trails, the Gladiator is your best choice. And to top it off, the Gladiator's large cab gives you even more space for stowing cargo out of the elements than other midsize trucks.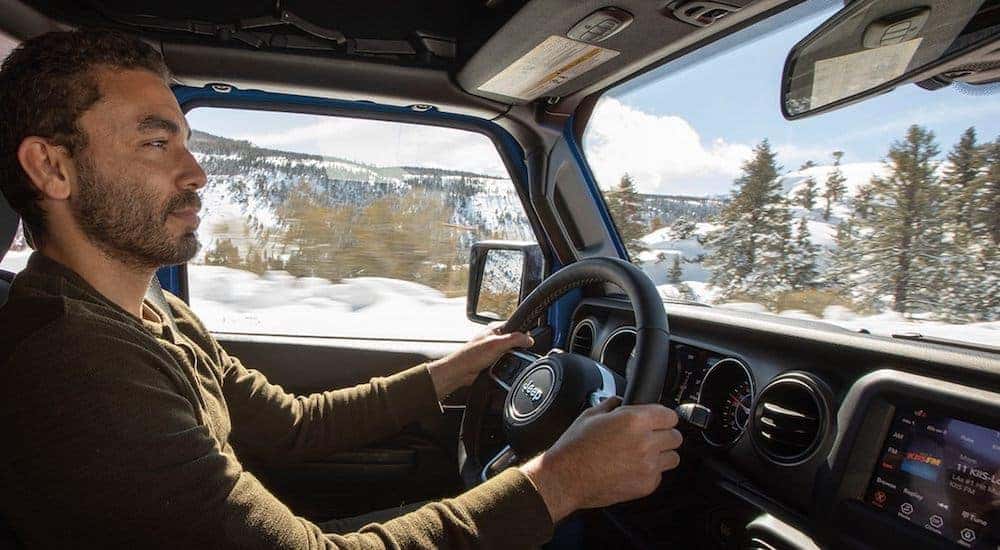 # 5 – Solid Fuel Economy
Midsize trucks and SUVs that can tow heavy trailers, carry plenty of cargo, and provide you with serious off-road capabilities are really hard to find. Those rare few that can do all three things usually have a major tradeoff: poor fuel economy. That is because these pickup trucks and SUVs needed the added horsepower and torque of a bigger engine to complete these different tasks.
The 2021 Jeep Gladiator can do all three things and more while also providing solid fuel economy, depending on your choice of engine and transmission. If you choose to equip your Gladiator with a 3.0-liter EcoDiesel and its 8-speed automatic transmission, you can expect to get up to 22 MPG in city driving and 28 MPG on the highway. The fuel efficiency numbers drop just a little bit if you opt for a gas engine on your 2021 Gladiator.
If you choose the 3.6-liter V-6 gas engine with an 8-speed automatic transmission, you will get an estimated 17 MPG in the city and 22 MPG on the highway. Opting for the 6-speed manual transmission will provide 16 MPG in city driving and 23 MPG in city driving. As you can see, these are some pretty amazing numbers for a midsize truck and SUV.
But That's Not All…
These five features are just some of the great highlights of the 2021 Jeep Gladiator because we'd be here all day if we tried to list everything that sets this truck apart. To really experience the Gladiator, you should come to our Colorado Springs dealership and try one out for yourself. Whether you are looking for a work truck, want to do some rugged off-roading, need a vehicle to get around town, or are trying to find something that can do all three and more, we are sure you will love the Jeep Gladiator just as much as we do here at the Faricy Boys.