Jeep Reveals Plans for 6 New Limited Edition Wranglers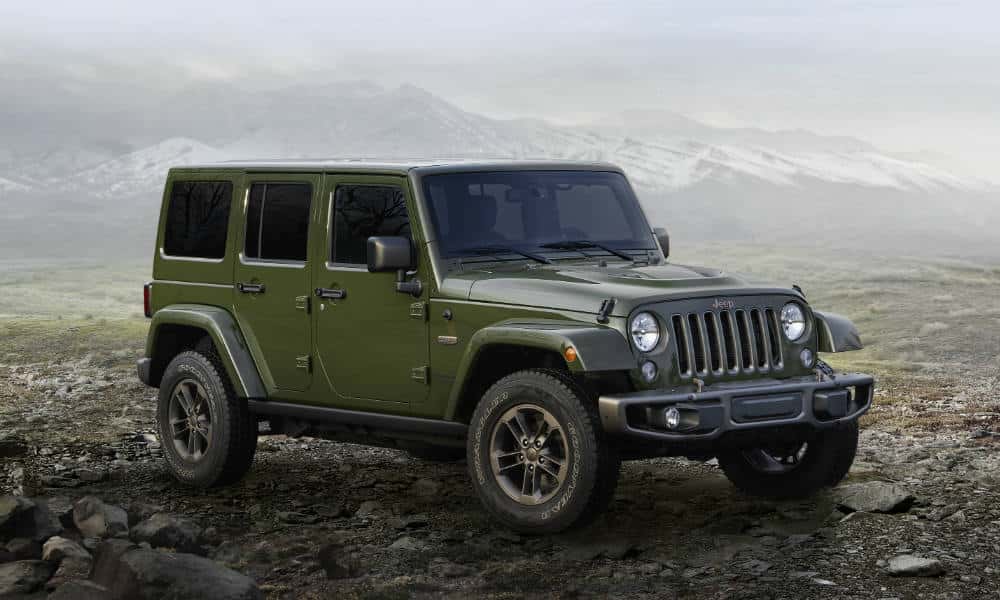 The Jeep Wrangler is easily the most iconic vehicle on the road. No matter where you live, who you are, or what you do for a living – chances are you would recognize a passing Wrangler on the highway. The Wrangler has been around for quite some time, with the first version of the rugged SUV introduced back in 1986 for the 1987 model year. Ever since, adventurers and off-road enthusiasts alike have been turning to the iconic Wrangler as their unofficial team mascot. The Jeep Wrangler already has three generations of models under its belt, with the latest JL generation slated to arrive at Jeep dealers in Colorado soon.
Before Jeep bids farewell to the JK generation of its off-road conquering SUV, the brand has some exciting plans that may entice buyers to give the third generation Wrangler one last chance before the 2018 version is released.
Sending the JK Wrangler Out with a Bang
The fourth generation of the Jeep Wrangler, known as JL, is expected to make it to dealer showroom floors by mid-2017, for the 2018 model year. Jeep may have big plans for the fourth generation of the Wrangler in store, but before the JL Wrangler is released, the brand is sending off the current generation with a proper farewell. While normal goodbyes are filled with tears and sadness, Jeep is an automotive brand that has proven over the past several decades that it is anything but ordinary. Rather than a teary-eyed goodbye, Jeep is planning to bid farewell to the JK generation of the Wrangler by releasing six limited edition models ahead of the JL generation's release. The limited editions will be available at dealerships in early 2017, and will be a part of the current generation lineup.
Whether you have been contemplating a third generation Wrangler purchase, or simply want to own an exclusive version of the iconic SUV, now is your chance. Check out all six of these models, and see which one is the perfect fit for your lifestyle.
2017 Wrangler Sport Freedom Edition: As American as the Jeep brand is, so is its flagship SUV. The Wrangler Sport Freedom Edition is the perfect opportunity to show off your unwavering patriotism wherever you go. Featuring Freedom Star decals on the exterior hood and rear bumper, the Sport Freedom edition of the Wrangler would not be complete without an American flag decal on its front bumper. 18-inch Sahara granite crystal wheels will come standard on this special edition Wrangler, as well as performance-enhancing features like a heavy duty cast rear differential cover, a black fuel filter cover, and rear taillight guards. The 2017 Sport Freedom limited edition Wrangler will cost buyers $30,690 for a two door version, while the four-door model has a starting MSRP of $34,590.
2017 Wrangler Sahara Winter Edition: The second limited edition JK Wrangler slated for release next year is the Sahara Winter edition. Well-equipped for off-road adventures and snow-covered roads, this special edition Wrangler comes standard with LED headlights, fog lamps, and a remote start that is perfect for frigid Colorado winters. Performance-enhancing features are also included on this Wrangler special edition, including rock rails and a hard-top cover. Special edition Sahara Winter decals are featured on the Wrangler's hood, and front and rear fenders for a polished look. Two door Wrangler Sahara Winter edition models will cost buyers $37,440, while the four-door version has an MSRP of $41,240.
These two limited edition Wranglers have us excited enough, but with four more models expected to be released around the same time, our anticipation can hardly be contained.
While Jeep has had no problem releasing information on the Sahara Winter limited edition Wrangler, and the Wrangler Sport Freedom edition, the brand has remained tight-lipped regarding the remaining four models. Aside from their individual names, there is nothing else being released about these limited editions. Automotive News has reported that a Wrangler Sport Big Bear limited edition, a Wrangler Sahara Smoky Mountain edition, a Wrangler Sahara Chief edition, and a Wrangler Rubicon Recon limited model, are all in the works for the first quarter of 2017.
If You Just Can't Wait…
For some people, waiting a few more months to own a limited edition Jeep Wrangler is easy. For others, it is excruciatingly painful. If you fall into the latter category, take solace in the fact that you can drive home a 2017 Jeep Wrangler limited edition model, today. You favorite Jeep dealership in Colorado, The Faricy Boys, has all of your Wrangler needs covered, including brand new special editions that will be gone before you know it. Discover what we have for you today, if you just can't wait for tomorrow.
2017 Wrangler Willys Wheeler Edition: This throwback Jeep Wrangler pays tribute to the iconic brand's roots, where it all began – with the Willys Wheeler. This special edition Wrangler looks the part, but delivers incredible performance that was not available back in the day. Starting at just $28,295, the Wrangler Willys Wheeler special edition comes with 17-inch black aluminum high-gloss wheels, off-road rock rails, Jeep's Command-Trac four-wheel drive system, and a Trac-Lock rear differential. Complete with special Willys badging on the exterior body and interior cabin, this is a dream Wrangler for Jeep junkies.
2017 Wrangler 75th Anniversary Edition: Starting at $35,125, this commemorative Wrangler marks the brand's impressive anniversary milestone. Featuring 75th Anniversary Edition badging, a power dome hood, 17-inch Bronze low-gloss aluminum wheels, a bronze accented front grille, and a bronze steel bumper – this Wrangler epitomizes the Jeep brand as a whole. Own a part of history with this very special edition 2017 Wrangler.
2017 Wrangler Rubicon Hard Rock: This special edition Wrangler is off-road ready, and ready to rock. With locking rear and front axles, steel front and rear bumpers, a front bumper winch, and premium off-road rock rails – there is nothing standing between you and the rocky Colorado wilderness. Starting at $38,445, the Rubicon Hard Rock is a must for off-road enthusiasts and Jeep brand loyalists alike.
If you want to check out some of the 2017 Wrangler special edition models now available, come down to see The Faricy Boys in Colorado Springs. We will be sure to keep you updated on the release dates of the newest JK generation special edition Wranglers, so that you can come out and see them in person as soon as they arrive. Keep checking back, and in the meantime – never stop exploring.