Jeep Has You Covered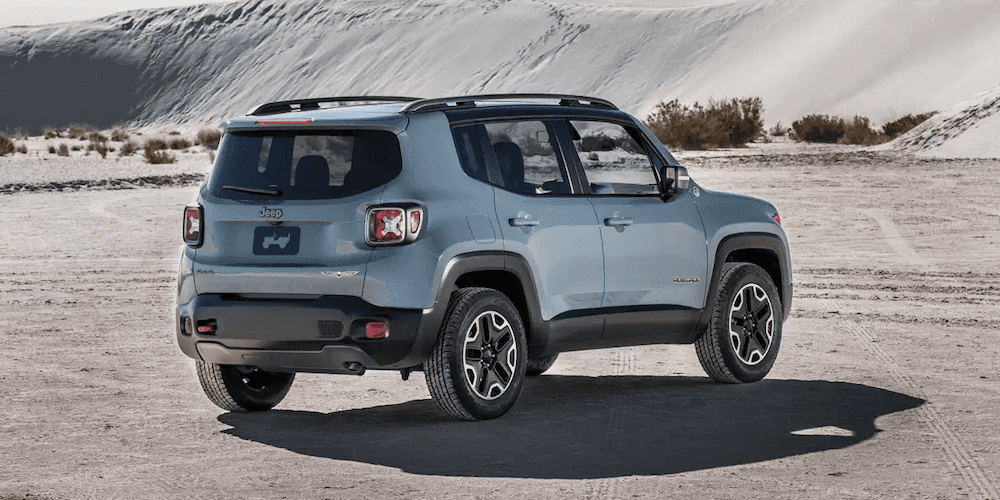 The expansive inventory of Jeeps included on faricy.com only serves the reinforce the strength of the brand's offerings. From standard and limited edition models of family-friendly SUVs to the endless options for customizing the countless trim levels available on Wranglers, Jeep has its bases covered. And if you're searching Jeeps For Sale, the Faricy Boys have you covered.
With that in mind, where do you start? Sure, we could talk all day long about the Wrangler (and will do so in countless other posts) but its iconic status overshadows some of the other offerings in the line. For that reason, we'd like to spotlight a few of the other options available. Whether or not they fit your lifestyle is really up to you…
The Renegade
With a few years under the belt, the Jeep Renegade continues to prove that the Jeep mindset is flexible, able to fit into a wide range of shapes and sizes. The most accessibly-priced of Jeep's offerings, the subcompact Renegade starts around $17,995 MSRP but is available in five trim levels (Sport, Latitude, Limited and Trailhawk).
The first two trim levels are powered by a 1.4-liter four-cylinder engine pair to a six-speed transmission, rated at 160 horsepower and 184 lb-ft of torque. Whether you opt for front or four-wheel drivetrain, you can expect 27 mpg combined (31 highway, 24 city).
The higher trim levels receive a 2.4-liter engine, which serves up 180 hp and 175 lb-ft. At 24 mpg (29 highway, 21 city). Either way, the Renegade is proof that good things come in small packages.
All-New Jeep Compass
In 2017, the Compass benefited from a redesign, offering up a refreshed crossover SUV that is as capable off-road as it is on. From aesthetics to ride quality, the enhancements are immediately tangible. And for those who feel that the Renegade is too small, and the Cherokee is too big, well…the Compass may be 'just right'.
Priced to start around $20,995 MSRP the All-New Compass is available in four trim levels (Sport, Latitude, Limited and Trailhawk). Each one is powered by the 2.4-liter four-cylinder, but it can be paired to a six-speed (manual or automatic) or nine-speed automatic transmission, depending on your configuration. Delivering up to 180 hp and 175 lb-ft of torque, the Compass balances your expectations of fuel economy and performance.
Cherokee
What can be said about the Cherokee that hasn't been said countless times before, and with far more eloquence than we can muster? Answer: not much. With nearly 35 years of solid track record behind it, the Cherokee (and it's upscale variants) have arguably become as iconic as the Wrangler itself, albeit to a separate customer base.
Priced to start (accessibly) at $23,695 MSRP the Cherokee is more than a pretty price tag; it exemplifies the versatility of the Jeep line, as comfortable on a trail as it is on pavement. Available in five trims (Sport, Latitude, Trailhawk, Limited and Overland) a 2.4-liter four-cylinder engine paired to a nine-speed automatic transmission comes standard. Rated at 184 horsepower and 171 lb-ft of torque, fuel economy is estimated at 25 mpg combined (30 highway, 21 city). There is the option of a 3.2-liter V6, as well. Serving up 271 hp and 239 lb-ft of torque, it manages to stay in line with 24 mpg combined (29 highway, 21 city).
Grand Cherokee
Even more compelling is the upmarket Grand Cherokee. Engine configurations include a (standard) 3.6-liter V6, a turbocharged 3.0-liter diesel V6 or a 5.7-liter V8. Sure, the price tag jumps up a bit to start around $30,395 MSRP but the Grand Cherokee has few rivals in terms of versatility and performance.
Depending on the option selected you could expect to see as much as 360 horsepower, 420 lb-ft of torque, and over 7000 LB towing capacity. You'll be hard-pressed to find another crossover SUV on the market that can measure up to that.
Grand Cherokee SRT
6.4-liter V8 engine mated to an eight-speed automatic transmission, delivering 475 horsepower and 470 lb-ft of torque. Need we say more?
While any of the Trailhawk additions of the other models carry the trail-rated performance features demanded by more adventurous Jeep enthusiasts, this beast sits atop the line. But it's not just big and powerful; covering 0-60mph in 5 seconds is impressive on top of the GC's 7000+ LB towing capacity.
The SRT won't be for everyone, but those who its meant for will enjoy every second of it.
Performance Plus
Sure, we've spent a lot of time focused on the performance attributes of these offerings, but there's so much more to like. From iconic styling to near-luxury cabin styling on the higher level models and trims, Jeep continues to prove that it can be something to everyone.
This includes technology and amenities that run the gamut from modern connectivity to utilitarian necessity. From Bluetooth enablement to the inclusion of 115-volt household outlets, you'll find no need unmet in the wealth of today's offerings. Add in the various enhancement packages available, and there are few limitations as to how much you can make a Jeep your own.
Bottom line, whether you're looking for a balanced crossover or a trail-rated beast, there's something for you here. Explore each model and the options available, and you'll inevitably find the perfect fit, whether you're a first-time or long-time Jeep owner.
It's a Jeep Thing
The Faricy Boys understand the expectations of today's Jeep owners. So much more than the sum of their extensive inventory, their strength lies in their clear focus on price, availability and service options. Throw in the benefits of a qualified service department, and fully-stocked parts inventory and one thing becomes evident. Whether you're looking to buy any model of new or pre-owned Jeep, or (yes) mod your Wrangler, your search should start right here at faricy.com.