How the Jeep Wrangler Became Synonymous With 'Roughing It'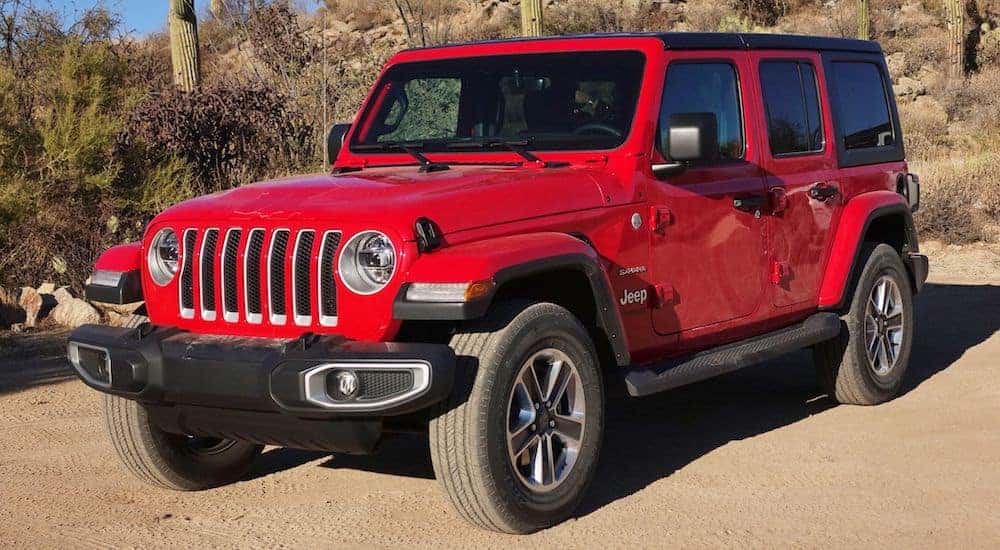 So you're considering a Jeep Wrangler and are wondering just how well it will suit your lifestyle. If you're looking at local Jeep dealerships in Denver, Colorado, there's a pretty good chance that your life has lots to do with getting dirty in the great outdoors. After all, Denver is one of the best places in the world to participate in all kinds of outdoor activities. Read on to find out about the 77-year history that makes Jeep Wrangler so perfect for hunting, fishing, and off-roading—and to learn about the all-new features that make it right on target for today's outdoorsman.
Readers who know their Jeep trivia are probably thinking, "Hey, wait a minute. How can the Wrangler have 77 years of history when it just hit the market in 1987?" To see the big picture, you have to go all the way back to the Wrangler's roots: World War II.
The year is 1940. Willys-Overland, Jeep's predecessor, is one of 135 carmakers the U.S. Army has invited to design and produce an all-new type of vehicle made for the rigors of reconnaissance. The Willys-Overland schematic is one of only three designs submitted; fewer than a handful of car manufacturers rose to the occasion.
In Willys-Overland's Quad, then the MA and MB, you can see the bones of the Jeep Wrangler already beginning to take shape. These forefathers to the Wrangler share its rectangular frame, smooth-driving engine, fold-down windshield, and a wheelbase that's perfect for maneuvering in tight spaces. Let's take a look at how today's Jeep Wrangler continues to suit the needs of America's toughest outdoorsmen
Hunters and Fishermen Know Wrangler Hits the Bull's-Eye in Outdoor Features
The way hunters and fishermen use their vehicles, things are bound to get messy now and then. The new Jeep is much easier to disassemble when it comes to its removable parts than in previous years. This improvement may not seem so vital until you're stretching to get under the seats and into every nook and cranny after a particularly messy excursion. To make cleaning up your Wrangler even more of a breeze, the carpets also come out easily for times when you need to get out the hose to wash the day's grime away.
The doors, windscreen, and other removable parts of the Wrangler are now labeled at hinges and release points, and the removal tool comes standard. The windshield of the 2018 model only has four bolts to deal with in the fold-down process, as opposed to the 28 that were on the 2017 JK. If that's not easy enough for you, opt for the Sky One-Touch Soft Top, which automatically pulls back in just 18 seconds when you press the button.
The exterior frame has been revamped to improve the Wrangler's aerodynamics, cutting wind drag by almost 10 percent. Though it's added four inches in length and 2.4 inches in width to its silhouette, the 2018 Wrangler has dropped 200 pounds total compared to last year. This substantial weight loss is due to the thoughtful use of aluminum components. And 17 of those lost pounds were in the Jeep's doors, making them easier to remove if you're a solo traveler.
The Jeep Wrangler has a number of parts and components that are easily removed for fun or cleaning.  These removable parts such as the doors, top, interior carpets, are what makes a Jeep Wrangler the perfect vehicle for enjoying the great outdoors with all your senses. What other vehicle lets you fold down the windshield, take off the doors, and roll back the roof when you want to get up close and personal with some fresh air and sunshine?
This year's Wrangler has also amped up its available storage. On the interior, you'll not only find more room than ever before—you'll find it's easier than ever before to get to those storage spots.  And when it comes to accessories, there are so many storage options out there it'll make your head spin like the competition's wheels in mud. With storage accessories for under the seat, overhead, tailgate, or cargo net—all these choices add up to giving you the ability to customize your Jeep to suit your specific cargo, whether that means securely loading in an armful of expensive fishing rods and tackle or keeping your mind at ease with the knowledge that your firearms are stowed safely in a secure lockbox made to work with your vehicle. Of course, there are also accessory options for gun racks, flashlight mounts, cameras, tailgate tables, pistol clamp mounts, quick draw bow mounts, and more so you can further personalize your ride.
Hunters spend lots of time in parts of the environment that most of the rest of us never will, whether they're cutting a path through the marsh, forest, or mountains, or traversing alongside a muddy riverbank. That means outdoorsmen have different needs than your standard auto consumer, and those needs are centered around offroad capability and cargo capacity.
This year, Jeep's offering an entry-level Wrangler that's just what the hunter (or fisherman) ordered when it comes to offroad ease.  American Hunter called it "the most capable stock off-road vehicle on the market today." Keep reading for more details on what makes Jeep Wranglers the perfect choice for those taking the road less traveled.
Offroad Enthusiasts Put Their Trust in Jeep Wrangler
When it comes to off-roading, one Jeep model has achieved downright legendary status among those who like to get muddy on trails off the beaten path. Jeep's Wrangler has 77 years under its belt as a practical powerhouse, with only pickup trucks having a longer history in the field than this workhorse. But why is today's Wrangler particularly suited to off-roading? One reason off-roaders love the Wrangler is its maneuverability. And this year's Wrangler has been redesigned for the first time in 10 years, so it's got all the latest bells and whistles.
Three new powertrain choices also mean that drivers can count on what's under the hood to pull through the muddiest, bumpiest trails. This dependable power comes along with improved fuel efficiency. Consumers who choose the 2018 Jeep Wrangler get these to select from: a new 2.0-liter turbocharged inline four-cylinder, the upgraded 3.6-liter Pentastar V6 with start/stop technology, and a hybrid electric and a 3.0-liter Ecodiesel V6 is due to hit dealership lots by the end of 2019. The turbocharged four-cylinder option, manufactured by the engineers behind Ferrari for Alfa Romeo, offers all the output of the V6, but faster and with improved torque.
On the outside of the Wrangler, the soft top now has plastic rails that can be snapped into the roll bars, making it easier to install than previous models. It's also lost the zippers that were troublesome to fuss with in previous years. This renovation combined with the lighter frame combine to reduce the effect of wind resistance on the Jeep, letting you glide through trails like the wind itself.
As you can see, 77 years of history hasn't made the Wrangler is stuffy or old-fashioned. Our team has gone above and beyond to make sure the 2018 Jeep Wrangler has everything today's outdoorsman could want in a vehicle. Jeep's designers logged four million miles on the road in the research and development phase, allowing them to address the needs of outdoorsmen everywhere proactively. To find out what makes Jeep perfect for days spent in the great outdoors, visit your local Jeep dealership. Denver is known for its outdoor recreation, so don't take our word for it—make your test drive a real analysis of how the Wrangler will fit into your outdoor lifestyle and take it off the road for a spin.