Get Ready for a Colorado Springs Adventure in These 2021 Jeeps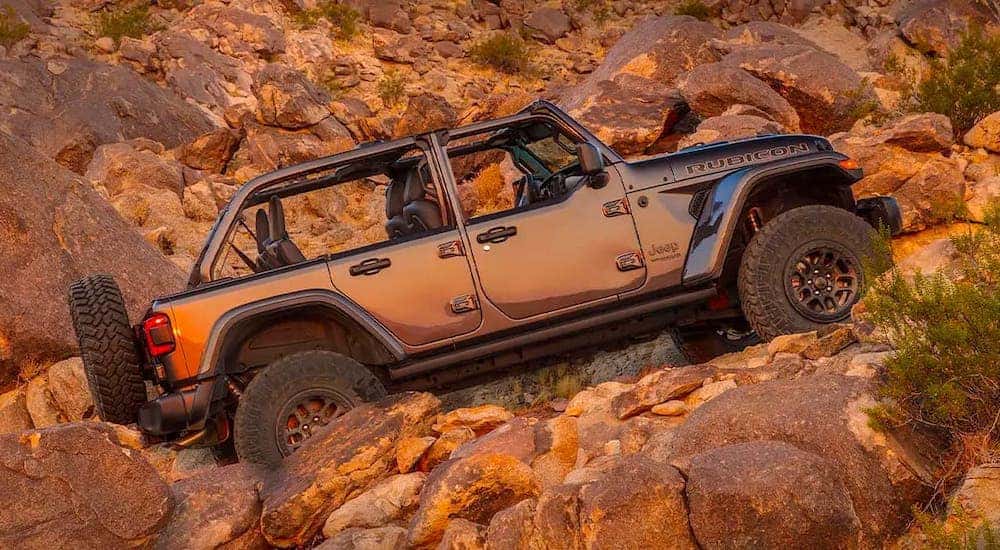 Are you looking for a big adventure? If you're in the Colorado Springs area, you've likely heard of popular off-roading spots like Slaughterhouse Gulch, the Grand Mesa Trails, and Weston Pass Trail. On any beautiful day, you'll find dozens of Jeeps on these trails, which has inspired many of our customers to visit The Faricy Boys Jeep dealership in Colorado Springs to look at our impressive lineup of Jeeps. But which Jeeps are the most popular for off-road adventures, and how do they compare? Here's a look at some of our top off-road Jeep picks!
Jeep Wrangler Rubicon 392
It's no surprise that our list starts with the icon of adventure—the Jeep Wrangler. Jeep fans have been asking for more power out of the Wrangler for years and, in 2021, Jeep finally answered the call. More power, more torque, and a brand new 6.4L V8 engine are what powers this upcoming Jeep Wrangler powerhouse. Don't let all of the new features fool you, though; the Rubicon 392 is still the modular off-road companion you want for any adventure, with available half doors to allow you to have a taste of outdoor freedom while still staying protected from the elements.
The Rubicon 392 is the only Wrangler with a 6.4-liter Hemi V8 engine in the lineup. That's a special honor that delivers outstanding power whether you're driving down the highway or taking the Rubicon down a dirt road. Whatever the case, the Rubicon 392 offers exceptional performance by delivering 470 horsepower and 470 lb-ft of torque with the capability of reaching 0 to 60 mph in only 4.5 seconds. This is truly legendary for a Wrangler!
What makes the Rubicon 392 even better is its outstanding suspension and off-road capability. It features an electronic sway bar disconnect that begs to be taken off-road. Its FOX aluminum-bodied shocks also add to its performance by making it incredibly maneuverable. Add in the race-proven dampening control that ensures a smooth ride on even the bumpiest roads, and it's easy to see why the Rubicon 392 is projected to be a favorite among off-road adventurers!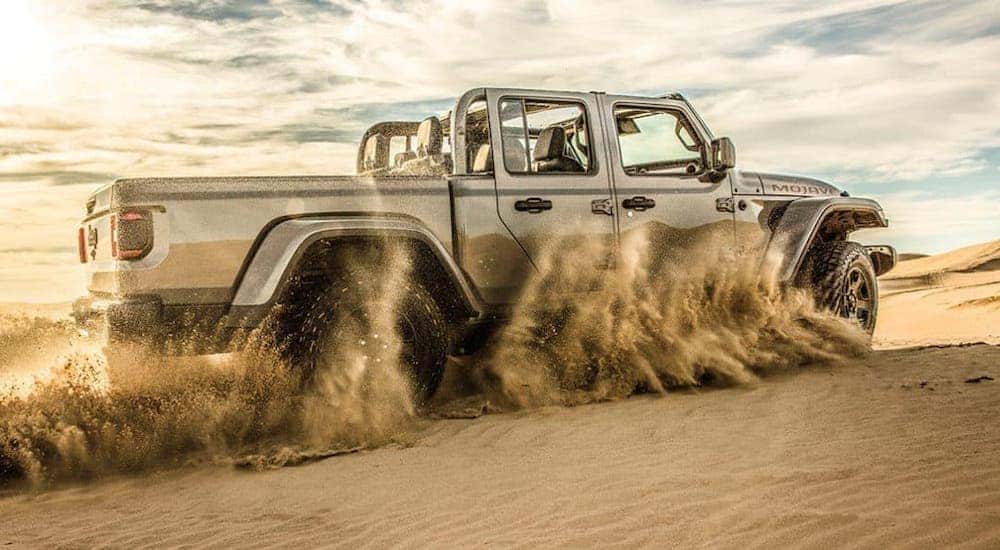 Jeep Gladiator Mojave
Jeep started a trend when they debuted the Wrangler Rubicon 392 and quickly followed up with the Jeep Gladiator Mojave, which is the first desert-rated Jeep vehicle ever made. The Gladiator is Jeep's iconic truck, but the Mojave takes the truck's capability even further. Similar to the Trail Rated Badge, Jeep's that have been Desert Rated have been put to the test and can handle the loose sand, desert heat, and unpredictable driving conditions.
The Desert Rated badge reflects the Gladiator Mojave's outstanding performance in five areas—traction, desert prowess, ride control and stability, maneuverability, and ground clearance. The Mojave proved its desert prowess and excelled in providing exceptional traction in unpredictable environments marked by extreme heat and terrains like loose dirt, gravel, and sand. While tackling these environments, it provided outstanding ride control, stability, maneuverability, and ground clearance regardless of whatever obstacle stood in its way.
The Mojave earned its Desert Rated badge thanks to Jeep's innovative design and technology. The Mojave features 33-in all-terrain tires and rugged step sand sliders that protect the Jeep's frame as it traverses obstacles. The Mojave also features FOX front hydraulic jounce bumpers and FOX internal bypass shocks that deliver impressive ride control to what Jeep calls a "desert oasis" on wheels. With the reinforced frame, cast iron steering knuckles, and enhanced suspension, the Mojave is one of the most versatile vehicles in the Jeep lineup.
Jeep Grand Cherokee SRT
The Jeep Grand Cherokee is the most awarded SUV ever made, which sets extremely high standards in the SUV class. Jeep keeps raising that standard with the introduction of models like the Grand Cherokee SRT. The SRT features a powerful 6.4-liter V8 engine that delivers an outstanding torque rating of 470 lb-ft and 475 horsepower. When paired with the TorqueFlite 8-speed automatic transmission, the SRT is capable of reaching 0 to 60 mph in just 4.3 seconds.
One of the features that truly sets the SRT apart from other Grand Cherokees is its five dynamic drive modes. This enhances the SRT's performance by enabling drivers to personalize their experience behind the wheel whether they're commuting to and from work or venturing down a dirt road. The drive modes include Auto, Sport, Track, Snow, and Tow. Auto adapts to any driving condition and utilizes a 40/60 split between front and rear torque. Sport enhances stability control and tightens the suspension with a 35/65 torque split.
Track mode is designed for seamless handling with a 30/70 torque split. Performance is heightened with quicker transmission shift times and firmer suspension. Tow mode utilizes a 60/40 torque split that enhances smoothness when towing heavy loads. The final mode is Snow mode, which uses a 50/50 torque split to optimize the Grand Cherokee SRT's handling in snowy conditions.
The SRT also features standard launch control, which optimizes the SRT's performance, especially when paired with the available Brembo high-performance brakes that provide maximum stopping power. The launch control aligns the engine, transmission, suspension, driveline, and stability control to prepare the vehicle for a seamless launch. Drivers can easily enable this feature at the push of a button on the center console.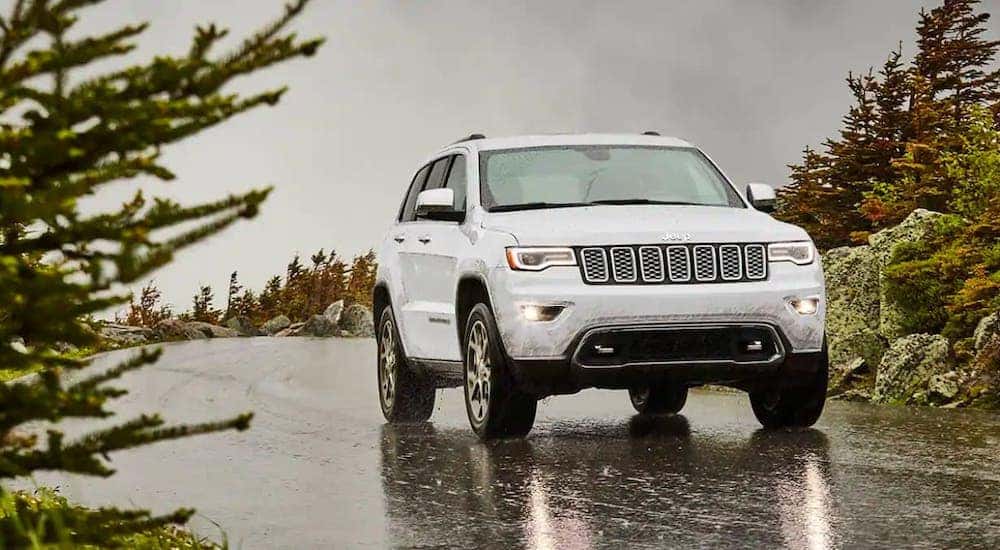 Let's Venture Off-Road
Now that you've learned more about the Jeep Wrangler Rubicon 392, the Jeep Gladiator Mojave, and the Jeep Grand Cherokee SRT, are you ready to venture off-road? The Wrangler is Jeep's icon of adventure since its early inception in the 1940s as a war utility vehicle. Since then, it's only gotten better with time as Jeep continues to improve its features while maintaining its classic design.
The Grand Cherokee is another icon in the Jeep lineup, but Jeep once again raised the bar by offering the powerful, high-performing SRT. Designed for speed and performance, the SRT is a capable vehicle that offers even more in terms of luxury and comfort. Then, there's the Jeep Gladiator Mojave, which has yet to debut but has many anxiously awaiting its arrival. This all-terrain Desert Rated Gladiator is the first in its class and has proven it can handle any environment and terrain thrown its way.
Start Your Adventure with The Faricy Boys
We hope you'll start your adventure with our team here at The Faricy Boys Jeep dealership in Colorado Springs. With over 75 years of experience in the business, we know a thing or two about adventure—and even more about cars! Swing by the dealership at 4950 New Car Drive in Colorado Springs, where you're sure to see our commitment to running our family business with integrity and loyalty, just as our grandfather, Owen Faricy, set out to do in 1942.
We can't wait to meet you and hear more about your dream vehicle. We take great pride in helping our customers find the vehicle that best meets their needs, from their lifestyle to their budget. While we can't wait for the Wrangler Rubicon 392 to be ready for a test drive, we have plenty of other Jeep options available to take you off the road in no time. So, if you are ready to get behind the wheel of an adventure-ready Jeep model, let us help you find the perfect one.