Faricy is Proud to be a No Haggle Car Dealer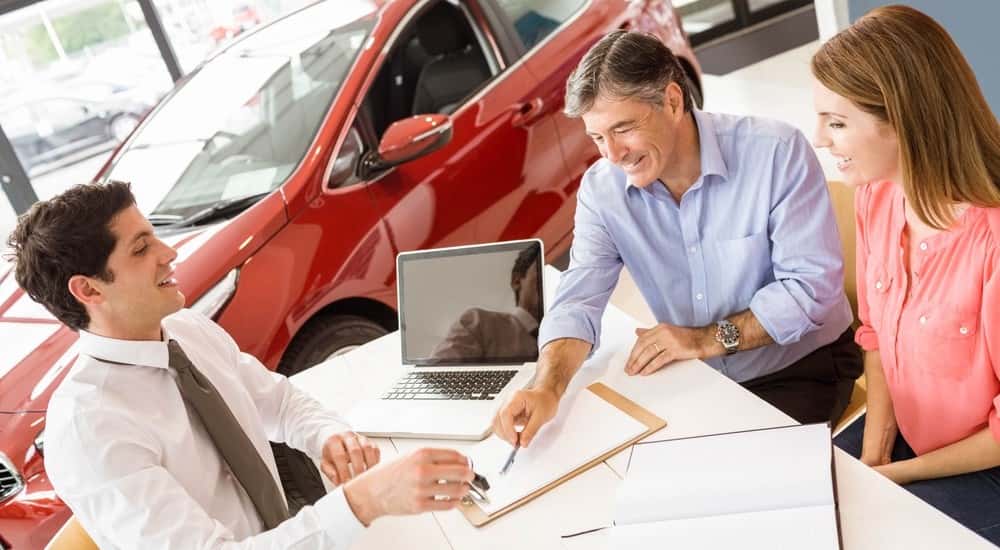 There's a popular myth that has stayed within the auto industry for years. It is that to buy a car, a consumer needs to spend hours haggling with a salesperson at the dealership. That is probably not a myth for many people who still treat car buying in the traditional sense of visiting many dealerships, checking what's on the lot, narrowing their choices, and then haggling with a number of sales people in order to reach a reasonable price.
For many car buyers, the above statement is certainly true. In total, consumers spend about four hours on average in a dealership before settling on the best price. But savvy buyers have found a used car at a no haggle car dealer like The Faricy Boys. The trend toward working with a no haggle car dealer is growing across the country, especially as consumers have an increased amount of searchable information at their fingertips, as well as purchase options. Many auto consumers conduct the entire auto purchase process from the privacy of their own home.
Wide Choice of Used Vehicles
For those seeking a used car at a no haggle dealer like The Faricy Boys, the time has never better since millions of low-mileage, late-model cars are entering the market. Whether you're in the market for a used vehicle right away or in the next year or two, you'll certainly have a wide choice in the next five to 10 years with so many cars coming off lease. In fact, J.D. Power and Associates has projected the used vehicle supply will reach 14.5 million in 2018, up from 11.9 million in 2015.
Our used vehicle choices at the The Faricy Boys' used lot are even more tempting for a number of reasons. There are more people in today's market that will buy a used car rather than a new car, due to price, low mileage, and choice. Secondly, consumers are gaining the upper hand by researching what they want in a used vehicle and being able to compare different manufacturers. Third, consumers have gained more confidence in used car dealerships, especially those like The Faricy Boys that offer no haggle pricing. Consumers have more information than ever before, especially on fair pricing, and dealerships have responded in kind to remain competitive.
Our dealership has grown in its success due to its business model of taking care of its customers. We've enabled our knowledgeable staff to work thoroughly with our customers and offer them a fair price for our vehicles without having to haggle.
Time is Precious
Time is precious to our customers and they enjoy being able to peruse our used car choices and narrow them down to a few. With our fixed, no-haggle policy, our customers are able to better compare the vehicles and their features rather than trying to decide how much to negotiate in price and what is within their budget. Arming them with a lot of information, not just price, gives our customers the confidence and satisfaction that they've made the best choice.
For so many years, car dealerships operated on the same playing field: entice customers into your facility, show them your car choices, and then haggle with them on price and features. Consumers, especially millennials, do not have the time or desire to continue this business model. Plus, they are quite sophisticated at researching various car makes and models before choosing a used vehicle. Expert organizations provide them with comparisons between different used vehicle models. Associations let them know if the used vehicle has been recalled or has not passed safety tests. Forums allow used vehicle owners to declare their allegiance to a certain used model or voice their displeasure with pre-owned models.
Speed and Transparency
Probably the biggest engine enabling this new sales tactic is the speed in which we live in today's world. Consumers can use their mobile devices to check prices for all types of items—refrigerators, shoes, or tablets—-at a variety of shops, both brick-and-mortar or online. They want transparency and honesty, as well as speed. They don't have time to sit with sales personnel trying to talk them into features they don't want or a price they can't afford. They can't—and won't—spend eight hours looking at a variety of used vehicles and negotiating at each dealership. Their life today revolves around buying what they want at a set price quickly; similar to buying coffee at Starbucks. Millennials like to know that they have knowledge on their side, that they've done their homework. In years past, it was always the dealership that knew more about the used vehicle and the consumer never knew if they were getting the complete story.
There are many no haggle auto firms launching online almost monthly. The difference between these firms and a no haggle firm like The Faricy Boys is that we operate a brick-and-mortar building with an educated sales staff to help you navigate our used vehicle choices. While we offer online convenience with a set price, we balance those features with the logistics of putting our customers in their newly-chosen used vehicle and backing it up with a complete service and parts department.
Setting a fixed price and having a no haggle policy seems to ease the tension and anxiety of consumers. Deciding to go to a dealership and haggle for your next vehicle seems like an ancient, adversarial process. You're always wondering if you got cheated or if the next buyer got a better deal.
While consumers have a variety of used vehicles to choose from, what stays the same is the reputation and knowledge behind a dealership. The Faricy Boys' dealership has been in business for more than 75 years. While its no haggle policy is relatively new, its devotion to the industry, its consumers, and its employees are well-established and reliable.