Everything You Need to Know About the New 2020 Jeep Compass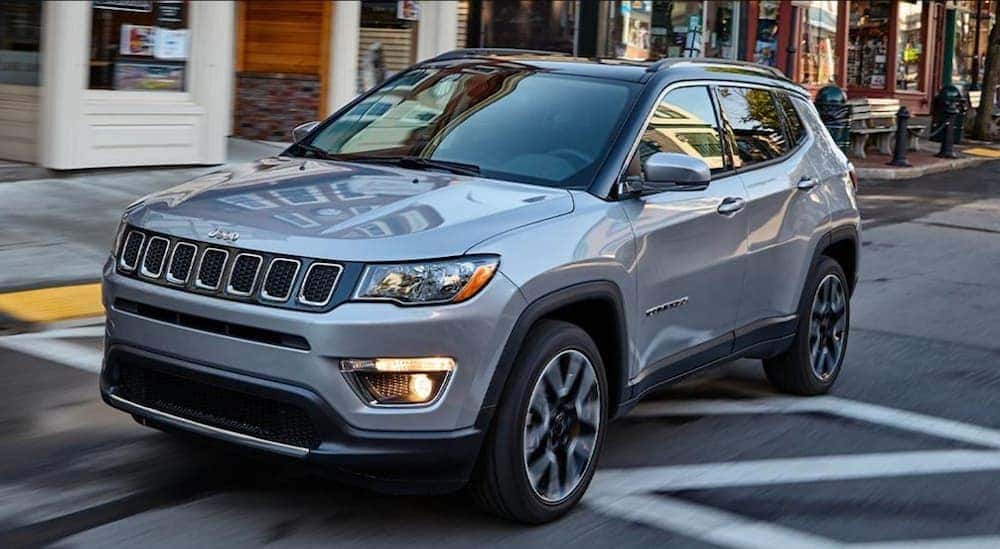 When it comes to compact SUVs, you should be able to expect everything you could ever need and then some. With so many compact SUVs on the market today, the field is oversaturated with far too many models that are just okay and just barely hit the mark in what makes a decent compact SUV; the same cannot be said of the all-new Jeep Compass. Here at The Faricy Boys, we care about more than just making a solid sale; our goal is to provide you with the vehicle that checks off every box and lives up to every expectation. Of all the Jeep models we host in our showroom, the Jeep Compass is by far one of our favorites.
Sporting the iconic versatility and utility of the Jeep brand, and fully equipped to handle a variety of different drive styles and lifestyles, the Jeep Compass is the next evolution in compact SUVs. The Jeep Compass has been in the Jeep family lineup for years, and the latest 2020 model pushes things to the next level by infusing some of the latest and greatest in auto technology while at the same time staying true to what makes a Jeep a Jeep.
Judging a Book By Its Cover
If you take a look at all the compact SUVs on the road today, many of them offer more of the same across the board. Sure, what they may offer is great: solid safety features, plenty of interior spacing, and engine power that is often appropriate for the size without putting too much of a burden on fuel efficiency. Unfortunately, these vehicles attempt to be a jack of all trades, and many of them fall quite short of the mark of being great cars; the exact opposite is true of the Jeep Compass.
Before we get into the intricate details of what sets the Jeep Compass apart from the competition, we ought to give you a top-down perspective of what this Jeep compact SUV brings to the table. First of all, unlike its quirky cousin, the Jeep Renegade, the Jeep Compass's design is rather conservative. Pulling inspiration from the Cherokee and Grand Cherokee, the Jeep Compass offers broad appeal, which is hardly a problem. This universal styling is also accompanied by that Jeep flair that we all know and love: high ground clearance, sharp color choices, and that classic ribbed front grille.
Starting at an MSRP of $22,105, the Jeep Compass is on the affordable end and can be purchased in the Sport, Latitude, Trailhawk, and Limited trims (among others). So, when you judge the Jeep Compass on appearances alone, you have a compact SUV that doesn't price out potential buyers and has plenty of potential for expansion with its four different trim options.

Trail-Rated Power
Every model in the Jeep family lineup is expected to at least handle light trail running. While very few of the models will be able to compete with the rugged capability of the Jeep Wrangler, they still blow competitor models out of the water. Jeep is the automaker of adventurers, outdoor lovers, and camping enthusiasts alike, and the 2020 Jeep Compass lives up to this expectation.
While the base model is no trail-rated dirt fiend, it still holds its own against other models within the same class. No matter what trim you purchase, though, you'll be put at the helm of an SUV powered by a 2.4-liter inline-4 engine that gets up to 180 horsepower and 175 lb-ft of torque. This engine isn't half-bad, especially when you pair it to the optional 9-speed automatic transmission and all-wheel drive. That said, the entry-level 6-speed transmission partnered with front-wheel drive, does make for some half-decent on-pavement driving.
The 9-speed automatic transmission with all-wheel drive comes as standard on the Trailhawk and Limited trims. However, the Trailhawk trim takes capability up a notch by offering 8.4 inches of ground clearance and a 20:1 crawl ratio. Couple these features with a number of Jeep-inspired features, and you have a compact SUV that truly exists within a league of its own.
So when it comes to performance, the Jeep Compass does a decent job of delivering consistent power across the board. You can also purchase a Jeep Compass that is capable of forging through some of the most remote parts of the world. But there is more to a great SUV than just engine power and overall performance
Rugged Exterior, Luxury Interior
With so many rugged, capability-focused, features it can be easy to mistake the Jeep Compass as a utility-only vehicle. The truth of the matter is, the Jeep Compass is capable both inside and out. For starters, rear passengers get a healthy amount of legroom measuring in at 38.3 inches; that's a lot more than many other competitor models deliver. Open up that rear hatch, and you'll find 27.2 cubic feet of cargo space. That allotted cargo space can be expanded to 59.8 cubic feet when you fold those rear seats, which is certain to live up to the needs of any adventurer or camper.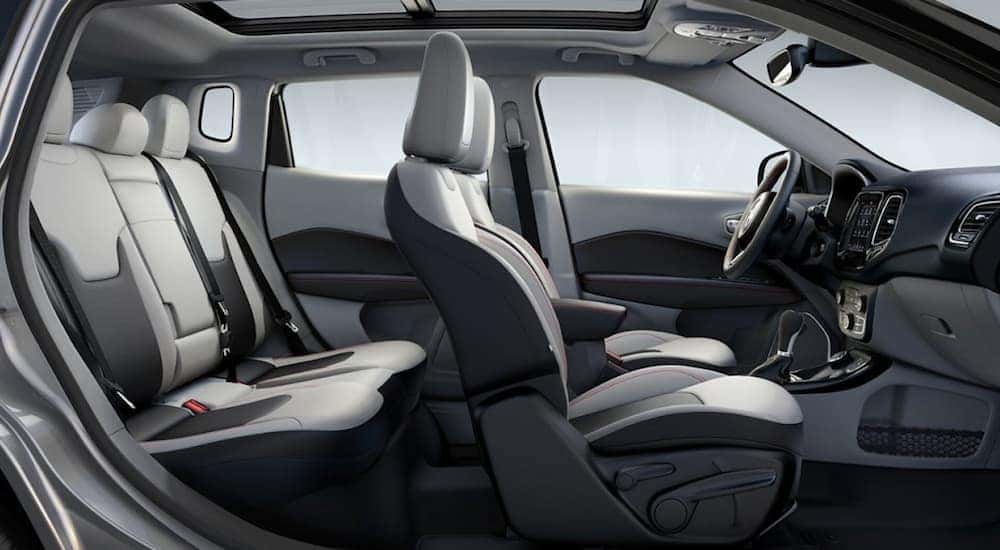 Cloth upholstery dresses the interior of basic models, but you can pay a bit more to upgrade to leather seats that rival that of luxury vehicles. The base model also gets a sizeable 7.0-inch infotainment touchscreen that is tooled with Apple CarPlay and Android Auto, as well as two USB charging ports, air conditioning, and keyless ignition. Even this basic package puts the Jeep Compass above many other competitor models, and things only improve from there. At its best, the Jeep Compass can be slotted with 17-inch wheels, leather seats that are heated and power-adjustable, a bigger 8.4-inch infotainment system, and a digital gauge cluster display.
One black spot on the reputation of Jeep models of the past is a lack of active safety features; Jeep is steadily changing that, and it is evident in the new Jeep Compass. Across all trims of the Jeep Compass, you can purchase a fully-fleshed our safety package that includes features like automatic emergency braking, active lane control, automatic high beams, blind-spot monitors, rain-sensing wipers, and active parking assist.
All totaled the Jeep Compass is the full package, offering a driving experience that is as outdoor capable as any other Jeep in the lineup, without sacrificing the luxuries drivers have come to expect from a modern compact SUV. That low entry price is also a welcomed benefit, as even drivers on a budget can drive home in a vehicle that not only lives up to the Jeep brand but is bound to offer a satisfying ride as well.
Shopping for a New Jeep at The Faricy Boys
At The Faricy Boys in Colorado Springs, our customers simply cannot get enough of the new 2020 Jeep Compass, and we're more than willing to guide them through the car buying process. We pride ourselves on our ability to having the best deals possible for our customers. Our number one concern is your satisfaction, and we make it our goal to send you home in the car of your dreams. Whether you've got your eye on the new Jeep Compass, or you're unsure of what kind of car will meet your needs, our sales team at Faricy have got your back from start to finish.