Could the Jeep Wrangler Possibly Be Getting Better?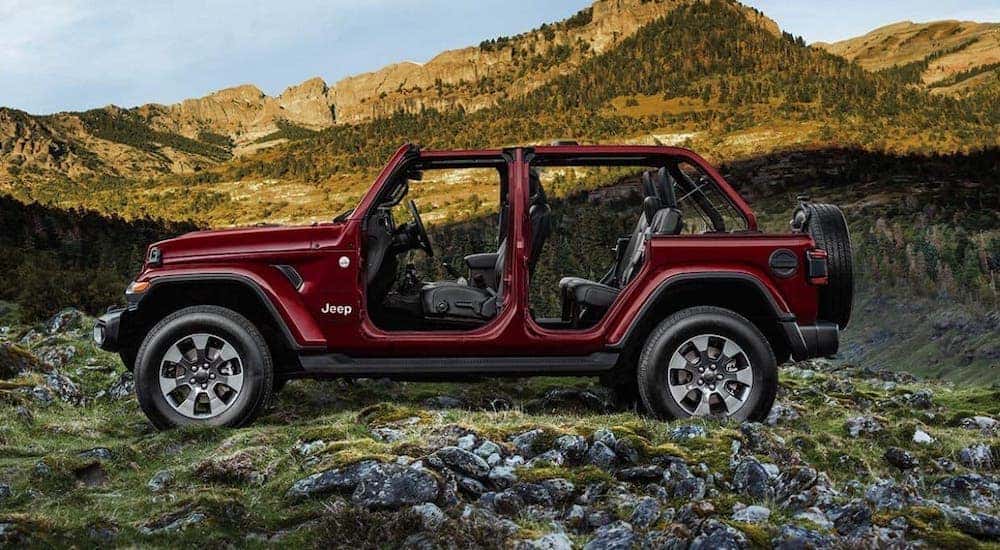 There are certain things that make a Jeep Wrangler so highly coveted by its fans. When you step into a Jeep dealership in Colorado Springs, or anywhere else in this country, you'll find that there is a certain type of crowd drawn to the Wrangler over the Cherokee or even the Gladiator. The Wrangler is in a class of its own when it comes to off-roading. There's just something about being able to take off the top of your vehicle and just go wherever the wind takes you, and that's the very ideal that only the Jeep Wrangler can provide.
Over the years, each Wrangler trim and special edition has been purposefully engineered for a special set of skills, including rock crawling, mud splashing, water fording, and hill-climbing. Jeep has endowed the Wrangler with a very particular collection of features, such as all-terrain tires, a thoughtfully lifted suspension, plenty of power, and skid plates in all the right places to blend fun and practicality for off-roaders everywhere. And most recently, a rumor has become a reality, as Jeep has officially confirmed that an all-new V8-equipped Wrangler is in the concept stages.
The Early Rumors
A rumor began in early July that thirty Jeep Wranglers featuring V8 engines had come through production at the manufacturer's Toledo, Ohio plant. While creating one-off concept cars is not unheard of- especially with some of the larger brands like Wrangler- thirty rolling off the line at the same time is a pretty big deal.
Speculation started almost immediately. Was this a new model altogether? After all, the Wrangler body is hardly ideal for carting around a giant V8 engine. What type of power figures would we see? Would this be a limited edition, or a new trim all together? Wrangler fans have been clamoring for years to see the production of a bigger, better Wrangler with greater power. Given what the current model can handle, imagine what type of terrain a V8 could take on.
The source who had initially released the information was coy with the press but confirmed that the V8 Wrangler would be equipped with shocks like those of the Gladiator Mojave- Fox internal-bypass racing models. The public was also promised a more lifted suspension, locking differentials, 37-inch mud tires, and dual exhaust.
All of these rumors seemed to check out. Fiat Chrysler Automobiles (FCA) has plenty of talent and engineering know-how to create powerful engines- surely, there are some spare Hemis in the Chrysler division that could inspire a similar powerhouse in their off-roading cousins. But with Jeep's earlier announcement about going all-electric in the near future, the idea of a more powerful gasoline-based engine seemed to be on the back-burner.
Shortly after the V8 buzz started circulating the internet, Jeep put the rumors to rest by officially announcing the existence of the Wrangler Rubicon 392 prototype.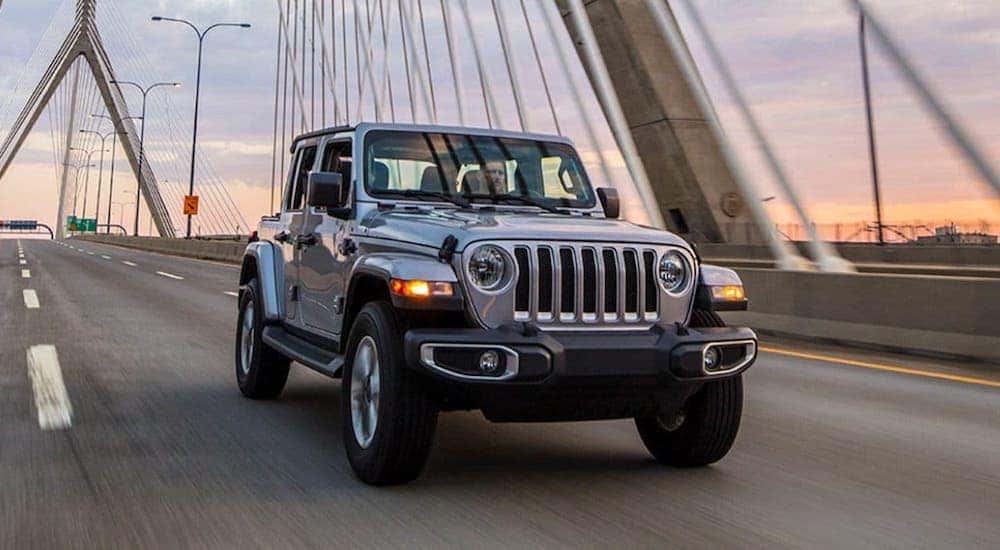 The Official Word
In a statement released on July 13, 2020, FCA confirmed that the Wrangler Rubicon 392 prototype was not a myth, but a reality.
"Jeep Wrangler enthusiasts have been asking us for a Wrangler V8, and our new Wrangler Rubicon 392 Concept proves what we have the ability to make that happen," stated Jim Morrison, who serves as Head of Jeep Brand for FCA North America. He further noted that this concept is a direct result of customer feedback. "From the recently introduced 29-pg Wrangler EcoDiesel to our award-winning Jeep Gladiator and the upcoming Wrangler 4xe plug-in hybrid electric vehicle, Jeep is clearly listening to its customers. We are anxious to gauge their reaction to this new Wrangler Rubicon 392 Concept, a vehicle that delivers an incredible and unmatched level of fun-to-drive performance and capability, on and off road."
This unprecedented attitude of "give the people what they want" makes sense for the Jeep brand, giving the consumer choices that make sense to how they use their vehicles. Jeep has become widely known as one of the most customizable brands in North America, with a wide variety of factory-installed and post-purchase options available through FCA's influential Mopar brand.
This isn't the first time Jeep has employed a V8 engine, either. The 1981 CJ model featured a 5.0L V8 engine. This version provided 125 hp and 220 lb-ft of torque. In comparison, the 2020 standard 3.6L V6 offers 285 hp and 260 lb-ft of torque, with the eTorque mild hybrid version adding even more low-end torque for extra crawling power.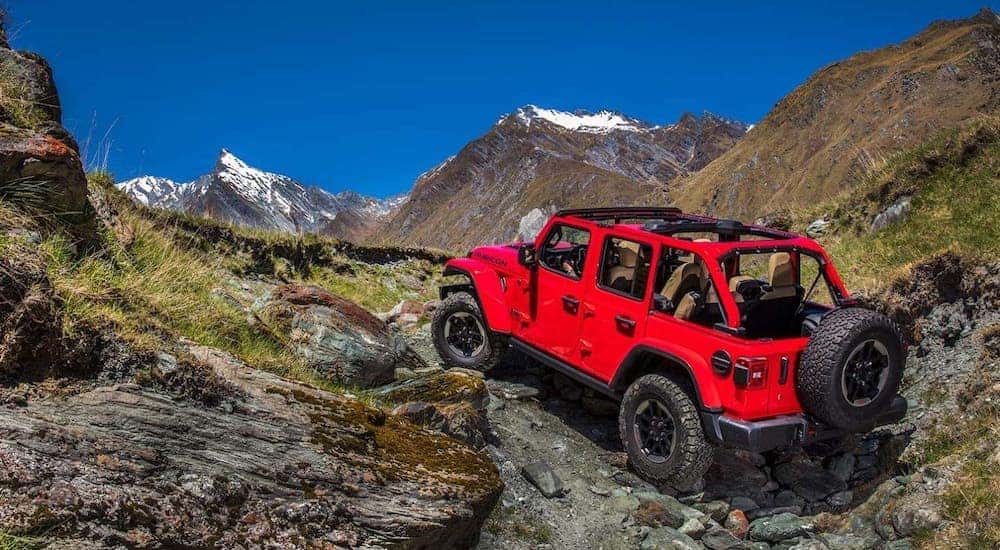 What's in Store?
The Rubicon 392, therefore, isn't a street-savvy Wrangler, but an off-road-tuned beast by design. FCA has confirmed a 6.4L V8 engine with up to 392 cubic inches of displacement. It offers 450 hp, 450 lb-ft of torque, and can make the climb from 0 to 60 miles per hour in less than five seconds.
The current Wrangler build isn't designed to withstand that type of power, so a few things had to change all around. That includes a two-inch factory suspension lift, Dana 44 axles, a full-time two speed 4×4 transfer case, front and rear axle lockers, and an exhaust that switches mode with a quick press of a button. The low-end torque has been retooled to include the word "massive" for a 3.73 gear ratio.
Particular attention has been paid to the suspension, thanks to innovation from Mopar. That includes improved angles for approach and departure. Pair that with the Rubicon's rock rails, steel bumpers and belly pan, and a Warn winch, and the V8 Wrangler seems pretty much unstoppable.
Of course, a vehicle this radical has to look good, too. The concept vehicles include a Granite Crystal exterior, with Bronze accents, such as tow hooks, badging, shocks, wheels, and springs. The half-doors may be familiar additions to the Wrangler brand, but the version on the concept is specifically styled for a more aggressive level of performance. This Wrangler includes the Sky One-Touch powertop and removable side panels, allowing drivers the full no-holds-barred Wrangler experience. The current interior theme features Red Rock leather and gold stitching to make note of what a truly special edition this may become.
While there are still plenty of details that have yet to be revealed about the Wrangler Rubicon 392 Concept Jeep, it seems as though drivers are guaranteed to have a lot of fun in this vehicle. Fans of the brand are currently speculating about a release date and anxiously awaiting further details about how it drives, overall performance, and more. Released images promise a growling beast of an off-road vehicle that will surely give the newly announced Ford Bronco stiff competition.
For now, the 392 Rubicon is a concept, which means there will be plenty of time for rumors, speculation, and anticipation before the final model is revealed. Still, if internet buzz is anything to go by, the V8 Wrangler will have no problem finding a home in the Jeep lineup. The concept vehicle has taken over Jeep forums, social media, and blogs, as fans around the world gather information and try to guess what Jeep's next big move will be. Though, if Mr. Morrison's statement is anything to go by, the next Jeep concept will be whatever the fans dream of next!