A Pair of 2017 Jeeps That are Ideal Lease Options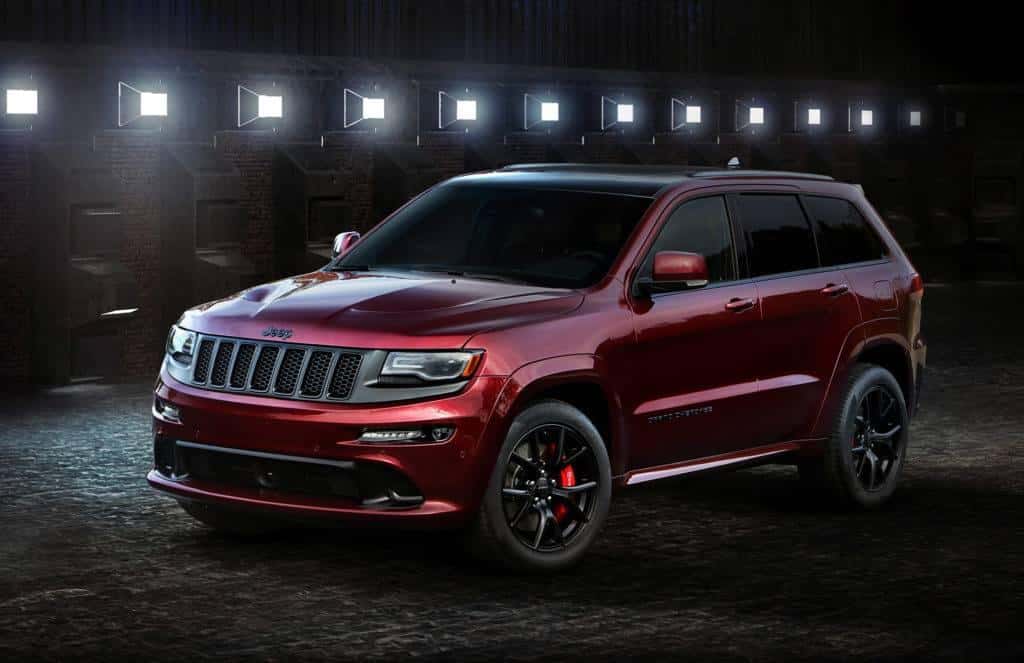 If you're in the market for a new SUV, you've surely considered Jeep's impressive offerings. However, after investigating the various models, you presumably realized that some of these vehicles may be out of your price range.
Fortunately, that may not actually be the case. Jeep offers some incredibly generous leasing options, allowing customers to afford these pricier SUVs. For instance, if a customer is enthralled by the Grand Cherokee SRT, he or she could save nearly $30,000 by pursuing a lease.
The brand offers these lease options with any of their vehicles. However, customers will recognize the benefits the most when they pursue the pricier SUVs. We explored these Jeep options below, and this newfound information may entice you to pursue a Jeep lease…
Grand Cherokee SRT
This Jeep SUV is the priciest of the brand's 2017 options, but for very good reason. The Grand Cherokee SRT offers everything you could possibly want from a new vehicle: power, style, and convenience.
It all starts with the impressive 6.4-liter HEMI SRT V8 engine. Predictably, the system is capable of pumping out a whole lot of power, as drivers can expect an incredible 475 horsepower and 470 pounds-feet of torque. Fortunately, this power doesn't compromise the Jeep's overall performance. Drivers can still expect a smooth and comfortable ride thanks to the eight-speed automatic transmission, and the electronic automatic shift mode (or the steering-wheel paddle controls) makes it very easy to change gears. Best of all, this HEMI engine also includes an Eco Mode and Fuel Saver Technology, so drivers won't have to dish out as much money at the gas pump as they may have anticipated.
Meanwhile, the Selec-Track System maximizes the engine's performance by adapting your SUV to the terrain or conditions. There are a number of different driving modes that you can choose from, and the Jeep will alter its suspension, stability, and engine mapping (in addition to several other mechanic modifications) to provide an ideal ride. The Launch Control system will give the driver that added boost when they're looking to accelerate from a standstill, while the high-performance brakes will assure that you can adequately decelerate or stop in any conditions.
Jeep isn't considered a luxury brand, but the Grand Cherokee SRT could rival any of those opulent rival SUVs. The brand offers a number of world-class ultra premium interior options, including Nappa leather trim (with perforated suede) or perforated Laguna leather. The race-inspired seating will provide the sportiness that drivers will surely be seeking, while the available 8.4-inch touchscreen will provide all of the entertainment and resources a driver could possibly want. This luxuriousness extends to the vehicle's exterior, as owners will appreciate the sexy blacked-out front and the dynamic bi-xenon High-Intensity Discharge headlamps (with the new LED fog lamps). There's even a dual-pane panoramic sunroof, making the Grand Cherokee SRT the ideal choice for those seeking a summer ride.
This SUV generally starts at $66,895, which certainly doesn't fit into every customer's budget. Fortunately, the brand's generous lease options make this SUV a lot more affordable. The standard lease options for the Grand Cherokee SRT includes an $804 monthly payment for 36 months, with a $3,699 fee due at lease signing. This means potential owners would only be obligated to pay a total of $32,643, a considerable discount from the full asking price.
Grand Cherokee
The Grand Cherokee may not be as impressive as its SRT counterpart, but few vehicles are. This specific SUV is still one of the most impressive vehicles on the market, and that's a good reason why the ride is essentially the brand's second-priciest option.
There's no denying the beauty of this vehicle, and the Grand Cherokee is considered one of the most striking SUVs on the market. It starts with the brand's revised seven-slot grille, which provides a retro look for your ride. A number of exterior details, including the addition of Bi-Xenon High-Intensity Discharge Headlamps, also help improve the drivability of the vehicle. This sentiment also applies to the redesigned front fascia, which has been revamped for style and aerodynamics. Similar to other Jeeps, drivers will be able to appreciate the available CommandView dual-pane panoramic sunroof. With a simple push of a button, passengers can appreciate the cool, refreshing air.
Head to the inside of the vehicle, and you'll find a number of luxurious materials. Besides the variety of upholstery options (including the Natura Plus Leather trim), drivers will also appreciate the leather-wrapped center console and door panels. For even more opulence, drivers can opt for real-wood appliqués. The Uconnect system will allow passengers to access their preferred music via their smartphones, and they can appreciate these tunes via the pair of impressive sound systems: the nine-speaker Alpine® Surround Sound System or the Harman Kardon System (with multichannel processing and 19 high-performance speakers).
Of course, the vehicle also offers the necessary engine options that will get you through any conditions or terrains. The 5.7-liter HEMI V8 engine (available on the 4×4 iteration of the Grand Cherokee) provides 360 horsepower and 390 pounds-feet of torque, resulting in an incredible 7,400-pound towing capacity. If drivers are seeking fuel economy, the 3.0-liter EcoDiesel V6 engine (available on the 4×2 version) is an excellent choice. The unit doesn't only reduce CO2 emissions, but it's also incredibly efficient, with the brand touting that drivers can expect 738 highway miles on a single tank of gas. Of course, this engine is still plenty powerful with 240 horsepower and 420 pounds-feet of torque.
This specific Jeep generally runs for $30,395, although drivers can save a chunk of money by pursuing the lease options. By leasing the vehicle, drivers will be obligated to pay a monthly fee of $239 for 36 months (in addition to a $2,999 signing fee). This means that drivers will ultimately be dishing out only $11,603 to drive this 2017 Grand Cherokee. Alternatively, the brand also offers zero-percent APR financing for 36 months, and even offers a $750 cash allowance.
Of course, it's important to remember that each individual dealership may have their own leasing options or deals. Therefore, it's best to visit your local Jeep dealership to get more clarity on the price. If you live in the Colorado Springs, Colorado area, your best route will be visiting The Faricy Boys, who should guide you through the entire buying (or leasing) process.