2021 Jeep Grand Cherokee: Highlights of Jeep's Newest SUV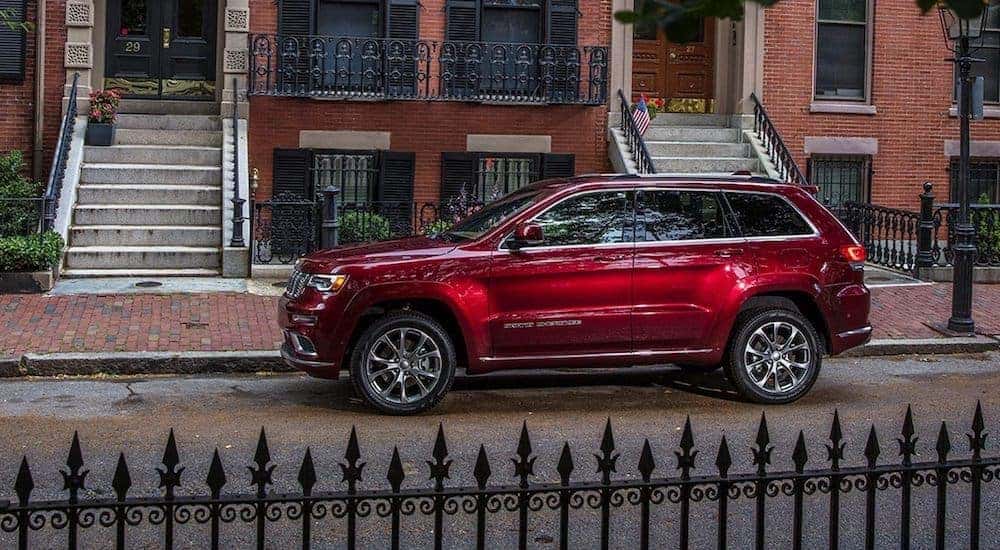 With releases and announcements coming out for the 2021 models, there are plenty of reasons to get excited. New styles, new engines, and new features are set to mark this as a great year for the automotive industry. So, what exciting things can you expect to see at the Jeep dealership near you? Well, the 2021 Jeep Grand Cherokee is here, and it is not going to disappoint. But what is it about the 2021 Jeep Grand Cherokee that makes it so special?
The 2021 Jeep Grand Cherokee has a lot to live up to in this model year. 2021 marks the 80th Anniversary of the Jeep brand, and all of its models are expected to show all of the best that the brand has to offer. The 2021 Grand Cherokee has 10 available trims to choose from, one of which includes the special 80th Anniversary edition exclusive to the 2021 year. This model shows that Jeep is committed to its customers by providing options to suit any driver. Not to mention, this Jeep keeps its core of being able to go over any terrain. After all, Jeep is known for its ability to travel off-road, and the 2021 Grand Cherokee is ready to face any challenge you throw at it.
What to Look For in the 2021 Jeep Grand Cherokee?
The 2021 Jeep Grand Cherokee has entered the market with the goal of offering an enhanced driving experience from performance technology to innovations in safety. To put it simply, the 2021 Jeep Grand Cherokee has a lot of different factors that make it distinctly unique for a Jeep Grand Cherokee and as an SUV in general. With such a new design, drivers can expect upgraded safety features, connected infotainment, and that classic Jeep flair that drivers love.
Capability
The 2021 Jeep Grand Cherokee is ready for your next adventure with an impressive towing and payload capacity. The Grand Cherokee can tow a maximum of 7,200 lbs when properly equipped, and has a maximum payload capacity of 1,350 lbs. At its heart, this model is still a Jeep, which means that it needs to be ready for wherever you may go and whatever you need to bring with you there. The 2021 Jeep Grand Cherokee can handle many trailers with ease, making the vehicle more versatile in both work that requires heavier equipment and increasing cargo capacity.
In addition, the Grand Cherokee also has available 4×4 capability with a Quadra-Lift Air Suspension system and trail-rated ground clearance. With such capabilities, the 2021 Jeep Grand Cherokee is now better equipped to tackle off-road terrain and other difficult road conditions that would give smaller vehicles trouble. The 2021 Jeep Grand Cherokee is far more well-rounded than it has been in the past, able to handle off-roading in the mountains, long road trips across the country, and any level of heavy lifting needed in a wide variety of different jobs.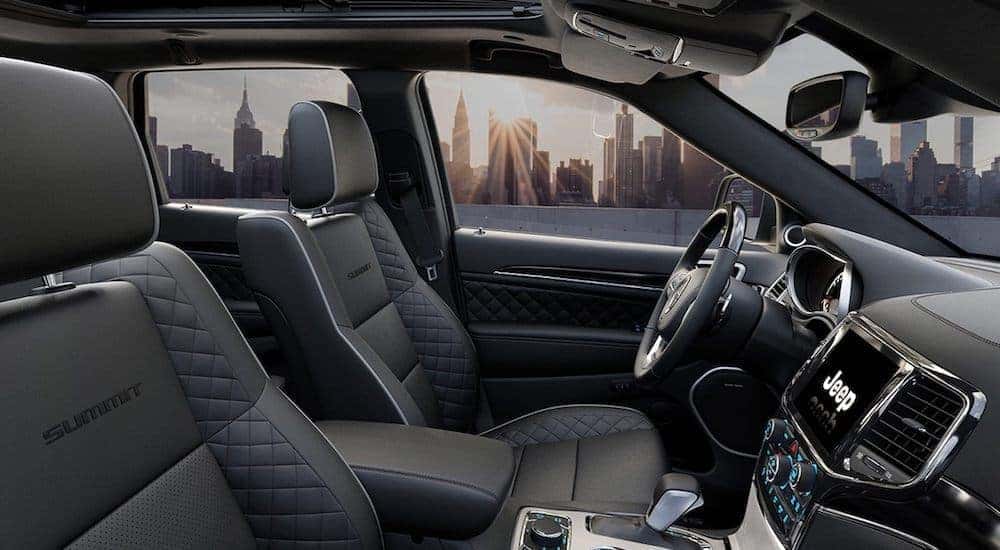 The 6.2L V8 Engine
The 2021 Jeep Grand Cherokee Trackhawk gives drivers the 6.2L V8 engine, the most powerful engine in the Jeep lineup. This engine goes hand in hand with the trim that is designed for the best off-roading experience of them all. This powerful engine puts out an impressive 707 horsepower and an astounding 645 lb-ft of torque. With this engine, you can accelerate from 0-60 miles per hour in just 3.5 seconds. This engine comes coupled with Brembo brakes to help offset its power. These brakes ensure that you can stop with confidence.
Interior Technology
The 2021 Jeep Grand Cherokee is also ready to keep you connected while you are on the road (or the trails). The implementation of a new touchscreen system that makes for an easier experience accessing driving assistance features and smartphone connectivity increases for easier usage of mobile phones in the vehicle. This also comes in addition to several optional features like a WIFI hotspot that provides a stable connection to the internet for passengers in the vehicle.
While increased connectivity is always a good thing, the 2021 Jeep Grand Cherokee also enhanced their SUV with technology by allowing your phone to interact with the SUV itself. Using your phone as a remote, you're able to both start your car remotely and locate it using tracking installed in the vehicle itself. This means that the days of losing your car in a crowded parking lot are officially over, not to mention the safety benefits of being able to track your car. Most vehicles that can be tracked remotely are recovered when stolen, meaning that even in the unfortunate event of your SUV being stolen, you'll be able to help the police recover it. This is in addition to a monthly maintenance report, which will tell you every time your vehicle is in desperate need of maintenance.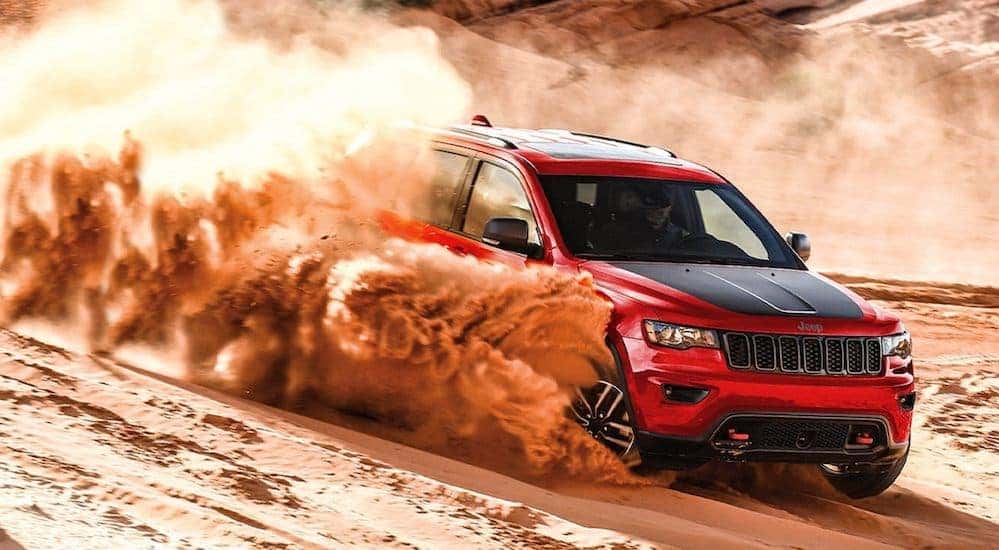 Safety Technology
Safety is always a large concern for drivers, and the 2021 Jeep Grand Cherokee has some pretty impressive safety features. The standard safety features on all models are covered under the Protech I safety package. This package includes features like blindspot monitoring, rear cross path detection, rear park assist, and a rear backup camera. That is in addition to 70 other available features that target situations that are the most likely to result in a dangerous accident.
The Protech II package, available on the Laredo and Laredo X, adds a forward collision warning with active braking. This package also includes LaneSense Lane Departure Warning with Lane Keep Assist and automatic high beams. Finally, the Protech II comes standard on the High Altitude, Summit, SRT, and Trackhawk. This top-level safety system includes full-speed forward collision warning, advanced brake assist, parallel and perpendicular park assist, and rain-sensing windshield wipers. All in all, the Jeep Grand Cherokee has everything you need to be safe on the road.
Should I Buy a 2021 Jeep Grand Cherokee?
While it's ultimately up to personal preference what trim and features you might want, the Jeep Grand Cherokee definitely has an option for everyone. With a considerable amount of towing capability, infotainment and connectivity features, and a safety suite to keep everyone safe, the 2021 Grand Cherokee lives up to the Jeep reputation. All of these features, plus plenty of others this SUV has, are more than enough reason for you to buy a 2021 Grand Cherokee as your next vehicle.
If you are in the Colorado Springs area, you can come meet us at The Faricy Boys, and we will get you behind the wheel of your next Jeep Grand Cherokee. Our finance team is ready and waiting to find you the perfect price for your new vehicle. We are also here to help you with any service your vehicle may need after you leave the lot. We are just as excited as you are for the new 2021 Jeep Grand Cherokee. If you want to try out a used Grand Cherokee model, we have plenty in stock for you to test drive as well. Visit us at 4950 New Car Drive in Colorado Springs, CO, today!