2020 Jeep Gladiator: Are You Not Entertained?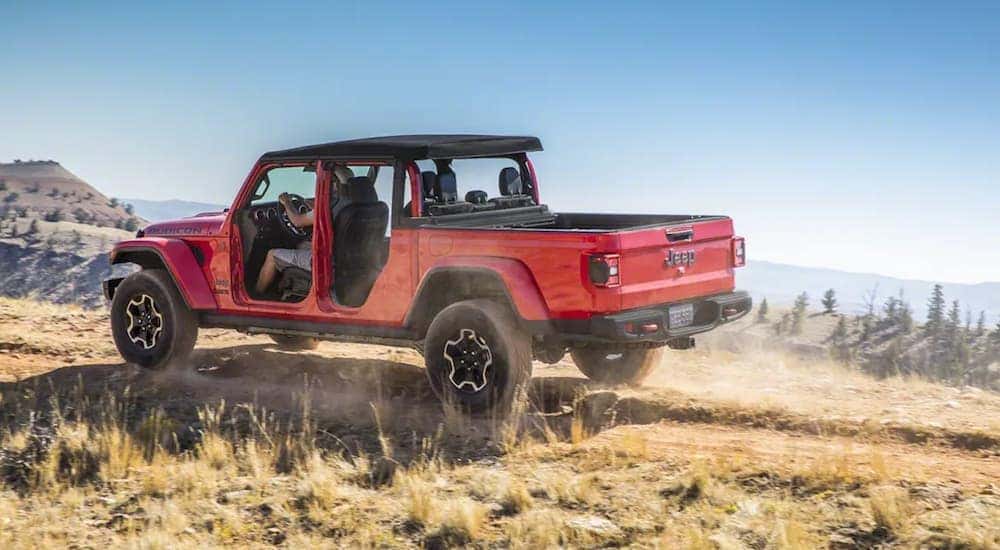 A new customer walks onto a dealership lot and meanders around looking at cars. A salesman approaches him and asks "Is there anything I can help you with today?" "Yes," the customer replies. "I'm looking for three different vehicles: a truck, an off-road vehicle, and a convertible." Not soon after, the customer is seen driving away in a 2020 Jeep Gladiator.
Jeep is in the middle of a gigantic sales boom. The company is perfectly positioned for the current vehicle sales environment. As customers move from cars to SUVs in droves, Jeep, with its all-SUV line-up, is practically printing money with almost 1,000,000 Jeeps being sold in 2018. Jeep carries the brunt of the load for its parent company, Fiat Chrysler Automobiles – 43% of FCA products sold (which includes Chrysler, Dodge, Jeep, Ram, Fiat, Alfa Romeo, Maserati, and Ferrari) are Jeeps. Within Jeep, 3 main models power those sales figures – the Cherokee, Grand Cherokee and Wrangler.
The Case for the Gladiator
The Wrangler is the heart and soul of the Jeep brand. A conceptual descendant of the Willy's Jeeps that powered the US to victory in World War II, the Wrangler has been able to buck SUV trends while remaining highly-competitive. As the majority of SUVs moved towards body-on-frame and car chassis with little off-road prowess, the Wrangler has kept true to its roots with a separate body and frame, rigid live front and rear axles, and outstanding off-road ability. The 4th generation JL, which debuted as a 2018 model in 2017, added more creature comforts and improved on-road manners to the mix, and the end result was nearly 250,000 new Wrangler drivers in 2018.
With so many customers clamoring for the Wrangler, it's no surprise that Jeep saw the value in combining their iconic SUV with another hot market – pickup trucks. As Americans move away from sedans, they aren't just getting behind the wheel of SUVs; pickups have benefitted from the shift in customer preference too. Trucks now make up 18% of light-duty vehicle sales, up from just a hair over 15% in 2016. With surging sales, why not take your top-down, doors-off best-seller and replace the hatch with a truck bed?
The 2020 Jeep Gladiator also enters the mid-size truck market at an interesting time. Although some sedan converts may end up with a full-size truck, the current batch of mid-size trucks indicates that manufacturers think customers may want to try something a bit smaller. After years of letting the Toyota Tacoma dominate the mid-size sector, domestic manufacturers have finally picked up the slack. GM invested more in the Chevy Colorado and GMC Canyon, moving 168,000 models in 2018,  just four years after selling a hair over 10,000. Despite letting the Ranger wither away in 2011, Ford has revived the nameplate to much fanfare. With a "baby Ram" still a couple of years away, the Gladiator enters the ring as FCA's representative. Although the 2020 Jeep Gladiator might not steal sales from the Toyota, Nissan, GMC, Chevy and Ford trucks, it's sure to mix up a growing market.
Style
Beyond the appeal of the classic Jeep styling, fans of the 2020 Jeep Gladiator will be sure to point out that it's the only pickup able to function as a convertible. Take the doors off, and the Gladiator looks more like a dune buggy than a traditional truck. A large part of the Gladiator's appeal lies in its versatility. Those looking for a traditional truck can opt for the body color hard top. Want to convey the Gladiator's Jeep identity without going soft? Look for the black hard top. Sun chasers can be ready to embrace a warm day with the soft top. And no matter what top option a buyer decides on, they can always pop the doors off for a nice breeze. Elsewhere, the Gladiator is a classic Jeep – the 7-slat grille, circular headlights, black hood latches and square taillights are all classic Wrangler. The bed is on the small side at 5 feet, but no other truck has the pass-through room Gladiator owners will get when the roof is removed.
Power and Fuel Economy
Power matters in the mid-size class, but it's not as big of a motivational factor as it is for full-size trucks. If you truly need to tow 10,000+ pounds, odds are that you'll also need the other features of a full-size or heavy-duty truck. The Gladiator fits in comfortably at the top of the class with a towing capacity of 7,650 pounds. The maximum payload is also perfect for the class at 1,600 pounds. When it debuts this spring, all four trim levels will come with a 3.6-liter V6 good for 285 horsepower with a diesel option rumored to debut in 2020. Jeep purists will rejoice when they see a 6-speed manual transmission is standard, though an 8-speed automatic is available for those not looking to row gears. All models come with ESS, a system that will shut off the engine when at a stoplight or idle. Using the Wrangler as a guide, we can estimate that the 2020 Jeep Gladiator will end getting somewhere around 23/city and 25/highway miles per gallon.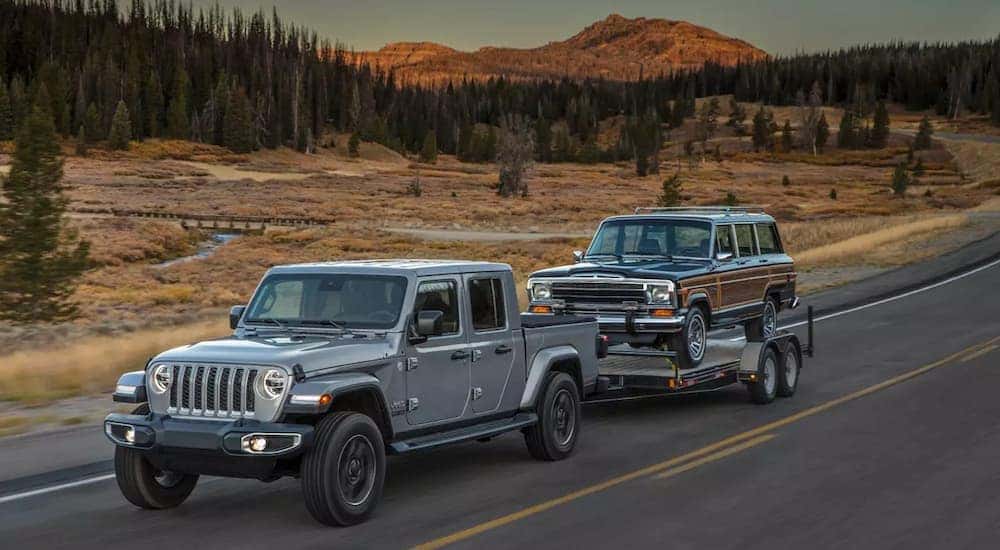 Inside
While much of Jeep's efforts into modernizing the Wrangler went into improving its ride and handling, the interior was not forgotten. Standard on all models is FCA's easy-to-use and award-winning Uconnect infotainment system. The Sport and Sport S come standard with a 5-inch screen while the Overland and Rubicon offer 7-inch touchscreens. Buyers who prefer built-in navigation will need to upgrade to the 8.4-inch screen, available only with the top two trims. Apple CarPlay and Android Auto compatibility come standard with the larger screens as well. 2020 Jeep Gladiator buyers more interested in sticking to pavement may want to go for the Overland and Rubicon, as these two trims offer leather-trimmed seats but cloth seats are offered on all 4 models and are the only choice on the two Sport-trim Gladiators.
Joining the Jeep Family
One of the most unique benefits of owning a Jeep, especially based on the Wrangler, are the formal and informal 'Jeep clubs'. There is something to be said for the kinship that many Jeep owners feel for each other – the Jeep wave is real. It's easy money to bet that Gladiator meetups and events will start to pop up this spring.
The Faricy Difference
Faricy Brothers is the premier Jeep Dealerships in Colorado Springs. When the 2020 Jeep Gladiator hits dealerships this spring, you can be sure that we'll have a robust selection of this amazing new truck. We will be able to help you through every aspect of the process, from finding your perfect Jeep, to securing financing, and everything in between. Our highly-trained and well-respected staff members will be able to assist you and will provide you with exemplary customer service. This is something we pride ourselves on, as we strive to provide excellent customer service to each customer who walks through our doors. If you're someone who has had a poor car-buying experience, don't let that sway you from stopping by Faricy Jeep. We will show you the respect that you deserve and provide you with an inventory that will leave you speechless. If you're ready to commit to a Jeep Gladiator, or you have questions for the experts, it's time to stop by our conveniently located dealership. You'll be glad that you did.