11 Places Denver Looks for Used Cars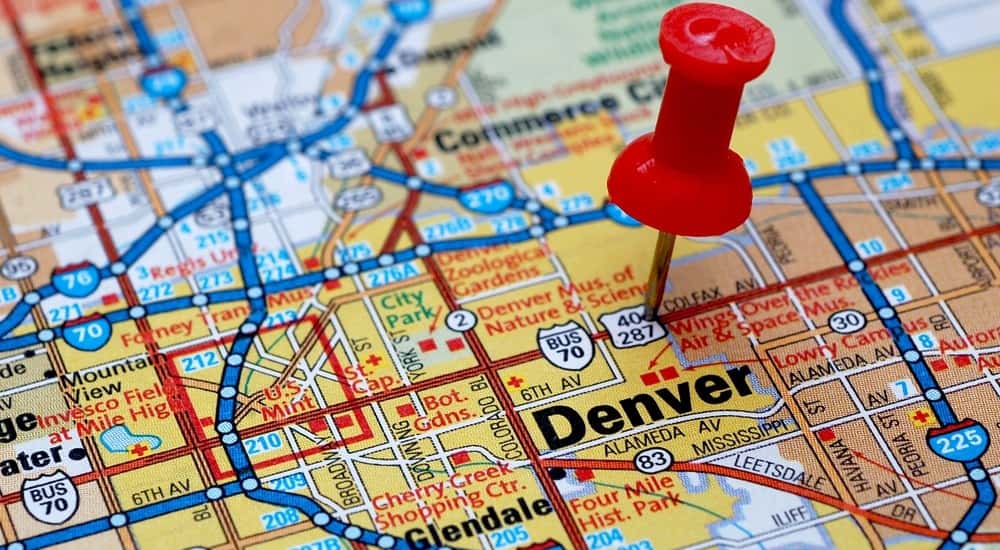 When shopping for used cars in Denver, Colorado drivers know what they want, and they know what they need. In fact, it's fair to say that such purposeful living is indicative of the reason why so many people choose to call Colorado 'home.' But Denver drivers should remember that their fine city might be a good place to buy, but certainly not the only, and probably not the best.
As anyone weary of flatlanders knows all too well, Colorado maintained itself as the state with the second-highest population growth for a five-year period, beginning in 2010. During that time, the last year alone showed nearly 101,000 people making the move to El Paso, Denver, Colorado Springs, Greeley's Weld, and Costilla. While this trend may have slowed slightly, it doesn't change the fact that the state welcomed more than 90,000 new inhabitants in 2016.
Why? Because people who find their place in Colorado know what they want, and they know what they need. And that clarity of intent contributes to the state's recent economic growth, its thriving job market, as well as its blend of changing city skylines and untouched natural resources. But how does that relate to…
Car Buying from 303 to 720
Nearly half of the households in and around the Denver area possess two vehicles, with just under a quarter possessing three or more. Combined, these groups make up just under 70% of the population, which begs the question of which cars are being bought. Well, anyone with eyes could spout off the prevalence of Ford trucks, Toyotas, and (ever-popular Subarus), but let's break it down a bit further, to the 'why?'
Primarily, you can sum it up in three key points. First, the active lifestyle embraced by the state as a whole. Second, is the fact that average commute of Coloradans is less than the national average. Throw in the wide range of weather conditions encountered across the state, and the picture becomes clearer.
Demanding versatility, space to accommodate gear and passengers alike, strong fuel economy (and a willingness to spend more on a bike, than on a car), many residents favor buying used cars. This becomes even more of a no-brainer for multi-car households. But what are the most popular Used Cars near Denver?
The Most Popular Used Cars in the Denver Region
While these are only some of the most commonly sold vehicles in the area, there are a few that were surprising to see. This is especially true of models which were supplanted by offerings with more updated styling and improved versatility. Take a look and see how many surprise you.
Ford F-Series Trucks stand without equal. While it should be enough to recognize them as the 'Best-Selling Truck' over the last 40 years, they actually stand as the 'Best-Selling Vehicle' overall, within that same time frame. Whether the Light-Duty F-150 fits your needs, or you require the unparalleled power, payload, and towing capacity of a SuperDuty, the F-Series has something for you.
As the first automotive plant in the U.S. to achieve zero landfill status, it's no surprise that Subarus are a perfect fit for the Coloradan mindset. And for nearly 20 years, there might be no greater poster-child for this relationship than the Subaru Outback. As one of the longest-lasting vehicles on the road, it also boasts a better resale value and better fuel economy than any other vehicle in its class. With 5-Star Safety Ratings from the National Highway Traffic Safety Administration (NHTSA), it's no wonder these versatile vehicles are among the state's top picks.
And following on its heels is the Subaru Forester, released within a few years of the Outback, and adding another wagon-styled crossover SUV to the segment. Boasting many of the same attributes, the Forester is praised for its versatility, being 'equally adept on-road and off-road,' according to Kelley Blue Book. It's easy to see why this SUV is a popular consideration for drivers looking to purchase used cars in Denver or the surrounding areas.
Within its life-span, the Toyota Highlander has been recognized for its value, impeccable safety record, and its suitability as a family vehicle. Whether your precious cargo consists of gear or your family, it's a perfect choice.
Equally versatile is the Honda CR-V, with the newest model year praised by the likes of Car and Driver (10Best), Kelley Blue Book (Best Family Cars), and U.S. news (Best Cars for the Money) – the CR-V is another pick that fits your lifestyle.
For those faithful to their Subaru, but partial to sedan styling, the Subaru Legacy has remained a top pick for nearly three decades. With Best-in-Class Residual Value, the Legacy proudly boasts that 96% of those sold within the last 10 years are still on the road.
While the newest Subaru Impreza was named by Autotrader as a 'Must Test Drive' car, and chosen as the 'Car of the Year' in Japan, its history goes back nearly a quarter of a century. Like so many of its Subaru stablemates, it is recognized for both safety and value retention.
For nearly 25 years, the Toyota RAV4 has received exemplary consumer ratings, as well as recognition as a Top Safety Pick. From value to reliability, quality to performance, styling to comfort, the RAV4 is a go-getter vehicle for a go-getter lifestyle.
With more than 40 years of offerings to choose from, the 'old man' of the group is the Honda Accord. But don't let the experience fool you, the Accord remains fresh to this day, with its newest model earning Car and Driver's 10Best.
Not quite so mature as the Accord, but still plenty experienced is the Toyota 4Runner. With over 30 years in the marketplace, the 4Runner has been continually successful in remaining relevant and innovative. A top value midsize crossover SUV, it is well worth considering when looking to purchase used cars near Denver.
A relative newcomer since its 2013 release, there is very little that you can't say about the Subaru Crosstrek, named 'Best Car for Families' by Parents Magazine, and boasting a 5-Star Safety Rating from the NHTSA, and Top Safety Pick by the IIHS. 'Lowest Cost-to-Own' in its class, according to Kelley Blue Book, and a leader in retained value and fuel efficiency, the Crosstrek ticks a lot of boxes.
The Choice is Yours
You've been browsing for used cars near Denver. Maybe these picks fit your needs; maybe they don't. Either way, you can find a wide range of used vehicles, as well as Certified Pre-Owned Jeep and Fiat-Chrysler offerings at The Faricy Boys in Colorado Springs. Whether you're looking for a Ford Truck, Toyota, Subaru or something else entirely, The Faricy Boys can help. Take the time to visit their online inventory to find the perfect vehicle for your Colorado lifestyle.