Why Denver Residents Should Consider a Used Car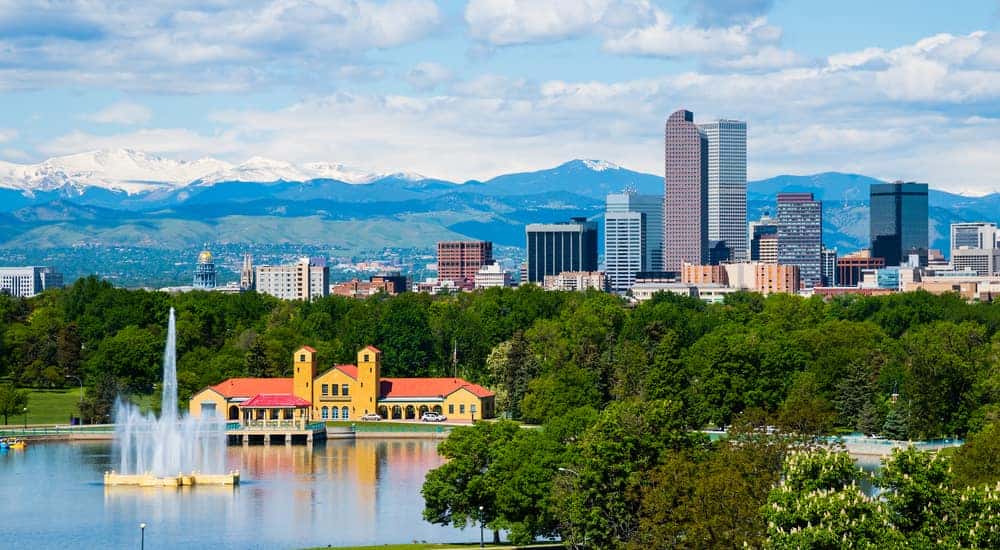 We know, we know. Whenever customers begin searching for a replacement vehicle, they envision themselves cruising around town in a flashy, brand-new ride. There are obvious incentives to opting for this particular route. However, many consumers fail to recognize the benefits that accompany used vehicles. This sentiment is especially true for those who live in Denver, Colorado or the surrounding area.
There's a long list of reasons why Denver residents should consider pursuing a used vehicle. For starters, they prove to be the perfect choice for those messy winters. Of course, pursuing a used vehicle also has monetary benefits, and these savings could even help you pursue a sexier ride.
Below, we've explored the main benefits of pursuing a used car in Denver. Before long, you'll be itching to visit a local dealership and get started on the car-buying process…
Benefit #1: Adapts to Rough Winters
Even if you're not from Denver, you're surely familiar with how rough the winters can be. A foot of snow is all but inevitable (usually during a single snowstorm). Predictably, this has quite the negative impact on your vehicle.
The risks here are rather obvious. For starters, poor road conditions increase the chance that you'll find yourself in an accident. In this case, you're forced to dish out money for pricey repairs, or you might be forced to pursue a brand-new vehicle altogether. This isn't the ideal situation, and it vicariously reduces the value of the investment you made in your new ride. Furthermore, those winter conditions do their fair share of damage to your vehicle. Ultimately, your vehicle may be in worse shape following a winter in Denver than in would be in, say, a winter in Texas.
However, there's a whole lot less risk if you pursue a used vehicle. Now, regardless of how much you're paying for your pre-owned ride, we're sure you're not looking to total the vehicle. However, crashes aren't completely unavoidable. Repairing a used vehicle could cost significantly less than the repairs on a new car, especially if they're cosmetic. The same goes for the general wear and tear on your vehicle. Depending on the condition of your ride, you may find that the car's mechanical quality can't possibly be reduced. In this situation, you'll be a lot less apprehensive about taking the road following a devastating snow storm.
Benefit #2: Host of Protections
Speaking of accidents, customers will usually have to dig into their pockets when they find themselves in a crash. Well, nowadays, plenty of dealerships accompany some type of warranty to their used vehicles. These sellers are specifically looking to sell these rides, and these warranties provide some additional incentives to prospective buyers.
What does this mean for you? Well, if those icy Denver winters do result in an accident, you won't be forced to spend a whole lot of money on repairs. Rather, there's a good chance that the dealership will have you covered, and you can trust that the expert technicians will quickly get your vehicle back on the road.
Benefit #3: Monetary Incentives
If you live in Denver (or even if you live in any of the surrounding areas), you know how pricey rent can be. This added chunk of change needs to be accounted for in your budget, and it may limit your ability to make some other pricey purchases. For instance, if you're paying more in rent to live in Denver, you may not have that extra amount of money to afford a new ride.
Well, in this scenario, it may be in your best interest to pursue a used car. These specific vehicles are considerably less expensive than their newer counterparts. This will have a drastic impact on your monthly payments, and it will loosen your budget and allow you to better afford that apartment in Denver. Even some of the ancillary charges (including the down payment) may be less expensive in this regard. In other words, the financial ramifications of pursuing a used vehicle instead of a new vehicle are too good to ignore.
Benefit #4: Increased Style
Denver is becoming one of the hottest hubs in the country, and the developing businesses are making the cities one of the most popular places to live for well-off individuals. Regardless of your budget, we wouldn't blame you if you're looking to fit in with the crowd. Well, you'd surely stick out like a sore thumb if you're driving around in a beater vehicle. Actually, you'd stick out if you were driving around in the barebones, base trim of a new nameplate. Don't let this be you.
By pursuing a used a vehicle, you'll be opening up your list of targets considerably. There are plenty of used 2016 and 2017 models sitting on dealership lots, so it's not like an aging vehicle is a foregone conclusion. Plus, when you consider the financial savings that accompany this particular pursuit, you'll be able to pursue a better-looking ride. That flashy sunroof or extensive infotainment system may be unrealistic when you're pursuing a new car, but they might be more affordable when you're searching for a used ride.
Ultimately, there's too many incentives to not at least consider a pursuit of a used vehicle in Denver. Similarly, there are too many incentives to not purchase said used car from Faricy. The dealership offers some of the most competitive prices in the area, and their vast inventory means you won't be limited when it comes to options (including their used offerings).
Furthermore, the business also provides their customers with a host of services, including a financing department and a service department. In other words, you can continue to rely on Faricy before and after you've completed your purchase… an especially unique relationship in today's industry.
So what are you waiting for? If you're starting to buy into the idea of a used vehicle, visit Faircy as soon as possible. Before long, you could be cruising onto those winter roads in your "new" ride.