Which 2016 Jeep Model is Right for You?
Out of all the Jeeps for sale, there are three familiar names that pop out at you: Wrangler, Cherokee, and Grand Cherokee. But, which one is right for you? They are all Jeeps, so they all have some measure of off-road capability. And all of them are modern enough to perform adequately on road, right? While those statements are relatively accurate, the capabilities of on and off-road performance fluctuate between all three models. Not to mention, the passenger space and comfort also varies. Therefore, you definitely need to take some time to consider which one is right for you.
As a general rule of thumb, the Wrangler (particularly the Rubicon) is picked by those looking for the best off-road performance possible. The Cherokee, for those who want a vehicle that can do a little bit of everything, and the Grand Cherokee is still coveted by families as a great alternative to a family sedan.
Let's expand on the purpose of each one, shall we?
Wrangler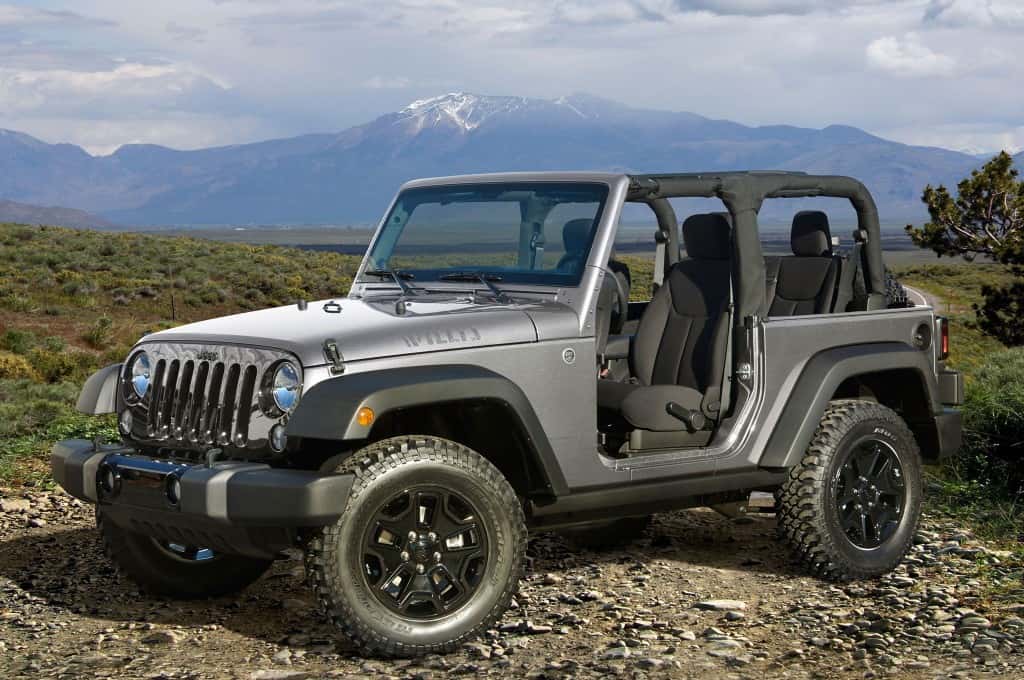 The Wrangler has been the iconic and pinnacle off-road performance vehicle for many years. It's always worn the crown for off-roading, and it's capability on rugged mountain trails, sandy beaches, in the mud, or over rocks is undisputed. That statement couldn't be any more accurate for 2016, especially with the advancements in performance and technology it's experienced over the years.
More importantly, because it's one of the most modded vehicles on the car market, companies like MOAB and AEV produce off-roading equipment that's exclusively for Wrangler models (old and new). But, the newer stuff is much better quality, simply because of modern advancements when it comes to producing parts. You can still find suspension and body lifts for the Wrangler, along with WARN winches, improved lockers, and anything else you could need or want for the off-road trail.
Aside from mods, the Wrangler Rubicon model comes with plenty of standard performance-enhancing parts to make it perfectly capable when off-roading. The Rock-Trac 4×4 system is a perfect example of this, and it comes with a Heavy-Duty Transfer Case to withstand even the harshest off-road conditions. The transfer case also has a 73:1:1 crawl ratio, and the manual transmission allows you to cruise over rocks with ease. Which means if you pick the Rubicon, you'll get to conquer rocks that the other guys can only dream about driving over.
The Rubicon also comes with an automatically disengaging sway bar when driving under 18 mph in 4LO mode. This allows the front-wheels to drop and compress up to 25% further, improving grip and stability, thanks to the increased surface area each tire provides. Front and rear Tru-Lok electronic locking differentials will lock the front two wheels and rear two wheels together. This allows the front and rear axle to spin each wheel simultaneously, increasing and evenly distributing the power on each side for unmatched traction.
Where would the Wrangler be without its engine? With the legendary 3.6-liter Pentastar V6 engine on its side, the Wrangler is ready to tackle the off-road trails with 285 horsepower, and even lands best-in-class highway fuel economy to boot.
It all adds up to best-in-class off-road performance out of any other SUV — even the ones it shares a nameplate with. Which is why if you're looking for off-roading, the Wrangler (particularly the Rubicon) is for you.
Cherokee
The 2016 Cherokee is an old name on a new face. When Jeep branded the new model, it made sure the Cherokee was set to be something special. The best way to showcase this? A unique design.
But, the knife edge style grille is more than just for show. Combine that with the windswept hood, sloping windshield, and low-cut roofline, and you have a vehicle that's extremely aerodynamic, which makes it perfect for running on the highway. Don't get me wrong, it can still off-road well enough. But, not nearly as well as the Wrangler. It's also more spacious and comfortable inside than the Wrangler (not quite as much as the Grand Cherokee), but gets exceptional fuel economy and nimble handling.
The result? A vehicle that's perfectly average, and sits between the Wrangler and Grand Cherokee — which means it can do a little bit of everything.
The Trailhawk trim on the Cherokee is Trail Rated, which means it can perform better than most other SUVs when off-roading, but it's much happier on the road with its base 2.4-liter I-4 Tigershark engine that puts out 184 horsepower and 171 lb-ft of torque, and gets up to 22 mpg city and 31 mpg highway. It's astounding to think that this type of fuel economy can come from a Jeep.
With adequate interior comfort and space combined with the superb on-road capability (and decent off-road capability), the Cherokee is your vehicle of choice if you're going to be doing a little bit of everything with your Jeep.
Grand Cherokee
If it's maximum interior space and comfort on a fully capable vehicle that you're looking for, then the 2016 Grand Cherokee is what you want. A diverse engine lineup let's you pick a balance of power and fuel-efficiency — or one over the other — and a upscale interior with plenty of luxury and technology-oriented features gives you a vehicle that's the ultimate on-road mid-size SUV for the family.
Active noise cancelling technology, noise-reducing acoustic glass, 19-speaker Harman Kardon sound system, wood cabin trim, panoramic sunroof, 8.4-inch touchscreen display, and a dual-screen rear entertainment system with Blu-ray capability are only a few of the upscale features that can be added for a more high-end SUV experience.
As far as the interior quality goes, it's extremely impressive. Even the standard interior boasts an impressive design and finish with high quality materials. There might not be a third-row seat option, but there's plenty of room for a family of four or five to fit inside the Grand Cherokee. The trim options are either cloth, leather, or leather trim with ventilation, with interior colors and tones that are almost too many to count. But, the black leather trim with chrome accents looks quite nice.
For the family, or even a couple who travels often, you'll find no better Jeep than the Grand Cherokee.
While the Grand Cherokee also has a decent amount of off-road capability, it's no match for the Wrangler. The Cherokee is able to do a little bit of everything, and shines because of that. Think carefully about what you'll be using your Jeep for, then pick according to your needs. Disregard the differences in price between these models. Not only do they have trims that are similar in price, but you won't be able to pick a new Jeep that best fits your needs if you are worried about a thousand or two dollar difference between one model or the other.