The Information You Need for a Successful Car Buying Adventure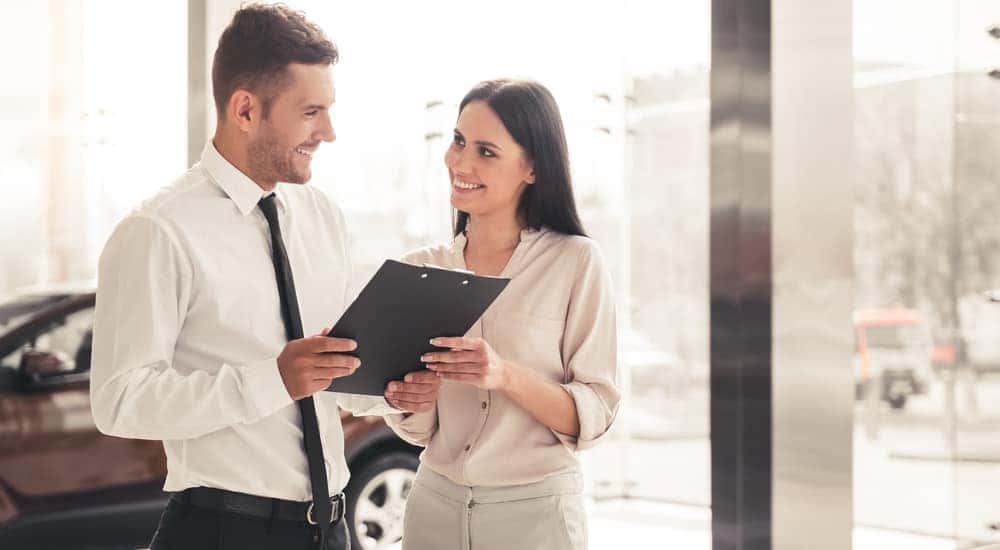 Whether it's used cars for sale you're looking for — or new — you should always bring a packet of information with you. The more prepared you are before you walk into a dealership, the better off you'll be. Getting prepared is going to take a little bit of work, but it's worth it in the long run. Buying a car is a big step in your life, and it's also expensive. Why would you walk into a situation like that unprepared? While some of these pieces of information could be considered optional — like getting pre-approved and price quotes — it'll still help greatly to have that information beforehand. What you do want to get is your credit report with your score, along with the trade-in value of your car if you plan on trading one in towards the purchase of your new ride.
Before anything else, check your credit report and score.
Credit Report With Corresponding Score
When you walk into a car dealership, one of the first things they're going to ask is that you fill out a credit application. So, why bother to wait? Get your credit report and score beforehand. This will save you and the dealership time when it comes to shopping for a car.
The primary — and more important — reason you need to get your credit score beforehand, is so that you can figure out where you stand. This will determine what cars you will be eligible to purchase. If you have good to excellent credit, you'll probably be able to pick and choose whatever car you want. If you fall into the subprime category though, you might have to let the car dealership decide what type of vehicle you're going to get. You might even have to go to a buy here, pay here dealership — which is a dealer that specializes in helping consumers with bad credit. You might not know exactly where you'll fall on the scale as far as interest rates on the car loan goes, but you'll get a general idea.
Plus, if you look at your credit score and report early enough, you have a chance to mend any damages or black marks that might be bogging down your credit. Depending on how much your credit score improves because of this, you have the opportunity to get a better interest rate on that car loan.
Price Quotes
You'll want to make sure you take advantage of any online price quotes the dealership gave you. That way, you and the dealership can make sure that everything matches up.
Getting an up-front price online is one of the many perks of car buying in 2016. Sometimes, you can even get a vehicle for less than it's advertised for on the car lot. Simply go online, find the used car you're interested in, and then contact that dealership's internet sales team. They're job is to push vehicles off the lot, period. Therefore, you'll be surprised to see how much lower the price becomes compared to what it would have been on the lot.
Like I said above, you'll want to bring this quote with you in whatever form you see fit. Whether it's e-mails on your phone, printed out copies of the conversation, any way to show that this is the price quote you got online for the car. Not only will this help speed up the process and make you look more prepared, but it also won't allow the dealership to back out of the arrangement. (If you end up going to one of the more untrustworthy ones, that is.)
Car Loan Pre-Approval
Although you can get approved for a loan at the dealership, why wait?
Getting your car loan pre-approval beforehand will make everyone's life easier. If you waltz in there with a pre-approval and your credit score, then you've just done almost half of the dealership's job. Also, it ensures that you're able to get the best loan out there. How? Because, you shopped around and found it yourself.
Keep in mind though, there are some dealerships — namely the honest ones — that have inside access to better car loans, with an APR that you wouldn't be able to find on your own simply because you don't have the same connections. But, you can still get one that's pretty close if you look around hard enough. You can check out your bank or credit union for a loan, or even go online and find some loans online. Interest rates will vary slightly from lender to lender, so make sure to look around thoroughly.
For the less honest dealerships out there, it also helps save you the hassle of getting a ludicrous auto loan that you need to try and figure out how to refinance for a better interest rate a few months down the road.
If Trading in a Car — the Trade-in/Market Value
When buying a new or used vehicle, don't forget to check out the trade in value of your old one. Most dealerships will take any car, especially a used one. They'll figure out a way to sell it, and you can get some money knocked off the price of the car you're interested in purchasing.
Again, instead of waiting for the dealership to appraise your vehicle, why not just do it yourself? Go over to the Kelley Blue Book website, or Edmunds, for the True Market Value of your ride, and figure out approximately what your vehicle is worth. Keep in mind, you're going to get a little less if you trade it in as opposed to selling it privately. But, if you're in the market for a new ride, why not kill two birds with one stone by taking advantage of a much more hassle-free process?
That's the basic information you need to have a successful car buying adventure. Like I said, the trade-in value and credit approval process can both take place at the dealership, but it's easier and more effective if you do it yourself beforehand. You can never be prepared enough when it comes to buying a new or used car.