Buying a Used Wrangler? 5 Reasons You Should Consider a JK Model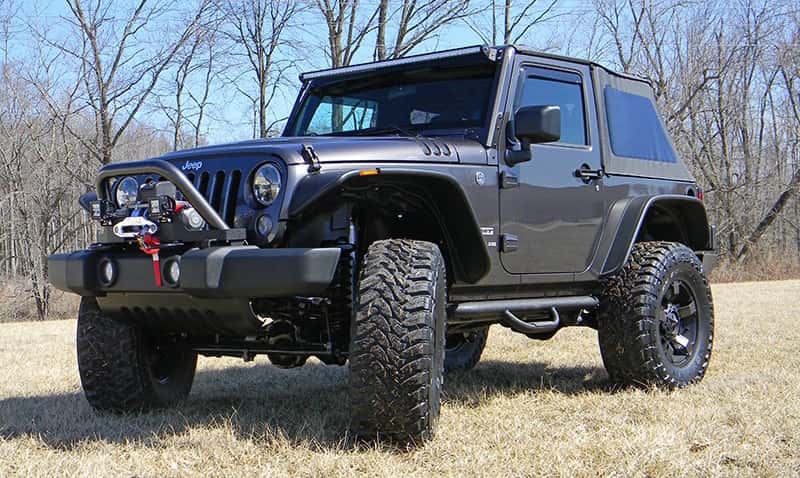 The Jeep Wrangler has been one of the most recognized off-road vehicles in America, and for good reason. Just as capable off-road as it is on-road, the Wrangler represents ultimate freedom of exploration and endless adventure. Whether you are an all-terrain junkie, or you simply like the look and feel that the Wrangler offers, the only thing stopping you from enjoying the endless splendors of a Jeep Wrangler, is you. The most iconic off-road SUV in the Jeep brand lineup has been available since 1987, which means there are plenty of used versions available for sale. While those early Jeeps may be fun to drive, they may not be the most practical vehicles for everyday use. Finding a great used Jeep Unlimited from the JK generation might be your ticket to exceptional utility, dependability, and adventure for years to come.
The Wrangler JK Generation
The Jeep Wrangler JK Generation started with the 2007 model year, and will end with this year's 2017 model offering. It is the third generation of the iconic Wrangler model, and is the successor of the TJ generation, which ended in 2006. The 2007 Jeep Wrangler was completely redesigned, and offered enhanced capability and more performance than the outgoing generation was able to provide. The JK series Wrangler Unlimited model was introduced at the New York Auto Show in 2006, for the 2007 model year. Featuring an elongated body, four standard doors, it was the only vehicle in production that had both four doors, and a convertible top.
The Jeep Wrangler lineup has obviously enjoyed decades of success at dealerships around the world, but for drivers seeking out dependable used versions of Jeep's iconic SUV, there is no better option than a Wrangler Unlimited from the JK generation.
5 Reasons to Buy a Used JK Wrangler
The JK generation represents the third generation of the iconic Wrangler, and as the old saying goes – third time's the charm! As much as we loved the first and second generation of the Wrangler, there is no better used version to purchase in 2016, than a JK Wrangler Unlimited. Check out our top five reasons supporting this claim, and read why you should seriously consider making this purchase if you are seeking a pre-owned Wrangler to park in your driveway.
Own a Newer Wrangler for Less: One of the best benefits of purchasing a used Wrangler from the JK generation, is that you can find a gently used newer version than you would be able to buy otherwise. The JK generation spans from 2007-2017, which gives you plenty of newer models to choose from. Even though you will be hard pressed to find a pre-owned 2017 Wrangler anytime soon, you will certainly have no problem locating a dependable 2016 model that has been very gently used. While a used 2016 Jeep Wrangler Unlimited will cost more than a 2007 model, it comes with the added benefit of a manufacturer's warranty, and the latest in-vehicle technology and amenities. Essentially, you will be able to find and purchase a barely used Wrangler for a lot less money than if you were to buy a brand new Wrangler straight from the manufacturer.
Take Advantage of Upgrades: If there is one thing that Jeep drivers love to do, it's upgrade their Wrangler SUVs. From lift kits, to in-vehicle technology, to advanced safety features – Wrangler owners love their Jeeps, and they love to outfit them to the extreme. If you were to buy a brand new Wrangler and outfit it yourself, you would be faced with endless bills that would quickly add up above your targeted budget. By finding a used Wrangler that has already been treated to upgrades and your preferred level of off-road readiness, you will be able to save even more money without having to sacrifice performance. Take advantage of the upgrades that other drivers were able to afford, by purchasing a fully-loaded used Wrangler for less.
Get the Most Updated Version: The JK generation of the Jeep Wrangler is still selling new on dealer lots, which means that if you find a pre-owned model, you will be purchasing one of the most up-to-date versions of the off-road SUV available. Why settle for a less capable rendering of the Wrangler, when you can own one of the newest versions from one of the latest model years?
Get Your Hands on a Special Edition: Jeep is known for creating impressive special edition versions of their nameplates, and the JK Wrangler is no exception. With plenty of limited edition model releases from 2007-2017, you have the opportunity to drive home in one of these uniquely designed Wranglers that are no longer available new. The JK Wrangler generation featured a handful of highly capable, sought-after special edition models that new buyers can no longer find. Get behind the wheel of one of these custom-tailored Jeep Wranglers by finding a dependable used version.
Be a Part of History: The fifth and final reason why you should buy a used JK Jeep Wrangler, is to be a part of the iconic brand's history. Jeep vehicles are recognized around the world for their ability to perform on paved roadways, rugged terrain, and even on the side of a snowy mountain. No other vehicle in history has enjoyed such an iconic and rich past, and you can be a part of that history when you drive home in a gently used JK Wrangler. Other SUVs may offer capability and dependability, but no other brand carries with it the level of historic importance and iconic standing, as a Jeep Wrangler.
Check Out Used JK Wranglers at The Faricy Boys
The Faricy Boys has the best selection of high quality used JK Wranglers in Colorado Springs. With plenty of in-stock inventory available for you to take for a test drive, The Faricy Boys carries everything from factory-made Wranglers, to fully custom Jeep SUVs for all of your outdoor adventures. Become a part of the iconic Jeep family today, by visiting the most reputable Jeep dealership in the Centennial State. The Faricy Boys have been selling Jeeps for as long as the brand has been manufacturing them. We live and breathe Jeep brand vehicles, and would be honored to share our passion for Jeep with you. Stop by today and discover the most capable automotive brand, at the most reputable dealership in Colorado, The Faricy Boys.