Visit A Colorado Antique Car Show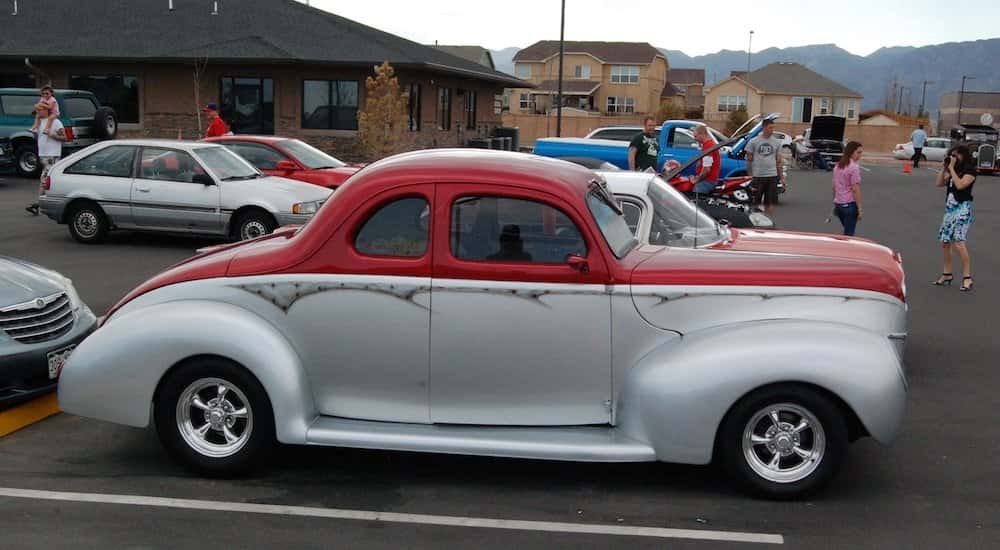 There's no better time than summer to spend a weekend and look at used cars near Colorado Springs. Antique car shows and fairs are on the calendar throughout the summer months. Our management team at the Denver showroom of The Faricy Boys encourages you and your family to choose one or two shows to see the priceless and special used cars on display in our state. Maybe these events will inspire you to purchase your own used dream car.
Colorado Springs
Held every first Saturday from May till October is the First & Main First Saturday's Car Show in Colorado Springs. Now in its eighth year, the event brings people together from the city to gather in a historic, fun-filled, family friendly environment. But it's the cars that everyone wants to see.
Depending on who is hosting this free event that month will depend on which cars you'll see. In June the event is hosted by the Southern Colorado Mopars that will be providing a number of old and new cars. You'll find the cars lined up in a parking lot adjacent to Tucanos in front of Dick's Sporting Goods from 8-10 a.m.
The Stockers Car Club in Colorado Springs is eager to begin its 2017 car shows held at Discovery Church the second Saturday of each month from 3 p.m. to 6 p.m., beginning in May through September. Its September show will provide its proceeds to the Make A Wish foundation.
In Lafayette, another first Saturday event is held throughout the summer months. From 7 a.m. to 10 a.m., the New Boulder County & Surrounding Areas Cars & Coffee car show is sponsored by Adam's Polishes Premium Car Care. You'll find the cars near Taco Bell and in front of Subway sandwich shop.
The Golden Colorado car show on July 1 blends fundraising for local veterans with awards. In its eighth year, the Very Fine Wheels car show begins at 8 a.m. with breakfast burritos; lunch starts at 10:30 to 2 p.m. with hot dogs and brats for show goers. Cars will be judged and awarded for People's Choice, Auxiliary Choice, Post Choice, and Motorcycle categories.
The entire family will enjoy looking at used antique cars at the Faith On Wheels Neighborhood Car Show in Littleton, Colorado. This 11th annual event held at Faith Community Church is sponsored by the FCC Men's Ministry. Owners will bring their antique, classic, special interest, motorcycles, and tractors and have a chance to win door prizes. The church promises a day filled with cars, music, food, and fun.
Littleton is the site of a unique used car show focusing on exotic sports cars. On June 11, the Annual Colorado Concours d' Elegance and Exotic Sports Car Show will draw more than 14,000 participants to one of the premiere car shows in the Rocky Mountain Region. You'll see nearly 500 rare sports and classic cars, early collectibles and the latest exotics brought to the show by local and regional car clubs. If you visit, it's a two-fold event: you'll see unique prestigious vehicles and you'll help needy Colorado school children because all proceeds go to the Ability Connection Colorado's Creative Options for Early Childhood Education Centers.
A different fundraiser will be held for the Chaffee County Search and Rescue organization in the form of the Angel of Shavano car show. In its 26th year, this car show is on the grounds of the Riverside Park Historic Downtown in Salida. Spectators are encouraged to meet other car show owners at Wallbangers Bar and Grill from 4 p.m. to 7 p.m. the night before.
Denver Area
Three car shows are set to open in Denver this summer. Every third Saturday of the month, the Cars and Coffee North Event will continue on the northwest corner of 120th Ave and Pecos in Westminster in the northern part of Denver. Car owners are invited to bring their vehicles from 7 a.m. to noon to show off their treasured automobiles.
The Bass Pro Shop is holding its third annual Rockin' Rides Show in Denver to benefit the Wounded Warrior USA. There's a charge of $25 to register but it includes lunch and provides awards for heavy metal, nicest muscle, Redneck Rat, What the Bass, Best Custom, best truck, best bike, loudest pipes, People's Choice, and Best in Show. It all begins at 10 a.m.
Or perhaps the Fraternal Family Picnic and Car Show is more to your liking. It takes place from 10 a.m. to 2 p.m. on S. Quebec St in Denver with music provided by the Shrine Family Band.
Calling all families! The Rotary Club of Platteville will hold its fourth annual car show and shine from 10 a.m. to 2 p.m. Not only will you be able to view cars, pickup trucks, motorcycles, and tractors, but you'll enjoy the music from a local DJ and your kids can show off their artwork with drawings that might earn them an award or trophy. Lunch will be sold and there will be room in the park for small tents to be set up. You'll find all the action at Riverview Park located between Ann's Place and Main St, and Salisbury Ave. and Byers Ave.
The Knights of Columbus Council 10961 hosts the Holy Rollers charity car show in Broomfield at the Nativity of Our Lord church. Its proceeds will benefit the Society of St. Vincent de Paul. It will be held August 19 from 9 a.m. to 2 p.m. with classic cars, trucks, motorcycles assembled as either stock, modified, custom, survivors, modern classics, and rat rods. Awards will be presented at 2:30 p.m. for the top 25 outstanding cars in the show. The entire family will enjoy food and drink with music and car trivia along with door prizes.
So choose a weekend and visit a few of these used, collectible, antique, or exotic car shows. No excuses—they all take place near you in Colorado Springs!