The Jeep Patriot Latitude: A Luxury Offroader… Seriously
Ask most drivers to describe a capable offroad vehicle and you'll probably hear a lot of the same responses – either quality performance both on- and off-road, good handling matched with trail-ready suspension, and all the tools and amenities you'll need out on the trail. What may be more telling, however, are the things they don't say – and among these, the most common forgotten feature might be "interior comfort."
Granted, this makes sense – offroaders are typically a rough-and-tumble crowd, with more attention focused on conquering mountains and sloshing through mud than reclining comfortably in a relaxed environment. But the reality is that no matter how powerful your engine might be, you won't be spending most of your time in the engine block – and with that logic, it makes sense to spend a little more time thinking about the interior of your offroader than you might think – and when that time comes, there's no better option than the 2016 Jeep Patriot Latitude edition.
While you may have already been impressed by the styling and luxury of a used Jeep Patriot for sale near you before, it may not have been as obvious that the Latitude trim level offers all the great performance power you'd expect from a Jeep alongside all the comfort, amenities, and entertainment options you could need, whether you're on the trail or on your daily drive. With all these impressive features, there's no better model for the discerning offroader looking to mix serious comfort with serious dependability on the trail.
Ready to step up your offroad game to the next level in enjoyment? Here's a quick look at everything that's so right about the new Jeep Patriot Latitude, and why it might just be the best choice for your next adventure vehicle.
A Spacious And Comfortable Cabin
What really sets the Jeep Patriot Latitude apart from the rest of the pack is its amazingly inviting interior cabin, stacked with all the latest entertainment and safety tech and designed with comfort on the trail in mind. Whether you're looking for an upgrade from your more rugged offroader now or are transitioning from a regular rider to something a little more capable off the beaten path, the Patriot Latitude seamlessly bridges the gap between comfortable consumer model and capable crawler like none that have come before it.
Comfort Comes To The Forefront
Although outfitted with standard premium cloth bucket seats that blow even the base level Patriot out of the water in terms of comfort, this trim level is one of only two in the Patriot line that offers premium Katzin Black Leather upholstery by Mopar for that added touch of class and comfort to your Patriot's cabin. Plus, with optional heated front seats and a heated leather-wrapped steering wheel, the Latitude is built to surround you with luxury from all angles. Even the rear seats can recline for added comfort on long drives, and the rear row can fold flat in 60/40 style to open up 63.4 cubic feet of storage space behind the front seats.
The Latitude is also one of only two Patriot Trim levels to offer air conditioning with automatic temperature control, meaning you can keep your passengers comfortable with almost no effort at all. Surprisingly, it is also the only Patriot model to feature power windows as well as doors, which will lock automatically once the vehicle reaches a certain speed on the road. With all these great options, you'll never be uncomfortable again after riding long hours on the trail thanks to your Jeep Patriot Latitude.
Plenty Of Entertainment Tech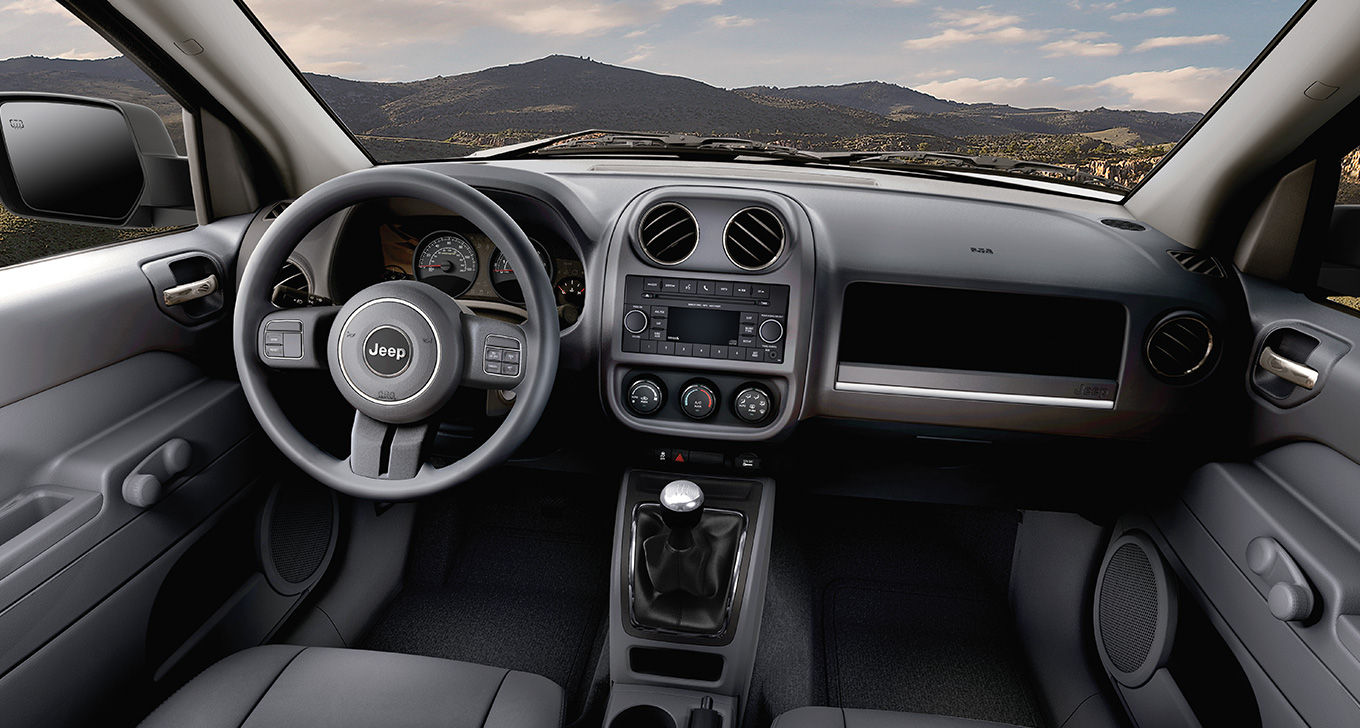 For many offroaders, the sound of nature and sights of the trail are all the entertainment needed to have a great time. For the rest of us, there's music – and with the 9-speaker Boston Acoustic premium audio system available on the Patriot Latitude, you can blast all your favorite jams with intensity no matter how far off the beaten path you find yourself. An audio jack for USB devices, controlled through the optional 6.5-inch touchscreen display, allows you to bring all the music you love with you, while the optional Radio430N package opens up five years of SiruisXM satellite radio, a 40GB hard drive with 28GB available for your music, and SiriusXM Travel Link navigation services for all those crazy adventures ahead. Remote USB ports and a 12-volt electrical outlet can help you keep everything charged out on the road. With all this impressive entertainment tech, you'll never be bored behind the wheel again.
Advanced Safety System
When you plan on taking the roughest roads you can in order to reach the summit, it's never a bad idea to keep safety in mind. You never expect the worst to happen out on the trail, and when it does you need a vehicle that's built to protect you and your passengers – and few do that as well as the 2016 Jeep Patriot Latitude.
Starting with the Active Head Restraint headrests that help minimize whiplash, the Latitude is specially designed to handle the most extreme sporty conditions. Advanced multi-stage front, side, and side-curtain airbags help keep you and your rear riders out of harm's way during a crash or rollover, and electronic rollover mitigation technology helps to prevent the latter from even happening.
And for those times you may walk away from your Latitude, features like Sentry Key engine immobilization technology can help prevent theft, while standard keyless remote entry helps make those trips into the wilderness on foot only that much easier. With all these advanced safety features, you will feel secure in your Latitude even when pushing it to the limit – and maybe even a little beyond.
A Powerful Off-roader
Of course, no Jeep is a true member of the family without respectable performance capabilities  – and with the options found on this enviable trim level, you'll conquer the craggiest peaks with ease.
Baseline Power Options On The Latitude
When it comes to providing a solid foundation of power, the Patriot Latitude's standard 2.4L four-cylinder is more than capable, pushing out 158 horsepower and 141 lb.-ft. of torque with a fuel economy of 30 miles per gallon – an impressive 400 miles per full tank of gas. Or, for those looking for slightly more power, the available 2.4L four-cylinder can manage 172 horsepower and 165 lb.-ft. of torque at 28 mpg highway, and can tow up to 2,000 pounds. This means you can feel free to bring along just about anything you need, even a major piece of equipment.
A Wide Variety Of Available Upgrades
What sets the Latitude apart from the baseline Patriot most readily is its wide array of available options not found on many other trim levels, including the option between a rear-wheel or a 4×4 system, as well as access to performance groups like the Freedom Drive II Off-Road group. This includes trail-ready gear like a fuel tank, skid plate, and Hill Decent Control to make your toughest climbs all that much easier.
With so many amazing features standard – and many more available – the Patriot Latitude offers one of the most capable and exciting rides in the industry today. If you're looking to break from your typical offroader and find something a little more luxurious to enjoy, look no further than the Patriot Latitude – you might just find it's the one you've been waiting for all along.