The 2018 Jeep Lineup Has Us Clamoring For More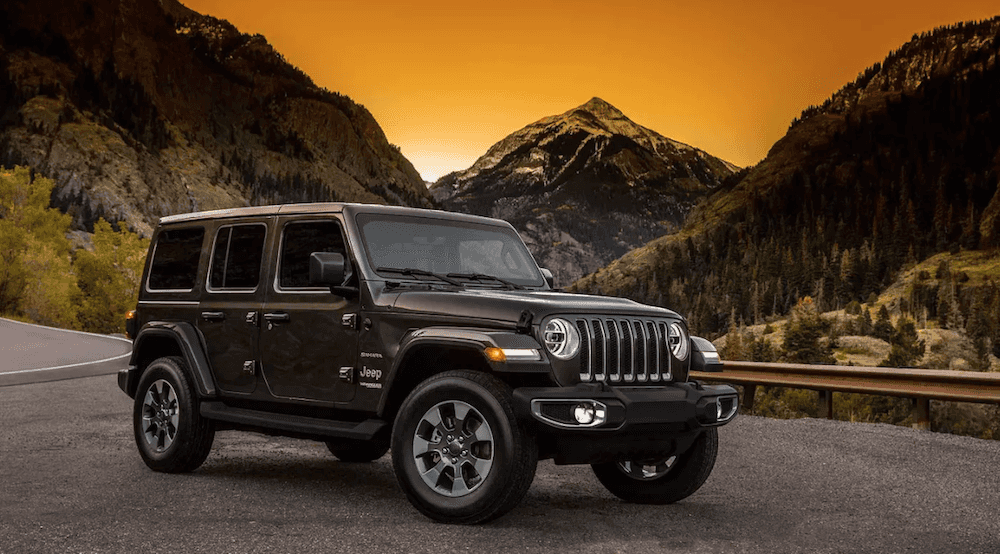 If you've ever ridden around in a Jeep, then you're probably aware of the stares you'll get from other drivers on the road, the clean and minimal interior, and that famous maneuverability and power that's unlike any other vehicle currently on the road. When you're in a Jeep – you know it. There's a different feel to this vehicle, where it seems like you could conquer anything from city traffic to the toughest mountain landscapes. When you get inside this vehicle, you know it's one you can depend on, and one you can depend on in style.
That's why we're excited to take a look at the 2018 Jeep Lineup to see the new models Jeep has to offer this year. With an already fantastic spread of vehicles, we're eager to see where Jeep has made changes, and we're excited to see those iconic and stylish exterior frames that have made the Jeep brand so famous.
Below we'll take a look at four new vehicles that Jeep has on offer this year and show you why we can't wait for more when it comes to new Jeep models.
2018 Jeep Wrangler
Ah, the Wrangler. The car that started it all. I don't think anyone can watch a Wrangler go by without a little dash of envy. They just look cool. But it's not all about looks with this vehicle, this new Jeep model has the power and performance to knock you off your feet, and we're excited to share the specs with you.
Power and Performance
The 2018 Jeep Wrangler is equipped with an available 3.6L Pentastar V6 Engine that gets 285 horsepower and 260 lb-ft of torque and can haul up to 3500 lbs. This vehicle was engineered with durability in mind – with a heavy-duty suspension for superior strength and off-road versatility, winch cable steel bumpers, and 33-inch all-terrain tires for improved performance. These vehicles are trailer rated, designed to overcome logs and rocks, ability to drive through water at 30 inches or less, and equipped with front and rear hooks for any hauling or rescuing that may need to be completed. Like all Jeep models, this is a vehicle you can depend on.
Exterior
If you like open-air driving, then this is the Jeep vehicle for you. With a number of different driving options, including hard top, soft top, and no door and soft door options, this is a vehicle that's going to make you enjoy feeling the wind on your face. This is the perfect summer vehicle, where you can enjoy the ocean breeze on a trip to go surfing, or enjoy the fresh mountain breeze on your way to a camping excursion. For those who enjoy a freer kind of lifestyle, this is the vehicle for you.
2018 Jeep Compass
If you're looking for a vehicle that has a little more seating and space, while still having off road capability, then the 2018 Jeep Compass is a great option to take out for a test drive. With a luxury interior and the performance capabilities to handle tough terrain, this a great family vehicle to take on weekend excursions.
Interior
The interior of the 2018 Jeep Compass is stylish and sophisticated with plenty of enticing high tech features to keep you connected.
The interior of the vehicle is decked out in black leather seating with black finishes to give this SUV a modern edge. The interior is spacious and can comfortably sit up to five adults. This Jeep model is also equipped with an available 8.4-inch touchscreen, which includes navigation, Bluetooth, Apple CarPlay, Android Audio, Siri, and many other apps and services. With a number of high tech technologies and an open or closed roof option, this is a modern vehicle that still has plenty of individuality.
Specs
The Jeep Compass Trailhawk is a trail rated model that has a number of off-road systems and capabilities to maneuver with agility and control. Every Trailhawk vehicle is equipped with the Selec-Terrain Traction Management System and the Jeep Active Drive Low 4×4 System which helps this vehicle handle all conditions, like mud, rain, rocks, or snow. With a vehicle made for exploration and with excellent fuel economy at 32 mpg on the highway, this is a family vehicle that can't be beat.
2018 Jeep Renegade
The 2018 Jeep Renegade is a distinct and bold compact SUV with the intense style for daredevil adventurers. With all terrain performance, superior features, and that classic Jeep look, this is model we love. Take a look at the exterior and specs on one of the latest Jeep models of 2018.
Exterior
The exterior on this vehicle is all Jeep – with a unique and dynamic style designed to be noticed. This Jeep is all smooth edges, a powerful and aggressive front grille, a removable sunroof, black finishes, and that tough aesthetic that's available with all Jeep models.
With available roof racks, tinted windows, and aluminum wheels, this is a car that's truly earned its name.
Performance
With the Selec-Terrain Management system, designed to handle everything from rain, mud, or snow, and 4 wheel drive capabilities, this is a vehicle that's going to take you places. The 2.4L Tigershark Multiair 2 Engine grants this vehicle exceptional power with reduced emissions and up to 2000 lbs of towing capability. Interested in a powerful machine with an original design? Then this could be the best new car for you.
Take a New Jeep for a Spin Today!
Interested in taking the 2018 Jeep models out for a spin? Give us a call at Faricy Jeep today. We have the inventory, experience, and know-how to answer any questions you might have. With the latest and best Jeep models, we know we'll have the vehicle you've been looking for. And with premium customer service and a knowledgeable sales staff, you'll enjoy your car-buying experience. So, come down to Faricy Jeep and see what we have to offer, today!