The 2016 Jeep Wrangler "Black Bear" Special Edition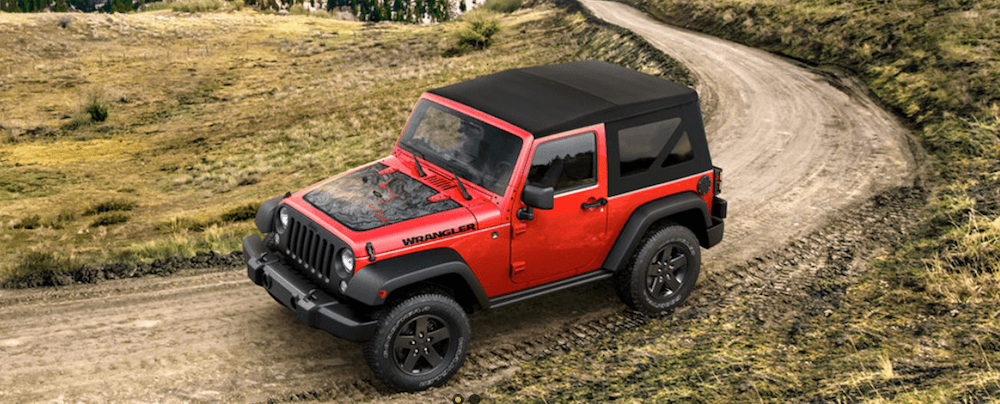 High in the Colorado mountains, nestled next to the cozy town of Telluride, lies a beast of a trail. Called Black Bear Road by locals, this path welcomes visitors with this ominous, yet darkly funny sign:
TELLURIDE ——> CITY OF GOLD
12 MILES – 2 HOURS
YOU DON'T HAVE TO BE CRAZY TO DRIVE THIS ROAD – BUT IT HELPS
JEEPS ONLY
Jeepers love that. In fact, they gather every year to take on the trail in a rough and rowdy Jeeper's Jamboree. But this is no job for just any regular Jeep, like that used Jeep Wrangler for sale you see at your local Jeep dealer every day – and Jeep knows it.
That's why 2016 brought with it the Wrangler Black Bear special edition, a monster of a machine with capabilities that pay homage to the stamina and power needed to take on the legendary Back Bear Road.
First off, this Jeep is undeniably capable of conquering even the rockiest, muddiest trails out there thanks to plenty of premium offroading features. Take, for example, the standard heavy gauge steel off-road rock rails, which protect the rocker panel and lower body side from damage and resist twisting when sliding over harsh, rocky surfaces. 17-inch, mid-gloss black painted five spoke wheels provide superior traction on muddy roads, while Kevlar-lined Goodyear SilentArmor tires only further enhance off-road performance.
You'll be able to get just about anywhere thanks to the Black Bear edition's 3.6L Pentastar V6 engine, paired with Jeep's CommandTrac 4X4 system. This Trail-Rated vehicle also boasts Hill Descent Control, perfectly designed to take on the heavily-sloped Black Bear Road.
Interior amenities like a leather wrapped steering wheel with iron gray accents, a chrome shift knob, black cloth sedoso seats with sport mesh fabric inserts and black accent stitching, and sport bar grip handles let you really feel like you're in a sport-ready vehicle. All-weather slush mats help keep your beautiful special edition Wrangler clean even after the muddiest, rockiest trips.
Drivers and passengers can also stay easily connected thanks to the available Connectivity Group package, which includes Tire Pressure Monitoring, Jeep's UConnect infotainment system with voice-activated controls, and Bluetooth phone connectivity. Or, for even more premium luxury, owners can opt for the additional Power and Convenience Group Package, which adds power locks, remote keyless entry, power heated exterior mirrors, power front windows, an auto-dimming rearview mirror with a reading lamp, and a security alarm for greater security and convenience even out on the deepest trail.
And, in this case, that trail may as well be Black Bear Road. After all, the Black Bear Edition is specially designed for the pass, even featuring an optional hood decal that's an accurate topographical map of the pass itself – meaning you can chart your progress right on the hood of your Jeep. The Black Bear edition is also the only Wrangler to offer an optional gloss black "Wrangler" hood decal. Plus, since this edition is available in eight colors in a soft-top or body-colored hardtop edition, you can still customize it to make the Black Bear truly your own.
As far as special edition Jeeps go, this one is definitely one of the coolest and most interesting we've ever seen. Whether you're a big fan of Black Bear Road already or have always wanted to take it on, this is the perfect vehicle for the job.