Some of Jeep's Most Impressive Specs and Numbers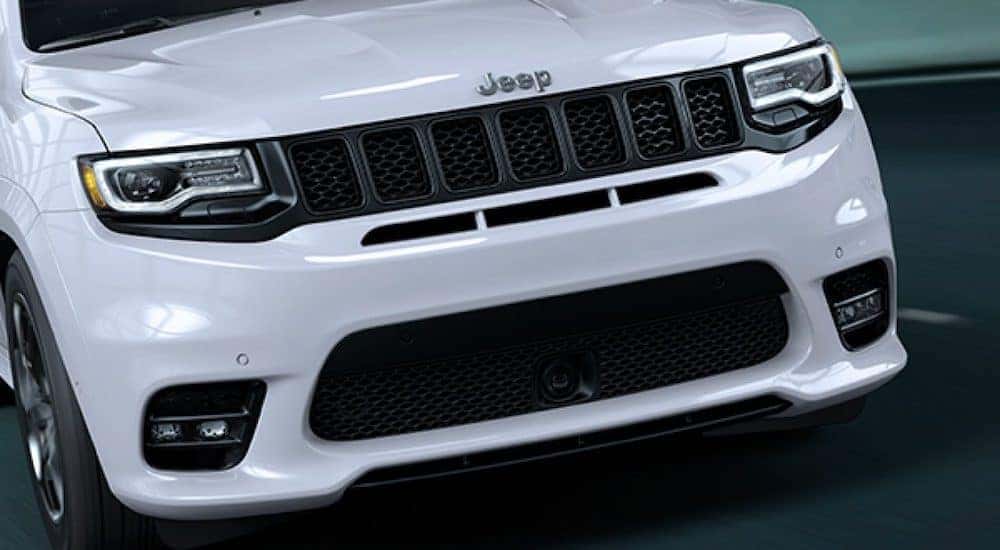 If you've ever explored their available offerings, you'll probably already know that Jeep sells some of the most impressive SUVs in the entire industry. Therefore, it shouldn't be all that surprising that the brand accompanies these vehicles with a number of impressive specs and numbers.
Below, we've taken a look at some of our favorite numbers that are included in Jeep's various SUVs. Who knows, maybe you'll be convinced to go pursue a specific Jeep for sale in Colorado Springs…
Jeep Compass:

32 miles per gallon

The Jeep Compass previously won the 2017 Automotive Science Group's Best Economic Performance Award, and a big reason for that accolade was the nameplate's incredible efficiency specs. Unsurprisingly, those specs also made their way into the impressive 2018 version of the beloved model.

The 2.4-liter TigerShark Multiair 2 engine does more than pump out an impressive amount of muscle (although the 180 horsepower and 175 pound-feet of torque are certainly worth noting). Rather, the vehicle is more known for its excellent fuel economy specs. Thanks to fuel-saving technologies that are mostly attributed to TigerShark's innovations (as well as the available nine-speed automatic transmission), drivers can ultimately anticipate an impressive 32-miles-per-gallon on the highway. These numbers are rarely seen in other segments, much less in fuel-guzzling SUVs.
Jeep Grand Cherokee:

19 speakers

While we're all enticed by Jeep's ability to produce powerful, off-roading vehicles, you'll ultimately be spending the majority of your time inside the SUV. In other words, you'll want your ride to be equipped with a number of amenities that will boost your driving experience. Well, if you're considering the 2018 Jeep Grand Cherokee, then you should also be considering the available sound system.

The Harman Kardon 19-speaker audio system will truly provide occupants with an unmatched listening experience. With each of the speakers strategically placed around the interior, each of your passengers will be blown away by the "360-degree music experience."
Jeep Grand Cherokee SRT:

475 horsepower

Nowadays, with consumers generally regarding SUVs as the optimal family ride, few of the segment's offerings are equipped with a powerful and sporty engine. Well, the 2017 Jeep Grand Cherokee SRT did its best to buck that notion by delivering a whole lot of muscle via the hulking 6.4-liter HEMI V8 engine. The system ultimately managed to deliver an awe-inspiring 475 horsepower and 470 pound-feet of torque, numbers that rival much sportier rides. Plus, thanks to the accompanying Eco Mode and Fuel Saver Technology, drivers can still expect a surprising 26-mile-per-gallon efficiency when traveling on the highway. Few vehicles, much fewer SUVs, managed to crank out this impressive combination of power and fuel economy.
Jeep Cherokee:

60/40 Seats

One of the major incentives for pursuing an SUV is the ability to capitalize on the vehicle's incredible amount of cargo space. Well, the 2018 Jeep Cherokee more than delivers in that regard, as owners will have more than enough room to fit their luggage, sports equipment, or school projects. Ultimately, when rear seats are hidden, owners can capitalize on the 54.9-cubic-feet of space, meaning your new ride will consistently be relied on whenever anyone needs to move.

Plus, engineers designed their interior to provide maximum convenience. The inclusion of the fold-flat front passenger seat allows you to fit in those larger pieces of cargo, while the 60/40 split-folding rear seat allows for maximum versatility. In other words, you'll never have an issue fitting cargo and passengers in your new Jeep Cherokee.
Jeep Renegade:

10 Color Options

Seemingly every brand offers a variety of color options when customers are building their ride, but few companies provide these prospective buyers with 10 offerings that they can choose from. When customers are building their 2017 Jeep Renegade, they'll have an opportunity to choose from nearly a dozen vibrant colors.

The various offerings include:
Anvil
Jetset Blue
Omaha Orange
Glacier Metallic
Black
Granite Crystal Metallic Clear-Coat
Colorado Red
Solar Yellow
Hypergreen Clear-Coat
Alpine White
Jeep Wrangler Unlimited:

3.6-liters

The Jeep Wrangler Unlimited is generally known for its off-roading prowess, and a big reason for that sentiment has to do with the incredible engine. The 3.6-liter Pentastar V6 engine manages to deliver all of the muscle a driver could possibly want from an SUV, including 285 horsepower and 260 pound-feet of torque. Plus, similar to the other Jeep engines we've discussed, the unit also manages to deliver a respectable 21-mile-per-gallon highway fuel efficiency.

Of course, other mechanical aspects of the vehicle play a significant role in the Wrangler Unlimited's ability to travel off-road. The 4×4 systems maximize traction, especially in rough terrain, while the Hill Descent Control will provide an extra bit of security when you're traveling on a decline. Inclusions like the Dana 44 Heavy-Duty Axle and Tru-lok Locking Differentials also play a significant role.
Jeep Wrangler:

Three Packages

While the Jeep Wrangler is already an impressive vehicle, customers can take the nameplate to a new level thanks to the variety of package offerings. For instance, the Connectivity Group optimizes the driving experience, adding inclusions like the Electronic Vehicle Information Center and Uconnect Voice Command that can make your commute a whole lot easier.

The Power Convenience Group predictably influences convenience, as drivers can remotely access various aspects of their vehicle at all times. Finally, the Cold Weather Group adds a number of amenities that will prove to be invaluable during those winter months, including all-weather slush mats and heated front seats.
Jeep Patriot:

30 Safety Functions

The Jeep Patriot has consistently proven to be one of the safest offerings in the class, and that sentiment can be attributed to the number of safety functions engineers have included in the SUV. In fact, the brand promises more than 30 available functions that can play a role in both protecting and preventing accidents. The ParkView Rear Back-Up Camera is one of the most notable inclusions, although drivers will also rely on the Antilock Brake System (with Brake Assist) and the Electronic Stability Control system. This is especially notable for those looking for Jeeps for Sale in Colorado Springs, as the safety functions will keep them safe when traveling on odd terrain.