Seeking Adventure In A Jeep? Visit The Faricy Boys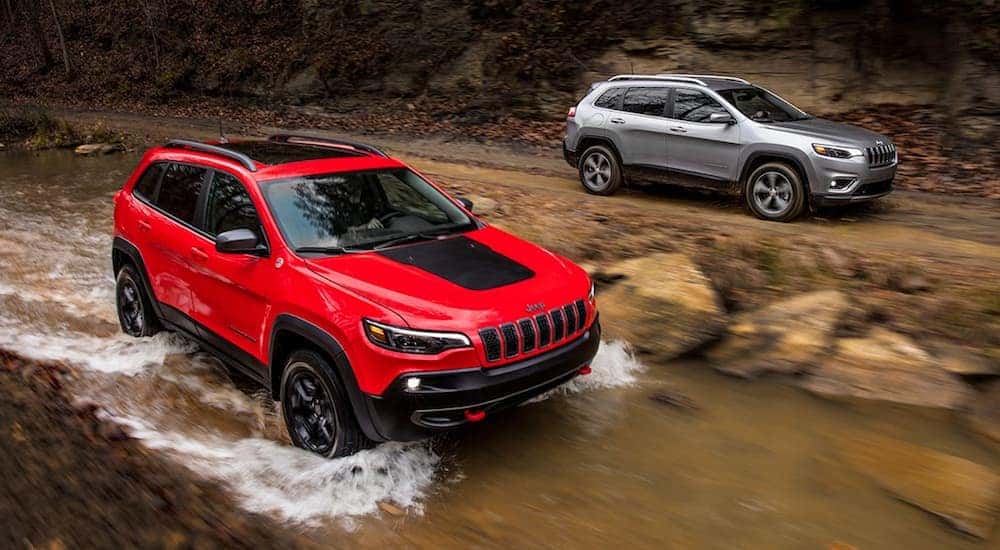 Colorado is synonymous with the outdoors. Images of grand mountain ranges towering over wide-open valleys accessed by remote roads winding through the state's trademark aspen forests. And no other vehicle is synonymous with outdoor adventure like Jeep is. Since the 1940s, Jeep has become well-known for manufacturing vehicles that will get you where you want to go, no matter if the destination is on the road or off it. This is why many Coloradans choose to drive rugged and reliable Jeeps, and if you are looking for Jeeps for sale in Colorado Springs, The Faricy Boys have you covered. With our extensive selection of Jeep vehicles and stellar service, there's really no need to look anywhere else. Starting with Faricy means starting your adventure with a trusted dealer who will ensure you're getting the right Jeep for your lifestyle.
Which Jeep Model May Be Right for You?
With roots dating back to the 1940s and World War II, Jeep has been building some of the most rugged and capable vehicles in the world. One of the most famous Jeep models is the Wrangler, which began life as one of the Willy's Jeeps, later morphing into the CJ. Today, over 70 years later, the popularity of these utilitarian vehicles has not slowed down one bit. Jeep still builds upon its longstanding tradition of reliability and durability by continuing to design them for maximum versatility both on-road and off. Let's take a closer look at some of Jeep's most popular offerings.
Jeep Wrangler
Speaking of the Wrangler, this is probably the one Jeep model which has appealed the most to drivers seeking adventure off the beaten path. The latest Wrangler models feature new cabin materials, the latest in modern tech options, improvements in advanced security features, and a more comfortable ride on paved roads.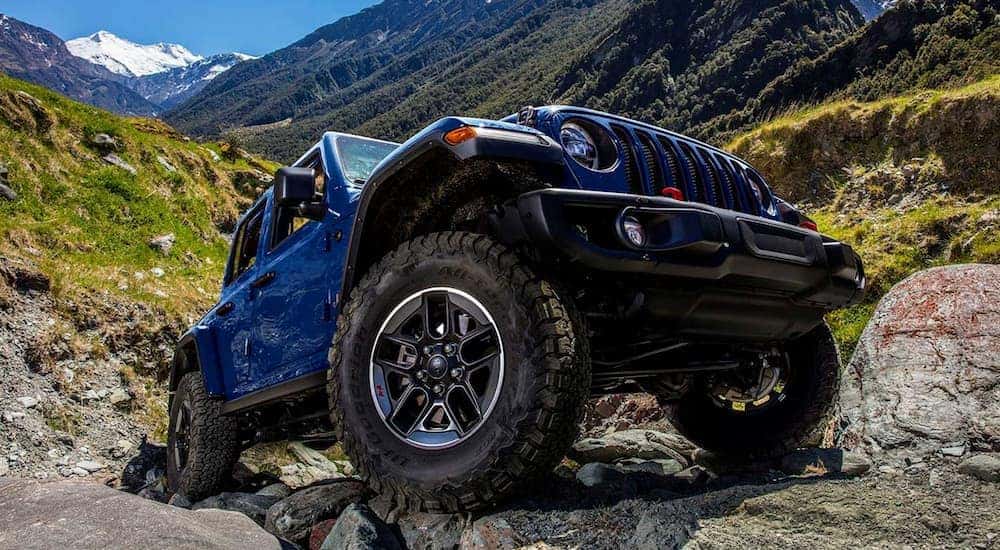 Even though that ride is better on the road, the Wrangler is still just as capable once it heads into the woods, retaining that old school reputation that it's known for. All Wrangler models feature solid, stiff axles for off-road performance. The base Sport model skips modern frills like air conditioning and power accessories in favor of good old-fashioned crank windows. All Wrangler models have a foldable windshield, removable doors, and a soft top to completely let the outside in.
If you're shooting for a combination of off-road snarl and something with a bit more polish, the mid-level trims are probably the best bet. Leather seating, a large touchscreen display, GPS navigation, and premium audio system all add comfort to the adventure. Advanced safety features such as forward collision warning, rear parking sensors, and blind-spot monitoring are also available.
Jeep Cherokee
Also a model with decades of proven reliability, the Cherokee is an option for drivers looking for a Jeep which is comfortable towing cargo or venturing off-road. The latest Cherokees also have updated styling inside and out to make them even more attractive. Interior improvements include additional small space storage for phones and other small items.
Under the hood is an available 2.0L four-cylinder turbocharged engine that cranks out more power than the base model engine and is more fuel efficient than the optional V6.
For hauling cargo, the Cherokee offers generous cargo space for an SUV in its class, and you'll be able to take those ATVs into the backcountry with you thanks to its towing capacity of up to 4,500 lbs.
If off-roading or heavy hauling isn't your thing, perhaps consider the Limited trim level, which offers a comfort and convenience package, heated leather seats, additional safety features, and a larger touchscreen display, all adding up to a higher-end, more luxurious Jeep experience.
Jeep Renegade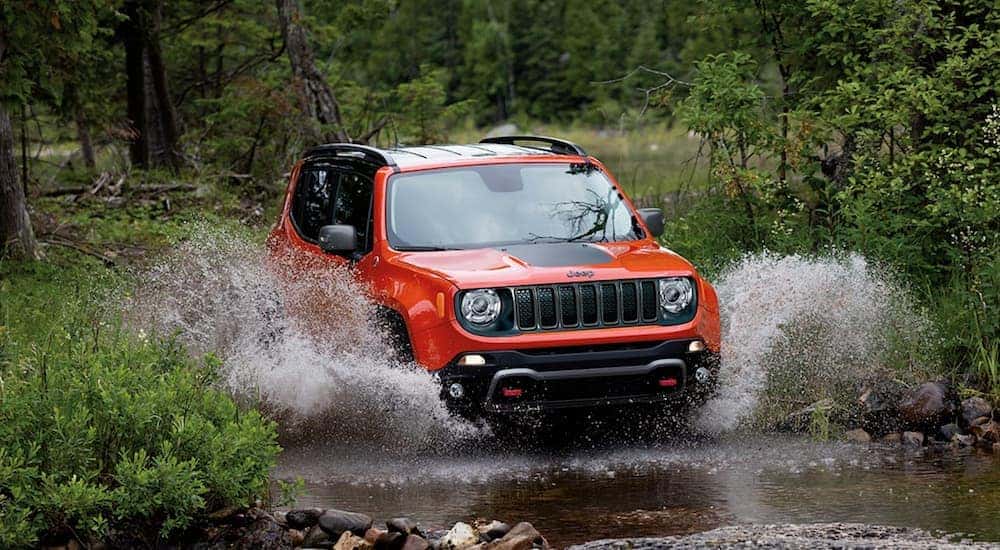 Jeep's smallest offering has an optional 1.3L turbocharged four-cylinder engine as an upgrade to its standard 2.4L, which may not offer enough get up and go for some. The turbo offers better fuel economy numbers, and both engines are coupled to a nine-speed automatic transmission.
While small in stature, the Renegade still handles like a Jeep once it leaves the pavement, especially if you opt for the Trailhawk trim level, the only model of the Renegade lineup fully equipped with four-wheel drive and low-range gearing.
Inside the Renegade, you'll find a well-crafted cabin and modern tech features like a large, easy to use touchscreen interface. You may also find several tiny Easter eggs that harken back to the vehicle's history as a World War II stalwart and its manufacturing location in Italy.
Jeep Compass
This mid-size offering bridges the gap between the smaller Renegade and the hulking Cherokee both in size and overall price. It's a well-handling crossover that delivers solid reliability and day to day performance, offering excellent fuel economy to boot. In a crowded market segment, it stands out above the competition.
Like the Renegade, the Compass also comes in a Trailhawk version, which brings off-road utility in addition to being a capable city and commuter vehicle. In many ways, the Compass is like a little sibling to the Cherokee, sharing some of its exterior stylings with back seats roomy enough for adult passengers and an intuitive infotainment system.
All Compass models are powered by a 180 horsepower 2.4L four-cylinder engine paired with a six-speed or nine-speed automatic transmission. A six-speed manual transmission is also available. Most of the trim levels are front-wheel drive except for the Trailhawk, which has four-wheel drive for off-road fun.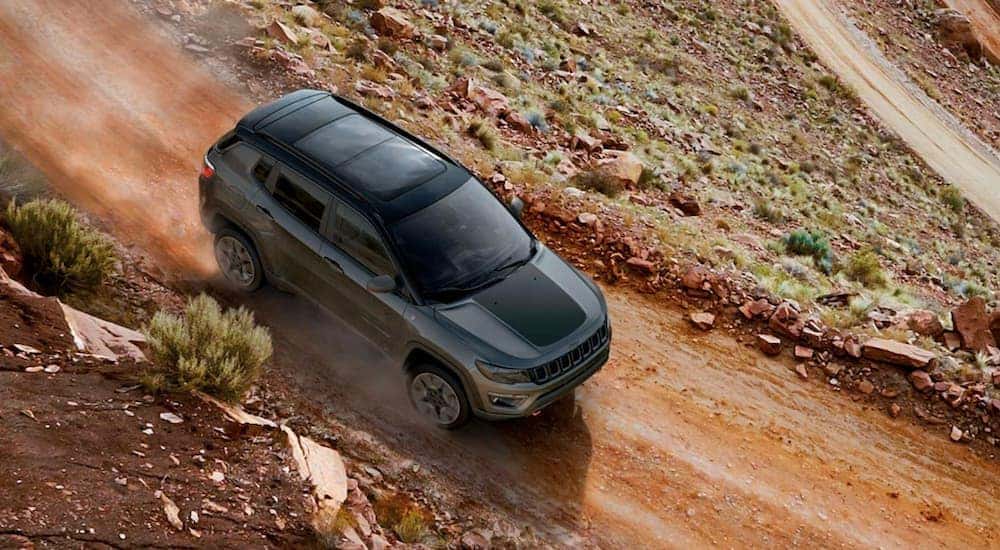 Your Jeep is Waiting for You at The Faricy Boys
If you're still not quite decided on which Jeep model is right for you, give us a call or come on down to visit our showroom to see our complete lineup of Jeep vehicles. Our expert and courteous staff are here to answer any questions you may have and can set you up for a test drive, or three. We are here to make your Jeep buying experience as comfortable as possible.
Our financial team is also available to go over the financing options, which we know isn't the favorite part of the car buying experience for many people. But our experts make it easy, explaining the various options clearly and simply, so they are easy to understand. Our finance team does all the heavy lifting to make the entire process easier for you. No matter if you're looking to buy or lease, we can get you into the Jeep you want at a price that sticks to your budget. If you're in a position to start the process, you can begin on our website by using the online loan application, which can be done anytime on your computer, tablet, or smartphone.
When it comes to service, you want to make sure to keep your investment running smoothly for years to come. Faricy's expert service technicians can handle any service task on your Jeep, from routine maintenance like oil changes and brake work to more involved work like accident repair. They can also help to customize your ride with the latest genuine Jeep accessories and parts.
The Faricy Boys are proud to serve Jeep drivers in the Colorado Springs area. We promise that your buying experience with us will be trouble-free and enjoyable. Visit us today!