Save On Your Next SUV By Going Used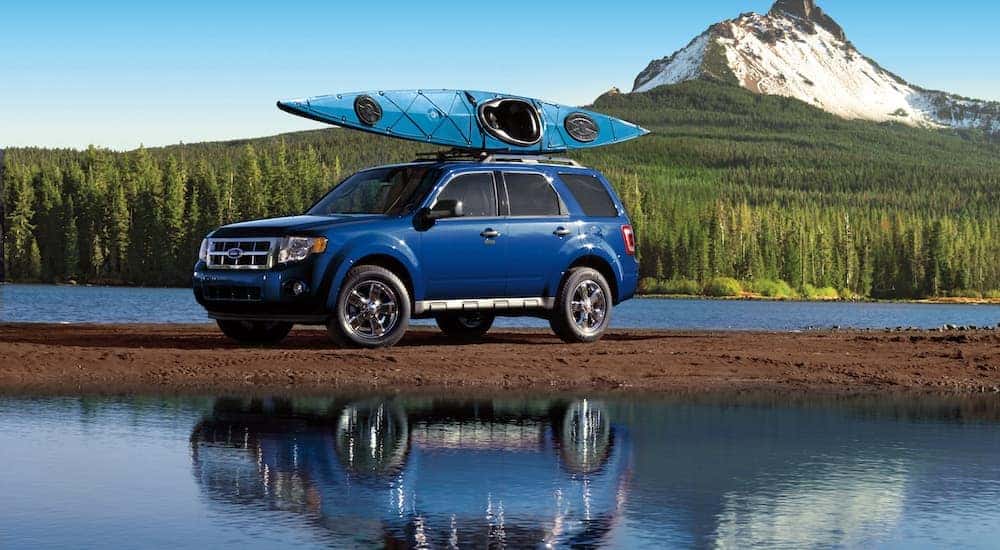 Buying a used SUV is a great way to save money on your next vehicle. Not only is a used SUV going to cost you less than a newer model, but it will also help you save on insurance costs as well. However, when looking for used cars in Colorado Springs, you don't need to risk buying a lemon or something that just doesn't live up to what you're looking for. There are plenty of excellent SUVs that offer you a solid bang for your buck. And what happens if you're looking for a used car instead? Well, while there are a number of reliable used car options, we often recommend looking for affordable used SUVs for those shopping for "used cars" because you'll have better handling and safety features for winter driving.
To help you save big on your next vehicle purchase, each one of the vehicles listed below Kelley Blue Book recommends not only on reliability, but the KBB price point of each is under $10,000.
Ford Escape (2010)
If you're looking for a domestic SUV and want to save some serious cash, consider going with the 2010 Ford Escape. This model of the Escape came out before the more recent redesigns. In fact, the 2010 Ford Escape is now two generations removed from the current model. However, the current model is built using a sedan base and is a bit more of a traditional crossover. This Escape has more of an SUV feel to it, which might be more of what you're looking for. Plus, as this is now an older generation Escape, you'll be able to find it at an affordable price.
This is a great option when you want a vehicle that will give you some towing potential and the ability to toss gear in the rear cargo area or on the roof without purchasing a larger SUV.
Honda CR-V (2011)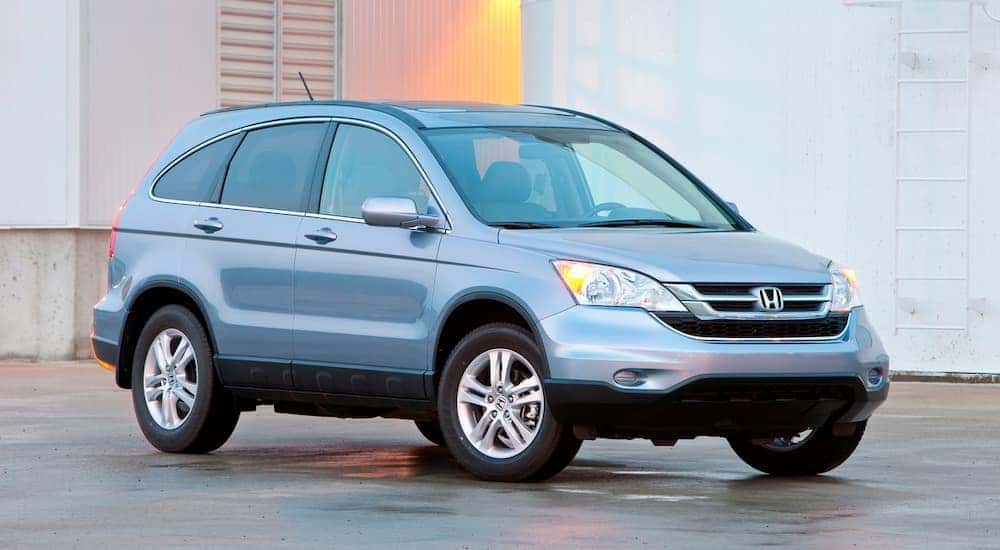 The Honda CR-V is the kind of family crossover that is great for several people. It might not have the edgy look of some of the more youthful crossovers coming out, but just about everything else about the vehicle is excellent. It is one of the most reliable crossovers on the market still today while still offering some substantial cargo space as well. The SUV handles like a car and yet gives you the safety and security of an SUV, which might be exactly what you want. Technically it is a compact SUV, but it is more of a regular crossover. So, if you want a 5-seater with ample space, is reliable, and will handle well in the snow, give the Honda CR-V a try.
Toyota RAV4 (2008)
The RAV4 is an excellent SUV purchase as it gives you not only a substantial amount of back seat room but plenty of cargo space as well. Plus, the RAV4 is designed with traditional Toyota craftsmanship. It might not be the most head-turning SUV on the road, but it is built to last, which is why you'll be able to find plenty of 2008 models still for sale. You can also find 4×4 options for when you want extra control over your SUV. Add in the fantastic fuel economy of the RAV4 and all the safety features, and it's easy to fall in love with a used RAV4.
Kia Sportage (2011/2012)
The 2011 year for the Sportage represented a brand new design from Kia. The Sportage is similar to the Honda CR-V in terms of size. The 2012 edition also comes with a turbocharged engine and some substantial fuel economy numbers (you can net up to 30 miles per gallon on the highway). The Sportage is also available in some fun colors, so if you've never driven a Kia before, now might be a great time to go check it out.
Chevrolet Tahoe (2006)
If you can find a Chevy Tahoe with lower mileage from this period, go for it. Now, the fuel economy will not be as good as others on this list, but the Tahoe will make up for it with one of the most powerful engines. The full-size SUV comes with a powerful V8 under the hood, which not only makes it responsive, but it also gives you towing power as well. It very much is part truck and part SUV. It's also easy enough to find replacement parts for this model of Tahoe so that any future repairs will be more affordable than most other SUVs.
Mitsubishi Outlander (2011/2012)
Mitsubishi often doesn't receive the kind of attention it deserves when it comes to crossover SUVs, so if you see one on a used lot, you wouldn't be the first person to walk past it. However, do yourself a favor and check it out if you do see an Outlander from this period. You'll find the models going for under $10,000, and yet you'll land a fun SUV that looks modern, comes with plenty of space for those in the cabin, and a ton of rear cargo space as well. When you want an affordable 5-seater crossover, the Outlander may just check off all your boxes.
Mazda CX-7 (2011)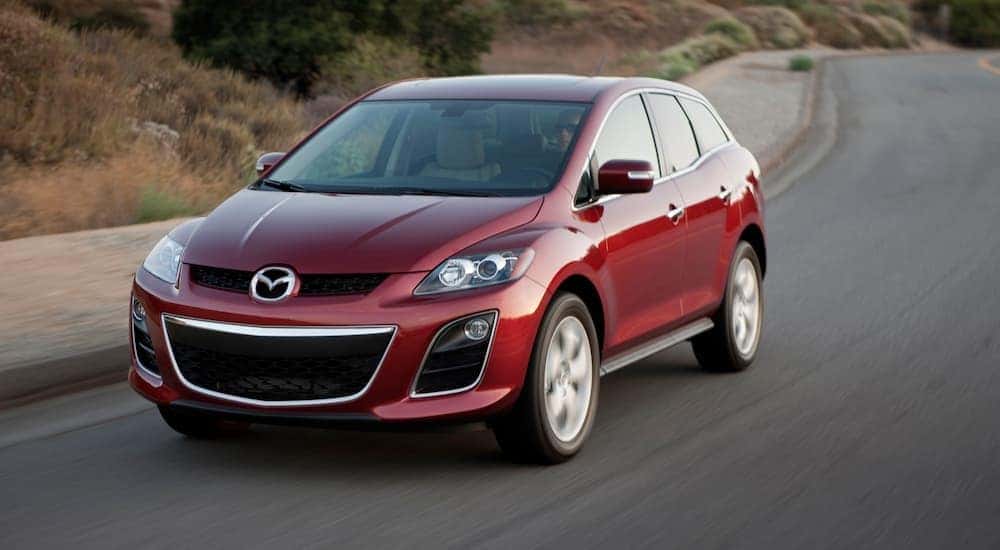 Mazda is a great company when it comes to building fun vehicles to drive. The Mazda CX-7 is no exception. It's a sporty crossover SUV that gives you ample seating in the second row. This has some of the largest back-seat room of any of the SUVs on the list. This model year also came out right when Mazda started to put out its vehicles in several bold, fun colors. So when you're looking for an affordable, used SUV that is fun to drive and gives you a responsive engine, make sure to keep an eye out for the Mazda CX-7.
Nissan Juke (2011/2012)
The Nissan Juke truly is a unique crossover SUV. In many ways, it is a car, in that it is just a two-door design, and yet it has the height and body of a compact SUV. This makes it an exciting vehicle that you'll either love or hate. But that's the beauty in car buying. What one person detests the other person loves. But if you are a fan of this vehicle, the body looks far newer than what the model year indicates, and it also gives some solid fuel economy. So if you want an SUV that has a bit of spunk in its build, consider the Juke the next time you're looking for a used SUV.
Find Your Next Used SUV Today
If you're on the market for an SUV, but you're interested in saving money at the same time, a used vehicle may be the way to go. When you're ready to purchase a used SUV or maybe an excellent new Jeep, or just have questions about a specific model, you can always rely on our team here at The Faricy Boys in Colorado Springs, CO. When you buy from us you'll know that whatever vehicle you purchased is reliable and ready for any adventure you may have. We'd be happy to help with anything you may need before and after the sale!