Resale Value And Towing Capacity Make Diesel Trucks The Best Fit For Farmers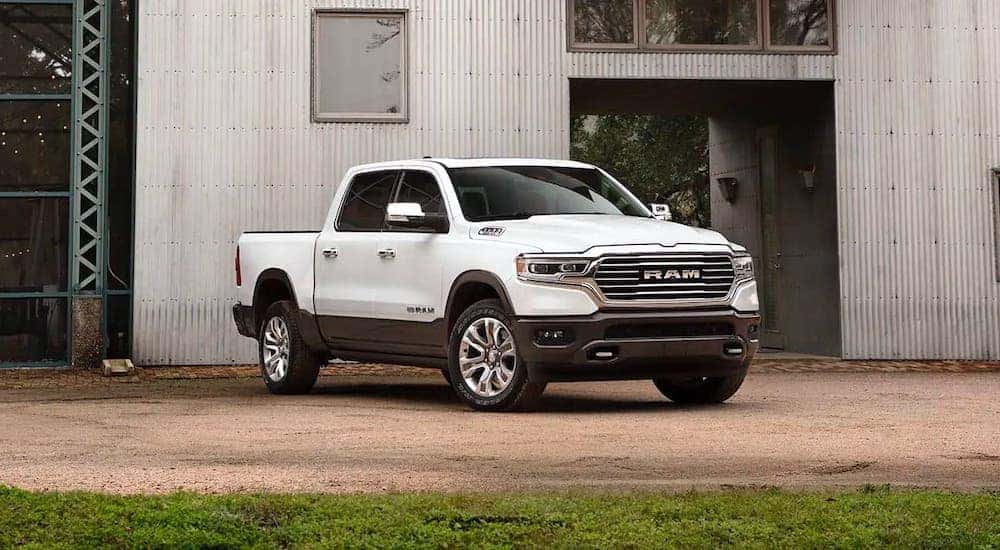 If you're looking for used diesel trucks in Colorado Springs, you are probably looking for a truck that is going to hold its value. But why do used diesel trucks hold their value so well? The short answer is that diesel engines do better with high mileage, which means their resale value is much better than their gasoline counterparts. Gasoline engines do not perform as well as diesel in this respect.
Okay, so what else makes diesel engines more appealing than gasoline? The short answer to this one is its towing capacity. A diesel truck can haul much more than a gasoline one can, even if they're both the same exact model, just differing engines. But those are just the short answers. Here, we're going to answer these questions in depth while giving you some diesel truck examples that you'll definitely want to check out. Without further ado, let's get started!
A Diesel Truck's Value
When purchasing a vehicle, unless you plan on keeping it till it croaks, you'd probably prefer buying something that you can eventually sell or trade-in for a reasonable price. The best part about buying a diesel is that they hold their resale value better than gasoline vehicles. This is because of their performance. Even after 100,000 miles, diesel trucks still retain a lot of the value they had when sold as compared to gasoline trucks that will almost always lose value once they reach 100,000-miles.
With several farmers living in the Colorado Springs area, the used diesel truck appeal is excellent. If you can put up to 150,000 miles on a farm truck and still sell it for an acceptable price, you'll never have to worry about losing too much money, and you'll always be able to have an up-to-date pickup truck for hauling. The longevity of a diesel truck is what you need, especially when you are using the truck to accomplish a lot of work.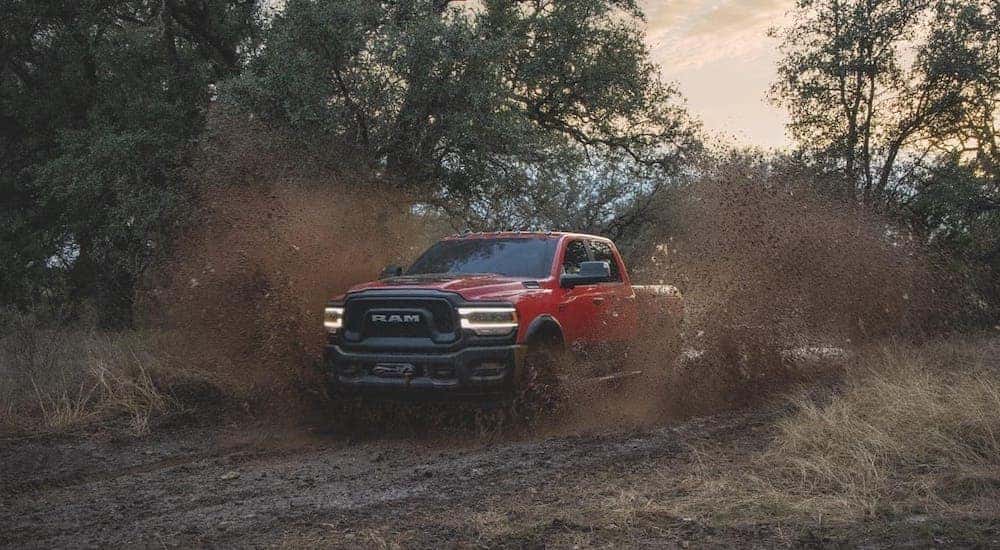 The Towing Appeal
Speaking of hauling, another reason you'll want to get a diesel truck over a gasoline truck is because of the massive towing capacity. Let's take a look at how much popular used diesel trucks can tow. It doesn't really matter what brand you prefer, given that these diesel trucks are all within the same towing capacity ballpark, but we will give you a few examples so you can find the best fit for you.
For example, the heavy-duty 2020 RAM 2500 can tow up to 19,680 pounds when properly equipped, with the 2020 Ford F-350, 2020 Chevy Silverado 2500HD, and 2020 GMC Sierra 2500HD falling at around 18,000-18,500 pounds max. These capacities get even larger with the 3500 variants, with the Silverado 3500HD and Sierra 3500HD maxing out at 35,500 pounds, the RAM 3500 falling second at 35,100 pounds, and the Ford F-450 maxing out at around 21,200 pounds. Keep in mind that this depends on configuration and model year, but when properly equipped, it's possible to tow large amounts of weight with a diesel truck. So, remember to check the towing specs for the specific truck you are looking at.
Part of the reason you're probably looking for used diesel trucks in Colorado Springs is because you need something reliable to haul your livestock and farm equipment with. Cattle are a large agricultural staple in Colorado, alongside crops which include wheat, corn, and hay. Loaded cattle trailers can weigh up to 24,000 pounds, which includes the trailer weight and cargo combined. Additionally, depending on the size and whether or not they're round or square, hay bales can weigh up to 2,000 pounds. When you're hauling all that hay from the field back to the barn, the weight can add up quickly. While a gasoline engine may be capable of pulling the weight, it will struggle. Depending on what you need to haul, you may even need to make multiple trips. That won't be the case with a diesel engine, especially if you take the heavy-duty route.
Diesel Trucks to Look For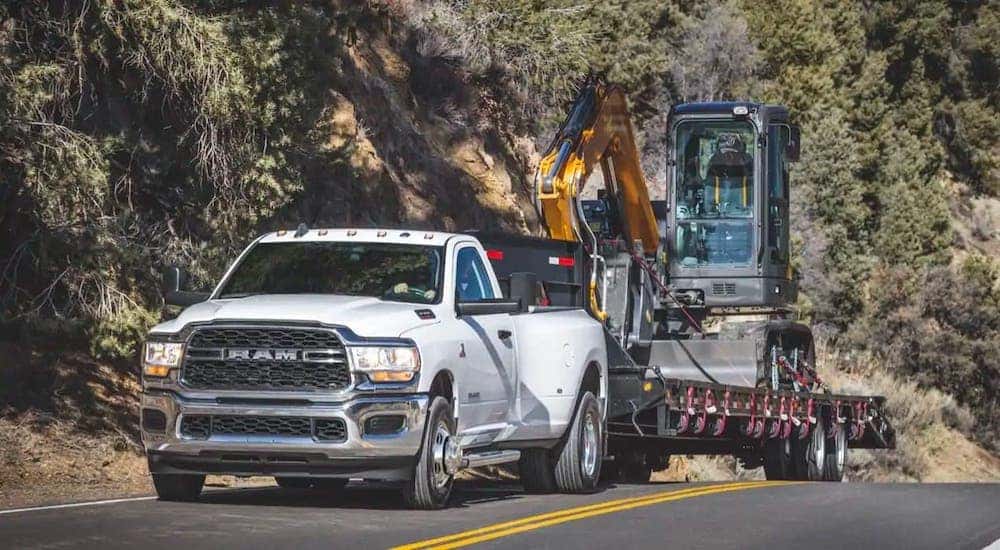 First, you'll want to check out the RAM 3500. You'll be able to haul what you need to and still get a good price once you hit that 100,000-mile mark, losing far less money than if you were to purchase its gasoline variant. Or simply trade it in and put that value toward a newer RAM model. The latest model you can find start to find used is the 2020 RAM, which comes with mounting hardware for fifth-wheel and gooseneck towing, a trailer reverse guidance view which helps you backup your trailer smarter, a 360 surround-view camera, and a bed lowering mode that lowers your truck bed to make trailer hookups easier than ever before.
Additionally, if you're the type who is always disappointed by limited color options, a RAM truck is for you. With up to 30 different color options, a RAM truck will have you looking tough and stylish when you arrive at the campground at Cheyenne Mountain. These colors include 5 shades of greens, oranges, yellows, and blues, and of course, basic available neutral colors as well. Buying a used diesel truck in Colorado Springs can still feel like a new experience when you purchase a 2020 RAM 3500.
Another great option is the 2020 Chevy Silverado 3500 that is starting to hit the used truck lot. This truck's a fan favorite when it comes to towing and resale value. Its diesel version includes a trailering camera with up to 15 different angles, a towing and hauling mode, steering assist, auto grade braking, and even trailer monitoring that checks for diagnostics, reminds you of upcoming maintenance, and alerts you about pre-departure essentials. While it's not as diverse when it comes to colors, the Silverado comes in 9 different colors, which include shades of blue, brown, and red.
It comes with 20-inch wheels and up to four configurations, which include regular cab, crew cab, long bed, and standard bed variants. This truck can haul your camper, your cattle, or even your ATV if you're planning to spend the day at Captain Jacks Trail Head. Regardless of your intent, the Chevy Silverado 3500 is a great used diesel option for Colorado Springs inhabitants.
Finally, let's get the Ford option some spotlight as well. Many drivers swear by Ford power, and the resale value on a used Ford is steady. The 2020 F-450 comes with gooseneck and fifth-wheel towing options as well. Its Ultimate Trailer Tow Camera System with Pro Trailer Backup Assist package includes cameras on all sides, a singular rear-view camera, a trailer reverse guide, and Pro Trailer Back-up Assist, which takes control of the trailers steering, allowing you to choose where you want it to go. The Ford comes in several standard colors, but its most unique available option is Velocity Blue. Besides that, it pretty much falls in line with the Chevy Silverado's appearance, still placing the RAM at the top when it comes to color options.
Our Final Thoughts
If you're looking for used diesel trucks in Colorado Springs, we believe that these options will provide you with all your towing and hauling needs. Whether you're a cattle farmer looking to tow livestock trailers and tractors, you're a hay farmer who needs proper trailering to get those bales from field to farm, or even if you're a crops farmer who needs to haul loads of corn across the state, these diesel trucks won't let you down.
While we have been focusing on using a diesel truck for work, don't forget that they are great for play too. Hook up a trailer for a camping outing, take along a boat to the lake, or bring along whatever other adventure gear you have. No matter your reason for needing a diesel truck, we're confident that you're making the better choice. You can purchase your diesel truck today, knowing that you'll be financially prepared for a trade-in as soon as you hit that 100,000-mile mark.