Just Do It In A Jeep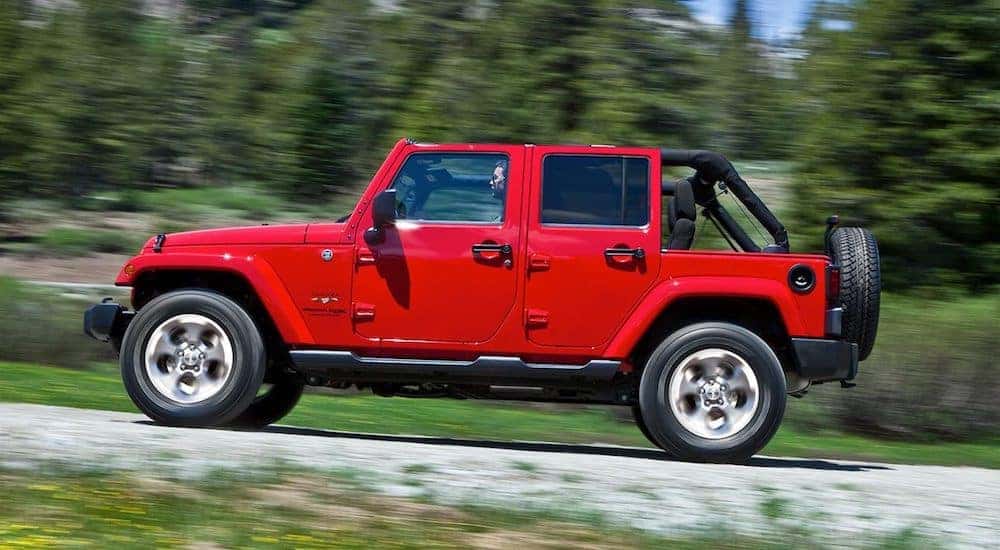 There are very, very few cars on the market that inspire people to get up and get active as much as the Jeep family of vehicles. No matter what your favorite activity, you can guarantee there is a Jeep model that was seemingly designed with your interests in mind. Of course, with our prime location in Colorado Springs, we at Faricy Boys get to interact with many different folks – some who are true adventure seekers, others who like to take it easy while still exploring this beautiful country. Based on our many interactions and our in-depth knowledge of the Jeep fleet, we are more than confident that no matter if you're a hiker, biker, snowboarder or perhaps even a city slicker, there's an ideal Jeep on our lot for you.
The Jeep Wrangler: For The Thrill-Seeker
Are you constantly chasing that adrenaline rush? Does bucking the mainstream and hitting the road less traveled (possibly never traveled) sound incredibly appealing to you? Do you have a garage packed full of backpacks, hiking gear, tents, and maps? If so, you've probably already owned and loved a Jeep. If you're the type of person who would rather spend a weekend in nature rather than on the couch checking Facebook, there's a good chance that your next ride should be a Jeep Wrangler.
Why the Wrangler? Well, for starters, the Wrangler offers some of the best, if not the very best, off-roading capability of any car, truck or SUV on the market. Available in four different models – the base model Sport starts at $30,995 for the four-door model and $27,495 for the two-door model. The Wrangler Sport also comes ready to take on the roughest terrain, as signified by it's Trail-Rated designation (according to Jeep, "to earn the badge, a vehicle must conquer a series of grueling tests over the toughest terrain. These tests prove a vehicle's ability to withstand harsh conditions and deliver incredible off-road capability"). Not only do all Wrangler models boast the Trail-Rated designation, all four models – the Sport, the Sport S, the Sahara and the Rubicon, all come standard with a 3.6 liter Pentastar V6 engine, which gets 285-horsepower and ample off-roading power. However, if you truly want to experience the thrill of off-road adventure, opt for either the Sahara or the Rubicon, both of which have advanced off-roading features such as performance suspension and a locking rear differential.
You might be sitting here thinking, "sure, the Wrangler sounds great for my weekend hobbies, but what about my day-to-day commute?" The beauty of the Wrangler is that Jeep didn't sacrifice personal comfort for the sake of adventurous capability. In fact, even the base model Wrangler Sport comes well-appointed with a backup camera, an eight-speaker sound system, a USB and auxiliary port and it even has a five-inch touchscreen display. Moving up the trims obviously nets you more amenities and there are plenty of packages available, such as the Technology Group package, which equips your Jeep Wrangler with satellite radio, Apple CarPlay, Android Auto, an upgraded seven-inch touchscreen display and automatic climate control. If you're worried about cold Colorado mornings, simply include the Cold Weather Group and you'll enjoy heated front seats, a heated steering wheel, and even a remote start function, so that you can enjoy hopping into a toasty Wrangler first thing in the morning.
And of course, we'd be remiss if we didn't mention that one of the coolest features of the Jeep Wrangler is its removable roof. Available with either a collapsible soft-top or a removable hardtop, you can rest assured that there are few thrills in life like driving up Mount Elbert on a beautiful day with the sun shining down on you in your Jeep Wrangler.
The Jeep Grand Cherokee: For the Urban Cowboy
We are so fortunate to live in a state that offers so many exciting cities to explore. Obviously, we at Faricy Boys are partial to Colorado Springs, but that doesn't mean we don't enjoy getting out and visiting Denver, Boulder, Fort Collins and the many other beautiful towns and cities in our great state. And while we do certainly love the Jeep Wrangler, when it's time to head into the city, we opt for the Jeep Grand Cherokee. Big, bold and extremely comfortable, the Jeep Grand Cherokee is the ideal SUV to load up with your family and head out to museums, plays and just to wander around sightseeing.
The Jeep Grand Cherokee seats five passengers and has ample cargo room for each passengers belongings. The cargo hold measures 36.3 cubic feet when the back seats are in use, but should you find yourself needing to transport a particularly large load, you can easily collapse the rear seats and expand the cargo hold to 68.3 cubic feet. Available in eleven trims, there is no question that there is a Jeep Grand Cherokee that has all of the amenities that you could possibly desire. Even the base-model Jeep Grand Cherokee Laredo is so well-equipped that many shoppers find they don't need to explore the higher trim types. With a starting MSRP of $30,695, the 2018 Jeep Grand Cherokee Laredo comes equipped with awesome amenities like voice command, a seven-inch touchscreen display, Bluetooth connectivity, Apple CarPlay, Android Auto, a USB port, a leather-wrapped steering wheel and shift knob, rear parking sensors, a backup camera and a push-button start coupled with a proximity key. While it's difficult to imagine that this all comes standard in the base model and that there are still ten other trims to explore, it goes to show how well-thought out and well-appointed the Jeep Grand Cherokee line-up is. If you're considering purchasing a Jeep Grand Cherokee, you'll certainly want to drop by and speak to a member of our well-trained sales team so that they can walk you through the trim types and engine configurations to be sure you find the Jeep Grand Cherokee that suits you perfectly.
Faricy Boys: For Car Shopping Done Right
It's probably pretty obvious by now that at Faricy Boys, we love our Jeeps and our customers. We invite you to come visit us at 4950 New Car Drive in Colorado Springs so that we can chat Jeeps, adventures and family life, and find the perfect Jeep for you! After all, no matter if you're looking to scale the Rockies or simply grab a bite to eat downtown, you're going to want to do it in a Jeep.