Give the 2019 Jeep Renegade a Second Look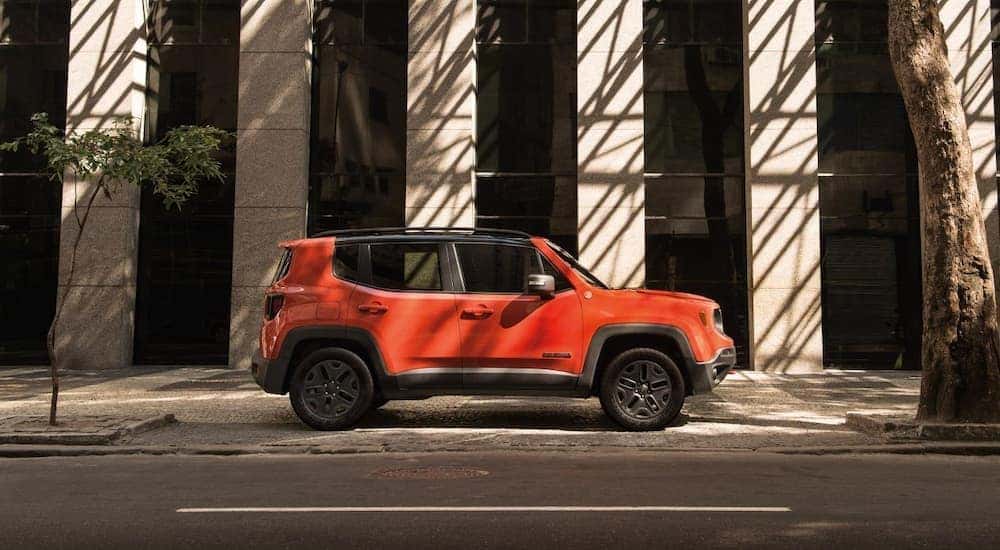 With vehicles like the Wrangler and the Cherokee (and even the Compass) stealing headlines, it can be tough for a vehicle like the 2019 Jeep Renegade to emerge from the pack. While customers may find themselves naturally overlooking this particular nameplate, they'd actually be doing themselves a great disservice but failing to recognize everything that this SUV provides. Understanding the versatility of the 2019 Jeep Renegade could be essential for those preparing a visit to a Jeep dealership in Colorado Springs. This information won't only provide you with some clarity before you buy an SUV, but it could also end up saving you money. After all, the 2019 Jeep Renegade is one of the brand's most inexpensive offerings, and this vehicle proves to be just as impressive as some of the brand's other options.
Take a look for yourself and see why you shouldn't be overlooking the 2019 Jeep Renegade.
Performance
One of the main allures of Jeep vehicles is their performance and off-roading prowess. Well, if those are the types of attributes you're targeting with your new SUV, then you won't be disappointed by everything that's included in the 2019 Jeep Renegade.
For starters, the vehicle can be equipped with one of two engine offerings, each of which provides drivers with an appreciated blend of power and efficiency. The 1.3-liter turbo engine teams up with a smooth nine-speed automatic transmission to deliver 177 horsepower and 210 lb-ft of torque. Meanwhile, thanks to clever fuel-saving inclusions like Direct Injection and the Engine Stop/Start Technology, drivers can capitalize on a 32 MPG highway fuel efficiency—numbers that are rarely seen in this particular segment.
The 2.4-liter Tigershark MultiAir engine will slightly increase that horsepower, as drivers can anticipate 180 hp (as well as 175 lb-ft of torque). The brand cleverly combined this system with a disconnecting rear axle allowing drivers to truly get the most out of their SUV's engine.
Of course, Jeep's vehicles aren't only about the performance. Engineers have optimized their vehicles to deliver an optimal driving experience, and customers can expect these features in the 2019 Jeep Renegade. Inclusions like the Selec-Terrain Traction Management System will adapt its mechanics for the impending road conditions, as drivers can choose between modes like Snow, Sand, Mud, and Rock. The pair of 4×4 systems will prepare your vehicle for the beaten path, while the Hill Descent Control System will prepare you for any impending obstacles.
You can generally expect top-notch performance from Jeep's vehicles, and the 2019 Jeep Renegade is no exception.
Interior
You're ultimately going to be spending the majority of the time inside of your vehicle, so while you're enjoying the performance features, you'll be relieved to know that there is more than just what's under the hood. Jeep vehicles include a number of features and amenities that will improve any driving experience.
The brand's UConnect system will be by your side throughout any journey, assuring that you're always receiving an optimal experience. Accessible via a touchscreen system (including the giant 8.4-inch option), drivers will have easy access to an intuitive navigation system and a wide array of radio stations. Plus, thanks to the Apple CarPlay and Android Auto compatibility, drivers can rely on their smartphone throughout any journey. If you're going to rely on smartphone compatibility to jam out to your favorite tunes, you can turn to the BeatsAudio Premium Sound System.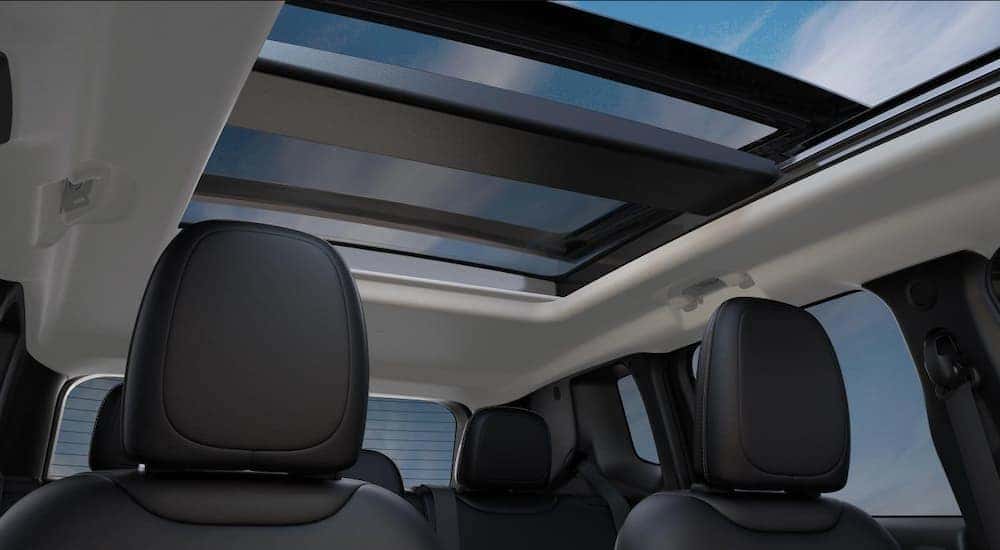 Inclusions like the Hands-Free Connectivity means you'll never have to take your eyes or hands off the road in order to answer the phone and summon directions. Meanwhile, the strong 4G LTE Wi-Fi hotspot assures that you can complete work whenever you're on the road. There's even the SiriusXM Guardian application, which allows you to stay connected to your vehicle at all times. To top it all off, engineers included amenities that will help keep drivers comfortable at all times, including a Dual-Zone Automatic Temperature Control system and a Heated Steering Wheel.
Of course, the SUV is also plenty spacious, providing owners with plenty of space to fit whatever cargo they'll need during their journey. The vehicle delivers a spacious 50.8 cu.ft. of space behind the first row, meaning you can transport all of your equipment or luggage in one trip. Thanks to the flexible cargo floor and the folding rear seats, you'll never struggle to load that cargo inside of your Renegade.
As we mentioned, you're going to be spending the majority of your time inside your new SUV. Jeep's engineers recognized this, and as a result, you can anticipate one of the most enjoyable driving experiences out there.
Safety
If you're going to be relying on your SUV as an off-roader, then you'll need the vehicle to be equipped with a wide range of safety functions. Well, you shouldn't think twice about going on adventures in the 2019 Jeep Renegade, as the SUV is equipped with a wide range of safety functions.
Many of these inclusions will help to prevent accidents from occurring altogether. The Adaptive Cruise Control system will allow drivers to maintain a pre-selected speed while also adapting to the flow of traffic, while the Full-Speed Forward Collision Warning (with Active Braking) will help play a role in preventing those accidents from occurring. Meanwhile, the Blind Spot Monitoring System and the LaneSense Lane Departure Warning system will help to prevent any serious collisions while you're on the highway.
The vehicle is even equipped with a number of features that will help guide you into parking spaces, thus reducing the chance of a fender bender. The ParkSense Rear Park Assist System will easily get you into your spot, as will the Parallel and Perpendicular Park Assist. Of course, drivers an also rely on the Parkview Rear Back Up Camera and the Front Park Sensors. That way, you and your vehicle can always remain out of harm's way.
If you do find yourself in an accident, you'll never have to worry. That's because the 2019 Jeep Renegade has been built to withstand a beating. The sturdy structure won't compromise during a crash, while the airbags will keep you and your passengers safe. If you need any help, you can simply turn to the Uconnect Roadside Assistance, which will summon emergency help to the site of the crash.
No matter how you're going to be using your new SUV, you can rest easy knowing that you're constantly in the best hands.
Purchasing Your Jeep
By now, it should be clear that you shouldn't be overlooking the 2019 Jeep Renegade. Now that that's been established, it's time to shift your focus to the purchase of your SUV and look for a reputable Jeep dealership in Colorado Springs. Those living in the area shouldn't look any further than Faricy, we have a number of Jeeps at affordable prices, providing options for buyers on any type of budget.
Even if you lead a relatively busy life, you won't have to worry about your inability to visit the dealership. Faricy's convenient hours means you can easily visit after work or during the weekend, and the helpful sales team will quickly guide you through any transaction.
So if you've decided that the 2019 Jeep Renegade deserves a second look, then head out to Faricy today. Who knows, maybe you could be driving off the lot in your new SUV by the end of the day.