Four Used Cars for Those on a Budget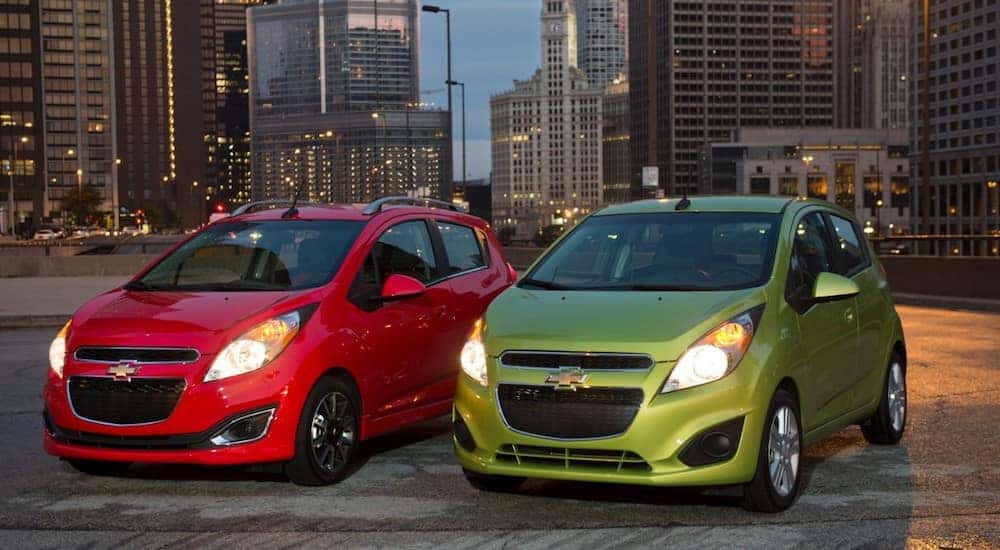 While used vehicles have a natural monetary incentive over their newer counterparts, your options can still be quite pricey. Whether you're eyeing a recent-year model or a vehicle that's equipped with a number of desirable amenities, it isn't uncommon to have to pay five figures for used cars in Denver. That's not ideal for every type of customer.
Fortunately, there are still options for those who may be on an even tighter budget. There are even a number of logical targets for those who may not be looking to spend much more than $10,000. This is an obvious saving over these vehicles' newer counterparts, and you shouldn't expect reduced specs or features despite their "older age." Ultimately, whether you're seeking smaller sedans, a luxury vehicle, or even a SUV, you can find a used ride that meets all of your needs.
Below, we explored several used nameplates that are perfect targets for those on a tight budget (specifically, we looked at vehicles that should come in at less than $10,000). Then, when you're ready to start shopping for used cars in Denver, you'll already know what models or brands you'll want to pursue.
Mid-2010s Chevy Spark
This certainly isn't the choice for those who are prioritizing exterior aesthetics (although there's probably a solid grouping of consumers who appreciate the unorthodox design). However, if you're looking to save money on your purchase and after you've completed that transaction, then there's truly no better choice than the Chevy Spark
Thanks to the smaller stature, many variations of the vehicle are still able to deliver impressive fuel efficiency numbers. If customers come across a 2014 version of the nameplate, they'll likely find that the vehicle is equipped with the impressive ECOTEC 1.2-liter I4 MPI DOHC engine, which manages to pump out solid power specs. This unit is also capable of delivering up to a 39-mile-per-gallon highway fuel efficiency, meaning you'll have the ability to save some extra cash at the gas pump.
Of course, best of all, the nameplate has proven to be incredibly affordable. A Chevy Spark that has less than 75,000 miles on the odometer should not cost a whole lot more than $6,000. Plus, considering Chevy's renowned reliability, you should expect to continue using this vehicle for the foreseeable future. Talk about a great investment!
Late-2000s Hyundai Genesis
We're not entirely sure if Hyundai's grouping of vehicles would have been atop your list of targets, but there's no denying that the brand has continually produced some of the most reliable vehicles in the entire industry.
That's certainly the case with a late-2000s Hyundai Genesis. The nameplate has consistently been touted for its safety and drivability, a pair of attributes that certainly won't diminish due to age. Plus, if you happen to come across a 2009 variation, you'll be able to find a version that's either equipped with the nimble V6 engine or the hulking V8 offering. Regardless of which option you find, we guarantee that you'll be happy with the accompanying system. 
The vehicle even manages to provide solid cargo space, as owners can capitalize on a spacious 15.9-cubic-feet of space in the trunk. Finally, as a cherry on top, the Genesis is considered a luxury vehicle, meaning you'll be able to appreciate all of the opulent features. Assuming the previous owner took good care of their vehicle, we can only assume that many of these amenities are still functioning in any used variation of the nameplate.
Of course, to put it over the top, the vehicle shouldn't break the bank. 2009 versions of the Hyundai Genesis generally sell for around $8,000. You won't have many chances to purchase a used luxury car for less than $10,000, making the Hyundai Genesis a can't-miss for those seeking a used ride!
Late-2000s Ford Edge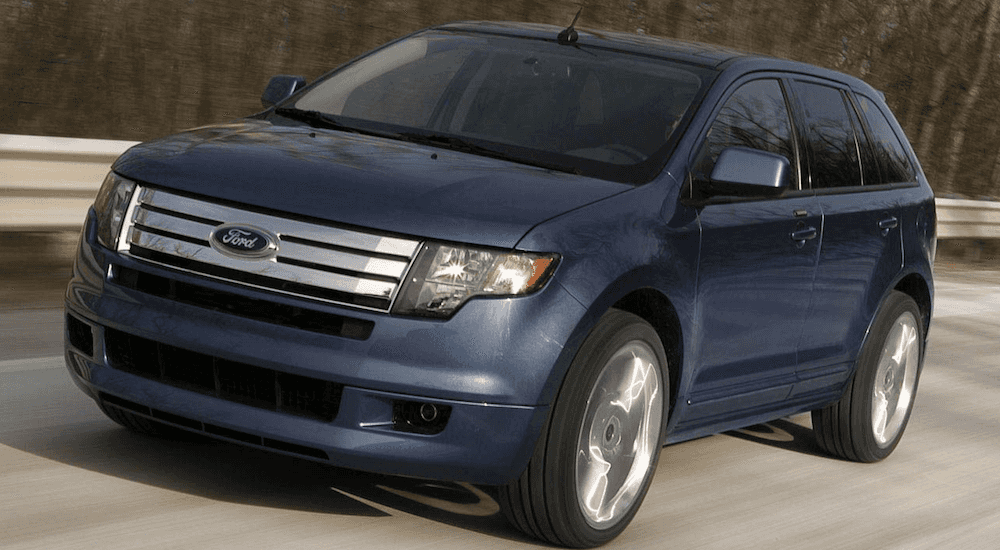 Just because you're shopping for a used vehicle on a budget, it doesn't mean you have to limit your options to sedans and hatchbacks. Rather, you should still be able to find a used SUV that comes in at less than $10,000.
Take a late-2000s Ford Edge for instance. This vehicle generally doesn't sell for much more than $8,000, meaning you can appreciate all of the accompanying advantages without having to break the bank!
What are those advantages? Well, the Ford Edge predictably provides owners with a whole lot of cargo space, meaning you can rely on the nameplate for road trips or daily trips with your children (after all, we know they're always accompanied by school projects or sports equipment). You can also anticipate solid power specs from the accompanying 3.5-liter V6 engine, which ultimately delivers up to 265 horsepower and 250 pound-feet of torque. Despite those impressive power specs, the system even manages to deliver a 22-mile-per-gallon highway fuel efficiency, providing you with even more money-saving opportunities.
Of course, there are a number of additional "optional" amenities that'd normally be too expensive to add to a new vehicle. However, by pursuing a used vehicle, these amenities may simply be thrown into the transaction. For instance, the Ford Edge can be adorned in high-quality leather, and the premium audio promises an unmatched listening experience. All of these features will play a major role in the Ford Edge providing drivers with an unmatched driving experience.
Late-2000s Scion xD
If you're looking for a used subcompact that won't break your wallet then the late-2000s Scion xD is a perfect choice. While the nameplate wasn't all that popular back when it was new, the accompanying amenities make it a must-target for those seeking an affordable used ride.
The Scion xD truly emphasizes the "compact" aspect of the subcompact vehicle. The vehicle made for an excellent option in the city, as the car could easily squeeze around corners and glide into tight parking spots. Plus, due to the small stature, the fuel economy specs helped drivers save some extra cash at the gas pump. Sure, these numbers have probably declined over time, but you should still have a chance to save some extra cash.
The interior doesn't necessarily lend itself to families or road trippers, and the vehicle would never be confused with a cozy family ride. However, if you're looking for a basic fuel-efficient commuter that's maneuverable and city-friendly, there's truly no better choice. Plus, to top it all off, you should easily come across a used version of the vehicle that's selling for between $5,000 and $6,000 (if you're really lucky, you may even be able to find even greater savings).
Now that you have some idea of what kind of budget-conscious vehicle you want to pursue, it's time to start hunting! Well, if you're searching for used cars in Denver, there's no better place to make your purchase than Faricy.
The dealership's vast inventory will provide plenty of options for customers on any type of budget, and their finance department will assure that you can afford your impending monthly payments. Plus, thanks to their other benefits (including flexible hours, an easy-to-find location, and a service/parts department) you'll find plenty of additional reasons to love Faricy.
Go check them out for yourself, and you'll wonder why you considered anywhere else for your next used car for sale in Denver. Who knows, maybe you'll end up cruising off the lot in an expensive used ride.