Find Your Jeep at The Faricy Boys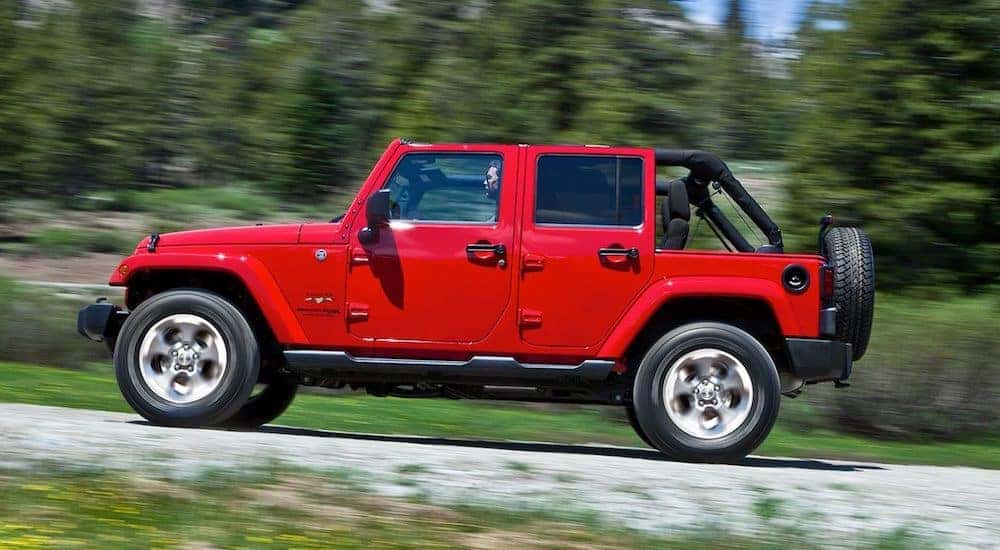 When you live in Colorado, you know that you need a vehicle that can get you where you want to go, no matter what type of terrain or weather conditions may attempt to impede your journey. That's why many Coloradans choose to drive rugged and reliable Jeeps. Of course, when it comes time to car shop, everyone knows you want to save yourself the time and trouble of shopping around and simply head to the best Jeep dealership in Denver – which is why many Coloradans choose to shop at The Faricy Boys. With our vast inventory of Jeeps and our dedication to providing best-in-class service, there's no reason to shop anywhere else. No matter where the road might take you, if you start your journey with the Faricy Boys, you can rest assured that you'll be embarking on the ride of your life in a Jeep that's perfectly suited to you and your Colorado lifestyle.
Find the Jeep that's Right for You at Faricy
So you know that you want to drive home in a Jeep, but you have no clue which make or model is right for you. Well, luckily our friendly sales staff is backed by years of experience spent finding the perfect ride for our valued customers. We know it can be tough to choose between all of the amazing Jeeps out there, so don't be shy – tell us about yourself, your family and your hobbies. With a just little personal information, we'll be able to help narrow down if you're more of a Jeep Wrangler or a Jeep Cherokee type of owner and make sure that we get you into a vehicle that also has all of the amenities you need to make your drive home a pure driving experience.
However, it's always good to familiarize yourself with what's on offer, especially when you're about to be presented with a vast inventory of both new and pre-owned Jeeps. So as a quick refresher (or perhaps an introduction), let us give you an overview of some of the most well-loved members of the Jeep family.
The Wrangler
The Wrangler is, simply put, iconic. With its legendary design and a thirst for adventure, the Wrangler is ideal for those who seek the thrill of the great outdoors. Available in several different styles, one of the most popular ways to drive a Wrangler is, of course, with the top off and the sun beaming down on you and your passengers.
Starting at $27,495, the all-new for 2018 Jeep Wrangler is available in four unique trims: the Sport, the Sport S, the Sahara and the Rubicon. You can also customize your Wrangler to show off your personality, thanks to a dazzling array of available exterior colors, including Firecracker Red, Punk'n Metallic, Ocean Blue, Bright White, Billet Silver and even the vibrant lime-green Mojito! And of course, don't forget to consider if you want your Wrangler to boast a hard or soft-top – after all, it's not every vehicle that lets you choose your own style of roof!
The Grand Cherokee
Rugged yet refined, the Grand Cherokee can you take from a client meeting to the top of a mountain with no hesitation. This five-seater beast can conquer any terrain it encounters, no matter how treacherous. With an amazing array of engine options to choose from, including a lightning-quick supercharged V8 engine that gets 707 horsepower (available only in the Grand Cherokee Trackhawk model), you don't have to worry about lacking in speed or power. Additionally, Jeep offers many packages and options that will enhance the Cherokee's off-road performance, such as upgraded suspension and Jeep's five-drive-mode Selec-Track System, so that you can control and change the SUVs handling as conditions require.
There's a reason why the Jeep Grand Cherokee is the Most Awarded SUV Ever – why not let our team at Faricy Boys show you those reasons in person? We know that you won't be disappointed when you set your sights on Jeep's Grand Cherokee.
The Jeep Compass
The Jeep Compass is a cross between the Wrangler and Cherokee when it comes to spunky design and performance chops. In fact, all you need to know about the Jeep Compass is that the "2017 Jeep® Compass was named the Northwest Outdoor Activity Vehicle of the year in the Compact Utility Vehicle segment at the 23rd Annual Northwest Automotive Press Association 'Mudfest'." Built with Jeep's commitment to quality and offered at price point that allows for easy entry into the SUV market, the Jeep Compass starts at $21,095 and is the ideal ride for those who want to be able to get outside and explore the great outdoors economically. In fact, those who drive the Compass also realize savings at the pump, thanks to the Compass' fuel-sipping ways. Averaging 23 miles per gallon in the city and a class-leading 32 mpg on the highway, the Compass is available in a choice of five trims, but even the base-model Sport comes well-equipped with Bluetooth, a rearview camera, a push-button start, two USB ports, and Jeep's Uconnect infotainment interface.
For those with kids who want to drive a phenomenal SUV that can handle tough Colorado winters with ease while also coasting into beautiful summer evenings, the Jeep Compass is a prime choice for a fun family ride.
Find Your Jeep at Faricy Boys
If you find yourself feeling enticed but on the fence about which Jeep model is right for you, well, don't be alarmed when we tell you there are still more models to see on our lot. Take a trip over to visit some friendly faces at Faricy Boys, and we'll happily introduce you to not just the Wrangler, Grand Cherokee, and Compass, but we'll also show you the Renegade and the New Cherokee, along with our vast selection of pre-owned inventory.
Don't waste your time shopping at a dealership that doesn't truly know Jeeps. Hit the highway and head straight to see us at 4950 New Car Drive in Colorado Springs. We promise that no matter how far you drive to get to us when you pull off our lot in your new Jeep, you'll wish your drive home was longer.