Check Out 10 of Our Favorite Ski Areas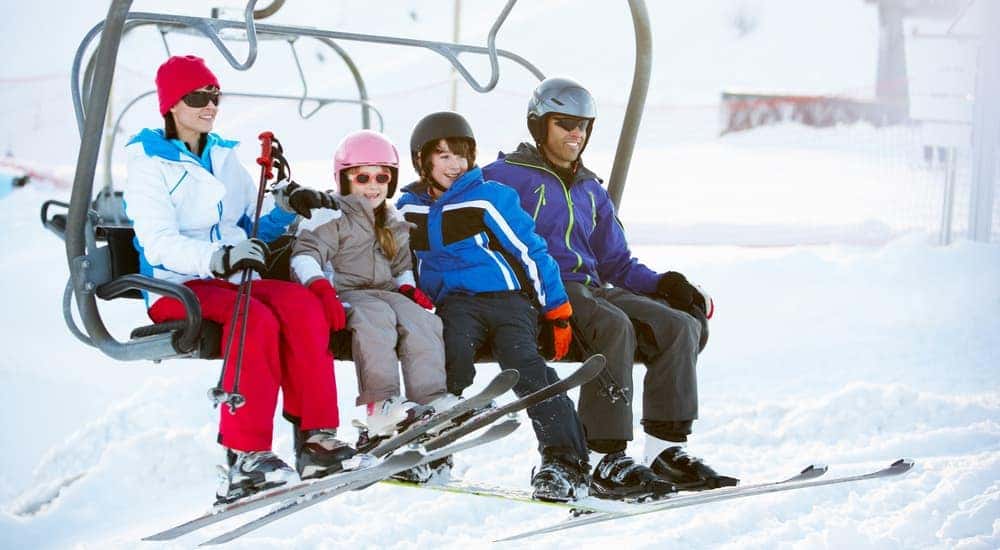 Ski season is almost here in Colorado, which means we'll soon have a good reason to brave the snow and cold for a chance to get out on the slopes with our friends and family. As the days get shorter and the weather gets colder, we started talking around the lot about which ski areas are our favorites. While everyone has one or two that they personally prefer, we couldn't help but notice a lot of the same names coming up again and again. What started out as a conversation here at our dealership, soon turned into a loose local ski guide for 2019-2020 that we thought we would share with our customers and neighbors.
Keep in mind, of course, that this information is accurate as far as we know, but you should always call ahead to make sure a resort will be open at any particular time. Weather and unforeseen circumstances can force closures, so make sure you know all the latest information from these resorts and the mountain roads that lead to them. Consensus on a list of favorites in order of preference led to a few heated exchanges, so these are presented in alphabetical order. Just remember to stay safe out there and have fun!
#1 – Arapahoe Basin
Located north of Colorado Springs, and a short drive west of Denver, Arapahoe Basin offers some fantastic skiing opportunities, and seems like a great place to start with a local ski guide for 2019-2020. The slopes are spread across 145 trails, about half of which are for advanced skiers, so this isn't a great choice for beginners. There are some beginner trails, but not many. Arapahoe Basin's 2019 season is set to start in mid-October, pending weather and snowfall, and they are open every day from 9 am to 4 pm. They have numerous passes available, including full season passes for $499 per adult. Prices for a one-day lift ticket vary depending on the date, so check the Arapahoe Basin website for details.
#2 – Breckenridge Ski Resort
Breckenridge is located a bit deeper in the mountains, so getting there can be tricky when the weather is bad. With that in mind, this was a big one for a lot of us here at The Faricy Boys, and more than a few folks here insisted it make it onto our ski guide for 2019-2020. Assuming weather is as predicted, the 2019 season will kick off on November 8th at Breckenridge Ski Resort, which will then be open daily from 9 am to 4 pm. Rates vary depending on the date, with holidays costing more for a day pass. There is also an Epic Season Pass available, which gets you unlimited access to Breckenridge and other resorts across the country, along with limited access to Telluride and resorts in Canada, Europe, and Japan.

#3 – Copper Mountain
Copper Mountain is pretty close to Breckenridge and offers some gorgeous areas to ski and connect with the slopes. There are more than 140 trails available at Copper Mountain, with almost half of them rated for beginners and intermediate skiers, making this a great choice for the whole family. Copper Mountain slopes are set to open on November 8th this year, kicking off a welcome home weekend on the 9th and 10th. One-day passes are available, and are less expensive if you buy ahead online rather than at the resort. They are open Monday through Friday, from 9 am to 4 pm; and on Saturday, Sunday, and holidays from 8:30 am to 4 pm.
#4 – Echo Mountain
This is another resort that is pretty close to Denver, just a bit west of the city, and was a must-include here among many of our staff members when discussing a ski guide for 2019-2020. One thing to keep in mind is that this is a smaller resort compared to many of the others in this guide, but sometimes that is a good thing. This is a great choice if you want to get away from the crowds at larger sites.
There are nine runs at Echo Mountain, most of which are blue, with only a few green options. This is also a very affordable choice if you are looking for a day-trip to do some skiing and then head home. Echo Mountain is set to open this year on November 29th, and they are now open seven days a week: from 10 am to 5 pm on Monday and Tuesday, 10 am to 9 pm Wednesday through Friday, 9 am to 9 pm on Saturday, and 9 am to 5 pm on Sunday.
#5 – Keystone Resort
Located near Arapahoe Basin, Keystone Resort is one of the finest ski locations in the area and a personal favorite of many of us. There are more than 120 trails available, with about half of them for advanced skiers, though there are still plenty of intermediate trails and a decent number of beginner options. Although single-day passes are available, Keystone is one of the locations included in the Epic Season Pass, along with Breckenridge – so that is something to consider if you like both of these resorts. Keystone has not yet posted their winter schedule, but they have invested heavily in snow-making technology and promise to be one of the first resorts to open this year.
#6 – Loveland Ski Area
Although the name might make you think this is up north past Denver, near the city of Loveland, this ski area is actually west of Denver, nearer to Arapahoe Basin and Keystone. This is a pretty large ski area, with 94 trails, primarily consisting of intermediate trails with a good number of advanced and expert options. Day tickets and season passes are available, though Loveland has not yet announced its opening day for this season. They are open daily once the season begins, from 9 am to 4 pm Monday through Friday, and 8:30 am to 4 pm on weekends and holidays.
#7 – Monarch Mountain
If you're not interested in heading north when you want to do some skiing, then consider Monarch Mountain, which is noteworthy for eschewing glitz and focusing on what really matters: skiing. This ski area is located just west of Salida, which you can reach from Colorado Springs by heading south on the 115, then going west on the 50 – this will take you through Salida, to Monarch, and then south to the Mountain ski area. There are more than 60 trails at Monarch Mountain, pretty evenly divided by difficulty. This is the 80th anniversary for Monarch Mountain, which will open in late November, and they are open daily from 9 am to 4 pm.

#8 – Ski Cooper
This is another great option if you're looking for something a bit smaller on this ski guide for 2019-2020. Ski Cooper will help you avoid the long lines and crowds at bigger resorts, while still offering some fun and exciting trails. There are about 40 trails to choose from, pretty evenly divided between beginner, intermediate, and advanced. New for this season is a Tennessee Creek Basin area with terrain for intermediate and advanced skiers. Ski Cooper will open sometime in November, and they are open daily from 9 am to 4 pm.
#9 – Steamboat Resort
If you're up for a bit of a drive before you hit the slopes, then Steamboat Resort is a fantastic option, but certainly not the closest one here in Colorado Springs. Located about 150 miles northwest of Denver, it will take some time to get there, but Steamboat is truly spectacular. There are more than 160 trails, mostly intermediate and advanced, and they offer daily tickets at a range of prices or season passes. From sleigh ride dinners to gondola rides, Steamboat is the kind of scenic locale we spend all summer dreaming about. The season will start on November 23rd, they are open daily from 8:30 am to 4 pm, and night skiing is available on certain dates.
#10 – Telluride Ski Resort
Finally, we come to world-famous Telluride – what local ski guide for 2019-2020 would be complete without it? Fair warning, this is one of the most popular destinations around, and it's not exactly close. So, you're going to have to deal with some crowds, and it can be tricky to get there in poor weather. This is also an expensive option, especially for a big family or group of friends.
With that in mind, however, Telluride is spectacular, and it's so popular for good reason. With nearly 150 trails available, spread out pretty evenly across difficulties, and every imaginable amenity to choose from, few vacations can beat this. Telluride Ski Resort will open on November 28th for the winter season, and they are open daily from 9 am to 4 pm.