Buy a New 2017 Jeep for Less than $20K
Jeep offers the most capable and iconic lineup of SUVs and crossovers than any other automotive manufacturer. The Jeep brand is known worldwide for its dependability, off-road capability, and long lasting durability. Young kids everywhere hope to drive their very own iconic Jeep vehicle one day, while their parents secretly wish for the same. The Jeep lineup may have initially been designed for off-road prowess and capability, but the impressive selection of models under the Jeep name have extended the brand's purpose to a much wider demographic. While there are still plenty of drivers looking for a Jeep Wrangler to tackle the off-road trails of America, there are just as many buyers hoping to find a practical crossover that is backed by the iconic Jeep brand name.
It only takes one visit to your favorite Colorado Jeep Dealership to discover just how affordable and practical owning a 2017 Jeep brand vehicle actually is.
A More Versatile Lineup than Ever Before
The 2017 Jeep lineup features eight standard models that range in both size and performance specifications. Just as versatile as these models are in capability, so do they differ in price. While some Jeep models carry a hefty price tag that matches their on and off-road prowess, many people may be surprised to learn that Jeep offers three of its new 2017 models for under $20,000. With just as much gumption as the more expensive offerings from Jeep, the Renegade, Patriot, and Compass are three capable crossovers that are winning over the hearts of American drivers who want to own a piece of their country's iconic history.
Three Capable Models for Under $20,000
Renegade: The first, and most affordable, Jeep model in the brand's lineup is the 2017 Renegade. The base Sport model features a starting MSRP of just $17,995, making it the cheapest option for becoming a Jeep owner. The exterior of the Renegade is unlike anything else in the brand's lineup, but it is undeniably a member of the Jeep family. More compact in size than the Patriot and Compass models, the Renegade offers more options and features than the other two combined.
What You Get for the Price: For starters, the base Renegade model featuring the starting MSRP of $17,995, includes front-wheel drive, a 1.4-liter MultiAir Turbo engine, and a six speed manual transmission. Not at all bad for the money, and is the perfect choice for drivers who aren't looking for any serious off-road action. For those seeking a more capable all-terrain vehicle, the 2017 Renegade Sport 4×4 model is still priced under the $20,000 mark, and offers the same base engine as the four-wheel drive option. The base Renegade Sport includes power door locks and windows, as well as a steering wheel with mounted audio controls. For the low price of just $19,995 – the 2017 Jeep Renegade Sport is a great deal for those who want a rugged crossover with great standard features.
Patriot: The second Jeep model that comes with a sticker price well under $20,000 is the 2017 Patriot. Known as the Best Priced SUV in America, the Jeep Patriot is the perfect mix of capability and everyday practicality. Starting at just $18,040, Jeep fans can now drive home in a dependable SUV from the American-made brand for a great price. With an aggressive exterior style that demands attention, the 2017 Patriot is a Jeep through and through.

What You Get for the Price: The base 2017 Jeep Patriot Sport comes equipped with a 2.0-liter I-4 engine, is paired with a five-speed manual transmission, and features front-wheel drive capability. The upgraded and more rugged Patriot Sport AWD model starts just above $20,000, but only by $40. Featuring a 2.4-liter engine and Jeep's renowned four-wheel drive system, most buyers who are teetering on the edge of a $20,000 budget are comfortable with spending the extra $40 for the off-road option. As it is with all base Jeep models, the Patriot stays true to its roots with manual windows, and doors locks. A 12-volt power auxiliary outlet, an auto-dimming rearview mirror with microphone, and an outside temperature display more than make up for other manual features. The crossover SUV segment may be smaller than other models on the market, but the 2017 Patriot boasts a maximum cargo capacity of 63.4 cubic feet, ensuring you can bring all of your gear along for any adventure that comes your way.
Compass: The third Jeep model listed under the $20,000 mark for 2017 is the Compass Sport crossover. Restyled to appear more like a mini Cherokee than the outgoing Compass model, this year's version of Jeep's crossover is more appealing than ever before. With a starting MSRP of just $19,940, the 2017 Jeep Compass offers plenty of everything, without asking too much in return.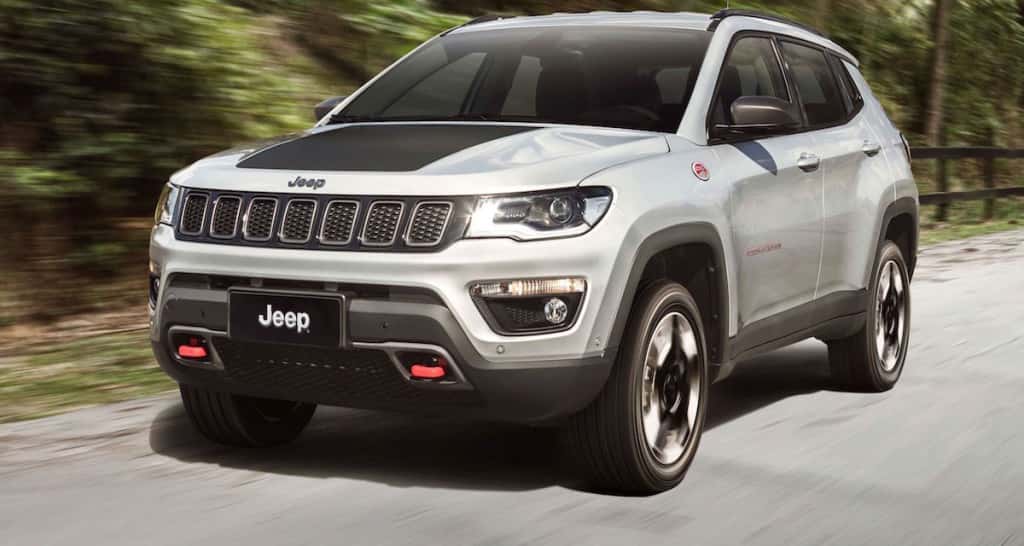 What You Get For the Price: Also standard on the 2017 Compass is Jeep's dependable 2.0-liter I4 engine. Paired with a standard 5-speed manual transmission, this front-wheel drive crossover packs plenty of punch for drivers who seek the exclusivity of Jeep ownership. The base Compass Sport model includes amenities such as air conditioning, a full length floor console, outside temperature display, tire pressure monitoring system, and more. While other base crossover models are delivering ho-hum amenities for more money, this Jeep crossover SUV is delivering what brand enthusiasts have always relied on most: dependability, style, and capability.
Own a Capable Jeep Crossover From The Faricy Boys
With an extensive inventory of Jeep models from every price point, The Faricy Boys have all of your Jeep needs covered. Whether you are seeking an affordable Jeep crossover for under $20,000, or prefer a higher-end fully-loaded SUV, there is no better place to find it than with The Faricy Boys.
Just as Colorado is known for the rugged outdoor lifestyle, The Faricy Boys are known for providing capable vehicles to get you out on the road less traveled. Owning a brand new Jeep is much more affordable than you may have imagined, and your dream of parking one of these iconic vehicles in your driveway can soon be a reality. Explore every corner of the Centennial State today, in one of the country's most capable crossovers from The Faricy Boys.