7 Reasons to Choose a CPO Chrysler Pacifica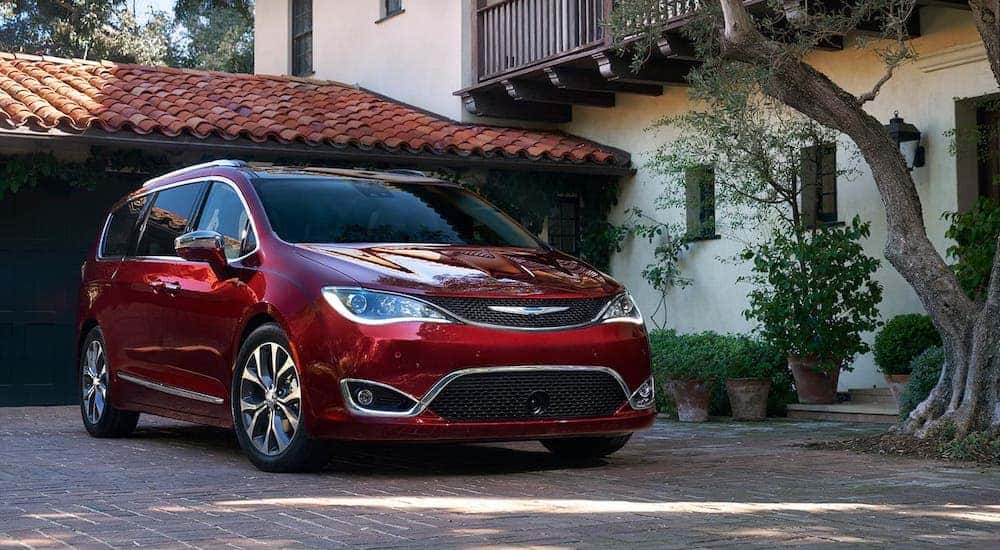 First things first: yes, that is a very specific vehicle to be focusing on today, but not without reason. While SUVs have become increasingly popular over the last few decades and pushed aside minivans for a lot of people, there is still something to be said for the functionality and spaciousness of a great minivan. With that in mind, we feel like the value and performance of a Certified Pre-Owned (CPO) Chrysler Pacifica is so significant that it really deserves to be noticed by more people.
The Chrysler Pacifica is a recent addition to the Chrysler lineup, so you're forgiven if it's not a model you've really heard of or thought much about. However, it is a fantastic addition to said lineup, and if you are someone that could really take advantage of everything an amazing minivan has to offer, then it should be on your radar. What's so great about it, and why a CPO model in particular? Well, we're going to discuss that today, and we think you'll agree with us on why you should choose one…
Reason #1 – A Smooth, Enjoyable Ride
Let's jump right in and start talking about what it's like to drive a CPO Chrysler Pacifica because it's a lot more enjoyable than you'd probably expect from a minivan. A lot of people still think of minivans how they were in the 1980s and 1990s, with a lot of sluggishness to be had and poor overall performance and responsiveness. While that's an understandable mindset, it's far from what you'll experience when you get behind the wheel of a Pacifica.
For one thing, the Chrysler Pacifica rides on 20-inch wheels and nice, big tires to ensure a very smooth ride. Its standard engine is a powerful V6 (more on engines in a moment) that offers excellent performance and makes driving a CPO Chrysler Pacifica a lot of fun. It comes paired with a 9-speed automatic transmission that is smooth and responsive, so you don't feel like you're ever lagging behind or underpowered. Everything about the Pacifica is clearly designed to make it fun to drive and much more impressive than you'd expect from a minivan.
Reason #2 – Two Engines (Including a Hybrid)
We teased you a moment ago with that engine talk, but now let's take a look at just what's going on under the hood of a CPO Chrysler Pacifica. There have been two engines available so far throughout the Pacifica's release since 2017, so no matter what year you're looking at, expect to see these powertrains. As we mentioned, the standard engine is a 3.6L Pentastar V6 that delivers up to 287hp and up to 262 lb.-ft. of torque. You can really feel this power when you're behind the wheel and this is a big part of why it's so much fun to drive.
One of the real stand-out features to look for with a CPO Chrysler Pacifica, however, is the available plug-in hybrid engine. This engine has an electric-only range of about 33 miles and the battery can be fully charged in just two hours when using a 240V plug-in system. In terms of fuel economy, the standard gas engine is pretty good with an estimated 18mpg in the city and 28mpg on the highway, for a combined 22mpg. But, as you might imagine, the plug-in hybrid offers exceptional fuel economy beyond its 33-mile electric-only range, giving you an estimated combined 32mpg.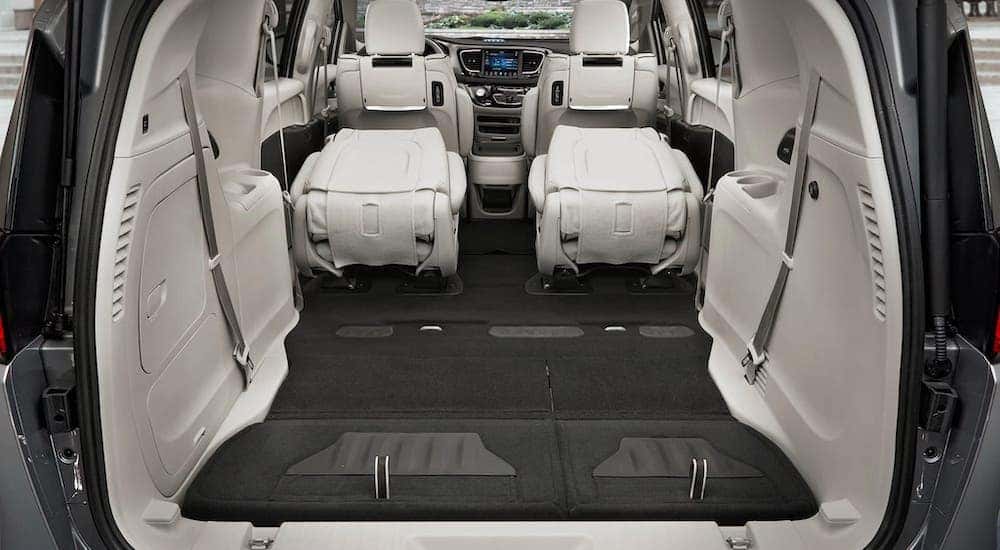 Reason #3 – Its Spacious Interior
The inside of a CPO Chrysler Pacifica is nice and big, with three rows of seating for you and your passengers. It has a standard setup of two front seats, two seats in the second row, and three seats in the rear for seating for up to seven people. There's a removable center seat available for the Pacifica; however, that boosts that up to seating for eight passengers, so that's something to consider as you look at different models.
If you're more interested in loading up with stuff rather than people, then a CPO Chrysler Pacifica has you covered there too. You get more than 32 cu.ft. of space behind the third row of seats, more than 87 cu.ft. of space behind the second row, and about 140 cu.ft. of total cargo space behind the front-row seats. That is a massive amount of room to take anything you need with you wherever you go.
Reason #4 – Fantastic Technology
All of that space for passengers isn't wasted, however, since there is a lot of great technology available inside the Chrysler Pacifica. This includes an 8-inch touchscreen Infotainment display that is easy to read and quick to respond to your needs. A rear entertainment system is available, and something to look for when considering a CPO Chrysler Pacifica, which includes a Blu-ray player and a pair of 10-inch displays mounted in the backs of the front seats.
Reason #5 – The Chrysler CPO Warranty
By now, you've seen the impressive performance and fantastic design of the Pacifica, but you might be wondering why we suggest a CPO Chrysler Pacifica specifically. Well, as you probably know, a CPO vehicle is not just like any other used model––it has to meet Chrysler's high standards and provide you with the closest thing you can get to a brand-new model.
Every CPO Chrysler Pacifica comes with a 7-year or 100,000-mile powertrain limited warranty, which covers repairs and replacements on major powertrain components, including the engine and transmission. There is also a 3-month or 3,000-mile maximum care warranty that covers over 5,000 parts on the vehicle, which starts the day you buy your CPO Pacifica. And if you want even more coverage, numerous upgrade warranty plans are available from Chrysler to protect your vehicle.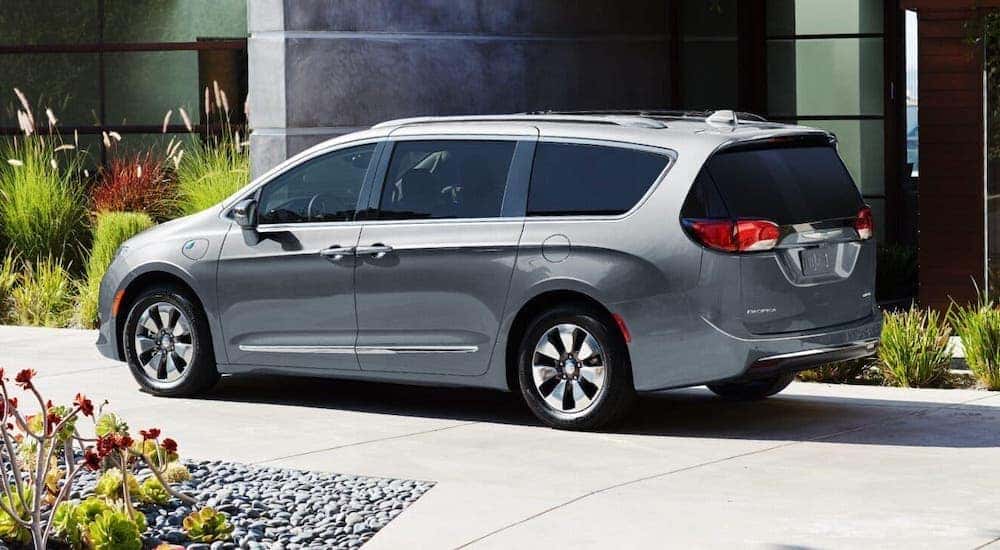 Reason #6 – The Chrysler CPO Inspection
The reason Chrysler stands so confidently behind their vehicles is because each one of them has to pass their rigorous 125-point inspection to ensure they are of the highest quality. To begin with, for a vehicle to be certified by Chrysler, it must have fewer than 75,000 miles on it and must be within the last five model years. Since the Pacifica has only been available since 2017, this is not a problem.
Every CPO Chrysler Pacifica must have a clean title and no frame damage, and cannot have any aftermarket accessories that compromise its safety or performance. The inspection for certification includes pretty much every part of the vehicle inside and out. This includes checking brake and power steering fluid, making sure the ignition and transmission are working properly, and even a road test. The interior has to be in great condition, and every CPO Chrysler Pacifica includes a CARFAX vehicle history report.
Reason #7 – Roadside Assistance
Even with all of this care and amazing warranty coverage, the unexpected can still happen. And that's why a CPO Chrysler Pacifica comes with 24-hour roadside assistance, including flat-tire service, gas delivery, battery-jump assistance, and more. You even get a car rental allowance if necessary due to your vehicle being inoperable or if it needs repairs, to ensure you can still get to wherever you need to be.
For great performance with a spacious interior and a sleek modern design, a CPO Chrysler Pacifica is a terrific choice. Come visit us at The Faricy Boys to see our selection of new and used vehicles, including amazing CPO models, and we'll make sure you find just the right one.